The Samsung Galaxy A90 has been rumoured for a while now, and a fresh leak suggests this is still in the works and it will be powered by a Snapdragon 855 along with a 5G variant. If true, that, therefore, leaves the question of how will this be positioned against the Samsung Galaxy S10?
The A series has traditionally been an affordable youth focussed range from Samsung with the Galaxy S series being the true flagships. However, if these rumours are true the lines are becoming very blurred.
One such feature that makes things even more confusing is that the A90 is tipped to feature a sliding front facing camera which will avoid the need of a punch hole display found on the S10. This, therefore, makes the A90 a more appealing phone for many users giving a beautiful uninterrupted 6.7-inch display.
The full specification of the A90 has not been revealed yet, so it is likely Samsung will hobble some of the specs in order to retain the percerption of the S10 flagship status.
Similar to the S10 series, Samsung is reportedly launching two variants of the A90, with one being also having a 5G model. It is also believed the new 5G A90 will feature 45w ultra-fast charging.
The specifications rumoured so far, via OnLeaks, include two models, one SM-A908 and another SM-A905. Both will feature a flagship-grade Snapdragon 855 SoC that will drive a 6.7-inch display which will have an in-display fingerprint scanner and likely be AMOLED.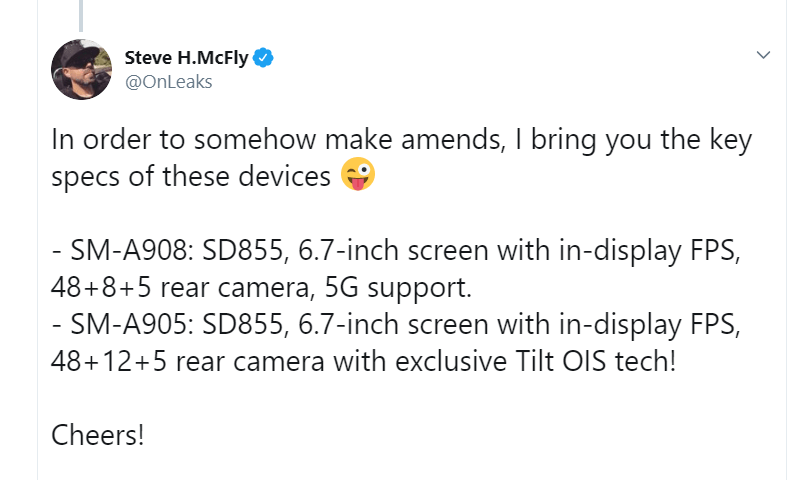 The SM-A908 model will allegedly be comprised of a 48MP + 8MP + 5MP triple rear camera setup. This will also be the option with 5G network support.
Then the SM-A905 variant will also feature a Snapdragon 855 chipset along with a 6.7-inch screen that houses an in-display fingerprint sensor. The camera setup is a little different here with a 48MP + 12MP + 5MP. This model is also said to feature some exclusive new feature called "Tilt OIS."
The camera sensor is likely to be the GM1 sensor made by Samsung.
Previous leaks suggest the phone would feature a Snapdragon 7150 chipset, which I mistakenly assumed would be the Snapdragon 712, however, since then the Snapdragon 730 has been released which is featured on the Samsung A80. The Samsung A80 has that beautifully unique sliding and rotating camera and is priced around £650, this would, therefore, mean the A90 is priced well into the territory of the S10. That being said, current rumours suggest the 5G model will be an affordable alternative to the 5G Galaxy S10.