Reolink RLC-812A Spotlight Camera Review Rating
Summary
The Reolink RLC-812A is an affordable way to get full-colour night recordings at 4K with the added benefits of object detection. While there are better technologies on the market to achieve this, you would need to spend more than double the price.
Pros
Always on spotlight at night allowing full colour video
AI motion detection
Wide range of compatibility with ONVIF, MicroSD and Reolink NVR
Cons
Always on spotlight may not be ideal for some users
I have previously reviewed the Reolink RLC-811A, which includes a spotlight that switches on when movement is detected, allowing the camera to record in colour at night.
The new Reolink RLC-812A is slightly different in that it has the spotlight on all the time during the night, allowing it to record footage in colour all the time. It is not the most elegant solution to nighttime recording; unlike the Hikvision/Ezviz options, however, it will record in colour even when there is no light at all.
Specification
4K UHD – 3840X2160 (8.0 Megapixels) at 25 frames/sec
1/2.49″ CMOS Sensor
FOV: Horizontal: 85° Vertical: 44°
Spotlight: 4pcs/3.5W/6500K/400 Lumens
Spotlight allows the camera to record in colour 24/7
Built-in mic and speaker
MicroSD
On-camera person and vehicle detection
IP66 certified weatherproof
POE connectivity
Set-Up
Reolink has a useful set-up video that you can follow here:
It is basically the same as every other POE Reolink camera. Plug it into your POE switch, scan the QR code with the app and assign a new admin user and password.
If you have a Reolink NVR, then it will automatically identify the camera on your network, and you just need to provide the password.
For Blue Iris, again, the same as usual. Get the IP address of the camera from the app, type in your username and password, then Find/Inspect. If you want to reduce CPU load, you will need to set the substream setting. Reolink uses h264 for substreams but h265 on the primary stream.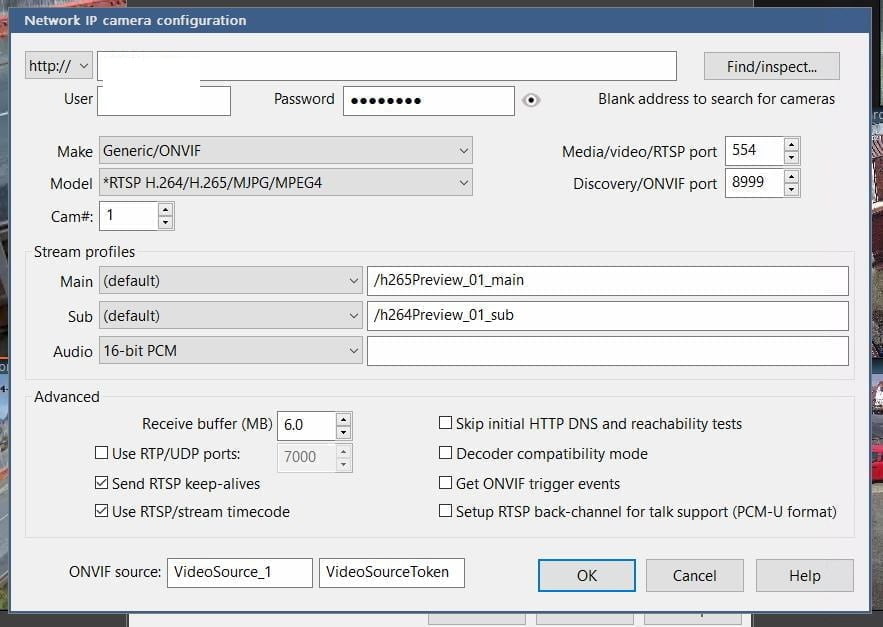 Performance
One thing worth noting, this is considerably smaller than the RLC-811A I previously reviewed (which had 5x optical zoom, siren and a spotlight). The size of this will be a bit more appealing to home users as it is a little more discrete.
As usual for my CCTV content, this is balanced on my window ledge, so its position isn't perfectly matched to other reviews. Unfortunately, the end result was it pointed a little too much to the wall where my front door is. I will try and relocate it and get some footage with better street/path views.
Day Time Footage Sample
Day time footage is recording with an overall bit rate of 6 380 kb/s and at a 3840X2160 resolution at 25fps. For a 30min clip recorded on the Reolink NVR you use 1.4GB.
The sample footage is on a dull rainy day, with the camera providing plenty of clarity to make out the number plates of parked cars.
At first, I thought it had a narrower field of view than normal, but it is similar to most of the other fixed focal length cameras Reolink has, it is just my poor camera placement that makes it look a little narrow.
Night Time Footage Sample
Like usual, the night time recordings are smaller than day. The overall bit rate is 3 212 kb/s. This is due to the video being shot at an average frame rate of 12.474 FPS which then gives you a 690MB 30min file.
Nighttime footage is obviously the standout feature here. Not only is the footage in colour, but you don't get the same IR glare as black and white video. This seems to depend on the angle but in my sample footage, car plates are readable. However, when I have experimented with other angles, the plate creates to much glare.
The spotlight being physically on all the time could be viewed as a good or bad thing. It definitely helps improve security, and anyone entering your property will notice it. However, I can imagine some people will prefer not to have a light permanently on during the night.
You can tweak the spotlight settings, changing the brightness or having it on schedule rather than just when it detects low light. The sample footage is with the default settings but because I have bright street lights I could easily dial it down.