Proze TWS-03 True Wireless Earphones Review Rating
Proze are another new audio and accessory brand with a pair of true wireless earphones, and another brand to use the imaginative naming convention of TWS followed by a number.
The Proze TWS-03 True Wireless Earphones are the top of the range model they have which sell for £79.95 putting them in a reasonably unique price point of neither being affordable or premium. The  Anker Soundcore Liberty 2 is perhaps the closest in price I can find, and you can pick up the well-reviewed Cambridge Audio Melomania 1 for £20 more.
Out of the gate, these are a little different than your generic true wireless earbuds, they have a massive shiny charging case which holds a 2000 mAh charge allowing you to charge your earphones 10 times over. The earphones themselves have a marginally better than standard 6-hour battery life, so you get around 60 hours total with the case.
Furthermore, the case itself uses USB-C for charging, something not found on many cheaper earphones, and the case also acts as a powerbank in the event you run out of juice on your phone.
The case also holds onto a pair of ear hooks giving you a bit more support if you plan on doing something vigorous while wearing them.
Specification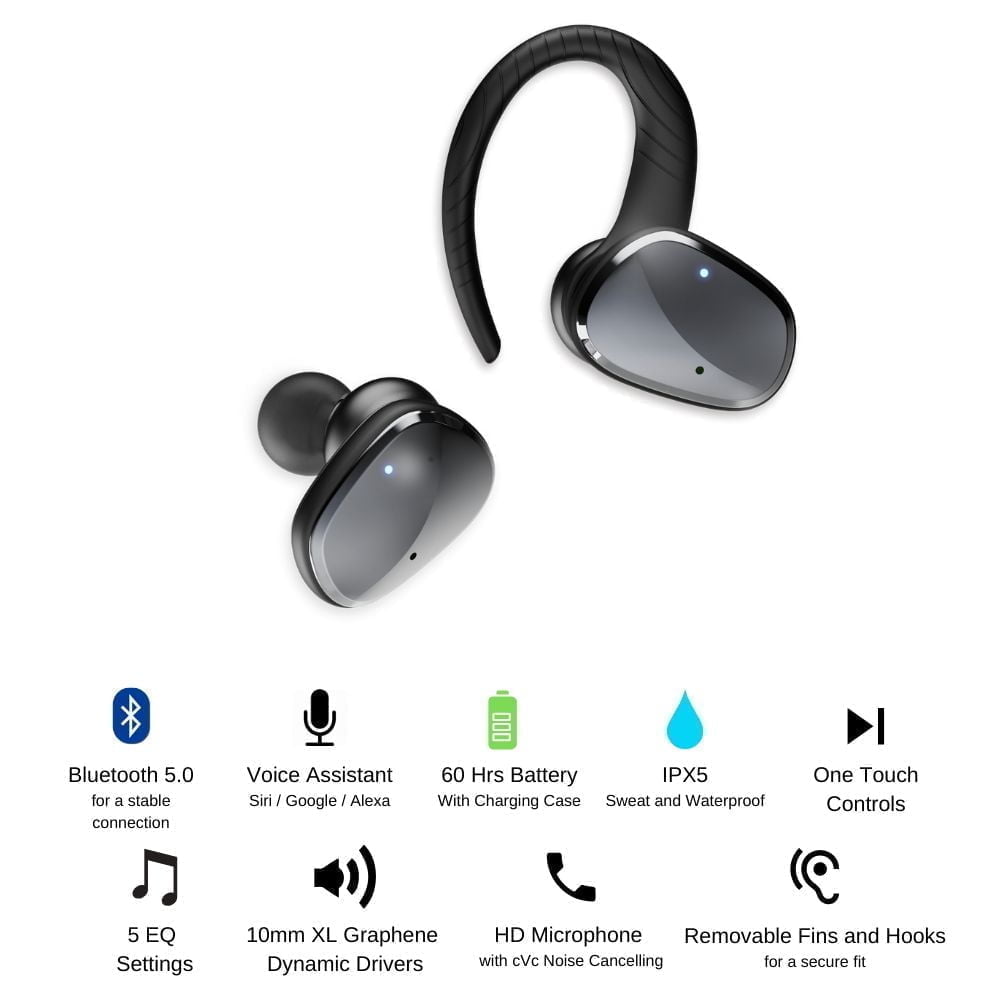 Bluetooth 5.0 for greater connectivity
Premium HD Audio
XL 10mm Graphene Dynamic Drivers
5 Preset EQ modes (switchable) Bass, Treble, Vocal, Enhanced and Balanced
Voice Assistant (Siri, Google, Alexa compatible)
IPX5 Waterproof and Sweat Proof
6 Hour Battery life from the Earbuds
48 Hour Total Battery life with charging case, which will quick charge via USB-C
Charging Case doubles as a Power Bank for other devices
Music and Calls in stereo
cVc 6.0 Noise-Cancelling on calls
Stereo and Mono Sound options
Built-in Beam Technology HD Microphone
Lightweight
Comfort-Fit with interchangeable tips
Secure Fit with optional fins and hooks
Auto On & Pairing remove from the case and they auto on and connect
Performance
At first, I struggled to get a good fit with these and immediately wrote them off as poor. However, giving them another chance I found some eartips that suited my ears better and with a proper fit, the sound quality improved considerably. The earphones use a none standard ear tip size, so getting a third party one on was a struggle, but I did eventually. The case is spacious enough to accommodate 3rd party silicone eartips which is something many other options can't do such as the Groov-e SoundBuds.
With a proper fit, the sound quality is actually quite good, with a decent amount of bass. The earphones do present a decent amount of stereo separation.
At higher volumes, mids and highs can start to sound a bit harsh with some guitar tracks and vocals, but at moderate volumes, things are more balanced and they are pleasant to listen to.
The overall fit doesn't feel as secure as many of the other earphones I have used recently. The design means the metallic casing protrudes out quite far from your ear. However, with a decent seal with the silicone ear tip, I didn't have any serious issues keeping these in my ears, but I am not sure I would trust them for an outdoor run or bike ride. However, if you do find they fit well, the IPX5 rating should be good enough for the gym, and the same as the Jabra Elite 75t.
There have been no connectivity issues, pairing them up worked the first time, and as soon as you take them out of the case, they auto-connect.
Overall
As far as price vs performance goes, these sit about where you would expect them. They are better than many cheap earphones but not as good as expensive ones.
While I did manage to get an OK fit with these, this was the main issue I had with them, whereas many earphones have fit perfectly well with my ears recently. This is subjective the overall fit varies from person to person.
I am not particularly into the big metal design of the earphones, but I can appreciate others will prefer the more bling look over generic black.
The case is massive, so not very pocketable, but it does offer far more charge than any other earphone I have reviewed so far, so these will be useful for travelling.
Last update on 2022-05-22 / Affiliate links / Images from Amazon Product Advertising API