PeakDo Wireless HDMI Docking Station Review Rating
Summary
The PeakDo Wireless HDMI Docking Station works as advertised, giving you a latency-free HDMI connection to your TV from mobile, laptop or gaming consoles.
However, the wireless HDMI transmission does not provide a perfect like for like alternative to a physical HDMI cable, due to HDR and refresh rate limitations. I am unable to find a superior wireless alternative. Due to the lack of competition, this is, therefore, a superb product, just make sure you are away of its limitations.
Pros
Can do [email protected] or 1080P up to 120Hz
Latency free
Mobile dock allows you to set up a keyboard and mouse
I am sure most people at some point have wished they could connect a laptop/console/mobile to a TV or monitor without the need for long HDMI cables.
Wireless HDMI extenders have been around for years, but the performance is a long way from ideal. Most of these transmitters can't keep up with modern technology. They rarely can do 4K, and they almost always introduce latency. This can cause significant issues making gaming unenjoyable or causing significant lip-sync issues with audio.
PeakDo is one of the few companies on the market that may have a solution. Unlike most other products this uses 60GHz mmWave providing a massive amount of bandwidth and zero latency, but how well does it work?
Wireless HDMI Specification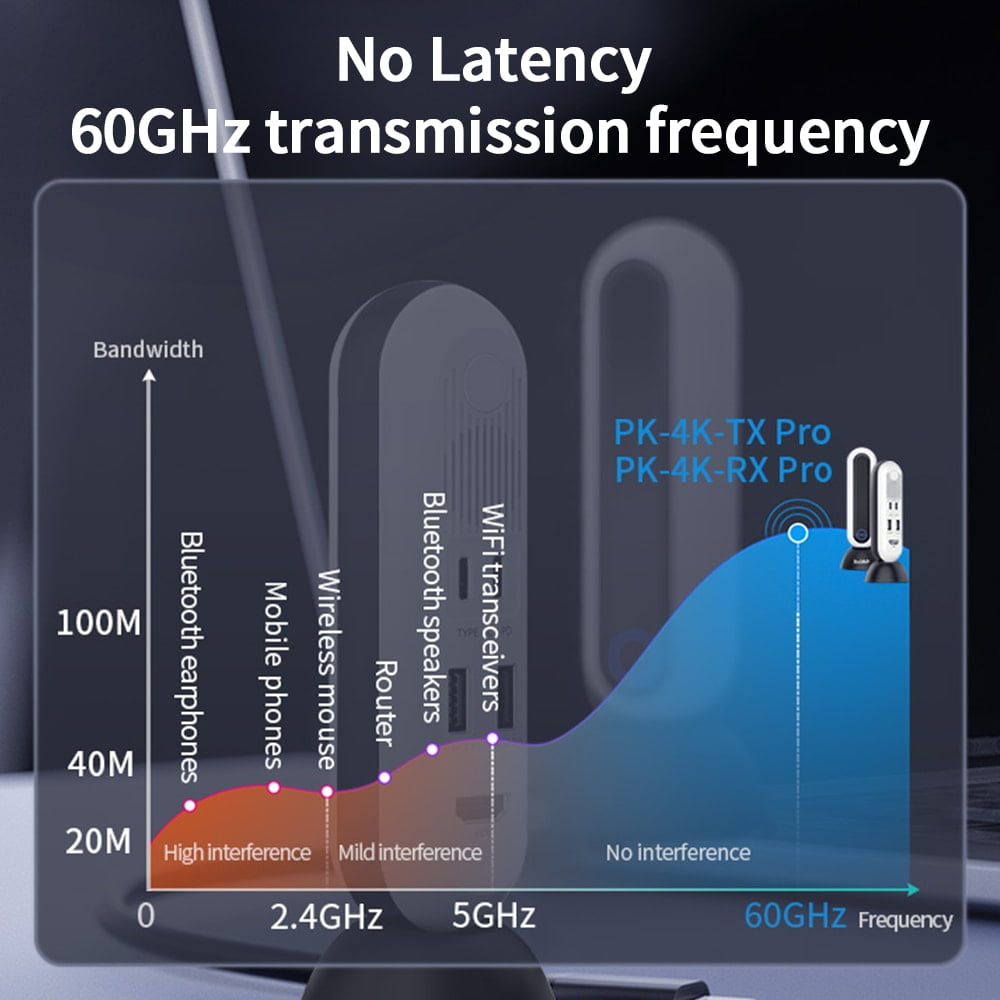 Display:

High refresh rate mode: 1920*1080 @ 120Hz

Range: 30 meters (100 feet)
Transmit power: 28 dBm
Components
I was sent three separate devices from PeakDo. You will need the receiver. Then you can optionally choose between the docking station or transmitter.
Receiver
The receiver plugs either into your TV or AV receiver, and this needs to be powered by USB, you can connect it to one of the USB ports on your TV.
It also has a threaded hole for physically mounting it to something such as the back of your TV.
Transmitter
The transmitter is designed to be used with a laptop or PC and plugs into your HDMI port either via the included 90-degree adaptor or an HDMI cable. It will then require power from USB.
Docking Station / Hub
The docking station is a useful addition to the kit. It has inputs for the transmitter and can either accept USB power or batteries.
The batteries used are the 18650, that's their actual name as well as the capacity rating, and you can get 4 pack plus charger from Amazon for about £20.
It then has micro and SD card slots plus two USB-A ports. Therefore if you have a compatible phone, you can create a proper working environment with a keyboard and mouse.
Set-Up
I had a few problems setting this up, but it wasn't specifically a problem with the hardware I was supplied.
I received three separate pieces of hardware, and all the written instructions were in Chinese. I was supplied with a video that showed the set-up process, which I followed.
However, it seems like the Huawei Matebook 13 I initially tried it on didn't want to output HDMI via its USB. It would detect a second display, but no image was output. Switching to the Huawei Matebook 14, which has a proper HDMI port, worked the first time.
Then my Pixel 6 wouldn't detect anything. It should be able to handle HDMI out, but it would not recognise the connection at all. Not all phones can do HDMI out, and I ended up getting it to work with Huawei.
As for the hardware, I was supplied the HDMI receiver but then two separate transmitter kits, one being the mobile docking station. The docking station has two dongles, with the bigger one being a transmitter, but the smaller one was a mystery. Eventually, I worked out that you plug it into the transmitter, and this works as the dock itself (compared to the full-sized mobile dock).
Assuming all your hardware works with the kit, it is relatively easy to set up. You plug the receiver into the HDMI port of your TV/AV receiver and power it via the USB cable.
You then do the same with the transmitter side. You then need to long-press the small button on the transmitter and receiver, the LED should temporarily switch off from red then turn blue.
With them both blue, they should be paired, and your device should recognise a screen that is connected via HDMI.
In Use
Huawei Matebook 14
I had the best experience when transmitting from my laptop. The Matebook automatically recognises this as a 4K display, and I was able to transmit to my 65″ Sony TV with no problems at all.
Docking Station with Huawei P40 Pro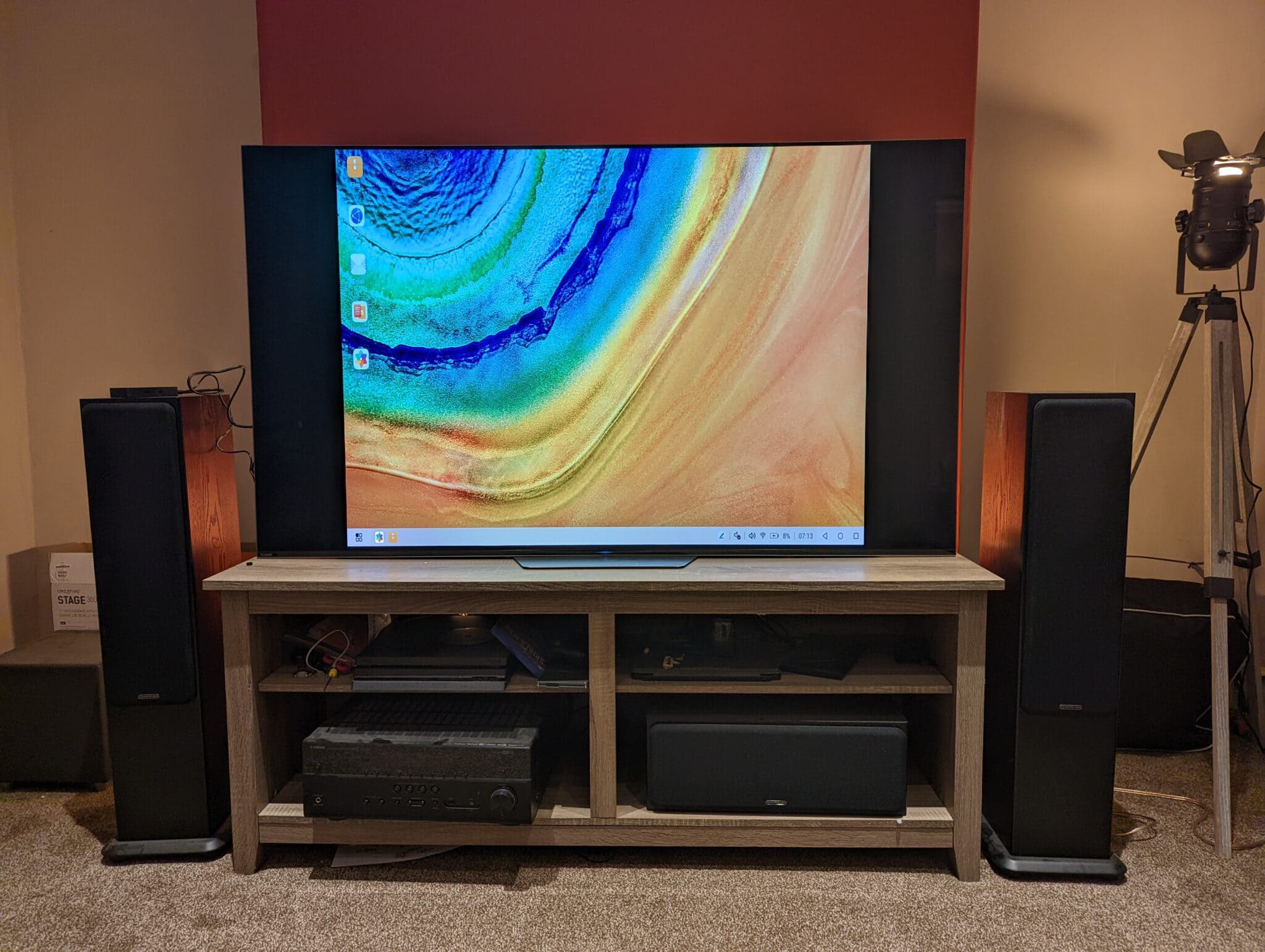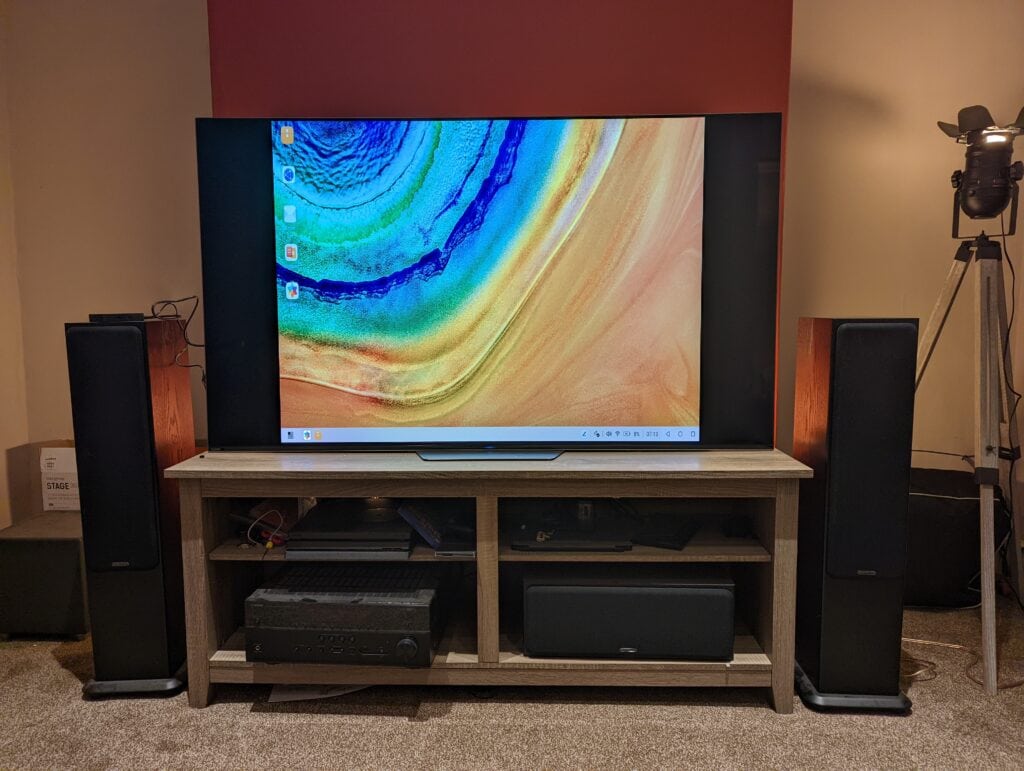 The Huawei P40 Pro performed OK but not quite what I wanted.
With the phone mounted into the dock, you can also plug-in peripherals such as a mouse and keyboard.
You can also switch the P40 Pro to desktop mode which switches from the mobile display mirroring to a desktop like display.
However, the display resolutions of the P40 Pro doesn't work perfectly with a 4K TV. You have three options, large, medium and small and these don't fit a 4K display properly as the aspect ratio is incorrect.
Depending on what you want to do with the display, this works perfectly well, but if you were planning on streaming 4K content or something similar, it doesn't look as good as it should. Casting your content would be a better solution.
I would imagine the Samsung Galaxy series with its DEX destop functionality would work amazingly with the docking station.
Gaming PC with Samsung C49RG90 Dual WQHD 1440p 120Hz Monitor & 27-inch 4K monitor
My next test was with my work PC, where I experimented with the HDMI transmission with two separate monitors.
This worked immediately; as soon as I switched my monitor to the HDMI input source, my desktop popped up. The 4K screen defaulted to 100% scaling, so it needed to switch to 125%, which is normal for that screen size.
As the specification states, at 4K you are limited to a 30Hz refresh rate which is less than ideal for gaming, but I don't mind it for general work.
Dialling it down to 2560x1440P, I was still limited to 30Hz, but switching to 1080P allowed me to go up to 60Hz, which was the limitation of that 4K display.
Nvidia Shield connected to a 4K Sony AF8 OLED with Dolby Vision / HDR
With the Nvidia Shield, apps like Netflix allow me to watch movies and TV at Ultra 4K, so there appears to be no issue with HDCP when using the HDMI transmitter. However, Netflix does not show up as using Dolby Vision or HDR 10. I suspect this is a bandwidth limitation similar to the [email protected] limit.
Price and Alternative Options
The new PeakDo docking station isn't available to buy yet but it will retail for $404. You can reserve a pre-order slot for $1 which will give you 40% off taking it down to $225 for Kickstarter super early bird.
Reserve your early bird slot here
The older PeakDo 4k Station Pro is available from PeakDo US for $330
Peakdo have a 1080P wireless transmitter available on Amazon for $169.00
Competing brands on Amazon claim to offer 4K 60Hz wireless HDMI transmission, and there are options for as low as £120.
However, multiple reviews state these are not 4K capable, and the marketing literature makes no mention of latencies. Most of these competing devices appear to use 2.4/5G, which will have significantly less bandwidth and increased latency.
The products that do claim low latency are geared towards videographers and come with a premium price. The Hollyland MARS 400S PRO is over £600.
An alternative option could be HDMI over Ethernet. The DDMALL 70m 4K HDMI Extender can do [email protected] and costs £175. However, this is obviously a very different product as you will need to physically wire the devices up with Cat6.
Overall
The PeakDo works as advertised, I was able to get a reliable 4K wireless connection with my TV with no noticeable latency.
Anyone tempted to use this for gaming should be aware of the refresh rate limitations. For my gaming preferences, I am not too fussed about 120Hz but 4k @ 30Hz is more of an issue and likely a deal-breaker for many gamers. You can, of course, do 1080P @ 120Hz, but you are then spending quite a lot of money on a transmitter for a sub standard resolution.
For none gaming applications, the performance is good, making this great for streaming media (except for the lack of HDR) or working on a PC/laptop with a wireless connection. It is particularily useful for business applications such as presentations. For both home and business users, I can imagine this would be very useful for projectors, avoiding the requirement to run long cables from AV equipment or laptops to a ceiling-mounted projector.
The appeal seems a bit limited as a mobile docking station. Not all phones can output to HDMI, and almost all phones have some sort of screen casting functionality. While screen casting is not latency-free, it is easier to set up and cheaper.
For me, I will likely use this when travelling, allowing mr to hook up hotel or AirBnB TVs to my laptop or phone, allowing me to work on a big screen or watch Netflix during my downtime.
While this does not provide a perfect like for like alternative to a physical HDMI cable, due to HDR and refresh rate limitations, I am unable to find a superior wireless alternative. Due to the lack of competition, this is, therefore, a superb product, just make sure you are away of its limitations.