Ubiquiti were a bit slow to adopt Wi-Fi 6, but they made up for it by launching the superb Unifi Wi-Fi 6 Lite, which at the time was by far the best affordable access point you could buy and still is one the best choices.
Ubiquiti have therefore surprised me by being one of the early companies to announce a Wi-Fi 6 E access point, and to make things better, once again, it is by far the cheapest option available on the market.
UniFi U6-Enterprise vs Aruba & EnGenius Wi-Fi 6E Access Point Pricing
At the time of writing, in the UK, there is just one option that you have a chance of buying, the Aruba AP-635 priced at over £1000.
EnGenius has just announced the ECW336, which will be available Q1, but at the moment, there is no pricing information available. All of their access points currently sell for over £250 and top out at around £420, so I would expect the ECW336 would cost well over £450.
If you were to go for a consumer mesh system, the excellent three-pack Netgear RBKE963 is over £1500 so £500+ per unit.
Zyxel, Netgear, TP-Link, Cisco and others have made no announcements about Wi-Fi 6E access points that I am aware of.
Therefore the stand out feature of the Ubiquiti is how ridiculously cheap it is at just $249 US MSRP. That's cheaper than what most companies are charging for a normal Wi-Fi 6 access point. I should point out, at the time of writing it is only Evan McCann that has stated the pricing but he seems to be a reliable source of information.
It is also worth noting that the UniFi 6 Long Range currently costs $179/ €191.18 inc VAT, so the jump up to the Enterprise is not that expensive.
Ubiquiti UniFi U6-Enterprise vs U6-Pro vs U6-LR vs U6-Lite – Benefits of WiFI 6E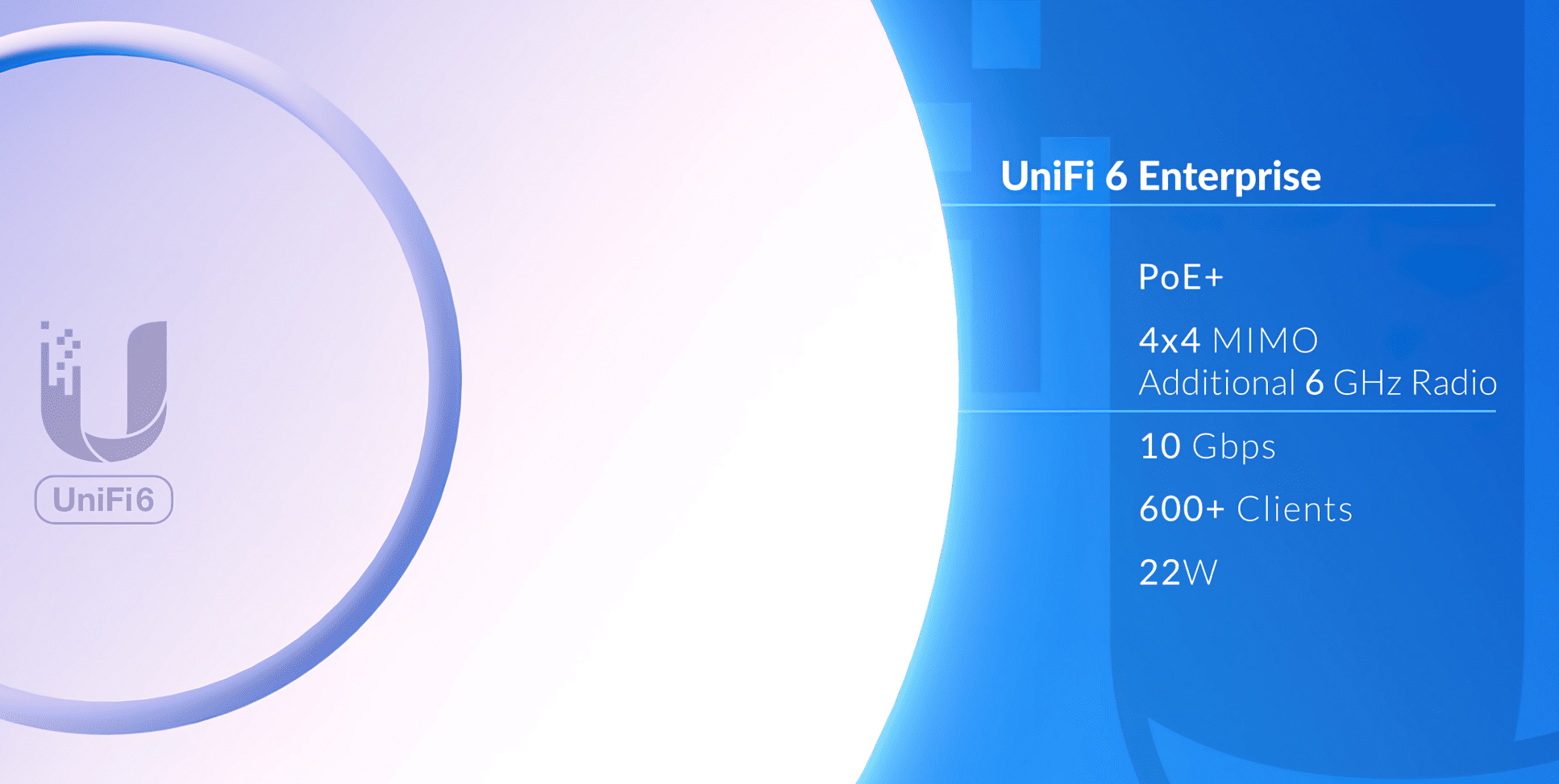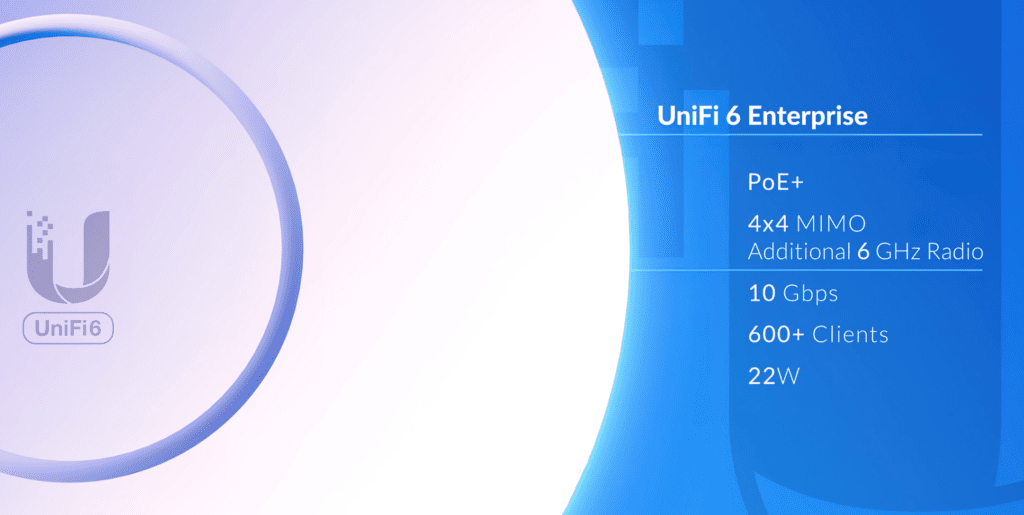 I won't go into a deep dive into the benefits of Wi-Fi 6E, but a quick overview of what it is and what the Ubiquiti UniFi U6-Enterprise in comparison to the other U6 products is:
A new 6Ghz WiFi band with 4×4 MU-MIMO and OFDMA.
6Ghz has a total of 14 channels at 80Mhz or 7 at 160Mhz and doesn't need to worry about DFS as much. This means you can run multiple access points using 6Ghz with 160Mhz channel width with no problems at all. There is also less of an issue with DFS.
6GHz Wi-Fi 6E at 160Mhz only has the same speed as the older 5Ghz Wi-Fi 6, but it is much easier to maintain that 160Mhz (especially in the UK).
6GhHz has a shorter range than 5GHz, but in my testing, it is faster than 5GHz @ 80MHz when up to 2 rooms away.
Ubiquiti UniFi U6-Enterprise now has a 2.5 GbE POE+ port which will allow you to achieve over gigabit throughput (1.4Gbps is about the best I get in my house for this sort of connection).
570 Mbps 2.4Ghz data rate vs 300Mbps on the U6 Lite
This can now handle 600+ clients vs 300 clients of the other models
The overall dimensions should match the Long Range, so it is quite large.
Caveats 2.5GbE POE is quite expensive
While it doesn't cost much more than the U6-LR, the overall cost of rolling out an UniFi U6-Enterprise could end up being quite pricey due to the price of 2.5GbE.
The best affordable option you have is the USW-Enterprise-8-PoE which is priced at $479, or the USW-Enterprise-24-PoE is $799.
They are both cheap as far as 2.5GbE POE switches go but considerably more than the $109 that the USW-Lite-8-PoE costs.
TP-Link have the TPE-215GI 2.5GbE POE injector, but that costs £43/$50
Ubiquiti UniFi U6-Enterprise vs U6-Pro vs U6-LR vs U6-Lite Specification Comparison
Ubiquiti
Access Points
UniFi U6-Enterprise
Unifi U6-Pro
UniFi 6 Lite
UniFi 6
Long-Range
Processor
Qualcomm Dual-Core Cortex A53
880 MHz MIPS 1004 Kec
Dual-Core Cortex A53 at 1.35 GHz
Ram
512 MB
256 MB
512 MB
MIMO
6 GHz band (4x4 MU-MIMO and OFDMA)
5 GHz band (4x4 MU-MIMO and OFDMA)
2.4 GHz band (2x2 MU-MIMO and OFDMA)
5Ghz: 4 x 4 (DL/UL MU-MIMO)
2.4Ghz: 2 x 2 (UL MU-MIMO)
2 x 2
4 x 4
Channel Width
20/40/80/160
20/40/80/160
20/40/80
20/40/80/160
Wi-Fi 4 Supported Data Rate
570 Mbps
573.5 Mbps
6.5 Mbps to 300 Mbps
6.5 Mbps to 600 Mbps
Wi-Fi 5 Supported Data Rate
1.7 Gbps
6.5 Mbps to 1.7 Gbps
6.5 Mbps to 866.7 Mbps
6.5 Mbps to 1.7 Gbps
Wi-Fi 6/6E Supported Data Rate
10.2 Gbps aggregate
4.8 Gbps radio rate for 6Ghz and 5Ghz

4.8 Gbps
6.3 Mbps to 1.2 Gbps
7.3 Mbps to 2.4 Gbps
Claimed Range
Not stated
Not stated
Not stated
Ethernet
2.5GbE RJ45
Gigabit
Gigabit
Gigabit
Power Method
802.3at PoE+
No 2.5GbE POE injector included
PoE+, Passive PoE (48V)
802.3af PoE, Passive PoE (48V)
PoE+, Passive PoE (48V)
Max. Power Consumption
13 W
12W
16.5W
Max. TX Power
Max EIRP = 30 dBm
Max PSD = 5 dBm/MHz
2.4 GHz: 22 dBm
5 GHz: 26 dBm


23 dBm
26 dBm
Antenna Gain 2.4Ghz/5Ghz
4 dBi / 6 dBi
2.8 dBi/3 dBi
4 dBi / 5.5 dBi
Concurrent Clients
600+
300+
300+
300+
Operating temps
-30 to 60° C (-22 to 140° F)
30 to 60° C (-22 to 140° F)
-30 to 60° C (-22 to 140° F)
IP Rating
IP54 rated (semi-outdoor)
None stated
IP54 rated (semi-outdoor)
Dimensions
220 x x 220 x 48 mm
197 x x 197 x 35 mm
160 x 160 x 32.65 mm
220 x x 220 x 48 mm
Required Controler Version
6.0.34 or higher
5.14.3 or higher
6.0.34 or higher
Price
$249 US MSRP
€126.00 / €149.94 VAT incl.
£125
€79.00/€95.59 VAT incl.
£85-ish
€149.00 /€180.29 VAT incl.
£150
Overall
Assuming the pricing is correct, the Ubiquiti UniFi U6-Enterprise looks like it will be an amazing access point and finally offer the sort of Wi-Fi speeds we have been dreaming about.
It is worth noting that Wi-Fi 7 and one of the arguments for the slow adoption of Wi-Fi 6E has been that companies may skip it for Wi-Fi 7. Wi-Fi 7 has many benefits, but the main one would be the adoption of 320Mhz wide channels, which would then give a 2×2 client device a theoretical throughput of 4800Mbps.
Last update on 2022-05-23 / Affiliate links / Images from Amazon Product Advertising API