Netgear Orbi Pro Mini SXR30 Review Rating
Summary
The  Netgear Orbi Pro Mini SXR30 is an excellent little dual-band WiFi 6 mesh system that is priced about the same as the consumer version but has more features, remote management with superior mounting options. This is a great solution for both small businesses and home users alike. 
Pros
Almost a third of the price of the flagship SXK80
Almost the same price as the consumer RBK352 which has less features
Netgear Insight provides an excellent user friendly way to remotely manage the network (and it may be free to use if you use no other Insight hardware)
Cons
Dual-band design means significantly slower speeds via the satellite vs tri-band
I previously reviewed the superb but extremely expensive Netgear Orbi Pro SXK80, which basically took the flagship consumer Orbi RBK852 hardware and upgraded it with Netgear Insight cloud management.
Netgear has now released the smaller SXK30 system which is considerably more affordable, making it appealing for small businesses.
Similar to the larger model, the SXK30 appears to take the consumer RBK352, repackage it in a new chassis with wall mounts and swap out the Orbi app management with Netgear Insight.
Sale
Specification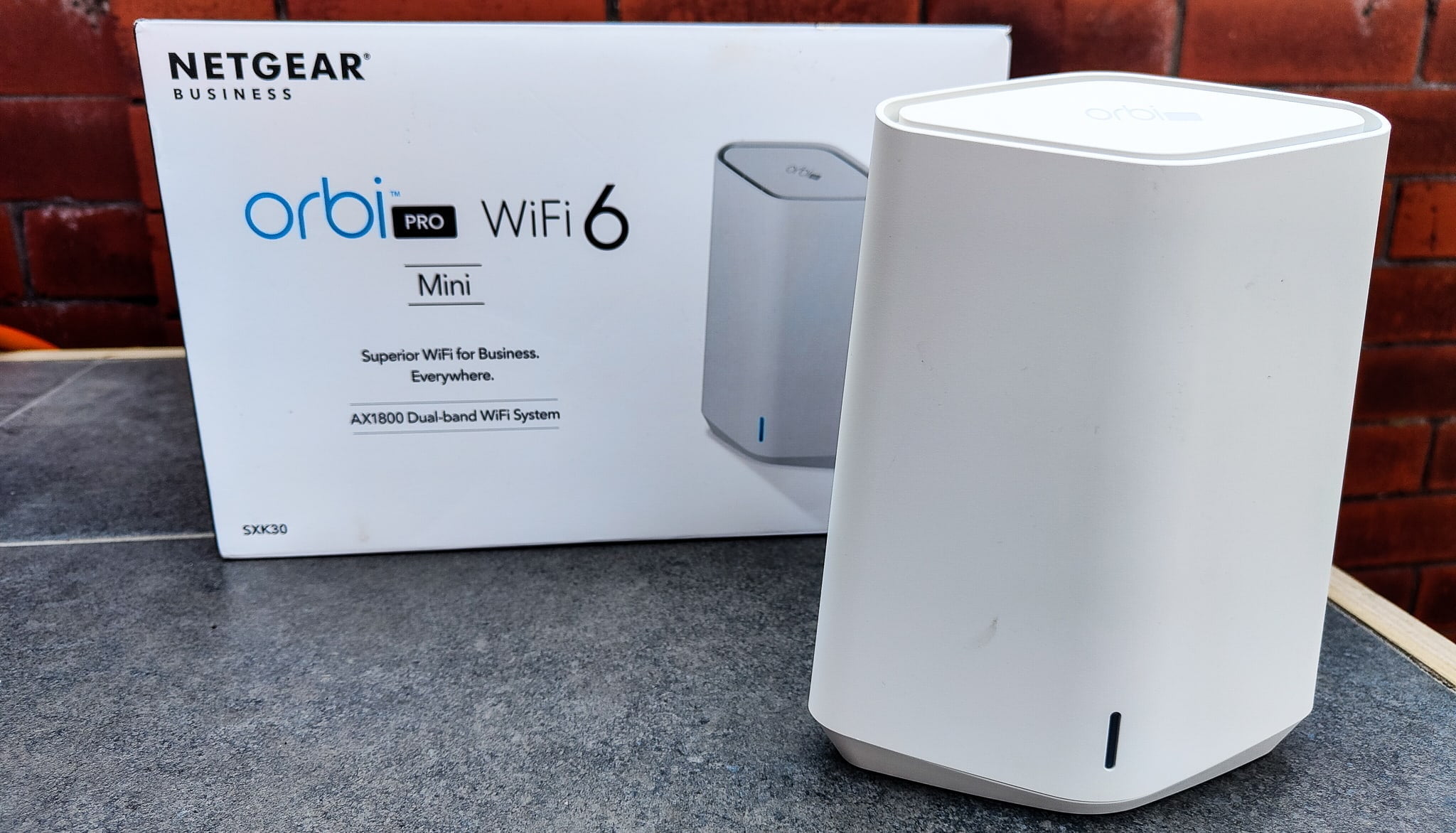 Dual-band WiFi

Radio 1: IEEE 802.11b/g/n/ax 2.4GHz – 256QAM support

Radio 2: IEEE 802.11a/n/ac/ax 5GHz – 1024QAM support

Two (2) high-performance antennas with high-power amplifiers
Explicit Beamforming for 2.4GHz and 5GHz bands
Integrated Gigabit Smart Ethernet Switch for business-grade security and application
Four (4) SSID wireless networks

Guest devices with Captive (denied access to Administrative Network devices)

WPA/WPA2-PSK/WPA3-PSK/ WPA-Enterprise
Ethernet

Router: 1x WAN, 3xLAN Gigabit
Netgear Orbi Pro SXK30 vs SXK80
I won't make a detailed comparison, but highlight the important bits:
Netgear SXK30
Netgear SXK80
Wi-Fi Specs
Dual-band AX1800
Tri-band 4×4 AX6000
1st Band (5GHz)
2×2 AX: Up to 1200Mbps
4×4 AX: Up to 2400Mbps
2nd Band (5GHz)
None
4×4 AX: Up to 2400Mbps
3rd Band (2.4GHZ)
2×2 AX: Up to 600Mbps
4×4 AX: Up to 1200Mbps
Wireless Backhaul
Shared
Dedicated 5Ghz
Router Ethernet
1 x 1Gbps LAN/WAN
3 x 1Gbps LAN
1x 2.5Gbps LAN/WAN
3 x 1Gbps
Satellite Ethernet
4 x 1Gbps LAN
1x 2.5Gbps LAN
3 x 1Gbps
Link Aggregation
No
Yes
The router on the Netgear SXK80 will provide a similar level of performance as this affordable SXK30, so it is easy to wonder why anyone would want to spend almost three times the price on the SXK80.
However, I think the above specification helps give some context; there is a massive difference in the hardware specification. The Netgear SXK80 is geared towards a demanding environment with a lot of users accessing the system at the same time.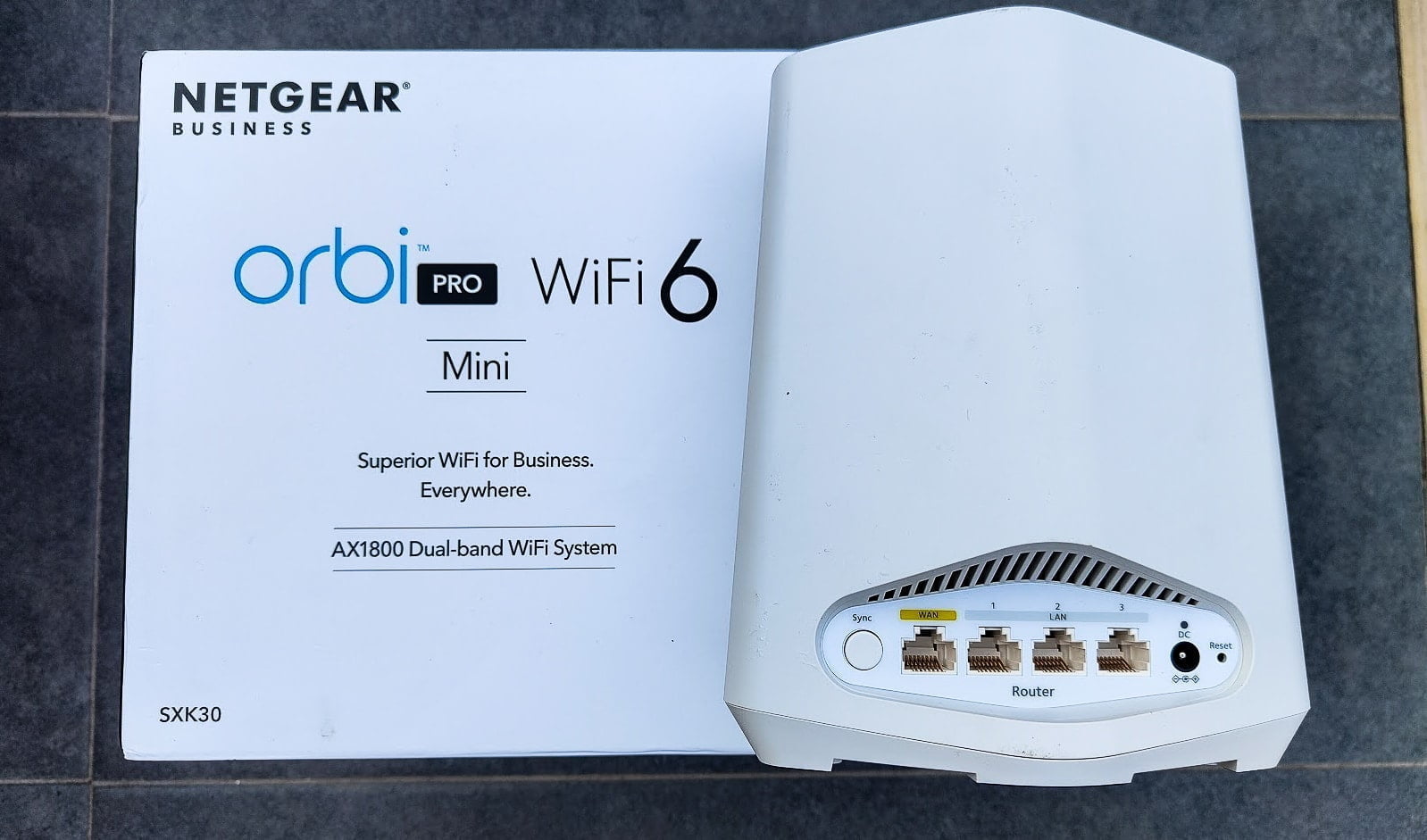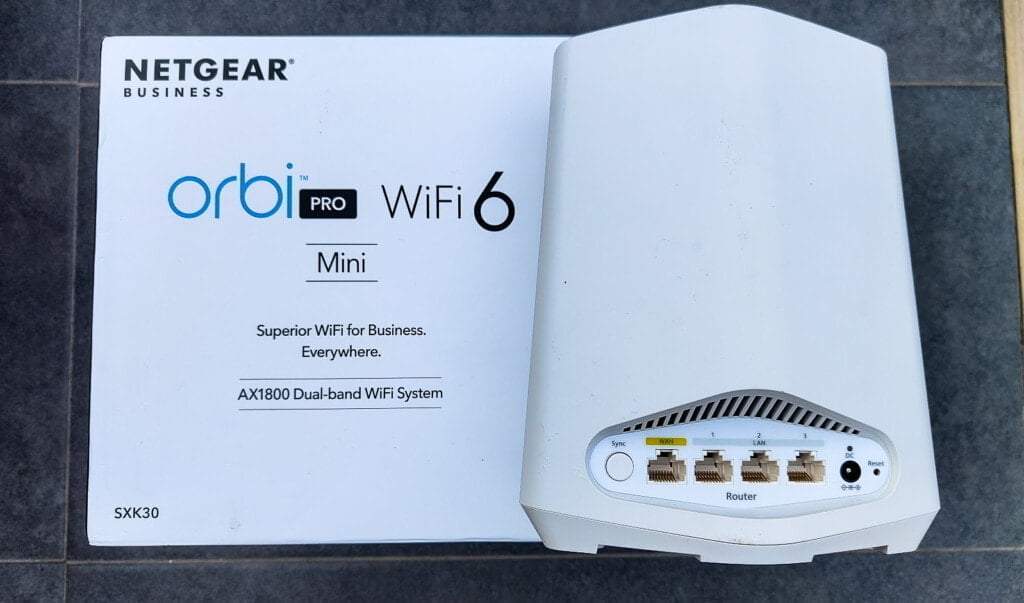 Set Up
I already had the Netgear Insight app from my previous review, so my location was already set up. This, therefore, meant the installation was a breeze. All you do is go into the app, add a new device and scan in the QR code.
From my previous Netgear reviews, I have learned to just power on the devices, add them and them leave them to do their thing for a while.
Returning to the system 15 minutes later, the system asked me if I wanted to use them as a router or access points. For the majority of my testing, I used them in AP mode.
There is no need to add the satellite, and the Insight app will give you an error if you try. It is already paired up with the router, and the satellites and router are all seen as one device within the Insight system.
Netgear Insight
Netgear Insight technically has a monthly fee per device which is priced at $9.99 per year per device.
However, you should get 1 year free, and Netgear provides Insight free of charge for 1 device. Normally that is a bit useless if you are using access points and POE switches, but if you are a small business wanting to deploy this system by itself, it shouldn't cost you anything.
Netgear Insight is the same as all my other reviews, and it offers quite a user-friendly way of managing your network without the need to be connected to the network.
The main things worth noting are the four SSIDs you can use and the ability to break these off into their own VLANs. Businesses can then have a staff SSID and a guest SSID, with guests only receiving Internet access rather than having access to any devices on the network. If you have any WiFI home surveillance cameras or IoT devices, it is normally advisable to separate these off into their own VLAN too.
I have always liked the way Insight has push notifications for critical events. If the internet goes down and I am out of the office, I am immediately notified. A few times in the past this has allowed me to identify and fix a problem before anyone else has noticed.
Web Management
If it turns out you do have to pay for Netgear Insight, you could go down the old fashioned route and manage things via the local web interface.
This gives you the same sort of interface as you find on most of the Netgear consumer hardware with the advantage of the added features of the professional hardware such as more SSIDs, VLANs and guest portals.
WiFi Performance
Router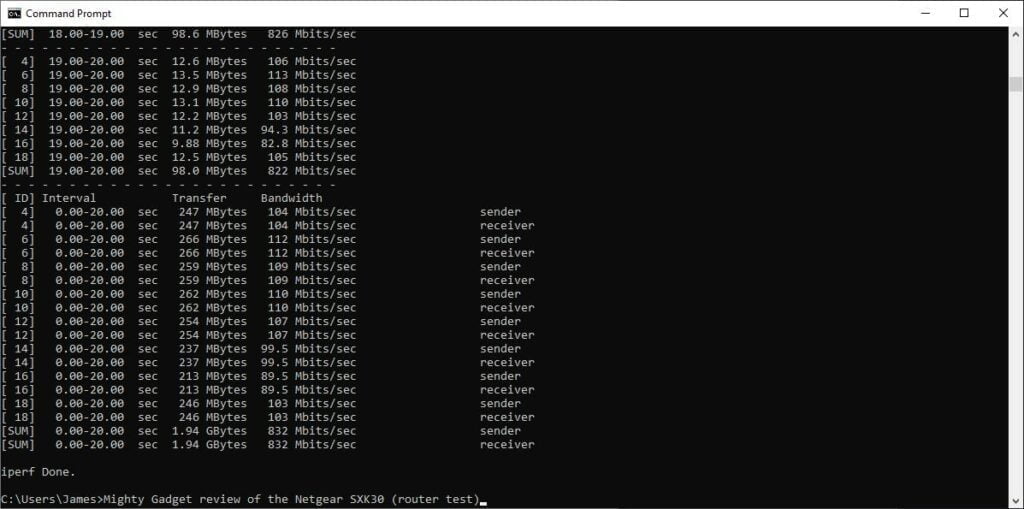 | | | | | |
| --- | --- | --- | --- | --- |
| Office / iPerf | Orbi Pro Mini | Netgear SXK80 | Unifi 6 Lite | Netgear WAX214 |
| Desktop Wi-Fi 6 | 832 Mbps | 910 Mbps | 833 Mbps | 811 Mbps |
| Huawei Matebook 13 Wi-Fi 5 | 552 Mbps | 564 Mbps | 575 Mbps | 541 Mbps |
Connecting to the router, which is within a couple of metres of my desktop WiFi antenna, I was able to achieve 832 Mbits/sec averaged over a 30-second test with iPerf.
This is a little bit behind the Netgear SXK80, but you'd unlikely notice the difference. Then the performance is roughly the same as the Ubiquiti UniFi 6 Lite and the Netgear WAX214 access points.
Large file transfer easily reached the limits of the gigabit Ethernet with speeds staying consistently around 108MB/s, which is better than the UniFi 6 Lite.
Satellite
With this being a dual-band system, it shares one of the bands with the backhaul channel causing signal loss, and this is why you pay a premium for the tri-band Netgear RBK852.
Due to this design, I found that some experimentation on placement was needed for the best speeds throughout my house.
In my normal spot, the front room, which is downstairs and two rooms over from the router, I was able to achieve speeds of 126 Mbps.
Moving the satellite to my hallway, which is down a level with one room and one wall to get through, the WiFi improved to 233Mbps. This was both close range to the satellite but also in the front room. So moving the satellite further away from where I'd normally use it, but closer to the router significantly improves speeds.
Like other Netgear Orbi products, this can work with a wired backhaul channel, resulting in the satellite providing the same performance as the router.
Price and Alternative Options
The 1-satellite Netgear Orbi Pro Mini SXR30 is priced at £250, while the 2-satellite system will set you back £330. Amazon currently has them at £231 and £270 with the add-on satellite being £180.
The RBK352 and RBK353 have exactly the same RRP, and you can now get them cheaper on Amazon. Current pricing is £216 and £270.
Normally business-focussed devices come with a higher price than the consumer varients, so it is impressive that Netgear has priced them this way.
Just like my previous Netgear Orbi Pro review, there is no other brand offering a like for like product.
However, with this only being a dual-band system, it has a lot in common with many cloud-managed access points which often have mesh functionality.
This includes Netgear's WAX610, a dual-band WiFi 6 AP that has mesh functionality and uses Netgear Insight and currently priced at £153.
Or there is the superb Ubiquiti UniFi 6 Lite for under £100. They also have the Access Point WiFi 6 Mesh available via early access. Amazon now stock these, the product page has a higher price but you can select new from £95.83 and this is sold from the Amazon EU warehouse.
I think most people with moderate networking knowledge would recommend or use themselves the Ubiquiti system. However, you have to factor in the cost of the cloud key and a POE switch or injectors and the set-up process is more time-consuming. So, the Orbi Pro Mini seems more user friendly for people with limited networking knowledge.
Then there is the Zyxel NWA210AX or NWA110AX, however, they seem to have increased in price the past few months, so are starting to look less appealing.
Overall
I think the Netgear Orbi Pro Mini SXR30 makes a lot more sense than the SXK80. It is priced low enough to appeal to many small businesses, and the mesh functionality reduces the cost and effort of installing these vs an access point. The Netgear Insight cloud management will also allow someone within the business to manage the network remotely rather than having to try and provide network support over the phone to someone who knows little about computers.
It also makes sense in a home environment. While you can do some remote management of the consumer Orbi devices, it is not the same as Insight. I set up my old RBK63 at my mother's house, which is 30 miles away, and trying to get her to troubleshoot network problems over the phone is impossible. The same is true for my own home, as soon as there is an issue with the WiFi I immediately get a message from my partner moaning about it. So having cloud access as a home user is just as beneficial as it is for business.
Considering the SXK30 is roughly the same price as the consumer RBK352/RBK353 system, I'd actually opt for this system for all scenarios. Netgear Insight is orders of magnitude better than the Netgear Orbi app, you have much more control and I find it quite user friendly to use.
Overall, the Netgear Orbi Pro Mini SXK30 is an ideal solution for small businesses that want an affordable way to provide WiFi 6 over a large area.
Last update on 2022-06-19 / Affiliate links / Images from Amazon Product Advertising API