I regularly review Aukey products and find them to be one of the best peripheral and accessory sellers on Amazon.
They have recently sent me two new products to review, an ergonomic wireless mouse and an extra-large mouse matt.
Mouse Matt
As dull as it sounds this is the best item out of the two. Oversized mouse mats have become quite popular in recent years, and this one measures 900x400x4mm. Depending on the size of your desk this will not only cover your keyboard and mouse but potentially nearly the full length of the desk. It is huge, and its huge in a good way.
It is made of cloth and rubber; I am not sure if a plastic matt with these dimensions would be economical for shipping. The surface has a fine texture provide and nice smooth feedback, in comparison I have recently gone back to a plastic matt with a grainy texture which provides a very different feeling. I am not sure which I prefer, but some people will have a preference for their mouse surface.
The size of this and its rubber base means that it never moves out of place and the surface is semi water resistant so that it will cope with the inevitable drinks spillage in my office.
Unlike some cheaper oversized models, this has a breaded edge which stops the sides from fraying and also helps the edges stay intact if you wash it.
I love this style of mouse mat; I would say its only downside is that they do tend to get dirty quickly, especially if you drink or eat at your desk ever. While this is machine washable, its more hassle than just giving a plastic one a wipe down.
Price at £12.99 it is not the cheapest matt at this size, but I found it better quality than my previous matt, and £13 is hardly a lot of money in the first place.
[button link="https://amzn.to/2rJpSUS"] Buy the AUKEY Gaming Mouse Mat from Amazon[/button]
Ergonomic Wireless Mouse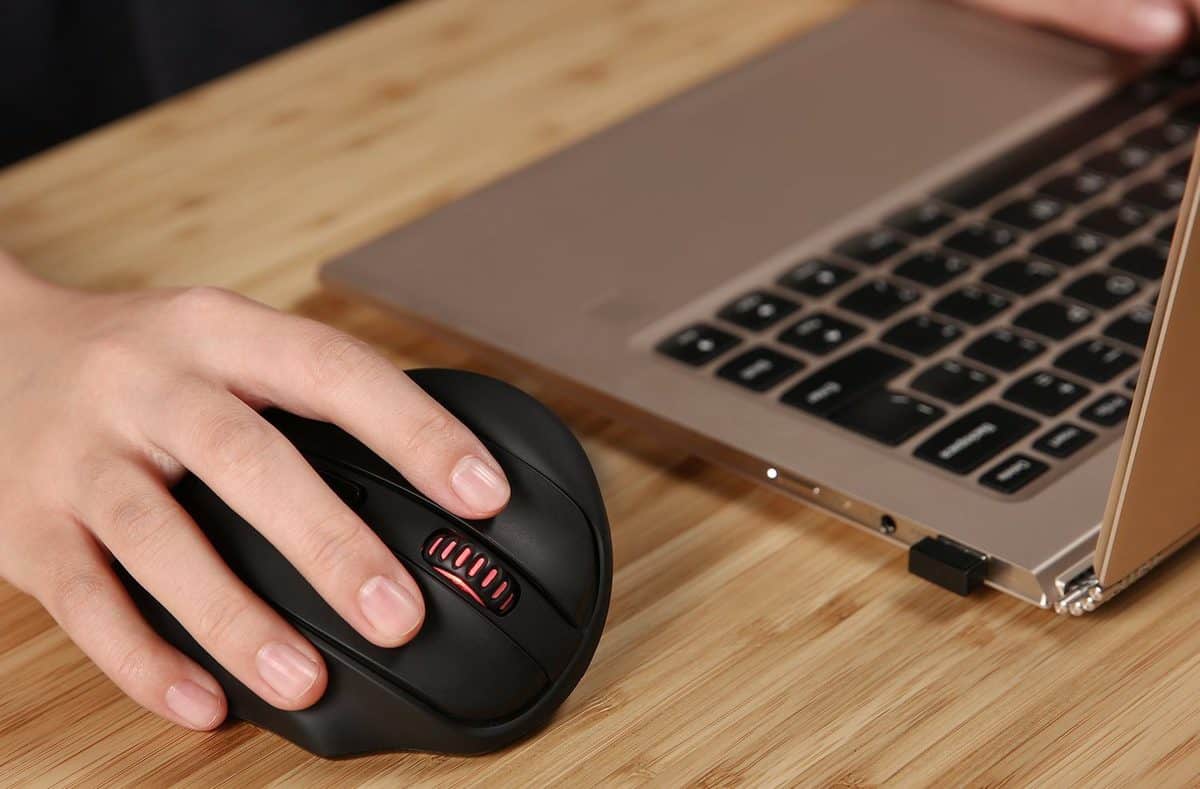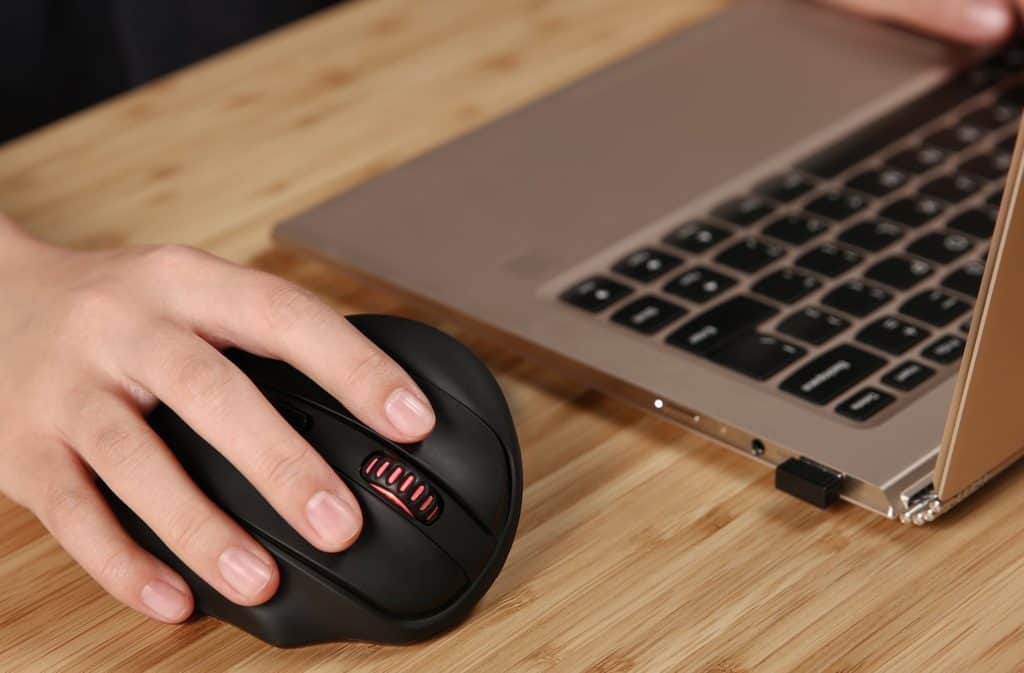 I always use a wired gaming mouse for all my computer use, I love the responsiveness of them, especially because my primary monitor is a 40" 4K display.
I don't suffer from RSI in my right wrist, though I do have symptoms in my left from typing. So I can't really comment on how good this is for alleviating any wrist strain.
Set up is simple as always, just plug the dongle in, and insert a AA battery then switch it on. You can optionally have the mouse with no lights on, or a red light which glows up the logo.
Due to its shape, and wireless nature, it is considerably larger and heavier than my regular Logitech gaming mouse. However, it does feel nice and comfortable to hold; there is a large deep groove for your thumb. The size and shape of the mouse shifts my grip away from being a fingertip style to being closer to a palm grip.
You have adjustable polling rates so you can replicate some of the responsiveness of a gaming mouse. However, I found it difficult to find a setting I preferred.
Overall, this is a decent mouse, if you suffer from strain in your right wrist it is definitely something that is worth considering. While it isn't my preferred style of mouse I did find it very comfortable to use, and I might use it as my main mouse when I am working away from home. At £12.99 it is cheap as chips, so if you do have wrist strain, it is a cheap way to try and alleviate it.
[button link="https://amzn.to/2IgC9uW"] Buy the AUKEY Ergonomic Wireless Mouse from Amazon[/button]