The MatePad is the latest mid-range tablet from Huawei, providing a more wallet-friendly experience to the MatePad Pro which costs almost double.
Similar to other recent Huawei releases, this no longer features any services by Google. Instead, you rely on Huawei Mobile Services. While I have found this can be problematic at times on a phone, I feel it is less so here.
Due to a lack of competition, this is also likely your best bet for a tablet around £250.
I have reviewed this based on the RRP of £229.99 but as I post this, it is just £199.99 on Amazon, which is an absolute bargain.
Features & Specification
Display: 10.4 inches, 2000×12000
Chipset: Kirin 810
RAM: 3GB/4GB
Storage:32GB/64GB
Rear Camera:8MP
Front Camera:8MP
Battery: 7250 mAh battery with 18W charging
Other: No Google. No 3.5mm headphone jack
There are two variants available in the UK, one with 3GB/32GB for £229.99 and the other with 4GB/64GB for £269.99.
I was sent the 3GB/32GB model. While 32GB is poor, this thankfully can be upgraded via microSD (rather than nanoSD of the flagship phones). I haven't experienced any issues with the 3GB of RAM so there should be no problem opting for the cheaper model.
While I don't own any wired earphones anymore, it would have been nice for this to have a jack. It's not like they need to worry about keeping the device as slim as possible, and it would be convenient for things like long haul travel.
No Google Mobile Services or any way to install it via LZ Play
All recent Huawei and Honor launches have been forced to omit Google Mobile Services and the Play Store due to the ongoing political dispute with the US. Sadly, this does not appear to be going away any time soon, and we can only hope that things may improve following the elections in November.
While I was able to bypass this restriction by sideloading Google only the Huawei P40 Pro and P40 Pro Plus using the LZ Play app, I was unable to do so here. This will likely be the case for future Huawei releases too unless someone finds a new way.
However, I don't think it causes as many issues when using as a tablet as it does my phone, but your mileage may vary. With this offering more screen real estate than a phone, I am much more willing to access services via the browser, as I would a laptop. I am also less dependant on some Google-specific apps such a Photos and Google Pay.
Related; What works and does not work on the Huawei P40 Pro
Software Experience & How to find apps on the MatePad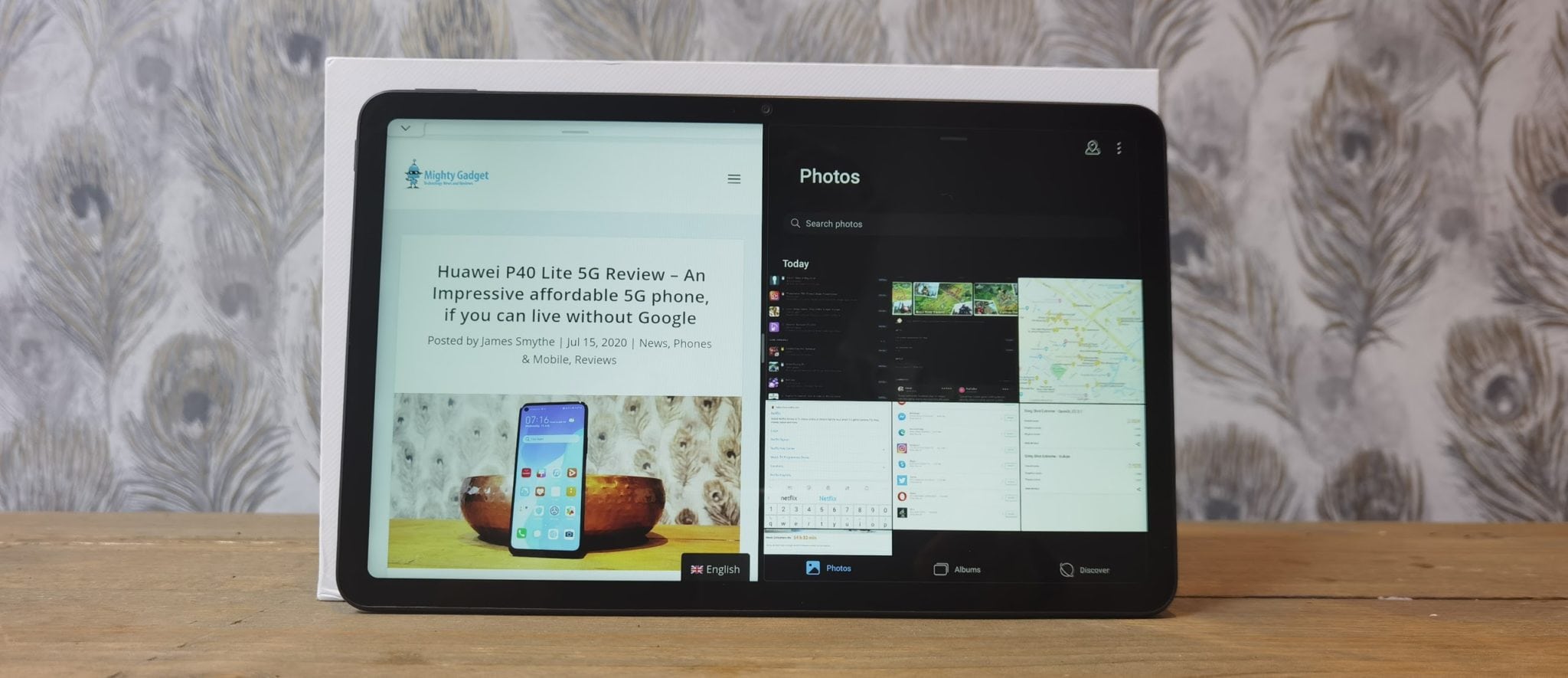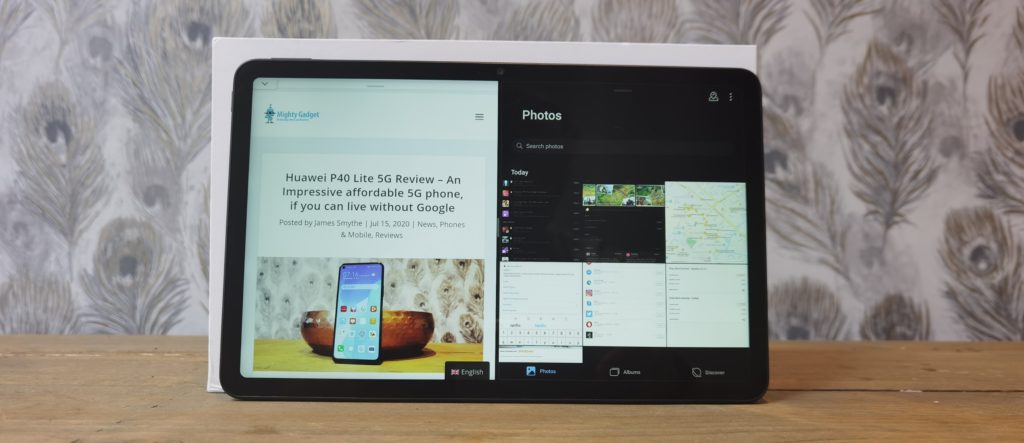 I have grown to like EMUI over the years, and EMUI 10 offers plenty of features over Android 10 while not ruining the interface or performance.
Some of the features that I have ignored on the phone come into use with a tablet. The multi-window feature is genuinely useful compared to trying to switch between apps to do things. Similarly, there is a multiwindow feature allowing you to split one app across two screen while in landscape.
Finding apps is the same as other recent reviews. Your best bet is to use phone clone when you set the tablet up, you can select what apps you want and do not want, and it will transfer over as much as possible. Google apps won't transfer over, but things like WhatsApp, Facebook, Telegram, Reddit, Instagram and much more all transferred over perfectly well.
For some apps, it will even transfer over their stored data, so you don't need to log in again.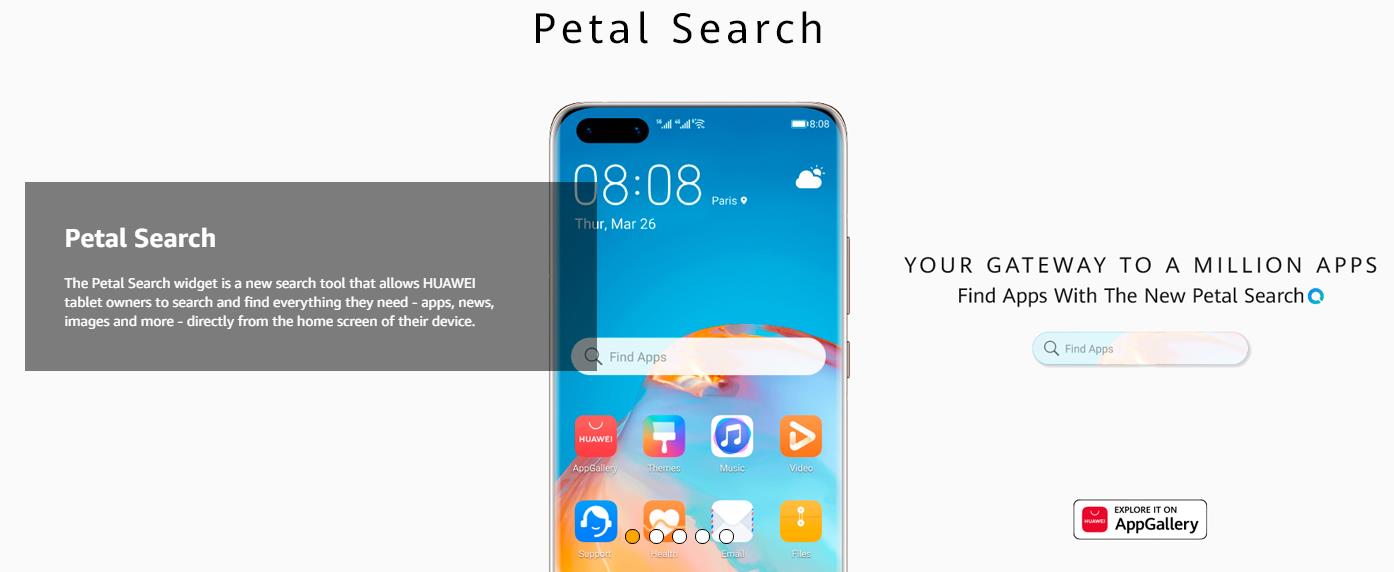 From there, anything new you want to install can be done via Petal Search which will search multiple sources and find the best option for your needs.
It will prioritise services, so if an app is within the Huawei App Gallery, it will always choose that, giving you the Google Play Store experience with background updates. If an app isn't available there, it will offer direct downloads from the company itself, WhatsApp and others all offer this.
Then you normally get a mixture of Quick Apps/PWA apps allowing you to install a lightweight web-based app or it will link out to many third part APK sources where you can download the APK directly and sideload it.
I would also strongly recommend installing the APKPure app, this will advise you and help you install updates as and when they become available.m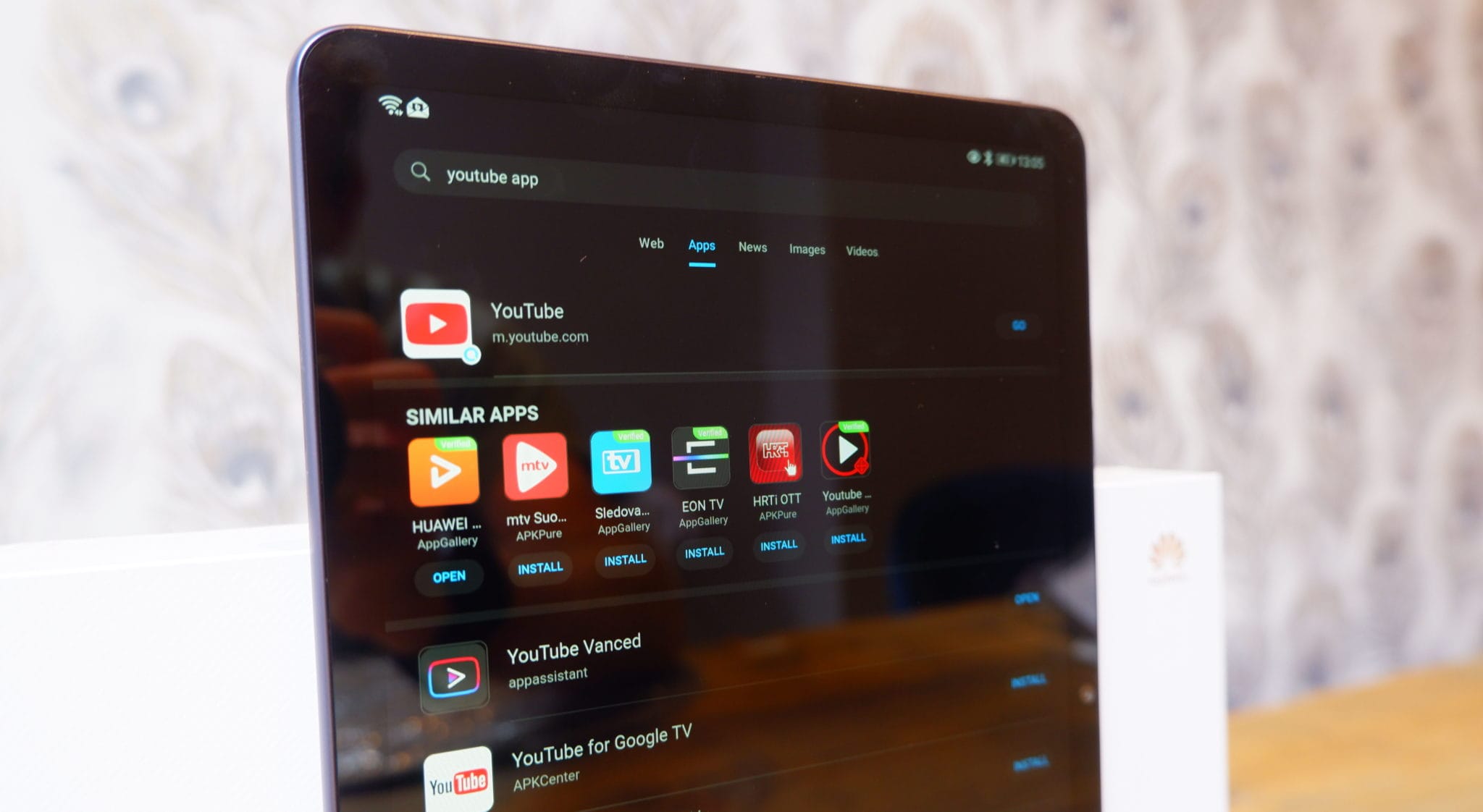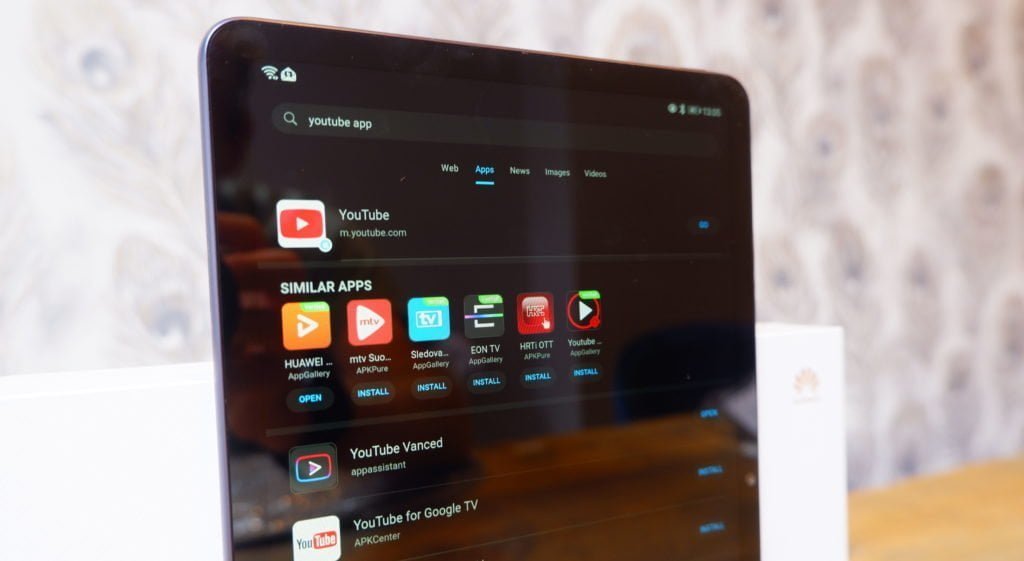 Overall, as long as it doesn't use Google, you can get it. In some cases, things will still work to a certain degree, even if it is reliant on Google. You can even install Google Maps; you just can't log in.
As previously mentioned, anything that does require a Google login can be down via the browser, similar to a laptop. This is not something I would be eager to do on a phone, but on a tablet, it feels natural.
What does not work
It is not all perfect. The big one is the lack of proper DRM support, so many streaming apps will not be able to display HD content. This means Netflix is stuck as SD. It is not the end of the world, but if you watch a lot of media on a tablet, it could be a sticking point.
I tried to bypass the Netflix issue by watching it in a browser, but it was having none of it.
Games reliant on Google may also have issues. I don't play a lot of games, and the ones I do play have worked fine, but it is worth considering.
Design and Display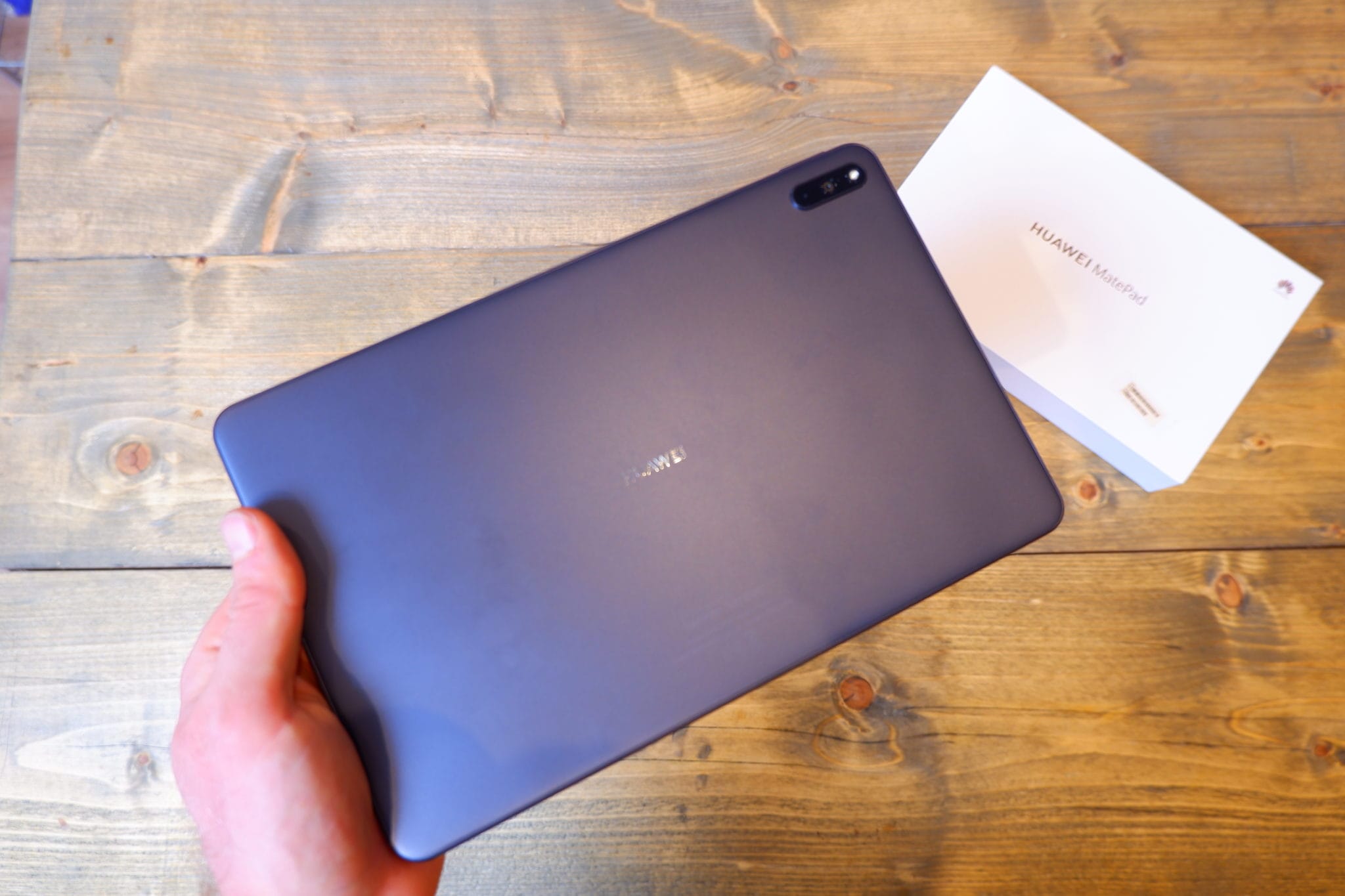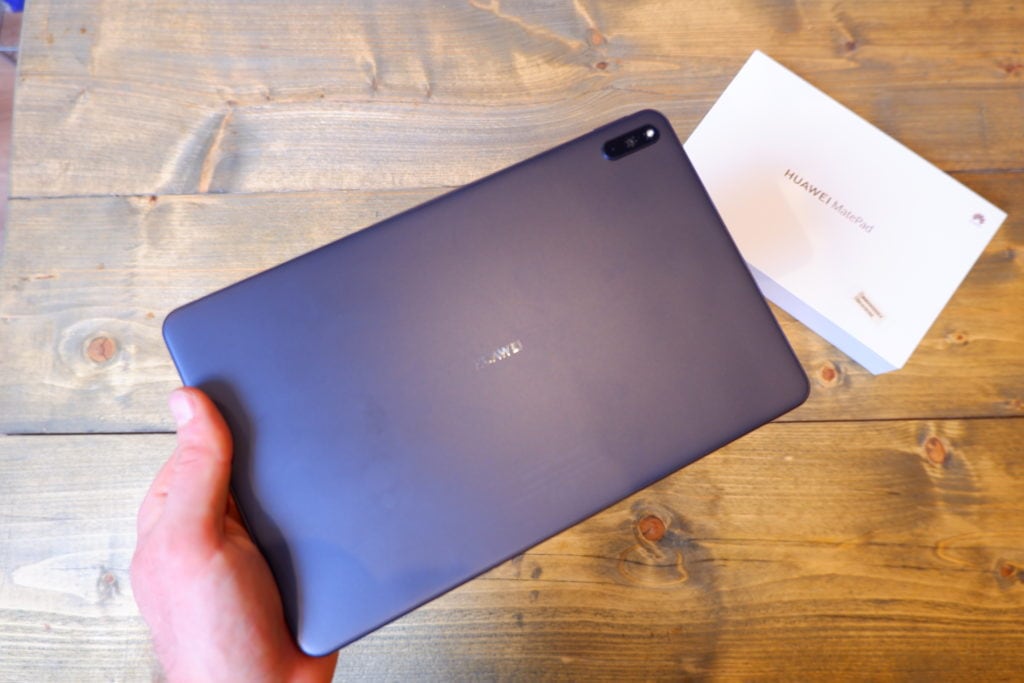 The overall build quality and design are excellent, far superior to the many affordable Android tablets you will find on Amazon. It looks and feels nicer than my partners Apple iPad 10.2″, but that's about as far as my recent experience going with decent quality tablets.
The display is IPS and very reflective, but I have not had any issues with visibility from it yet. There can sometimes be a little bit of choppiness with scrolling sites, which I suspect maybe me getting too used to the high refresh rate of recent smartphones.
Camera
With an 8MP rear camera and 8MP front-facing camera, there is not as much need to test the camera as thoroughly as a phone. The front-facing camera is perhaps more important here being useful for video calls from various apps such as Zoom. It works well, I have reluctantly taken a couple of zoom calls on it, and the images are clear for both parties, and audio is good.
Speakers
I rarely mention speakers on phone reviews, but they will likely be important here. The tablet features stereo speaks, and they can get very loud. More than enough volume to clearly hear anything from across the room. Audio quality is about as good as a cheap external speaker, generally, the quality is good in the mids, but the limited size of the speakers means a significant lack of bass and some harshness with the higher frequencies at higher volumes.
Overall, the speakers are excellent for things like video calls or watching TV, if you really need to. But you will always be better off with headphones or pair it with a Bluetooth speaker.
Performance and Benchmarks
This is the first device I have reviewed with the HiSilicon Kirin 810, which was launched well over a year ago. Due to the political issues, Huawei reused the Kirin 710 on many devices allowing them to use Google, but it was starting to show its age, and finally, they have had to commit to the newer chipsets minus Google.
Unfortunately, I was unable to run some synthetic benchmarks, the tablet is running a beta OS, and I can't get Antutu to complete.
In Geekbench I was able to achieve 590/1817 which puts it comfortably ahead of the Qualcomm Snapdragon 720G on the Realme 6 Pro, the Helio G90T on the 6. It is also a massive improvement from the Kirin 710 with an 81% improvement on the single-core and 34% improvement with the multi-score results I achieved on the Honor 9X.
In 3DMark, again you are looking at performance above the mid-range offerings from both Qualcomm and MediaTek with a score of 2804 in the Sling Shot Extreme Open GL and 2528 in the Vulcan test. It then more than doubles the score of the Kirin 710 on the Honor 9X which achieved just 864/973.
In terms of real-world performance, this is excellent all apps run well with no serious performance glitches. Occasionally scrolling long pages can feel a little choppy, but I think it could be the 60hz screen vs the increasingly popular 90hz and more displays we are seeing.
Gaming also worked well, playing COD I had no issues with performance. I thought gaming on a tablet would be unwieldy, but the extra screen space works well.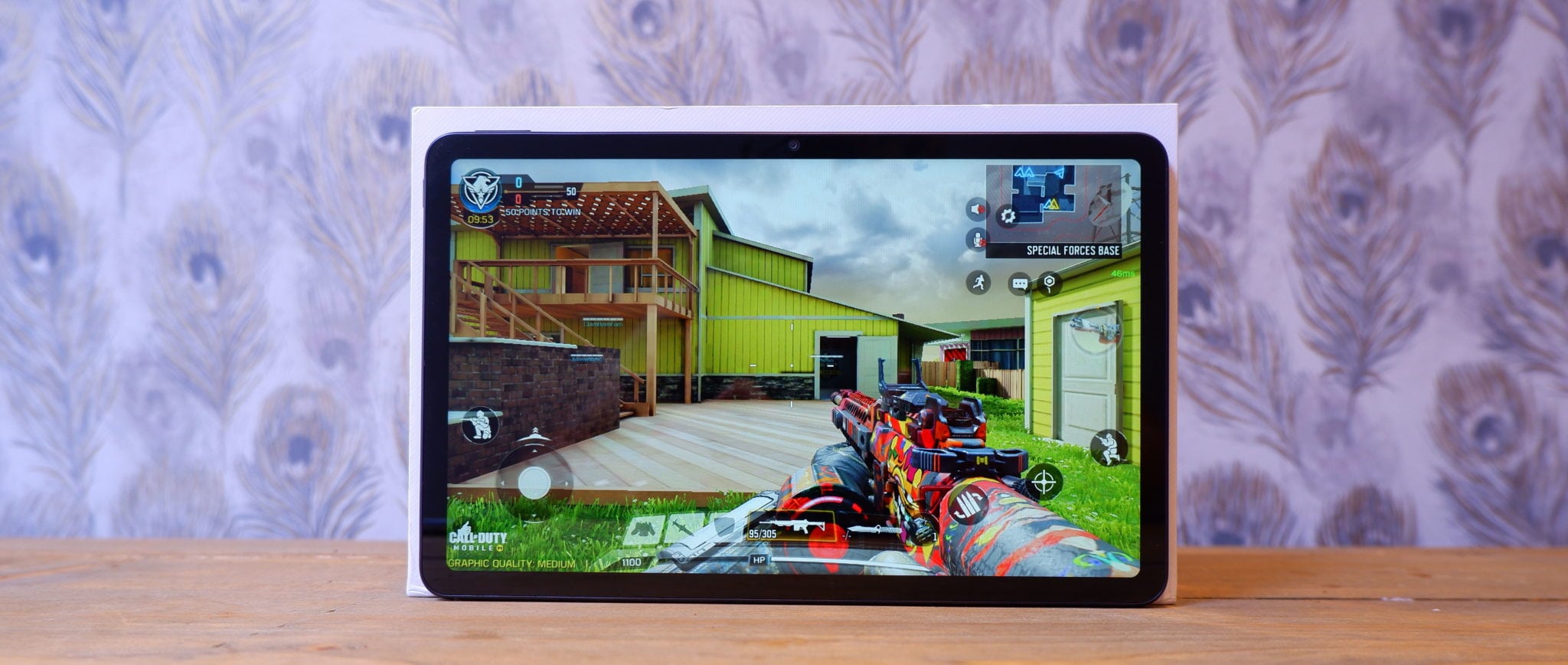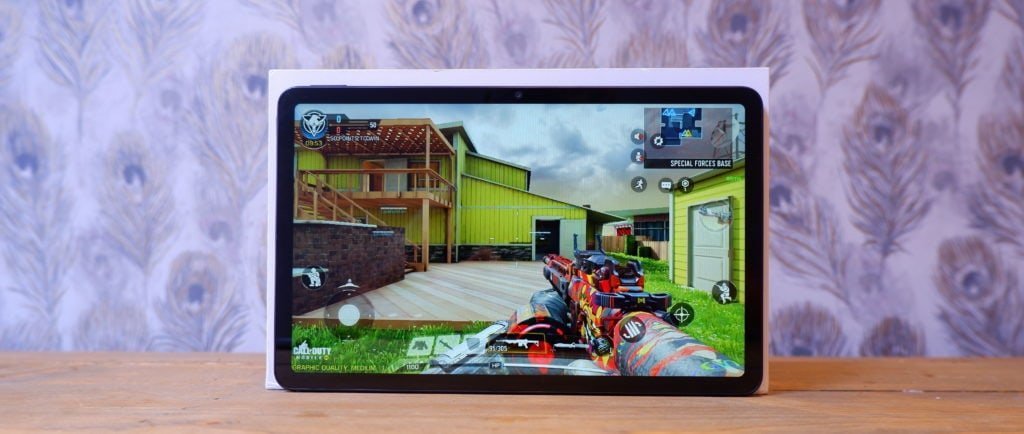 Battery
With a 7250 mAh battery, an efficient chipset and the usual excellent/aggressive battery management from EMUI you should experience no problem with battery life. With me not reviewing many tablets, it is hard to compare to other devices, it's not like a phone that you use on an off all day.
Using the PC Mark battery test the tablet achieves 14h, not quite as good as the incredible 18hours+ the Huawei P40 Lite 5G managed, but the 10-inch screen will eat up the battery quicker.
With over 14 hours screen on time, I can't see any scenario where you get caught out though. This will last a full day at work or on the longest of flights.
Accessories – Keyboard, Case and M-Pen
With Android tablets not being anywhere near as popular as the iPad, there is a woeful lack of accessories.
The official options are pricey, to say the least, the flip cover is the only affordable option at just £19.99.
The official MatePad Keyboard is £129.99, and the M-Pen is £99.99. Considering this is a £230 tablet, both seem a little steep.
Third-party options are the main issue, there are not many. For a keyboard, there are a few options for around £40, but these are normally just folio covers with a detachable/magnetic keyboard.
This is quite a new tablet though, so the options should improve with time.
Pricing & Competition
Perhaps the biggest selling point of the Huawei MatePad is its complete lack of competition, which makes up for the lack of Google.
In the Android space, you have Huawei or Samsung. All the tablets your find from random brands on Amazon are much lower specced, run out of date versions of Android and will lack any support. There is the Amazon Fire HD 10, which is good for media, but beyond that, I don't feel like it offers any competition.
Samsung Galaxy Tab S6 Lite
This is your best, it is well-reviewed and has Google. The RRP is £349.99, but Amazon currently has had it for £299.99 recently. The chipset and day to day performance won't compete with the MatePad, but it comes with an S Pen and the fact it has Google is a huge advantage.
Samsung Galaxy Tab A
Cheaper and even less performance compared to the MatePad but it should be good for basic use.
Apple iPad 10.2″
I would never normally suggest an iOS device when doing an Android review, but with the dominance, Apple has in this market, you can't ignore them.
The 10.2″ iPad from 2019 is the cheapest option at around £340 then the iPad mini at £373. So a lot more expensive, but you get long term OS updates, everyone develops their apps for iOS and accessory options to fit every budget
Conclusions
I actually really like the Huawei MatePad 10.4″, even though it suffers the same issues with Google as other recent Huawei releases, I find them much easier to overcome with a tablet vs a phone.
This won't necessarily apply to everyone, but a lot of the apps I class as essential don't carry over to a tablet. I'll never use Google Pay, I am not too concerned about regular backups of my photos to Google Photos, and I will never use this for navigation via Maps.
With me not needing the app functionality from things like Maps and Photos, there is no problem with me accessing these services via the browser. Thanks to the large 10.4″ 2,000 x 1,200-pixel display, it is the same experience as accessing these services via a laptop or my desktop.
Most other none Google apps can be acquired via Petal Search/APK Pure etc. so 90% of the stuff I want is already available.
There are a few caveats though, in particular, Netflix is SD only. I don't care about HD on the phone, but with a tablet, it is something that is more important.
Similarly, some games may not run properly without access to Google Play, though there are still a vast number of games that work perfectly without.
There is very little competition in the tablet market, and this clearly works in favour of Huawei here. If there were a similar specced and priced tablet, I may not be as favourable to this, but there isn't.
The Samsung Galaxy Tab S6 Lite is the only realistic alternative, it is a well-reviewed tablet, and I am sure it is fantastic, but it lacks the processing grunt the Kirin 810 offers on the MatePad while costing 52% more.
The overall hardware of the Huawei MatePad 10.4 is superb, build quality and performance are far superior to the price would suggest and in my opinion, this is excellent value for money.
Overall, even though the lack of Google does tarnish the experience a little, it is easily overcome, and this tablet is unrivalled in terms of price vs performance.
Last update on 2022-05-22 / Affiliate links / Images from Amazon Product Advertising API