Netatmo is entering the world of smart locks, which will complement the current smart home security range, including the recently launched indoor smart alarm plus Welcome indoor and Presence outdoor cameras.
Smart locks have struggled to take off in the UK, but Netatmo hopes their new system will outperform competing brands.
High Security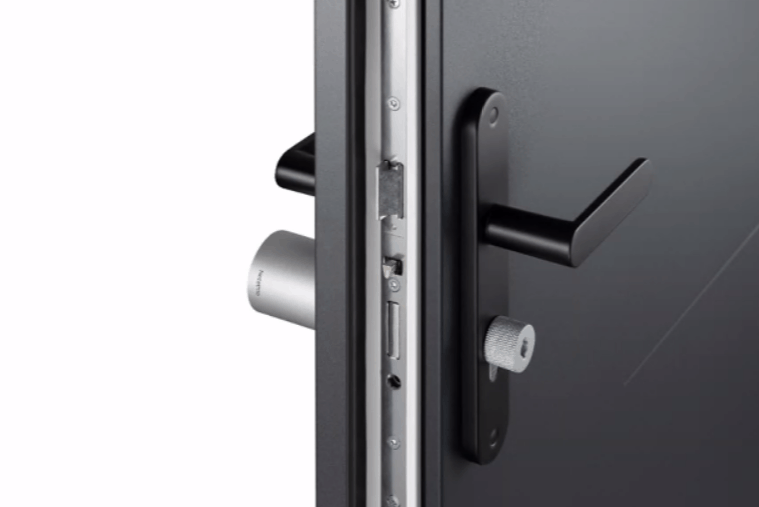 The new Netatmo Smart Door Lock claims to be one of the most secure options available, only working via Bluetooth and NFC with no internet connection. It is designed to withstand physical and electronic attacks, and it meets various security standards, including A2P (France), BZ+ (Germany) and SKG(Netherlands). It uses locally stored encrypted data and high-security NFC keys which are tamper-proof and impossible to duplicate
Adjustable Euro Cylinder


Unlike other brands, that can have tricky set-ups or require you to buy a specific size for your door, Netatmo has a universal design that will fit any Euro Cylinder locks. These locks are what we use in the UK for our multi-point PVC doors, so it should work for most homes in the UK. The lock can be adjusted to suit different thicknesses of door, so you should not have to worry about any compatibility between doors.
NFC Keys that can work on multiple locks but with no mechanical backup
Netatmo has developed NFC keys for their system, these keys loosely resemble your existing key rather than tags or cards. It is made from highly resistant plastic and PVD steel. It is then possible to pair up that key with multiple locks, so you could have your front and back door using the same key, or maybe an internal office/study key.
The smart keys themselves can be added and deactivated via the app, so if you lose one, it is easy to disable it.
I have reviewed three different smart locks; the Yale Connexis L1 is probably the most established lock in the UK, then the Nuki which is an innovative approach that uses a motor to turn your existing key or thumb turn.
From my personal experience and the opinion of many others, people do not like locks without a mechanical backup of some form. The advantage of Nuki is that you can set it up to use your existing old fashioned key. While I think the Yale Conexis L1 is superb there have been reports of the smart lock either not locking or unlocking and many people won't buy it if they have a single point of entry to their home. The same risks would apply to the Netamo lock. I am not sure how common this issue is, and mechanical locks can also fail, but until smart locks become mainstream, there will always be some paranoia about being reliant on an electrical solution.
2-year battery and USB backup power supply
Netatmo does reduce the risks of an all-electric option by having a 2 year battery life, double what you can expect from the Yale Conexis L1 and three times the 8-month life of the Nuki. The Netatmo will require four AAA batteries to function.
Furthermore, the Netatmo has a battery backup option using micro-USB, which should be more convenient than the 9v option that the Conexis L1 uses.
Electronic Cylinder vs Motorised Cylinder
Netatmo made a point of the Smart Lock using an electronic locking mechanism vs a motorised system, I am not entirely sure how these two are different, and I will confirm with Netatmo. However, this is one of the reasons why Netamo can achieve a 2-year battery life over Yale.
App & Third party compatibility – Apple Home Kit
At launch, this will only be compatible with Apple HomeKit, no Alexa, Google, IFTTT, or other smart home technology such as Z-Wave and Zigbee. There will, of course, be an Apple and Android app.
The app will be able to open and lock the door, add, customise and deactivate smart keys, send smartphone invitations to uses, give battery status updates, a timeline of unlocks and locks, plus notifications if the lock has been tampered with.
Scenarios
Using HomeKit, you can create scenarios similar to other smart home systems allowing you to have the light switch on when you open the door or other automation.
Price & Availability
Pricing is not confirmed, I was told a rough price, but didn't note it down. However, it was on the very high end of the scale, well above Yale and Nuki. Additional keys are expensive too, I believe above £50 for a set of three.
The lock will be launching in the second half of the year.
Overall
The Netatmo Smart Door Lock promises to be a large improvement over many competing brands, the 2-year battery life should reduce the paranoia of your door lock running out of battery.
However, the lack of a mechanical back-up is going to be an issue for some, and the price is certainly going to be a barrier for many.
The hardware does sound very impressive, though, and this could help make smart locks become more widely adopted in the UK.
Better images and additional information soon