Ajax Smart Home Alarm Review Rating
Summary
An impressive smart home alarm system with unparalleled features and accessories, with options for self or professional installation as well as optional professional monitoring. It is, however, very expensive.
Features -

95%

Performance -

90%

Easy of use -

90%

Price -

70%
Ajax is another new contender in the smart home alarm industry. The system has a wide range of features and accessories, and it is contract-free, with optional monitoring services. They are not very well known in the UK, but several professional CCTV companies have started to stock them and they appear to be an excellent alternative to professionally installed and monitored systems such as ADT.
I have been trying out the system he past few weeks, I did the install myself, and I don't use a monitoring service.
Pricing & Features
Ajax is not a cheap system, the cheapest option I can find is the Ajax Kit 2 for £382.20 including VAT. It is a bit more comprehensive than other starter kits from Yale and Ring, you get two motion sensors, a door protect, two fobs, an indoor siren and the hub.
Hub Features
The Hub is the brains of the system and there are three options to choose from. The Hube 2 I was sent is capable of:
100 devices can connect to the hub
10 cameras can connect to the hub
50 users can connect to the hub
50 rooms can be covered by the hub
9 groups can be used on the hub
The Hub Plus expands the number of devices it can handle up to 150 which should be more than enough to hand commercial properties or extremely large homes.
The security features of the hub are a little beyond me but it uses Jeweller radio technology to monitor the detectors and ensure a quick response to danger. It switches the entire system to clear frequencies during jamming. The device is protected against viruses at the software level.
CCTV Cameras
It is possible to integrate surveillance systems into Ajax, with the system being compatible with Uniview and Hikvision including Ezviz cameras.
Additional Devices
Ajax sent quite a few other additional devices with the pack, and this makes one of the most comprehensive systems I have used. I didn't receive all of the below but these are the options you have from Ajax, and the current prices I can find online via www.cctvkits.co.uk
Ajax LeaksProtect – £76.44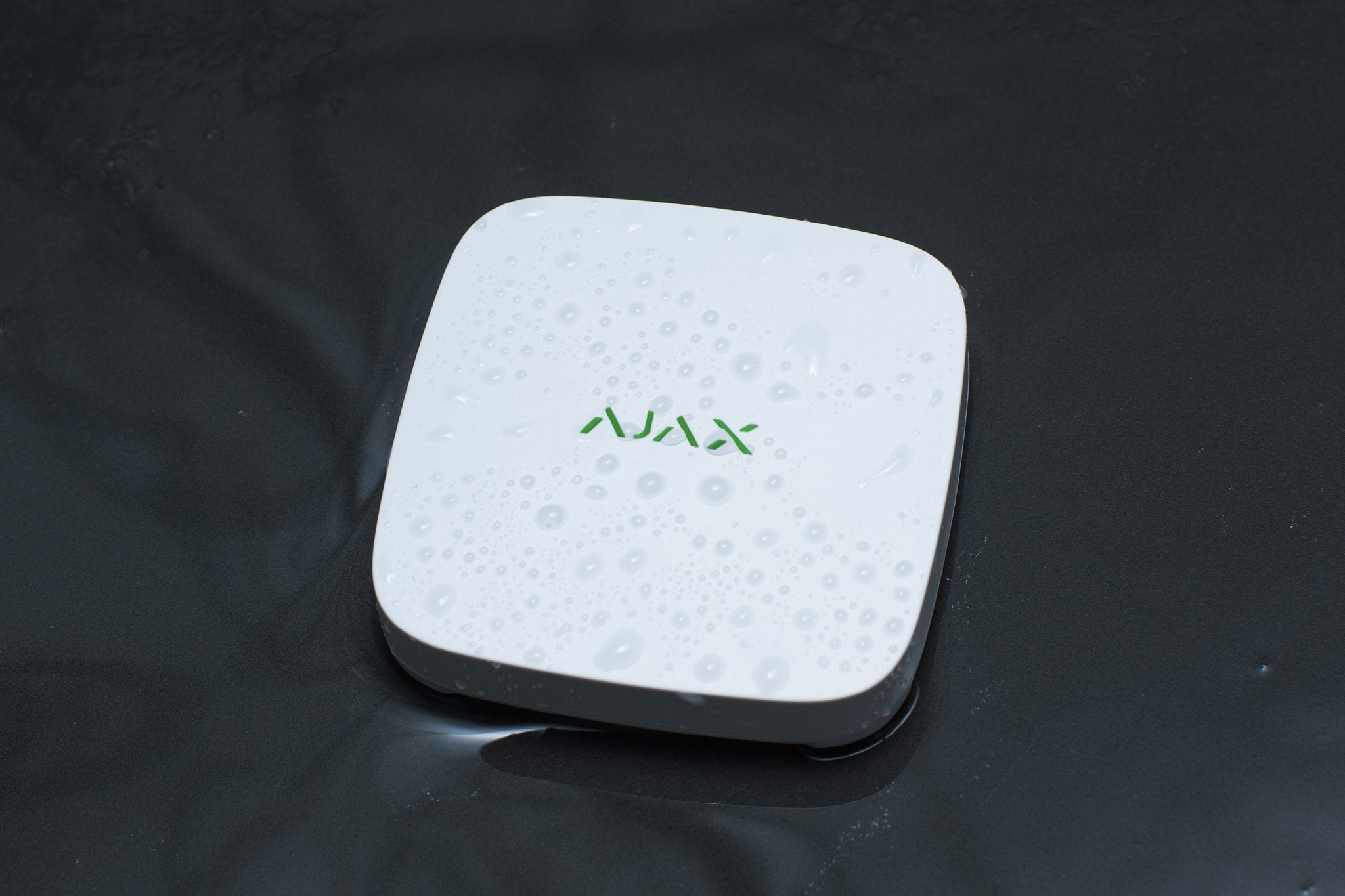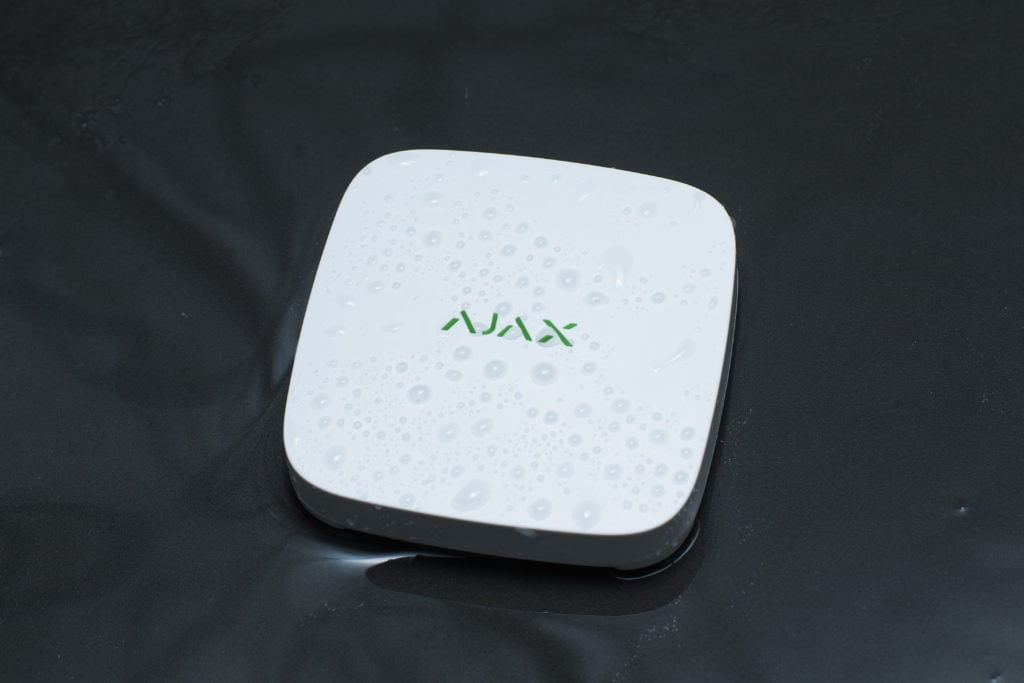 Wireless flood detector detects first signs of leakage within milliseconds. It is installed without using tools. The device detects first signs of flooding as soon as water gets on one of the four pairs of contacts on the bottom of the detector. The device has IP65 enclosure protection, meaning it is completely protected against dust and moisture. It can be installed in just one minute. The detector only has to be placed on the floor under a washing machine, dishwasher, bathtub or heating radiator.
Ajax FireProtect – £106.08
Wireless fire detector with a temperature sensor that monitors security in the room twenty-four hours a day and immediately notifies of smoke and sharp jumps in temperature. The device detects smoke by means of a camera with a photoelectric sensor. If no smoke is emitted, the additional detector registers temperature increase in the room. It can operate independently from the hub, emitting a fire alarm by means of a built-in siren. Several detectors indicate an alarm simultaneously.
Ajax SpaceControl – £56.16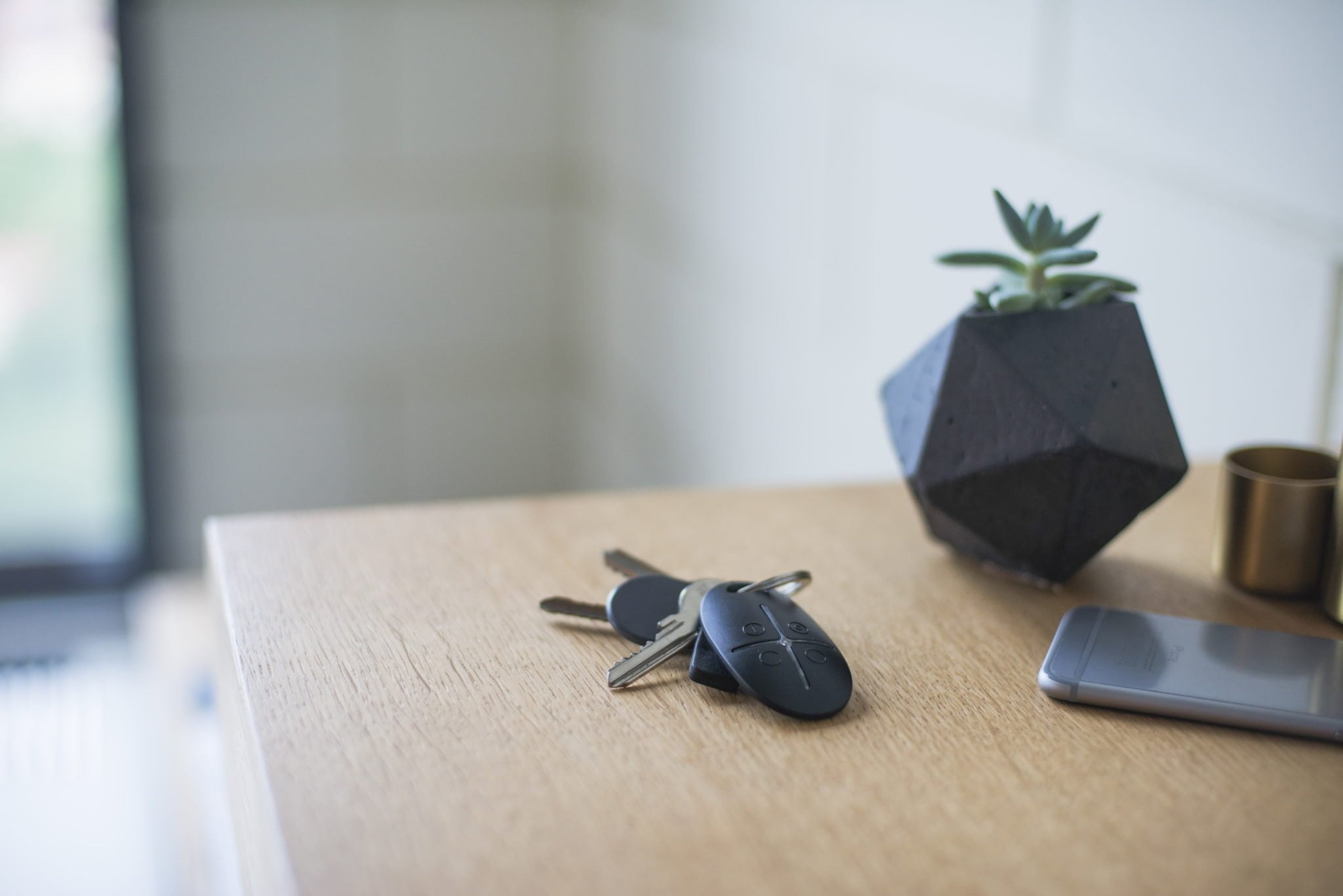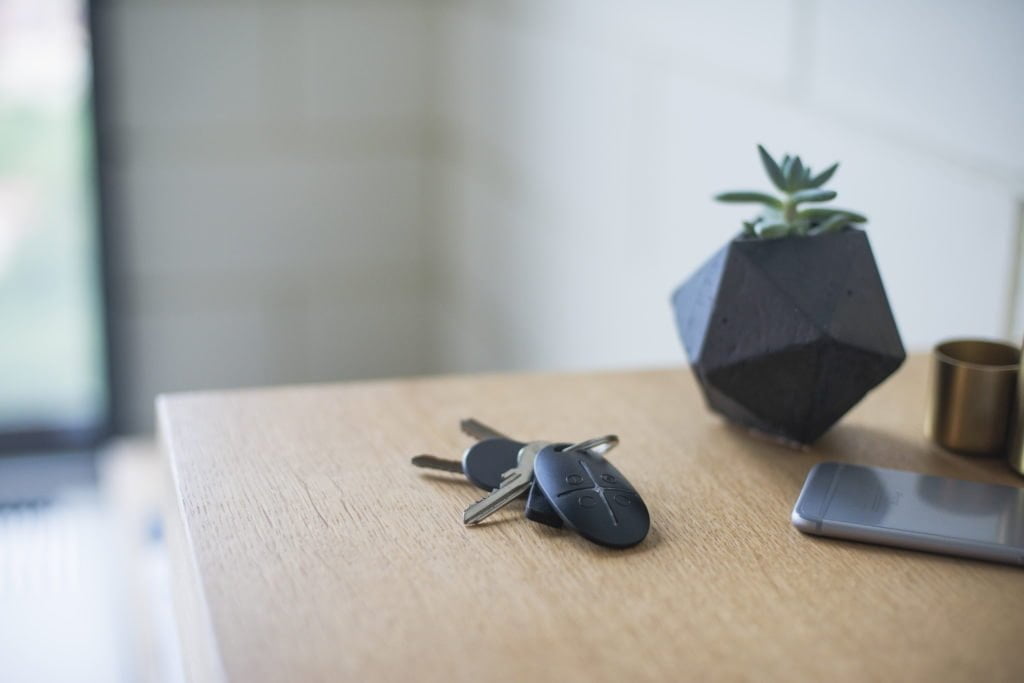 A key fob for controlling security modes. Features a panic button for sending alarms to your inner circle and a security company in case of trouble. The device controls the security modes and sends an alarm signal to the Central Monitoring Station by pressing the buttons on the key fob. Authentication prevents replacement of the device and false alarms.
Ajax KeyPad – £109.20
Wireless touch keypad is used for arming/disarming of Ajax security system. It is mounted in the room near the entrance door to provide quick access to the keypad. The device operates security modes when a digital code is entered on the keypad. Indication notifies of current security status, problems with detectors or breakdown of communication with the hub.
Ajax MotionProtect Outdoor – £193.44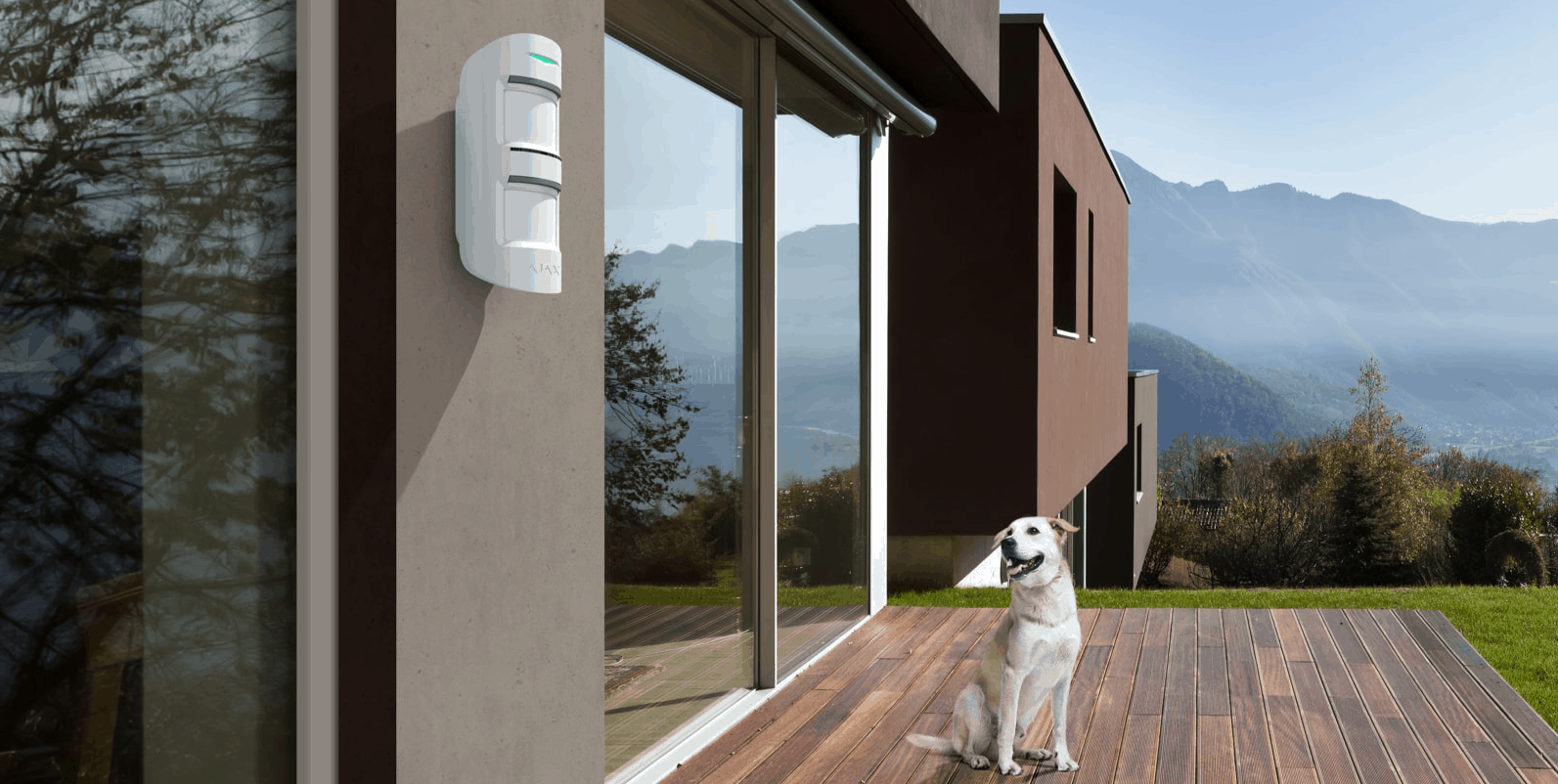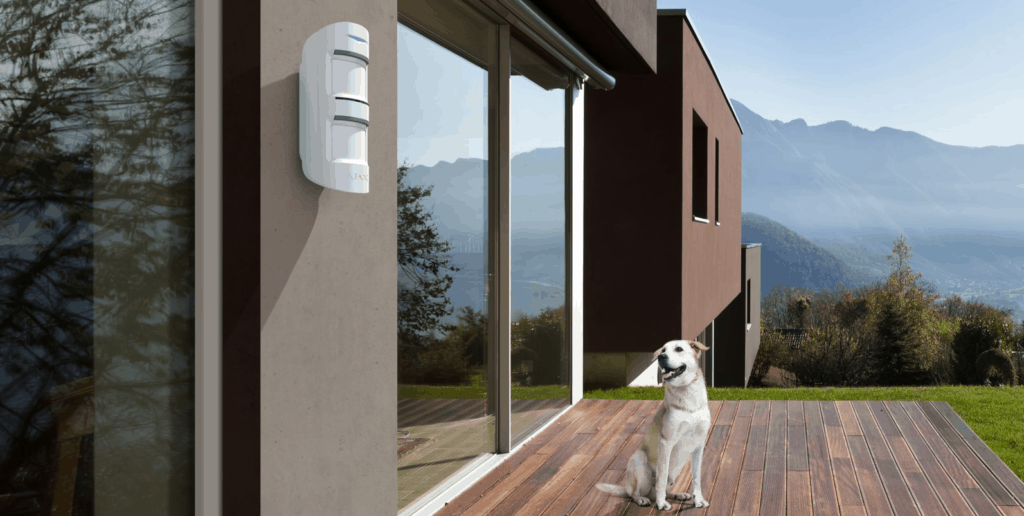 Wireless outdoor motion detector with intelligent protection against false alarms. The device operates at low temperatures and is protected against dust and splashes. LISA turns MotionProtect Outdoor into a formidable barrier for intruders. The digital algorithm accurately identifies the movement of a person while ignoring animals, swaying of trees and plants as well as birds and insects that land on the detector.
CombiProtect – £126.36
CombiProtect is a wireless combined motion and glass break detector. It detects motion at a distance of up to 12 meters, breaking of glass within 9 meters; and is immune to animals.
MotionProtect Curtain – £113.88
MotionProtect Curtain is a curtain type wireless motion detector. It detects movement at ranges of up to 15 meters and is resistant to dust and splashes.
DoorProtect – £60.84
DoorProtect is a wireless magnetic opening detector that features a connector for an external detector.
DoorProtect Plus – £85.80
DoorProtect Plus is a wireless magnetic opening detector equipped with a shock and tilt sensor; and features a connector for an external detector.
GlassProtect – £71.76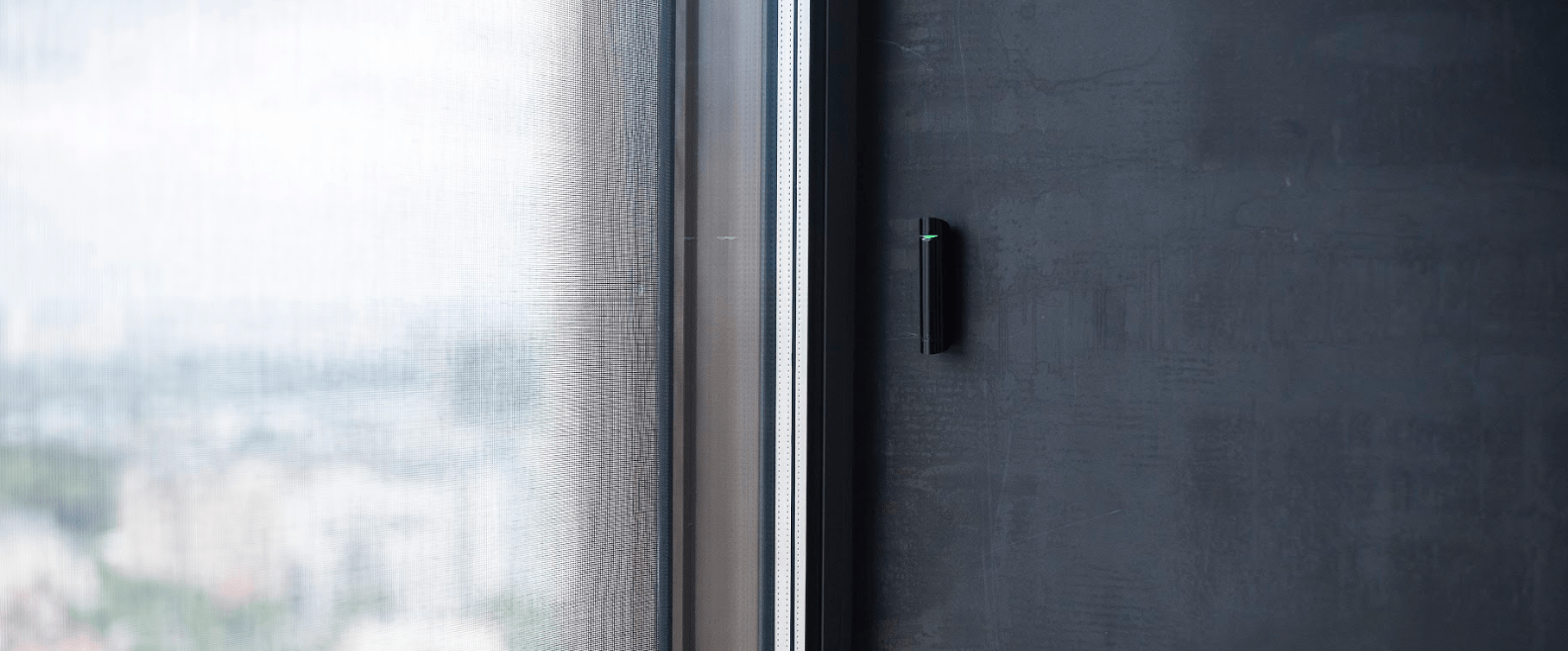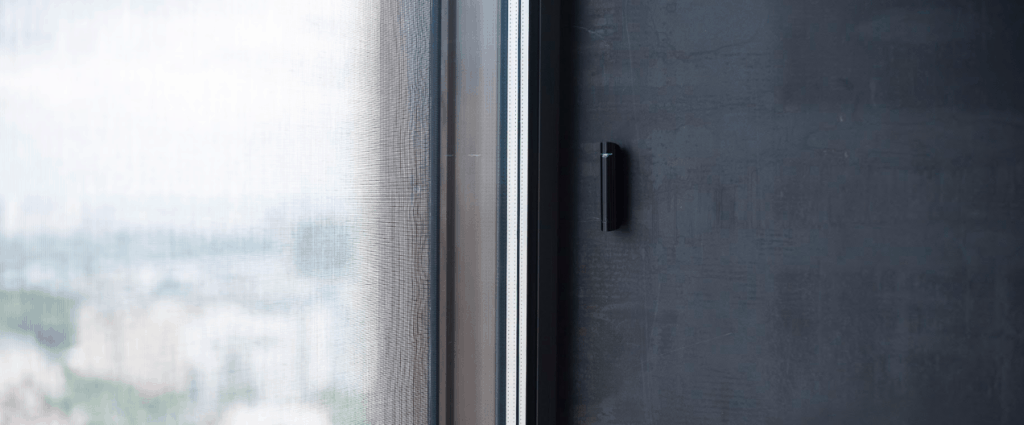 GlassProtect is a wireless detector detecting glass break at a distance up to 9 meters. It is used inside premises, can operate up to 7 years from a pre-installed battery and is furnished with a socket for connecting an additional detector.
FireProtect Plus – £165.36
Wireless smoke, heat, and carbon monoxide detector with sounder
Relay – £51.48
Relay is a remote control low-current relay equipped with volt free "dry contact terminals." It is used to control appliances and electrical circuits.
WallSwitch
WallSwitch is a 110/230V remote control power relay equipped with a power consumption meter. It manages electrical appliances that require up to 3 kW of power.
Socket
Socket is a 110/230V remote control intelligent socket equipped with a power consumption meter. It is used to manage electrical appliances that require up to 2.5 kW of power.
Monitoring Service
You can use this system as is, and none of the features are hidden behind subscriptions. However, you can optionally sign up to a monitoring service too. You need to send a monitoring request to the company covering your area, and the price will be dependant on your system and their specific fees. I have not used this so don't know how effective it is.
The monitoring service will likely offer different services but primarily it will call a response unit to your home upon alarm activation. This is something Ring and Yale do not offer, but Simplisafe does for £19.99 per month.
I have reached out to the recommended companies for a price based on my system and will update this review if and when they respond.
Ajax vs Yale vs Ring Pricing
As you can probably work out from the above, this system is not cheap. The base system costs more than popular competing brands, and the additional accessories are very expensive compared to other smart alarms such as Ring or Yale Sync.
A basic Yale Sync Smart Home Alarm system with two motion sensors, a door sensor, control panel and outdoor siren will set you back £239.00. So roughly £100 cheaper. For the optional sensors, you pay between £30 and £70 with a motion detector costing £40 vs £72 and the Smoke/ Heat Detector costing £70 vs £106.
A bit of research online also indicates that this is more expensive than other alarm brands such as Risco, Pyronix and Scantronic. Due to the way ADT sells their products, getting a price comparison against them is difficult.
Ajax Smart Alarm vs Ring Smart Alarm
For the sake of clarity, the below table was provided to me from Ajax, so there will likely be some bias, but everything stated within the table appears to be accurate to me.
Ajax Smart Alarm
Ring Alarm
1. Ajax provides professional monitoring in each country where the system is available for sale.

Unlike Ring, Ajax possesses a Grade 2 certificate which means Ajax meets the highest security standards among wireless security systems recognized by European professional community. Over 700 alarm response companies in Europe connect Ajax to their CMSs and react to Ajax alarms.
. So far, Ring Alarm provides professional monitoring only on the territory of the US and Canada.

In the UK, Ring provides only Assisted monitoring option which for £8 a month allows you to include 3 emergency contacts such as trusted family members, friends, or neighbors who would respond appropriately in case of a security issue. (Ajax software allows users to do the same free of charge, adding unlimited number of closest people to share the management and alerts of the system).
2. Ajax own protocol Jeweller ensures secure communication between the devices at a record distance of up to 1,800 m in an open space. It also provides high energy efficiency - the batteries in Ajax detectors live up to 7 years.
2. Ring Alarm website says that the connectivity of Ring Alarm devices equals 76-meter range to Base Station.

The battery life in the detectors is approximately 3 years.

3. While Ajax doesn't produce its own doorbells or cameras like Ring, it's possible to easily integrate a broad range of video surveillance cameras into Ajax security system.

Besides, this December the company releases new MotionCam detectors with a photo camera to verify alarms. In contrast with the video surveillance, MotionCam detectors make an animated series of images only if triggered, which is good for privacy.
3. Ring Alarm provides users with opportunity to integrate other company's devices including Ring Video Doorbells and Ring Security Cams into the security system and monitor them through the Ring app.

4. Ajax doesn't provide integration with popular voice assistants so far. Instead, the company created its own ecosystem of devices combining home security and home automation into one whole.

With the upcoming update of OS Malevich 2.8 this Dec, automation scenarios will become available to all Ajax users. With them, not only the system can counteract threats (for example, to turn off the water in the house when a sensor detects a leak), but it also allows to manage home and office appliance (for example, the system can schedule the work of the heated floor or automatically turn off the water heater or boiler at night - when electricity is cheaper)

4. Ring Alarm offers compatibility with Alexa-enabled devices. Users can arm, disarm and check the status of their Ring Alarm system by giving Alexa a voice command.
5. Ajax provides no monthly subscription fees - the system is completely free to operate when you use it yourself to self-monitor. You'll only need to pay a monthly fee (starting from £10 per month on annual basis) if you connect to a central monitoring station.
5. Ring Alarm provides a paid subscription to the number of features. Assisted Monitoring, cellular backup, video history, saving and sharing, and Snapshot capture are available only through Basic and Plus plans.
6. Ajax range extender, which is called ReX, has a signal range up to 1,800 meters and functions up to 35 hours after power outage.

The December update will make it possible to connect to Ajax up to 5 ReX devices simultaneously, potentially extending the Ajax radio coverage area up to 45 km². This makes Ajax suitable for the protection of large premises such as a multi-storey office or a large production plant.

. Ring Alarm Range Extender doubles the 76-metre range to Base Station and has 24-hour backup battery. It is suitable for large homes, eliminating dead zones, so Ring Alarm devices can stay connected and on the lookout.

Ring company doesn't recommend its users to connect multiple Range Extenders to cover an excessively long distance between the base station and contact sensors.

Set up
Set up was a lot easier than expected. I experienced no issues getting things up and running and the overall experience went smoother compared to both Yale and Simplisafe.
Like all smart systems, you will need to download the app and register. From here you will need to add the hub first, then all the devices you want to attach.
All of the devices are added via the serial number or QR code because Ajax uses its own wireless network, and the hub is connected to ethernet, there is no awkward Wi-Fi pairing like many other devices. The Hub Pro has an optional Wi-Fi connection, I didn't receive this so have not tested it.
With each device, you then assign it to its appropriate room, this should help you identify where and when an alert is generated.
Each device has batteries pre-installed, so you don't have to worry about that for a few years in most cases. When you do need to change batteries, you need to unscrew the back of the device, so it will be a little more time consuming than usual.
When it comes to physically mounting the various bits you need to screw everything in, they all come with easy-mount brackets, so you screw the bracket in and each device slots into place. However, there are no sticky/magnetic mounts which have become popular in recent years. Most of the sensors are light enough that you can probably get away with using some 3M tape.
With all your sensors and other devices in place, you can go into each item and view its status plus make changes to the settings. This aspect is far more thorough than any other system I have used.
Hub Settings
Going into the hub provides you with the main configuration options for the system and hub in general. This includes:
Being able to invite users to the system
Setting up static or DHCP for ethernet
Setting up the SIM card settings
Setting up a geofence to remind you when you leave or enter
Group mode allowing you to group up devices
Setting up a security schedule allowing you to arm and disarm the system automatically.
Connecting with monitoring companies
Setting up how monitoring companies will be contacted (Ethernet/GPRS)
MotionCam Settings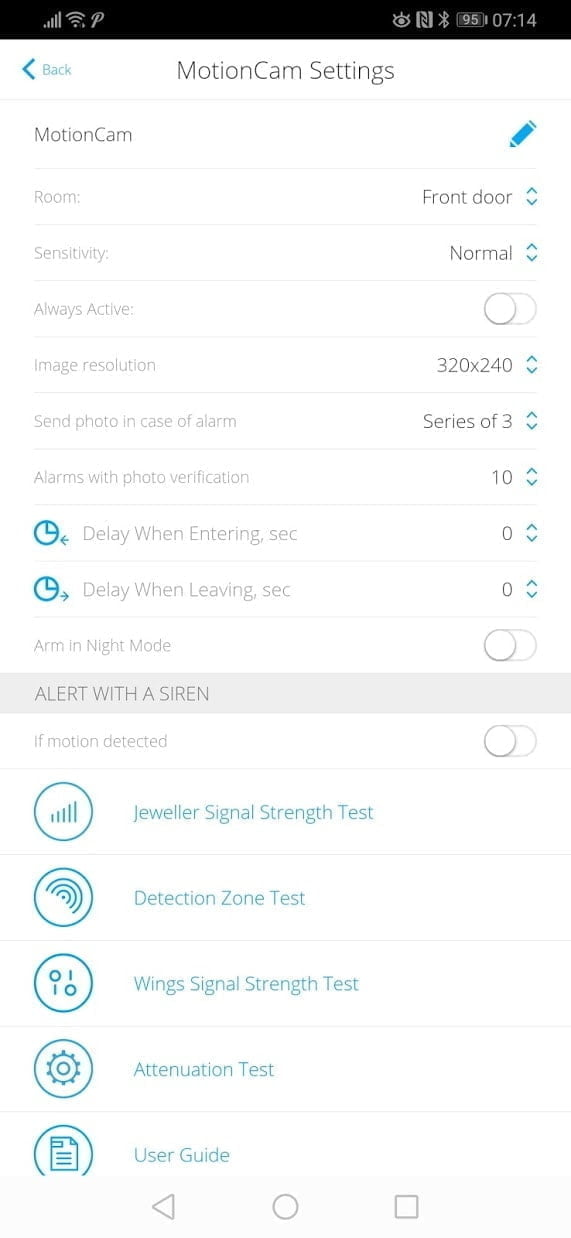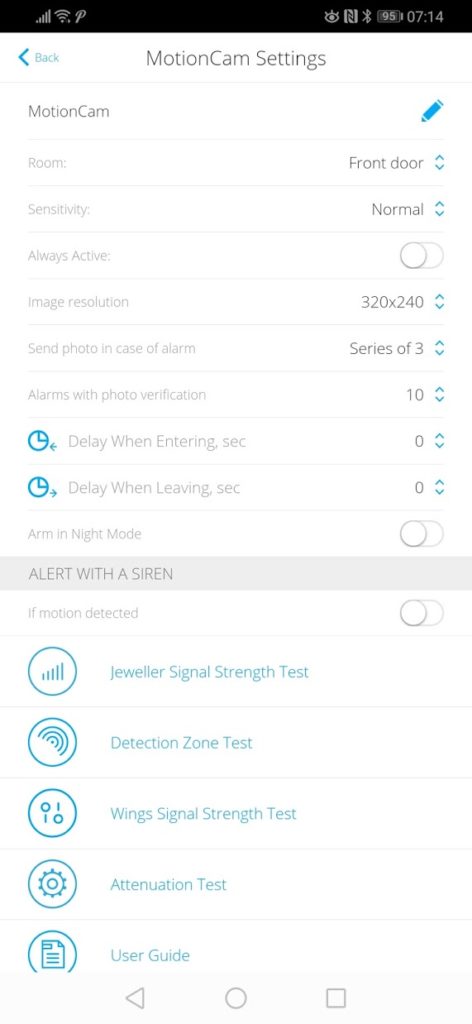 An example of some of the settings you can tweak is the MotionCam, which is a motion sensor which will then take photos of the object it identifies.
When you first select this, you can view an extensive list of stats including the temperature, various signal strengths and battery life.
Going into the settings you can re-assign it a different room, change the sensitivity level, image resolution, the number of photos it takes, delay times when entering or leaving, whether it arms in night mode or not, and if it is always on or not.
App & Performance
The app itself is much better than average, certainly better than Yale. It is a simple minimalistic design with a white user interface. You will be asked to set up a pin to secure it at the start, and within the settings, you can enable fingerprint to unlock
Timeline
Every event in the system gets recorded to a timeline so you can see as people come and go or when and where things get activated. For things like the MotionCam, you can load up the images it records. Everything on the timeline is stored on Ajax servers. With photos done with the MotionCam, they are encrypted during transmission and no one analyzes and processes the photographs from your detectors.
Arming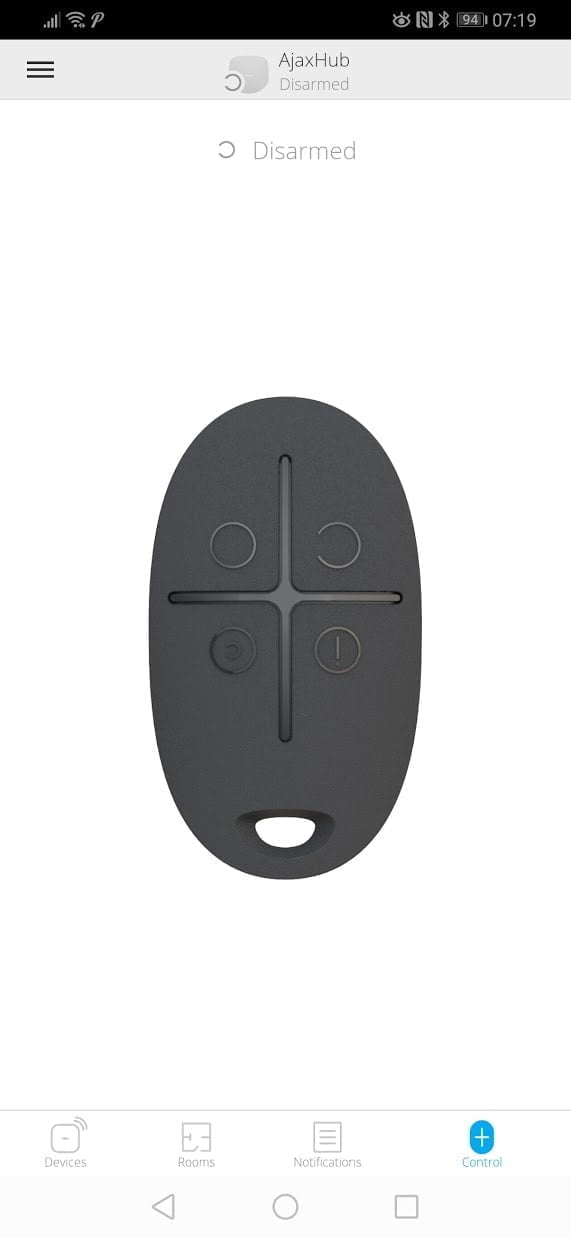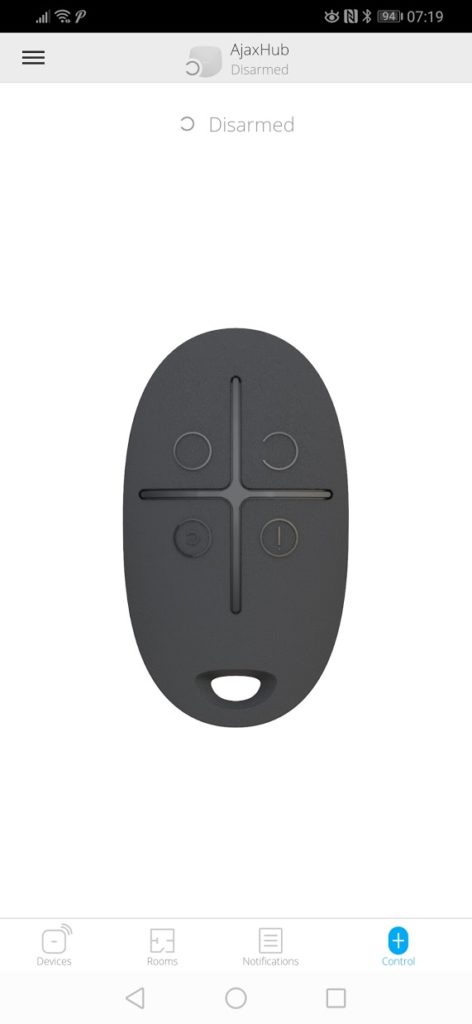 Arming the system can be done in multiple ways, the app itself, the optional keypad or the optional keyfob. Within the app you get an image of the fob and press the buttons, I would have preferred it just to say the option in text, but it works perfectly well.
Both the fob and app have a panic button which will send an alert to the users of the app with a GPS location. I assume this will also send a notification to the monitoring service if this is activated.
Alarm
I was sent the indoor alarm, which is quite small so doesn't have the loudest alarm. On the very loud setting, it is probably enough to wake me up from anywhere in the house. You can have it set to go off for 3 seconds all the way up to 3 minutes, and when the alarm goes off, your phone will also be notified. While it is not the loudest, it should be enough to deter burglars and wake you up, while not waking the neighbours up. You can combine this with an external alarm too, I think you can even have it so that the indoor alarm would go off in night mode, while the outdoor one can be used for when you are away from the property completely.
CCTV
As I use Ezviz for my home CCTV, I was able to add a couple of my cameras to the system. In the case of Ezviz/Hikvision it requires you to login to your account, then adds the cameras from the main menu and add the verification code for each camera.
There seems to be limited functionality with this system, it just brings up the camera feed, and there is no other integration with the alarm system.
It is useful, though, if you get an alarm alert you have direct access to your camera feed without having to switch to a different app. I imagine this will also be used by the monitoring company if you opt for that service.
MotionCam
The MotionCam works very well, even though the picture quality is not amazing it is ideal to identify what has caused the alert. I am not a huge fan of indoor cameras so this seems like a nice in-between solution.
Third-Party Integration – Alexa, Google, Apple HomeKit, IFTTT
From what I can gather there is currently no third-party integrations. Ajax does have an API for enterprise use, and I believe there has been some development towards Alexa but no functionality yet.
It would be good to see some form of third party integration as you could set up scenarios much easier rather than relying on the WallSwitch to power on certain devices. For example, both Ring and Yale have options to flash your Philips Hue lights for certain events.
Overall
Ajax is the most thorough system I have used the range of sensors, and overall features of the system are extensive. I am not aware of any other system that can compete with this for features.
All this comes at a cost though, this is easily the most expensive self install solution I have encountered. A very basic system for a small property will set you back around £400 which could quickly add up to over £1k if you add several of the optional devices.
Most of my comparisons have been made against Yale, Ring and Simplisafe, however, due to the features of the system the comparison is a little unfair, with the options for a professional install and professional monitoring services this is perhaps more closely related to ADT alarms which are generally much more expensive, less smart and require an expensive monitoring contract.
The sensors themselves are big and clunky, so not that most attractive things to be sat on your wall. The outdoor sensor is massive. The one advantage is the very long claimed battery life of the sensors, with my Z-Wave sensors, I am lucky to get a year out of each one, the wireless motion sensor of this system is rated for 7-years.
The MotionCam is a superb addition to the system, and I like the fact you can include your own CCTV cameras, but I feel like they could also roll out their own cameras with proper motion detection to improve the system further.
The price of the system makes this something hard for me to universally recommend, but for anyone that is serious about their home security, this is a superb system and well worth considering. From my limited understanding of monitored alarm systems, Ajax appears to be the system with the best smart features and overall functionality.