BeanBagBazaar i-eX Player Gaming Armchair Bean Bag and Footstool Score
Summary
A huge comfortable bean bag chair perfect for gamers
I finally got a PS4 Pro last Christmas, and since then I have gamed from my couch which is quite a distance away from the TV. I have been eager to get a beanbag style chair so I can game up close for some of that full immersion gameplay. Recently BeanBagBazaar was kind enough to send me their i-eX Player Gaming Armchair to review which is a huge oversized beanbag in an armchair style with accompanying footstool.
This is the most expensive model BeanBagBazaar has at £99.99, but they have other options going down to £39.99, and then there are other styles too including a cord armchair for £94.99 or a super comfortable looking faux fur bean bag for £89.99. You can buy direct from BeanBagBazaar with free next day delivery and they also have an Amazon page.
Related Content
Designed to hug your body, the i-eX Giant Gaming Armchair has ergonomic panelling that will help you find your best position of play. Made from a soft woven fabric, this versatile seat is decorated with sports-inspired silver piping, the i-eX logo on the front base panel and features two side pockets, ideals for controllers or games.
The i-eX Giant Gaming Armchair comes with a matching beanbag footstool – providing a super comfortable seating arrangement for solo gaming. The footstool can even be used as an extra seat for guests.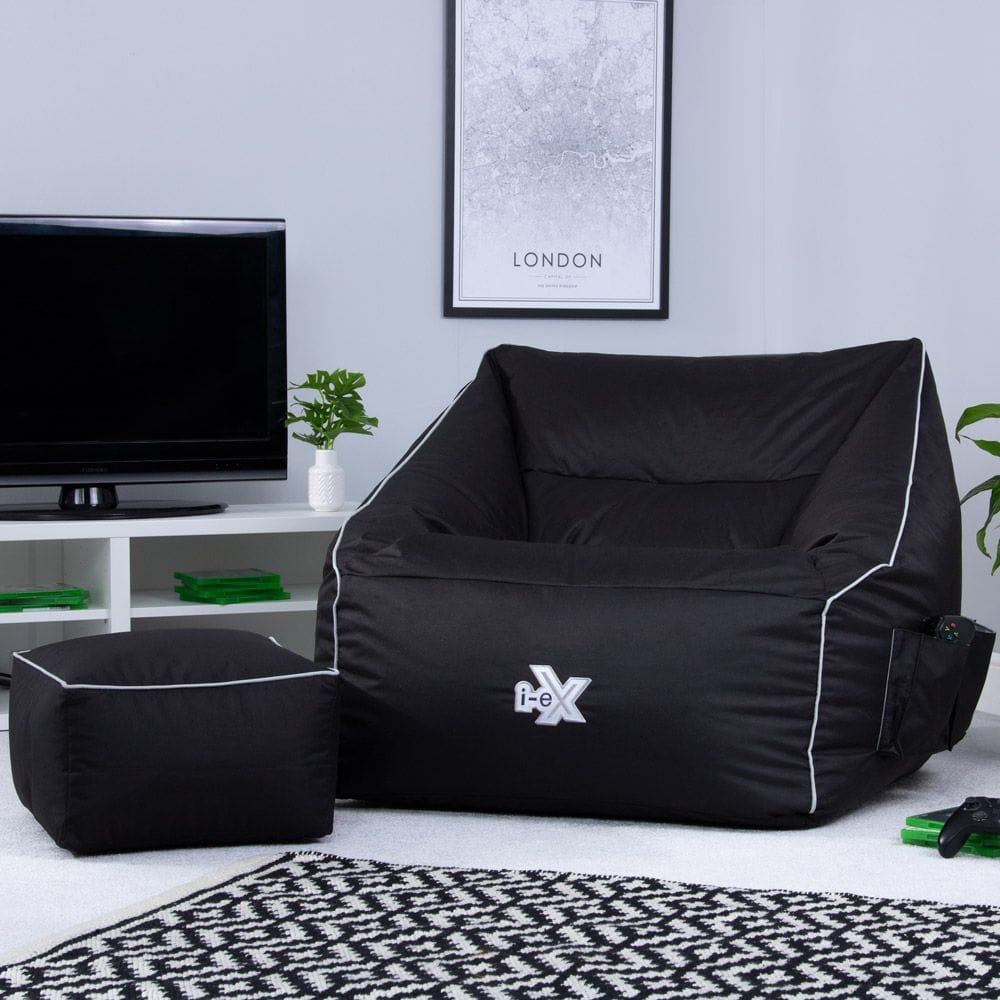 The beanbag arrived in two massive boxes from DPD, one with the footstool then one with the chair and a large bag of polystyrene beads. The chair itself comes partially filled, sitting in it as is was actually quite comfortable but there was an uninflated feel to it.
Filling the bag up is technically easy, but learn from my mistakes and do it outside with two people. The bean bag has double zip access to the main compartment of balls, and you then need to pour out the polystyrene beads into there, but the overall size of it meant mistakes were made and I ended up pouring a large number of polystyrene beads all over the floor. This resulted in my again only partially filling the bag.
The second time around me and my partner did it outside, as we only needed to add a little more I took the save option and used a jug scoop up and pour the beans in.
We didn't use all the supplied polystyrene beans, so this allows you to modify the squishiness of it to your liking. In fact, the end result was perhaps a little too firm for our liking so at some point I will empty some of them back out.
As far as comfort goes, this is a bean bag, they are always comfy, the material of this is a hard woven polyester fabric so it may not have quite as nice of a feel as the faux fur one, but it should be a lot easier to keep clean when I inevitably spill things on it.
The side pockets are useful for keeping your remote or other things by you, while I haven't tested it yet, I feel like this could be a good beer spot too.
Overall, this is a fantastic bean bag, and I love being able to play up close to the TV for long gaming sessions. Its lightweight design means we can move it around the house if we want it out of the way, or if we have guest around and are short on seats in our main living room.
One concern my partner had was if it burst, but the build quality seems fantastic the Polyester fabric it is made out of is similar to that on outdoor chairs, and it is exceptionally durable.
With Christmas coming up I think this would make a superb present for anyone that loves gaming.