E-Win Racing Flash Gaming Chair Review
Product Name: E-Win Racing Flash Gaming Chair
Offer price: 279
Currency: GBP
Availability: InStock
As the gaming industry has grown so has all the accessories you can get, back when I was young I gamed on a wooden dining chair with no ergonomics at all. When I first invested in an OK chair I was fat, and over the course of a few years I broke several of them so several years ago I finally invested in a Herman Miller and to date remains one of my best buys, it is still going strong. However, at well over £500 these are well beyond most people's budgets. If I could have bought a well-made gaming chair with a good warranty similar to the E-Win chairs, I would have.
Since I bought that chair the whole gaming chair market has boomed with these race car style seats, and E-Win Racing is one of the new companies on the market fighting for your custom. Formally an OEM office chair company, Ewin Racing was formed in 2016 to target the growing and affluent gaming market, and have seen great success since.
The model I have been sent to review is the Flash Series, they do it in normal size or XL for larger gamers, and I opted for the normal size, as I am a lot thinner nowadays. Priced at £310 this sits at the top of their range, but for the more budget conscious you can pick up excellent options for as low as £204. You can take these prices down by another 10% using the promo code mighty.
With all the EwinRacing you get a minimum 3-year warranty period on parts such as the gas lift, and recliner. Most of the other components are back by a 5-year warranty, while the steel frame is backed by an impressive 10-year warranty. So you are safe in the knowledge that if you do buy a chair for E-Win, it is going to last you a long time.
All models within the E-Win range are built around a high-quality steel frame, the racing style seat is made out of memory foam which will conform to your body as you sit in it. This is then covered with a high-quality PU-leather. The chair then sits on a gas lift which can support up to 150KG or 330lbs along with a five-star aluminium base. The gas lift gives you plenty of travel allowing you to adjust the height to your requirements.
Each chair has a wide range of adjustments, in particular, the lever operated back recliner goes from 85 -155 degrees. I am not sure why you would need to go all the way back to 155-degrees apart from perhaps for having a nap at your desk.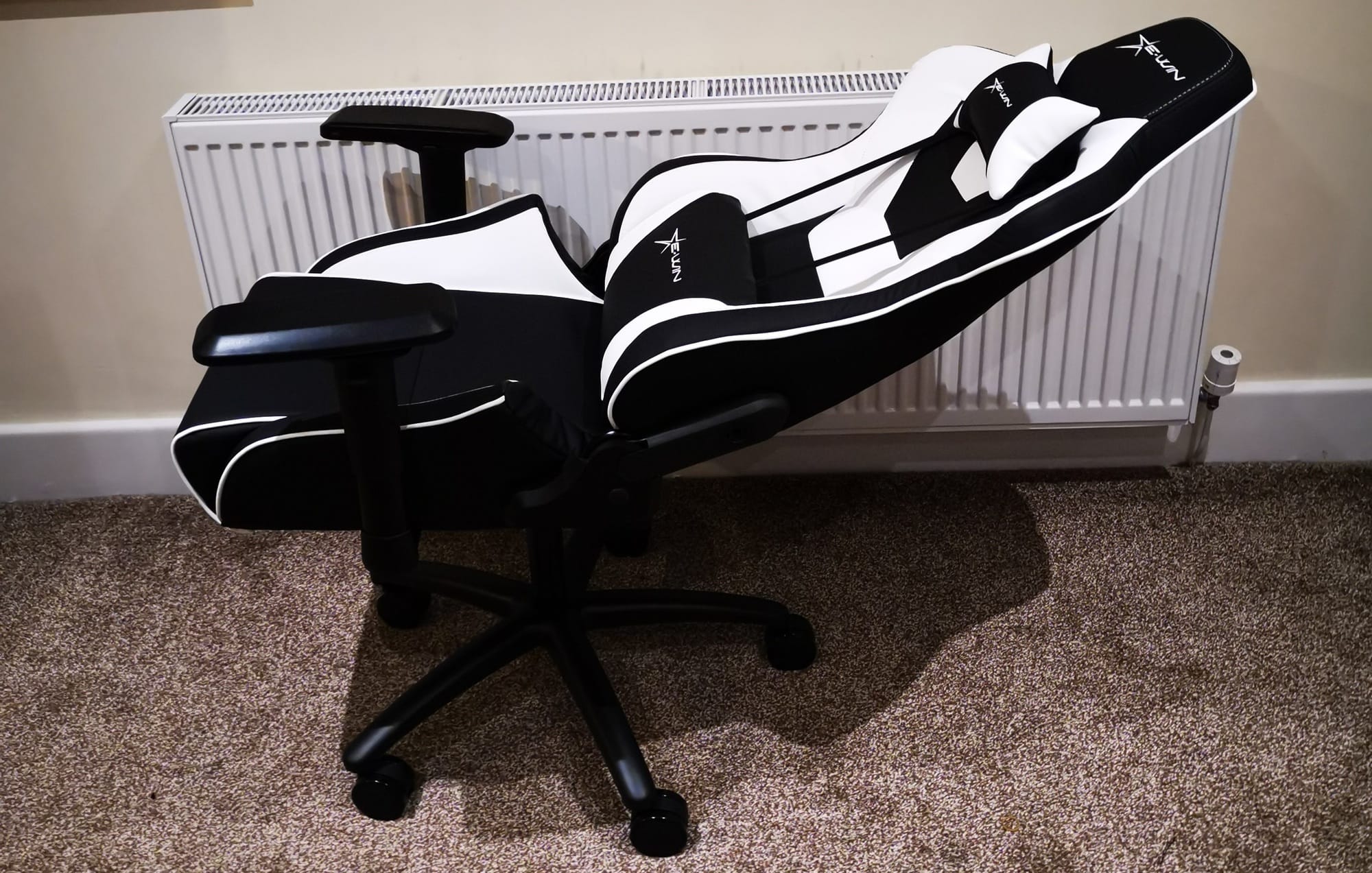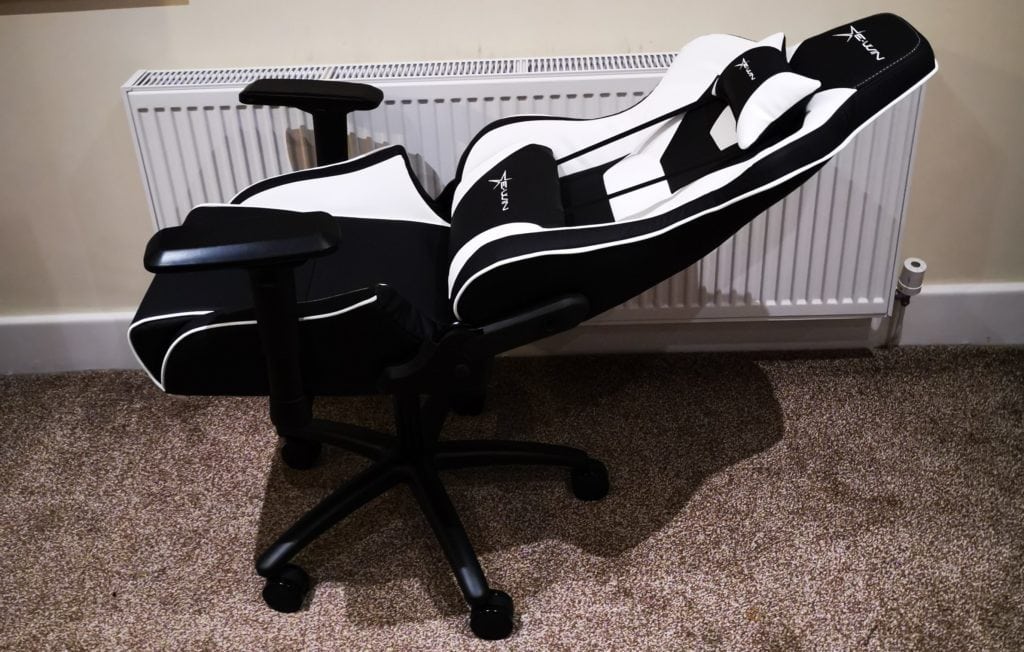 Further adjustments can be made via the tilt and lock mechanism with the option to adjust the tilt tension control allowing you to rock back with ease.
The arms rests are also fully adjustable moving up and down, but you can also incline them inwards or outwards.
Setup and comfort
The chair comes packed up in a box, and once I had removed all the components, it looks like an intimidating project to build. However, the instructions are clear and concise, you get all the tools you need, and there are not really that many steps required to assemble the chair.
You mainly have to attach the backrest to the base, the mount for the gas lift, attach the wheels and slot in the gas lift then place the chair on top of the life. The hardest part was getting the screws to align properly when attaching the back and base, it would help with a second person to hold the backrest in place while you screw it. However, I managed fine building it by myself.
Once built you have quite a weighty chair, I mistakenly built it downstairs and then had to carry it up to my office. It certainly feels weighty and robust enough to last a for a long time
This chair also comes with both a neck pillow and lumbar support pillow which you can optionally remove. The lumbar support feels a bit weird at first, but once I reclined the chair back a bit and sat on it for a while, it started to be quite comfortable.
I find the model I have been sent sits quite high up, I have the gas lift on its lower point and with me sat leaning back a little my feet are comfortably on the floor.  I am 6ft1 though, so if you are very short one of the other models may be more suitable. If you sit up more vertically or lean forward then the height of this would be less of an issue. Looking at the dimensions this starts off at 42cm high and can go up to 54cm. The Champion series starts at 37cm and goes up to 48cm.
I site quite close to the desk, so the adjustable arms come in handy allowing me to lower them enough to fit under the desk.
The memory foam padding on both the base and back are what stands out here, sitting down for prolonged periods of time is very comfortable, which is what you want out of a chair at the end of the day.

I have had to stop using a memory foam mattress as they are too but  I haven't had an issue with the PU leather and memory foam being hot or clammy with his chair. I feel like there is plenty of breathing room around me to stop me overheating.
Regarding styling, this looks good; the racer style bucket seats suits the whole gamer trends recently. Some other brands can look a bit cheap and flimsy but this looks the business and performs just as well.
Overall
While I am not sure if this will replace my current (much more expensive) chair, I wish I had this option when I had bought it. I could have saved hundreds while still getting a well made and comfortable chair for gaming.
In comparison to other chairs on the market, this model isn't the cheapest, but I feel like the overall build quality justifies the price.
If you are still sitting on some old-fashioned office style chair, or god forbid something that isn't adjustable, I would highly recommend checking out any of the E-Win racing models, and I can personally vouch for the Flash model.
Currently, the model I have is £310, but if you were to order it soon, you could get 15% off with the Halloween promotion bringing the price down to £263 which is a great price.
If you miss this discount, you can also use the code mighty for 10% off bringing it down to £279 which is still a great price for this chair.