Anki Vector Review
Product Name: Anki Vector
Offer price: 199
Currency: GBP
Availability: InStock
15/12/2018 – I have updated this review to reflect both a price drop and Alexa integration, both of which make Anki Vector much more appealing.
Anki was formed in 2010 and specialises in AI-based entertainment robots. They have two types of product, the first being a modernised Scalextric that allows you to control toy cars around a track using your mobile and compete with friends or AI competitor. The second is an adorable desktop robot with a personality that started off in the form of Cozmo which I would describe as a sort of companion and learning robot for kids and adults alike.
However, Cozmo had limited smart functions and required you to give it regular attention akin to a Tamagotchi. Its stand out feature was the code lab which allows you to learn the basics of coding, a skill I think is well worth learning as soon as possible.
Vector is the logical successor to Cosmo that is now an autonomous AI robot. The old Cozmo required your phone for most of its processing power, but with Vector, he has a brain of his own, in the form of a Qualcomm 200 Platform SoC, similar to what you will find in most WearOS smartwatches.
The immediate conclusion here is that this is an AI assistant similar to Alexa but for kids, and you wouldn't too far off. Amazon Alexa is not currently integrated, but this is the first significant update that Anki is planning for this cute little device. UPDATE Anki should now have Alexa making it much more useful 
The lack of Alexa does limit the features of Vector in terms of usefulness, but he still has plenty of functions to keep a family entertained.
He takes in the world using a variety of sensors and then responds realistically. This means he can read a room, hear what's happening, recognise people and objects, find his charger, navigate his space, and avoid obstacles.
He will then listen to voice commands and use his processor and Wi-Fi connection to do a variety of simple tasks. He is able to answer various questions such as maths, telling you about famous people, and sports trivia.
[button link="https://amzn.to/2RldeXb"] Buy from Amazon[/button]
You can ask him what the weather is, or to set a timer and he will even take a selfie of you.
His stand out feature is his adorable little face, which is a bright high-res colour IPS screen that is used to display his eyes and show all his emotions. Apparently, he has more than 1,500 animations and sound effects to portray his full range of emotions.
Set-up
Vector has a charging stand that needs to be plugged into a USB socket, it is sloped so he can roll on and off it without assistance.
While Vector can be used without your phone, he does require you to use one to set things up. You need to download the companion app and follow the set-up procedure, it is quite a simple process, similar to many other devices nowadays.
The app itself doesn't really do a great deal once you are set up, it shows some statistics and provides guides on what features Vector has and how to use them. You can also tweak some basic settings such as his eye colour.
Performance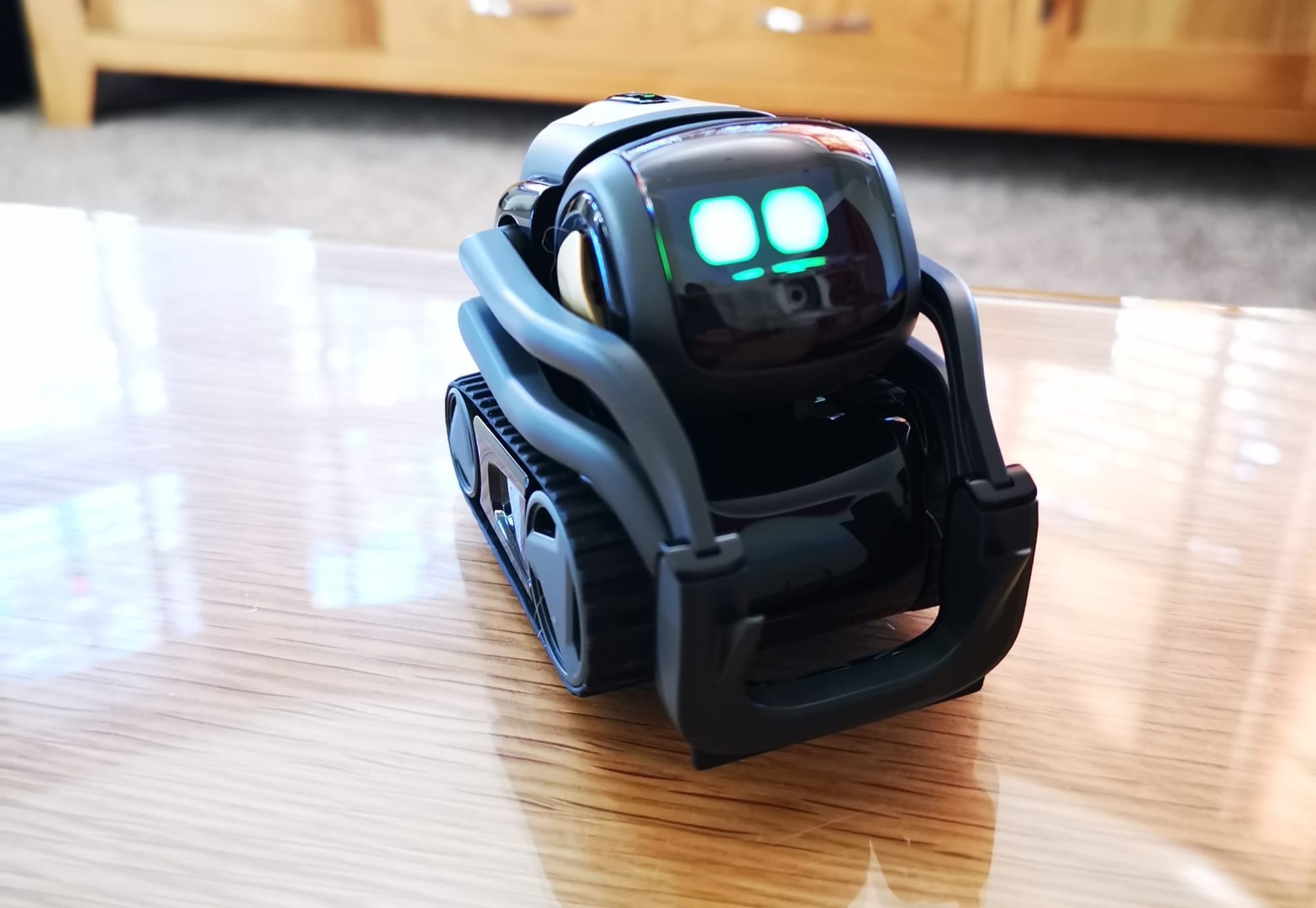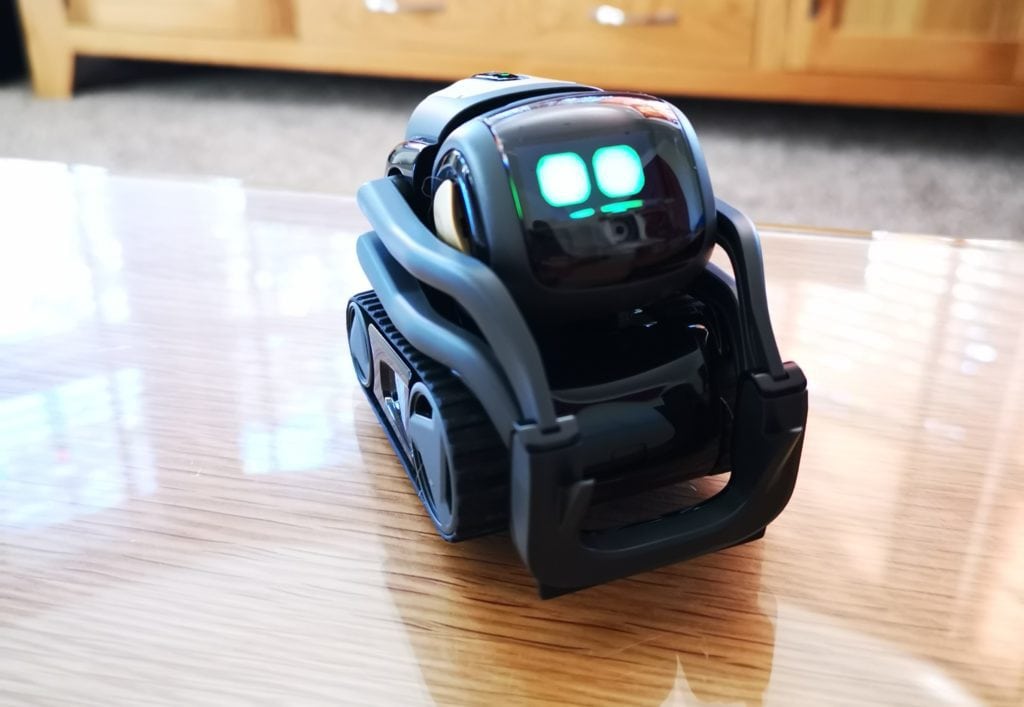 When Vector is on his charge stand his eyes will be partially shut as if asleep when he rolls off they open up giving you a cute puppy dog expression.
Using voice commands, you can teach him your name and he will take a photo of you so you can be recognised in the future.
From here, when you shout "Hey Vector" his eyes widen like he is excited to meet you and awaits a command. However, in a world of Alexa and Google Assistant, the first noticeable thing is the fact that you have to issue the hey vector command, wait, then say your next command. Vector then take a little while to process your command. Sometimes this makes you wonder if he heard it at all, and it is not uncommon for that to be the case. His microphone array isn't as good as AI assistants, and I found background noise to be quite problematic for him.
Once you get used to the quirks of issuing a command, Vector is accurate in what he does and can answer dozens of questions, pulling in data from the internet.
There are a variety of entertainment features which include doing a fist bump, playing cards, and interacting with its Bluetooth enabled Vector Cube.
Vector is designed to have emotion and will become bored if you ignore him, he will randomly shout out your name in excitement when he is exploring and sees your face. When you pick him up, he has a little tantrum spinning his treads trying to wiggle out of your grip. Left alone he will try and explore the environments around him, this made getting a none blurry photo award as he has a tendency to shoot off just as you try and take a photo.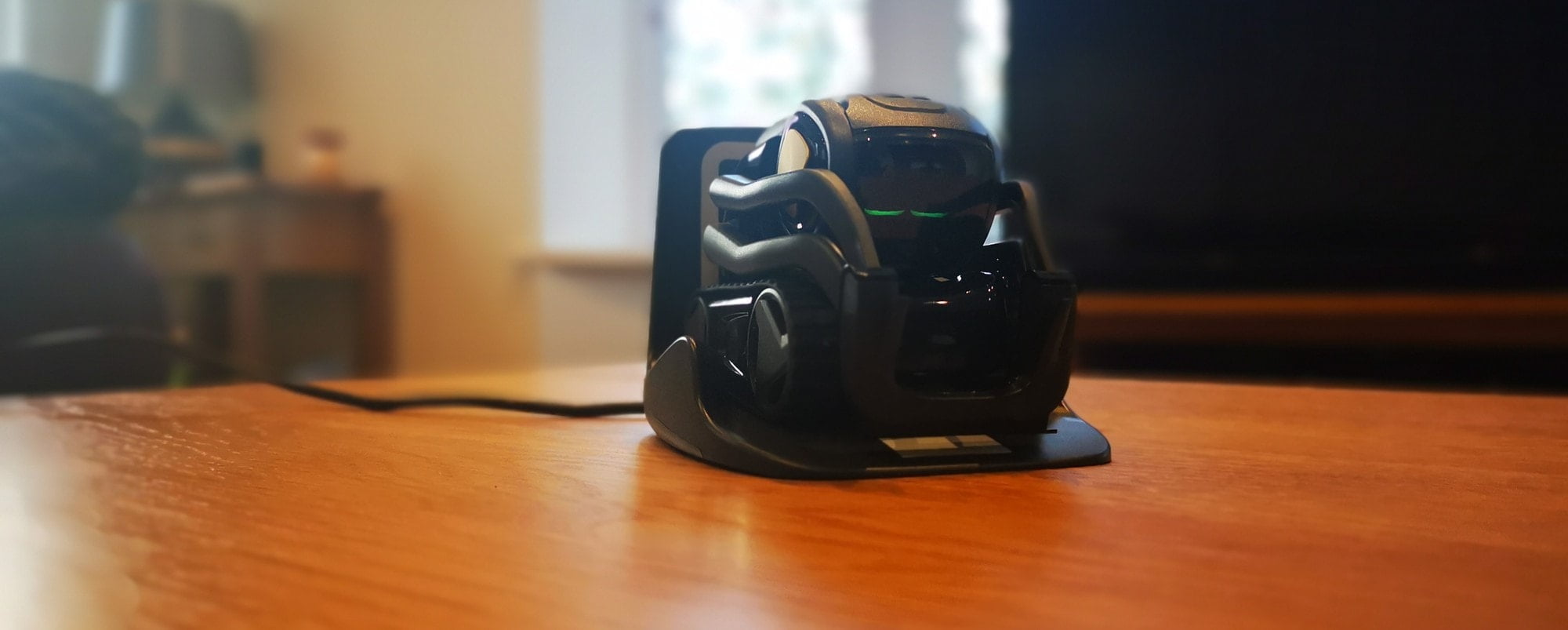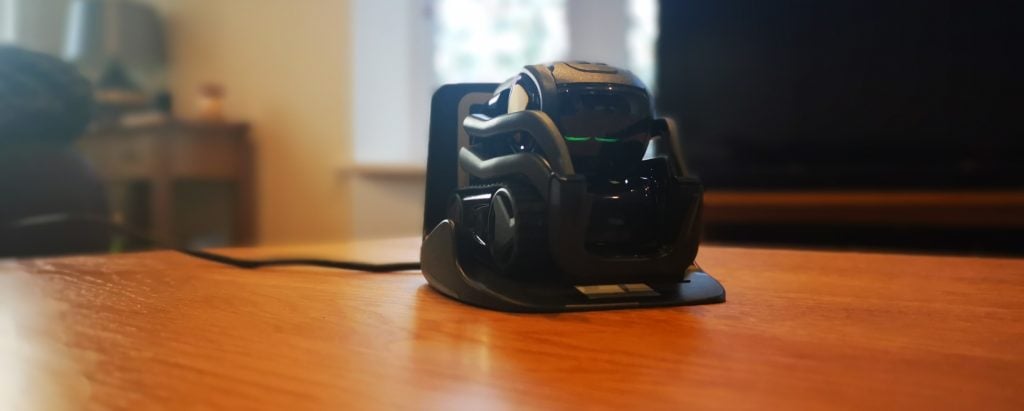 He will also respond to a variety of sounds, so when working in my office I randomly hear him making little sounds like he is curious about what is going on. A loud noise will startle him into action.
With Vector being designed to work on a tabletop he has various sensors to identify where the edge is and stop rolling off. He is generally quite good at falling off but it has happened once or twice. One type I put him on my stairs bannister temporarily only to hear him fall down the stairs a few seconds later, leaving me feeling quite guilty.
When he is low on battery he is designed to roll back onto the charger, though I have found this to be a little intermittent, sometimes he just doesn't bother to do it.
The old Cozmo has a code lab function, which allowed you to learn the basics of programming once the novelty of playing with the robot wore off. There is a notable absence of this here which I think limits Vectors long-term appeal. Anki is promising lots of updates, and the Alexa one is the thing I think is most important to help justify the high price tag of this little robot.
Conclusion
Vector is certainly enjoyable to play with and would absolutely make a great gift for kids of any age, his range of emotions are adorable and definitely the most emotive robot I have ever experienced.
However, with a £249.99 RRP or £239.99 on Amazon, you need to be quite an affluent family to justify this for a Christmas gift for your child.
Amazon Alexa will definitely help justify the cost, as this will make him have a little more long-term appeal.
Anki Vector now has Amazon Alexa functionality which can now make him more than just a smart toy to entertain you for a few hours and I think this will give him long-lasting appeal. I still think the code lab should be rolled out too, as making programming fun is a superb way to get your kids, or even adults into programming.
Anki Vector now costs £199 on Amazon and it has been as low as £149.99 during Black Friday. At £150 I would happily buy him and with he integration of Alexa, I think the £199 price tag isn't too bad either.