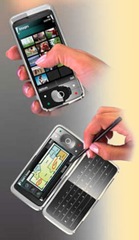 We previously blogged about possible pictures of the Nokia E91, and we have just posted the internal roadmap of Nokia Smartphones.
So did any of the road details match up with a possible Nokia E91 Specification?
The answer is, possibly. The best possible match I can see for the E91 is the phone codenamed Eitri which is due for internal release in week 17 of 2009 (Mid April).
This is a landscape candybar with QWERTY, 3.5-inch 640×350 display, minimum 8GB ROM, microSD, pressure sensitive touch UI with tactile feedback and gestures, charging via USB, 5MP AF camera with dual LED flash, integrated compass and accelerometer, proximity sensor, FM transmitter.
Some pretty impressive specs there. While it may only be a small thing I am impressed that Nokia have FINALLY decided to go with USB charging.
It may not be the E91 as there is no mention of dual screens, and the screen is actually smaller than the current internal screen with a 3.5-inch 640×350 display compared to the current 4 inch 800 x 352 display. However this could indicate they are releasing a smaller version giving it more mass appeal.