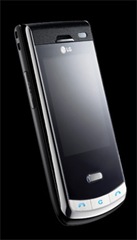 This Thursday(24th April) will see the launch of the new LG phone that is yet to be named. Part of the Black Label series pf phone that we have been seeing recently this phone will be the successor of the LG Chocolate and LG Shine, so maybe it will be called the LG Black. The phone will be one of the slimmest 5mp camera phones available and has been made from Carbon Fibre and tempered glass.
LG have been busy releasing a lot of phones recently including the very popular KU990 (Viewty), the new multimedia based phone KF700, and the Mid range phone the KF600 which we have a review of to post later on today.
A couple more pictures of the new LG phone follow. Sorry for the black background on the pictures I did not have time to edit them in Photoshop.