Anker Soundcore Spirit X Sports Earphones
Build Quality -

90%

Fit -

95%

Sound Quality -

80%

Price -

85%
As a fitness fanatic that is also cursed with sweating a lot, I am constantly on the lookout for some decent headphones for both the gym and running. For a long time, I loved the Bose SoundSport but they cost £115 so it is hard to justify this expense when I will inevitably lose them(which I did the first time around).
I have previously reviewed the excellent Soundcore Spirit Pro, and I still use them as my backup pair, however, when running I do find I need to adjust them a lot.
For a long time, my preference towards running headphones has been the models with a loop that goes over the top of your ear and anchors them to the side of your head. With this style, there is never a situation where the earpiece will come completely free and dangle down. Therefore I have been keen to try the Soundcore Spirit X which have this exact style.
Priced at £32.99 the Spirit X is well into the affordable category, but I have high hopes they will be more durable than my current running earphones the Mpow Flame, I am on my third pair of these in the last 6 months. In particular, Anker has developed what they call Sweatguard which claims to absolutely protect your headphones against water, sweat and other liquids. Unlike the Spirit Pro, the USB port has a cap to it, which makes me think that any liquid ingress into the USB port could lead to damage. However Anker claim that these are washing machine proof and I have seen videos confirming this, so they should be a lot more durable than standard "waterproof" earphones. They are also IPX7 rated which is classed as immersion in water, up to 1 m depth.
[button link="https://amzn.to/2PcloEB"] Buy from Amazon[/button]
The packaging of the Spirit X is simple but robust, within the box you get a carry bag three sets of earbud tips and three sets of ear wings. There is also a microUSB cable for charging.
The Spirit X has two methods to improve fit for gym use, the over the ear hook and then the additional ear wings which anchor the earpiece into place via your concha (the main domed cavity of your ear).  The cable also includes an adapter that allows you to take out the slack from the cable reducing the bounce around during vigorous activity. Build quality, as usual, is superb in particular there is a huge jump up in build quality compared to the £18 Mpow earphones I use now, and first impressions would be it is well worth the extra expense.
I am cursed with awkwardly shaped ear canals so finding a pair of earphones that create a decent seal is always difficult. 1MORE headphones always fit perfectly for me, but other brands are 50/50 at best. With these, I was able to get a comfortable fit in both the medium and large tips and the combination of ear hook and ear wings means no amount of head wobbling knocked these loose. During two vigorous gym sessions and one run, these stayed in place with no adjustments throughout the entire session. In particular, while using the rowing machine, I always seem to lose one earphone, but these never budged.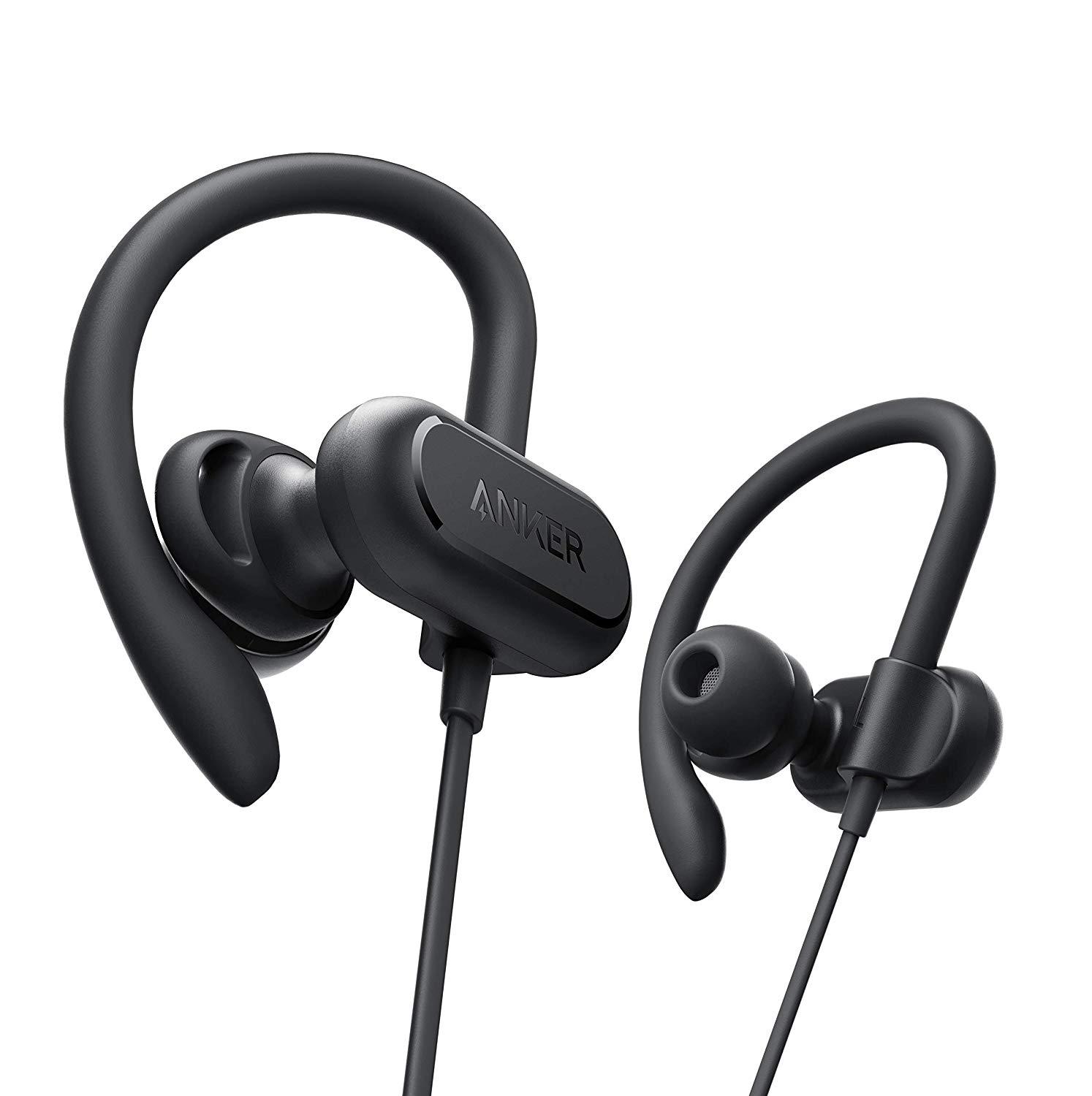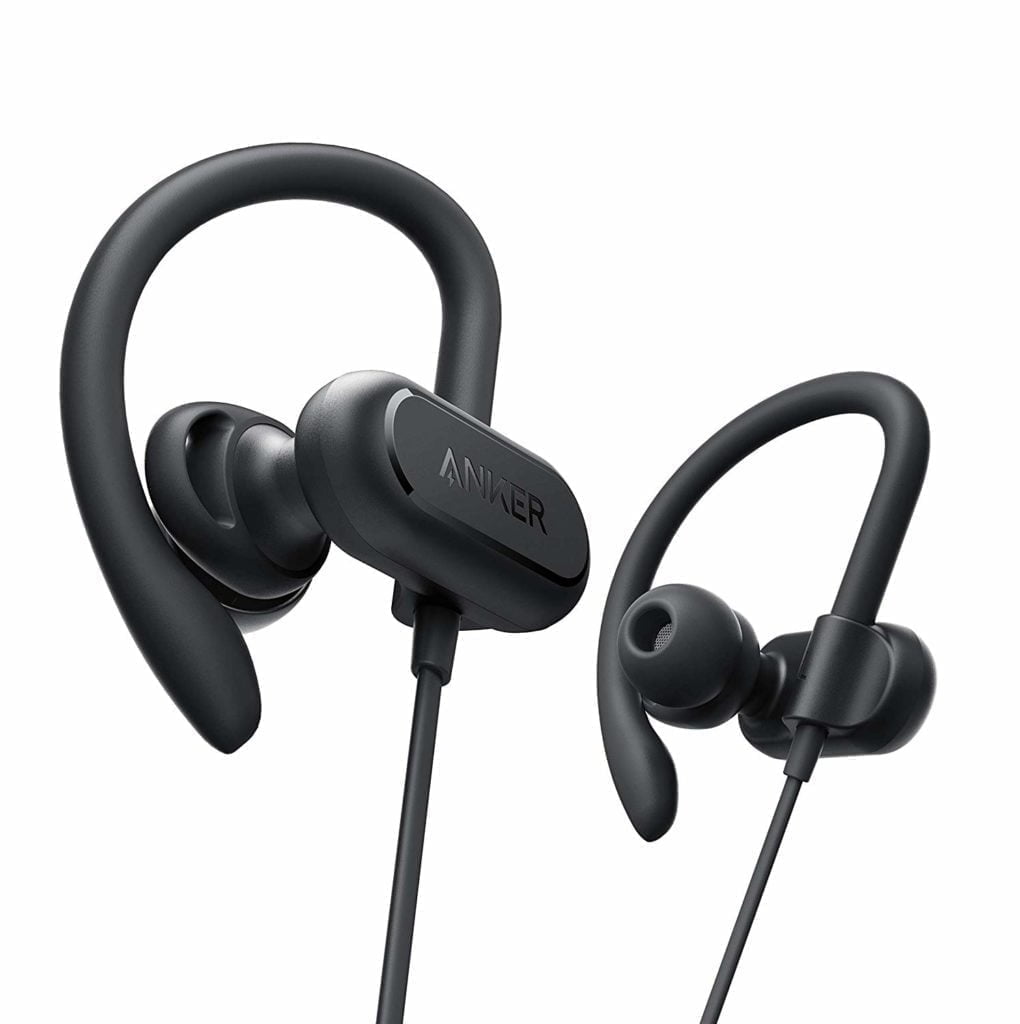 These are very much bass dominant, at first, I thought it was overwhelmingly so, but after a few hours use it appears to have settled down, that or I just got used to it. These are possibly the bassiest headphones I have used, certainly, in a long time, it can mean mids and highs are less well represented in some tracks. These are certainly not for an audiophile looking for reference quality audio, however, for earphones that you use in the gym, I enjoy this acoustic profile a lot. I lean towards heavy metal, hip-hop and electronica when I am in the gym, all of which favour that extra bass which helps me maintain my aggressiveness and energy during a workout. These can also go quite loud, certainly enough for me not to be able to listen to them at full volume, so again they work well for the gym.
Conclusion
I have come away extremely impressed by the Soundcore Spirit X, so much so they will now be my main gym earphone. I feel confident that the IPX7 and overall build quality will mean that I don't have to replace them every few months, and the price tag means it is not the end of the world if I lose them when out and about.
For me, these have the best all-around fit I have come across, they are particularly well suited for sports, the over-ear hook means they will never fall out of year ear fully, and so far they have required almost no adjustments during strenuous activity.
I love the sound profile for gym and sports use, but for day to day use, unless you are a bass head, you may want something a little more neutral.
[button link="https://amzn.to/2PcloEB"] Buy from Amazon[/button]