1MORE Spearhead VR BT In-Ear Headphones Review
Build and Design -

85%

Sound Quality -

80%

Price -

90%
Following on my review from the superb 1MORE Triple Driver BT In-Ear Headphones, 1MORE sent me a sample of their new mobile gaming orientated Spearhead Bluetooth headphones.
These are a bit of an unusual combination with gaming headphones typically being wired over the head options and Bluetooth headphones being music orientated.
The official blurb from the Amazon page states:
1MORE's Spearhead VR Bluetooth Headphones deliver an immersive VR sound experience that will make your games and movies come to life. The coaxial dual-dynamic driver layout allows two diaphragms to be placed on a single axis, assuring high sensitivity and a precise soundstage. Long lasting battery life with Fast Charge capabilities allows for extended gaming sessions. ENC microphone ensures communication remains crystal clear with your teammates no matter which environment you are in.
Immersive virtual environment sound effect
Graphene + titanium dual-dynamic driver design
Environmental Noise Cancellation with mic
30 ft. wireless range with Bluetooth v4.2
6 hours playtime with fast charging
Customisable LED light modes
Ergonomic neckband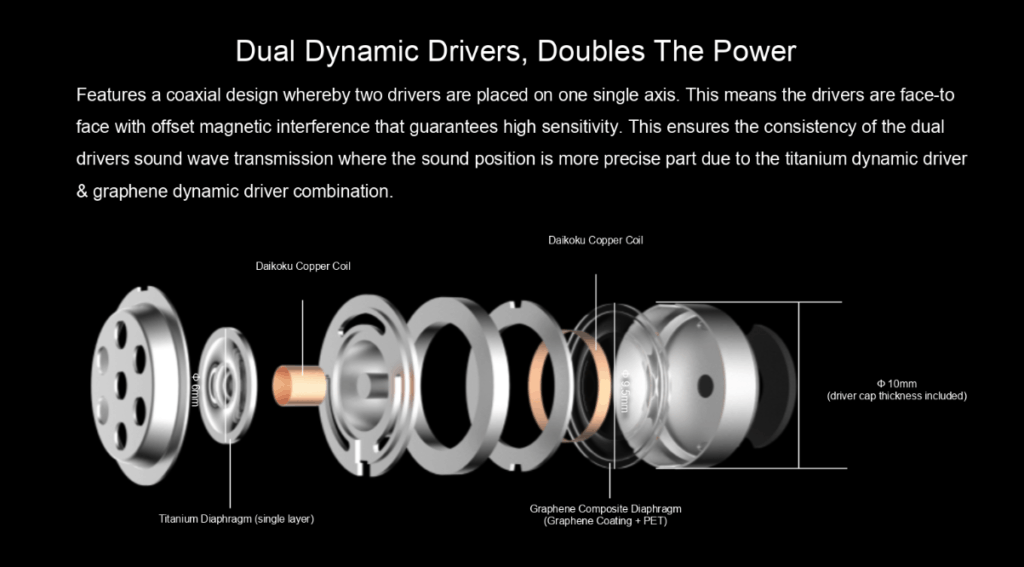 Functionally they appear to be identical to the 1MORE Stylish Dual-dynamic Driver BT In-Ear Headphones which on the 1MORE site costs $99.99 while the Spearhead costs $129.99.
However, in the UK the Spearhead costs £69.99 while the Stylish costs £85.50.
Both earphones use a dual dynamic driver over the triple driver found in the previous 1MORE review which helps these be a more affordable option. These also omit the LDAC protocol which is used for high-quality audio streaming, and both headphones use a microUSB over the USB-C found on the triple driver Bluetooth headphones.
[button link="https://amzn.to/2EFjrMf"] Buy from Amazon[/button]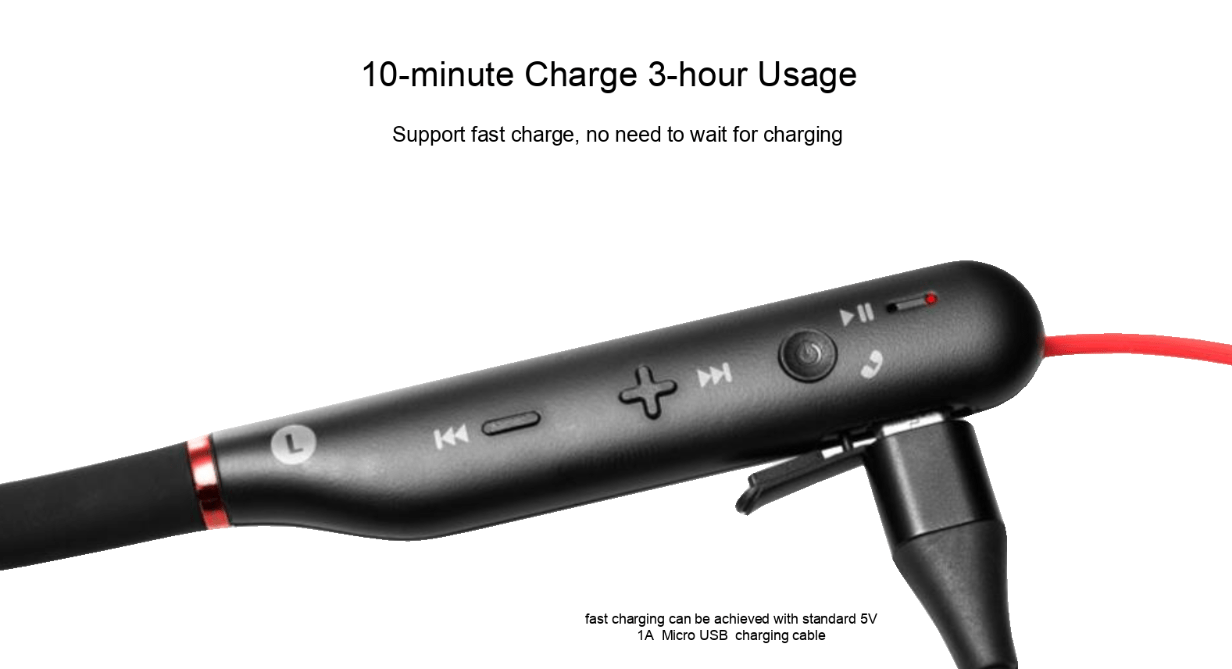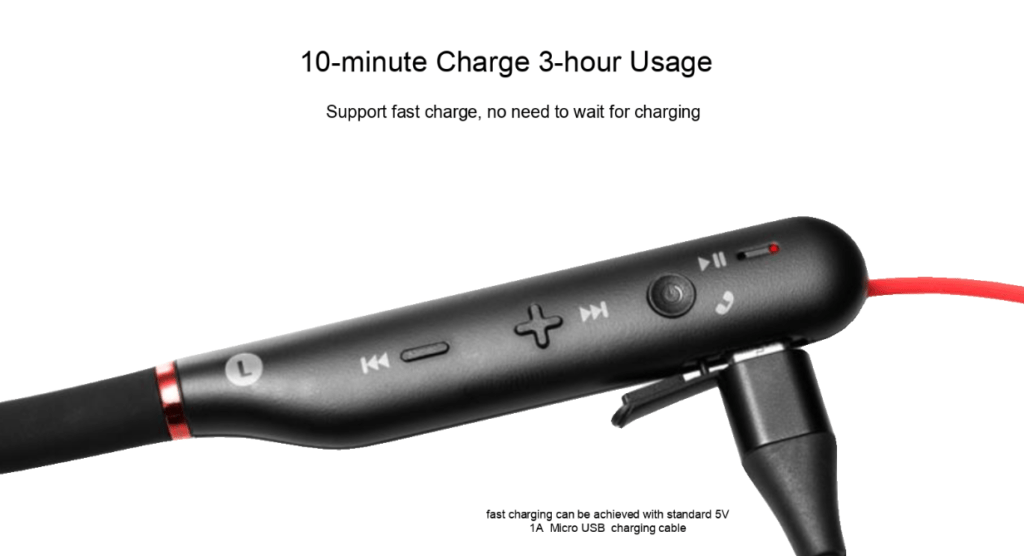 The main differences appear to be aesthetic, with the Spearhead adopting the typical gamer style of red and black with the inclusion of LEDs in the earpieces.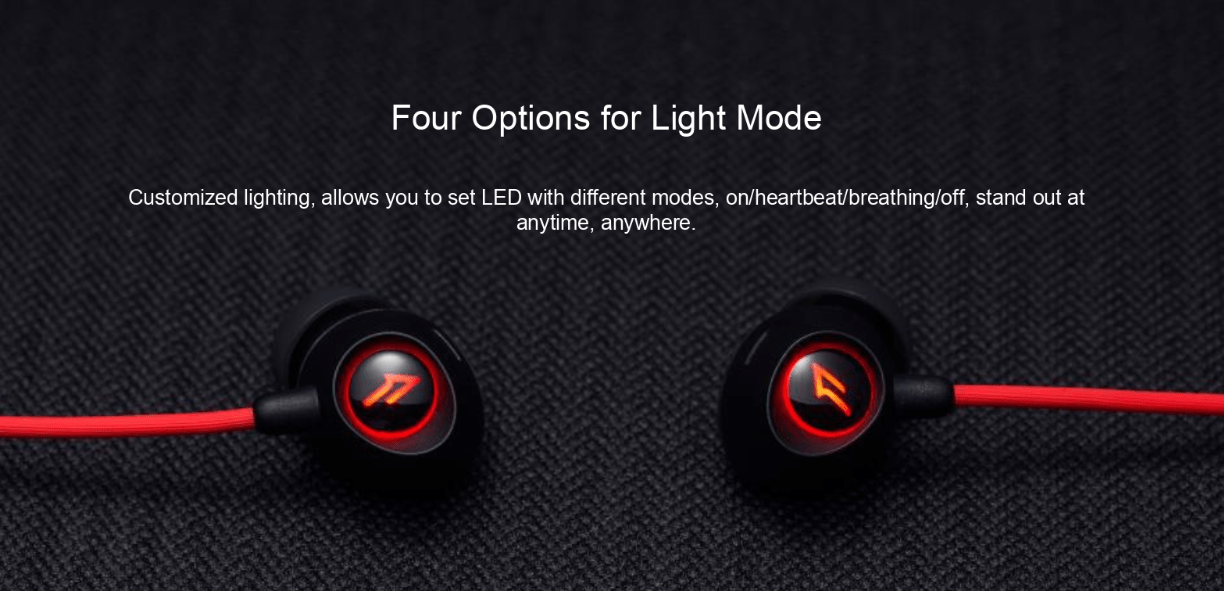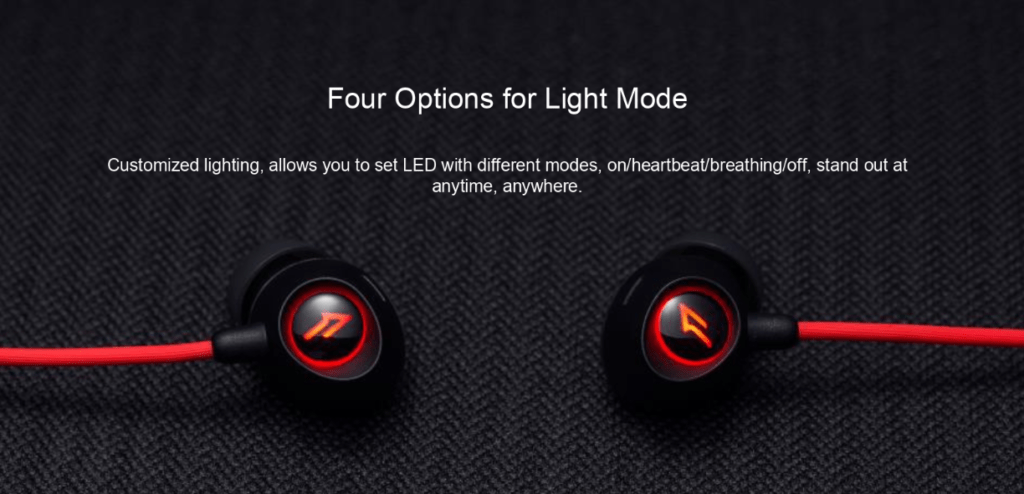 One other difference is that these claims to be able to offer a 'Virtual Environment Sound Technology'. It's a kind of real-time 3D audio but virtually simulated instead, rather than via hardware (in the VRX wired gaming headphones). This experience is only available via a downloaded App that you can download for both Apple & Android devices.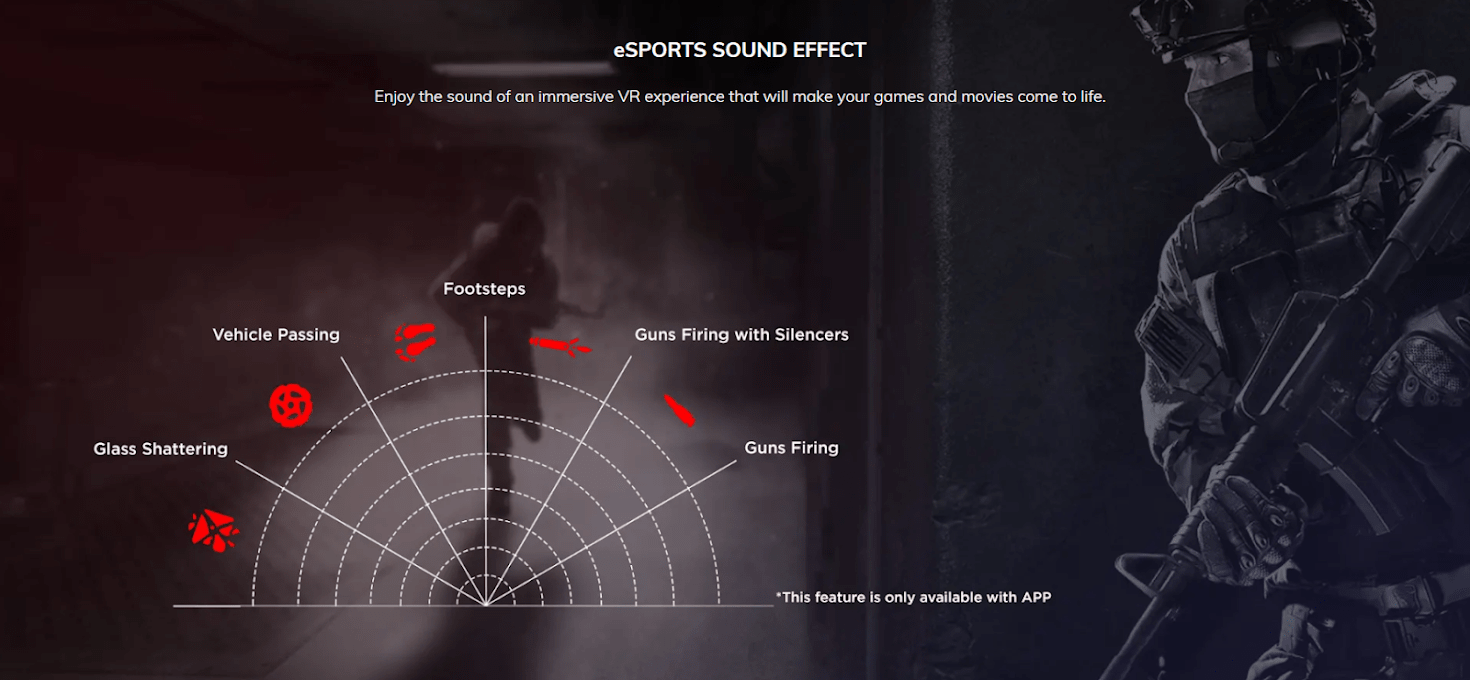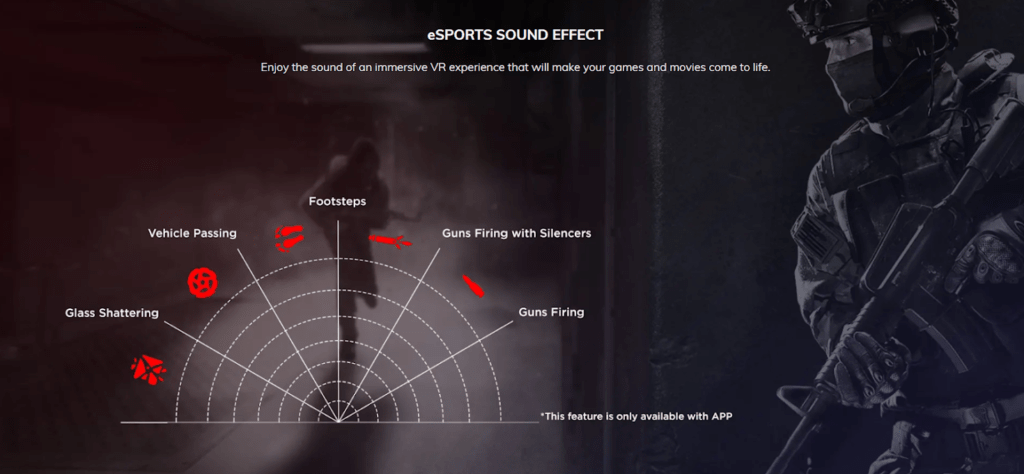 Packaging and Accessories
As these are quite a bit cheaper than the triple driver option, the packaging and accessories reflect the price. They still come beautifully presented in a thick cardboard box that opens up to reveal a red interior and drawings of the earphones. However, rather than being encased in a rubber foam they are in plastic packaging, and beneath this, you will find the accessories. Now you only get three earpieces, and these are just in a basic plastic bag.
Overall, the packaging is still top notch for the price.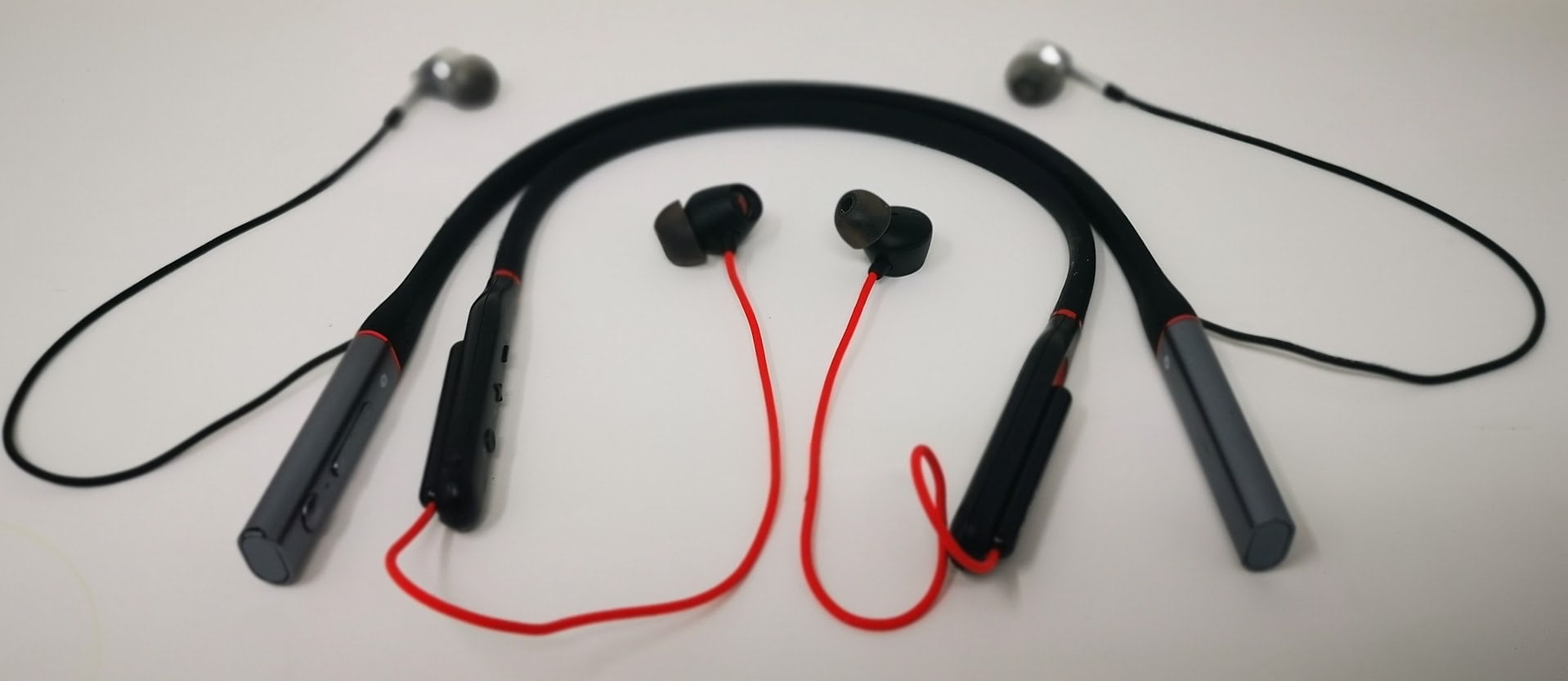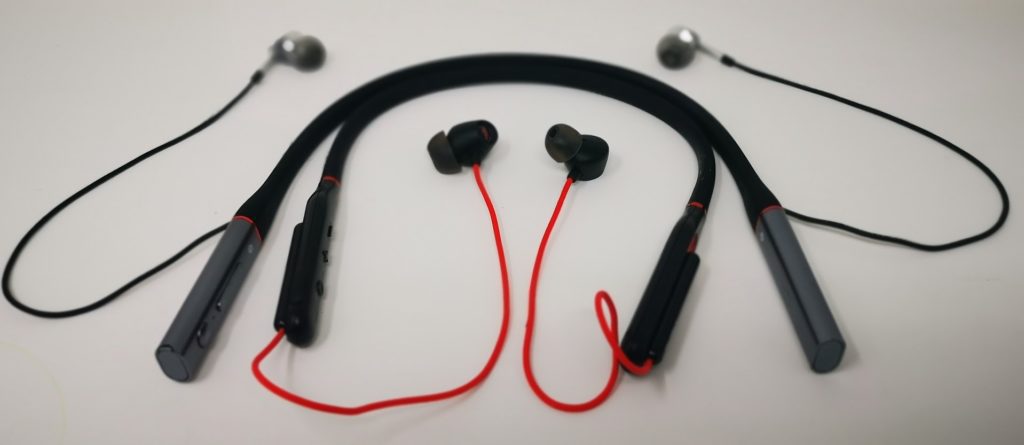 Performance
Due to the gaming nature of these, I tested them across different media formats including music, gaming and movies.
These have a neckband similar to the triple drivers, and this provides a very comfortable experience with all the weight of the components being located around your neck, and the earphones sitting in your ear as a normal wired pair would. I struggle to find earphones that fit inside my ear snugly, but 1MORE seem to manage a perfect fit every time with me.
Music
My initial impressions were that I couldn't tell the difference between the sound quality of these and the more expensive pair. They have similar sound profiles, being very bass dominant but not boomy, perfect for bass-junkies, or the target audience, gamers.
After a few hours of listening, I did start to notice the slight differences that a dual versus triple driver layout offer. For very bassy tracks there is some mild bass distortion in these at moderately high volumes, it is not profound, but it is noticeable in comparison. The triple driver option allows the earphones to cover a wider spectrum of sound with no distortion.
I found that mids and highs were still well represented and the overall sound with rich, vibrant and exciting to listen to.
Movies
With these being aimed at a less audiophile niche I tried out the headphones with some more movies and TV shows than I would typically test. They perform excellently as you might expect, movie and action sequences in particular favour the low-end preference of these, while at the same time the distortion issue is less/not noticeable with explosions and the like.
Gaming
I am not a huge mobile gamer, when I do find time to game it is on the PC. However, for the sake of professionalism, I fired up some games on the new Huawei Mate 20 to see how the 1MORE Spearhead performed.
The earphones are supposed to work with an app to create virtual 3D audio, however, after downloading the app, there appears to be no settings for this. It seems to only offer a smart burn-in function and local audio play with an EQ. It also requires a large number of permissions including your location, camera access, microphone and storage. With these being so new it is possible the 3D features will arrive soon,
Experimenting with a few games including PUBG, Fortnite, Oceanhorn and Asphalt 9: Legends the earphones performed well. Similar to movies, perfect accuracy isn't really needed here, the deep bass makes them exciting and immersive and due to the quick nature of gaming there was no noticeable clipping or distortion.
Conclusion
While I suspect these are functionally no different than the Stylish model, they are still great earphones at a more affordable price point than both the Stylish and Triple Driver.
Being £15 cheaper than the Stylish in the UK this actually makes them a great buy in comparison, and I think they easily justify their cost compared to competing brands.
While they don't sound as good as the Triple Driver they offer a very similar audio profile and I suspect most casual users wouldn't notice the minor audio differences so you could potentially save £50 by opting for these.
Overall these are awesome affordable earphones perfect for gaming, movies and music.
[button link="https://amzn.to/2EFjrMf"] Buy from Amazon[/button]