Acer Chromebook 714 NX.HAYEK.007 Review Rating
Summary
The Acer Chromebook 714 is a well-made laptop offering a good balance of performance and price, it has a superb battery and excellent build quality so I think it will be particularly well suited for students on the move all the time.
Pros
Good price/performance & overall user experience
Excellent build quality
USB-C charging on both ports
Cons
Not convertible
Not touch screen
Quite large for a 14-inch laptop
I don't often cover Chromebooks, the last time being the Dell Chromebook 11, which I had forgotten about until writing this.
I have become a bit of a convert since using this, with it being well made, quick to load and login, a superb battery and plenty of performance to handle all the apps I run.
Specification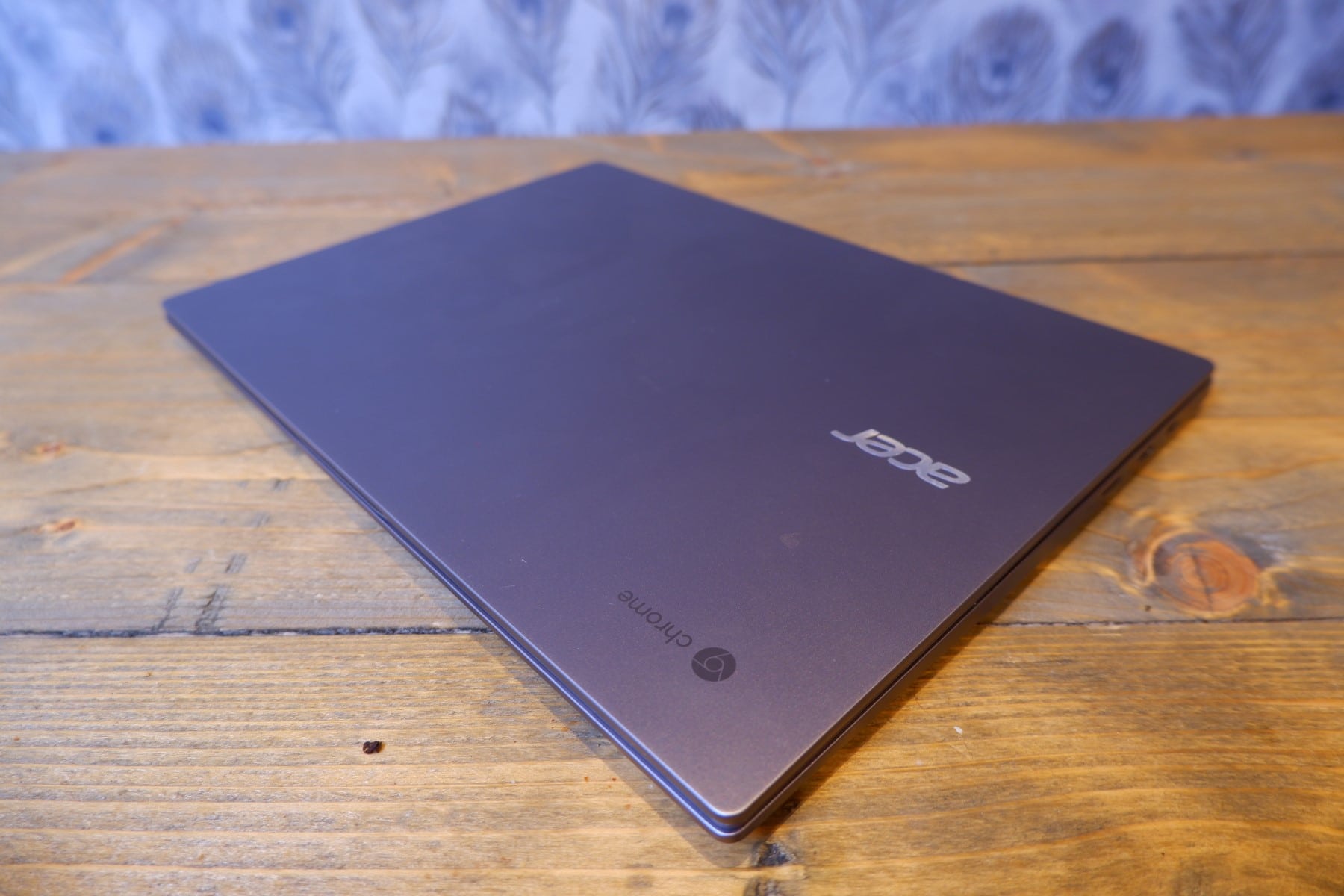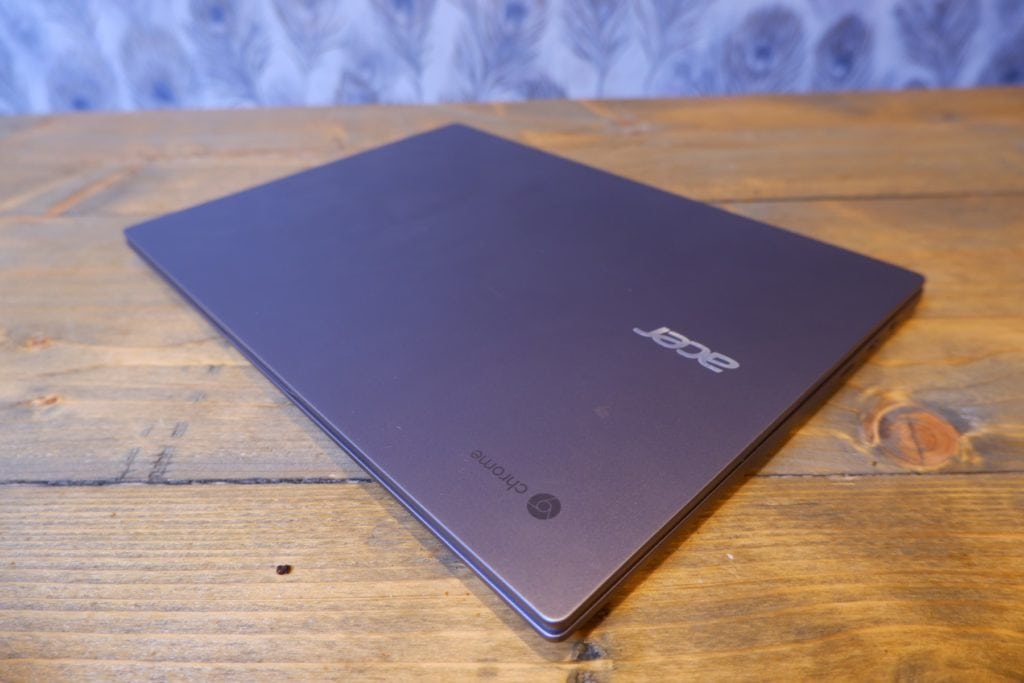 Processor- Intel Core i3-8130U Processor
RAM- 8 GB DDR4
Storage- 128 GB eMMC
Display- 14-inch 1920 x 1080p
USB – USB Type-C x 2, USB 3.1 x 2
Battery life- Up to 12 hours
Dimensions- 18 x 323 x 239 mm (H x W x D)
Weight- 1.5 kg
Design and Build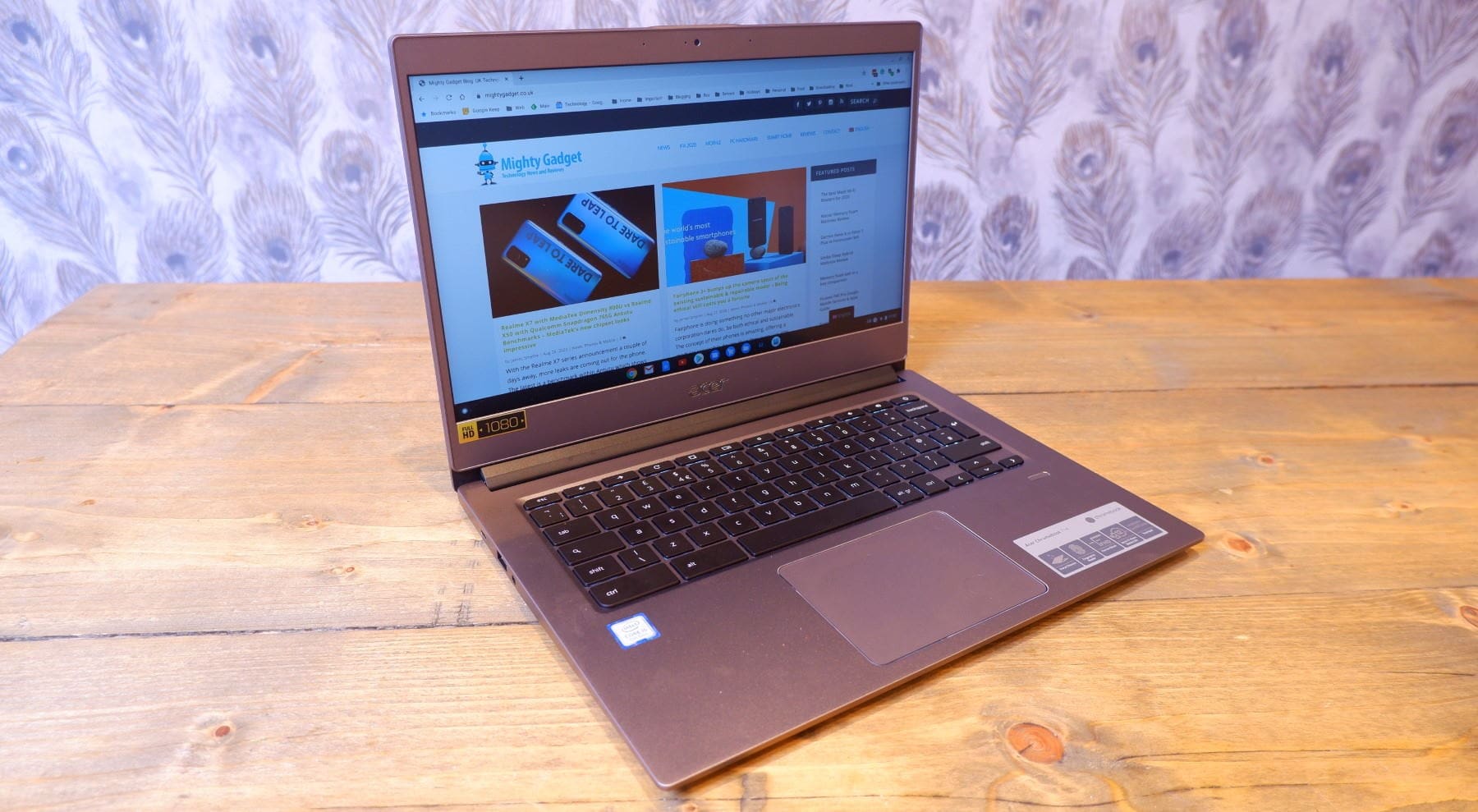 There is nothing fancy about the design here; this is all function. The footprint of the Chromebook is much larger than I would have expected from a 14-inch device, it is physically larger than my recent review of the Huawei Matebook 13.
Technically, it is not that much wider than the ultra-lightweight 14-inch Acer Swift 5, with only a 5mm difference, however, this laptop is around 28mm deeper which is likely thanks to the chunky top and bottom bezels of the display. The Swift 5 and Matebook are both double the price, so a more refined design is to be expected.
Thankfully, the build quality feels superb with this, and at 1.5 kg it is lighter than its size would suggest.


To the bottom right of the keyboard is a fingerprint reader which makes logging faster and easier, it is not quite as sleek as the Huawei implementation with the power button also scanning your finger, but it is accurate and quick
The Chromebook's 14-inch, 1920 x 1080 display is good enough, it is on par with most laptops around this price. The display is matte so thankfully no reflections, but it isn't the brightest.
The size of the laptop gives you a fairly generous keyboard which is pleasant to type on, as far as laptops go.
You get a healthy number of ports, and Acer has kept a Type-A port so you don't have to worry about USB-C adaptors.
On the left side, you'll find a USB 3.1 Gen 1 Type-C port, a USB 3.1 Gen 1 Type-A port and a headphone jack. The right side has a Kensington lock, a microSD card reader and another USB 3.1 Gen 1 Type-C port.
Touch screen and MIL-STD 810G – US & UK differences
Confusingly when researching this laptop two features that kept popping up are a touch screen and MIL-STD 810G testing for durability. However, my sample doesn't have a touch screen, and I can find no mention of MIL-STD 810G on the Acer website or any of the UK retailers.
The US website states optional 10-point touch IPS screen, but it looks like none of the UK sites is selling this variant. In fact, the i3-8130U model in the US (Part Number: NX.HAWAA.001) has a touch screen, but has 64GB of storage vs 128GB of my sample (NX.HAYEK.007).
Chrome OS
As someone that rarely gets a chance to use Chrome OS, I had forgotten how good it is
In general, I would say Chrome OS is a little more user friendly than Windows, especially for people that don't particularly get along with computers. Things just work, and there is not much need for things like antivirus or other background applications you find on Windows.
With everything being a web app or Android app, for the most part, its all freeware or subscription for some premium apps, this, therefore, gives you a (potentially) lower cost of ownership.
I am in no rush to ditch Windows for it, die hard Windows/Linux/Mac users, or just power users, in general, will struggle to replace the desktop apps they like use. However, in laptop form for 90% of the stuff I do, it works really well.
Android Apps
While I would struggle to convert to Chrome OS exclusively, the fact that you can install Android apps onto the laptop means you can replicate pretty much any functionality you have on Windows.
This includes everything I use daily including Microsoft Office, Photoshop or other photo editing tools, and all forms of social media, communications and media streaming.
It also gives you access to all the games on Play Store; these should all run without issue on the laptop. However, some games refuse to run. Call of Duty Mobile for some reason won't run on most Chromebooks, it is possible that Activision may block the game to avoid the advantages a big screen and controller could offer. It is still easier to find good games to run on it than a budget Windows laptops
Performance
The i3-8130U CPU inside this offers a superb balance of performance and affordability. Chromebooks were originally very affordable, and the OS can just about cope on the low-end Intel CPUs are used, certainly better than Windows. Since then there have been options launched going all the way up to the Intel Core i7 on the Pixelbook Go which retails for £1300, which is a little excessive.
The i3-8130U is a dual-core four-thread CPU that can comfortably handle everything you throw it along with the dozens of Chrome tabs, something that would tax many Windows-based affordable laptops.
Synthetic benchmarks show mixed results when compared to Android orientated chipsets. In 3DMark the laptop scores below the Qualcomm Snapdragon 765G of the Realme X50 but around 35% higher than the more affordable Snapdragon 720G. However, in Geekbench for the single-core test, it is only the flagship Snapdragon 865 that can oust this, but its 4-core design means it falls back to Snapdragon 765G levels for the multi-core score. This should mean this is superb for productivity, while it will be good for gaming it won't be as good as a flagship Android phone.
This is not a fanless laptop, I am not sure if the fans are on all the time, but throughout my use, they run quiet enough to either not be or barely be audible with light to moderate background noise. I also didn't experience too much each when using it on my lap.
Battery Life
Like many low powered laptops, this is charged via USB-C, which is honestly one of my favourite things to happen to laptops in years. I have PD plugs all over the house, so I never need to worry about finding the charger, also most plugs are dual-port so I can charge the laptop and phone at the same time. To make things even better, both USB-C ports will accept a charge avoiding me having to run cables around myself when I charge on the couch.
Battery life is superb too, well over a full days worth of office use including browsing, streaming and some basic photo editing.
Price and Competition
Acer has a bit of a confusing product line up for this model, on Currys, there is just the one ACER 714 for £499, which is the same as my sample.
However, you could save yourself £50 by buying directly from Acer and getting the 4GB/64GB model (Ref.NX.HAYEK.002). I can live without the storage, but I'd say the 8GB of RAM is worth spending the extra.
Alternatively, for £50 extra you can get the much more powerful i5-8250U based model (but only 64GB of storage – Ref.NX.HAYEK.00B ). I'd say this upgrade is worth it, as you can add more storage via microSD.
Then for US readers, your options are different too, there are six models, none of them are the same as in the UK. So that's 9 models at least, internationally, all with minor differences that you should double-check before buying.
Anyway, as for alternative options, there is:
This has a newer generation CPU that is better specced, it has less RAM but it uses an SSD vs the slower eMMC. It is also convertible and lighter
Another convertible, but this weighs about the same, has less and older DDR3 RAM and less storage.
£100 more than this Chromebook 714, but you get a slightly better CPU with the i3-10110U, then a convertible form factor with a higher solution screen and also Wi-Fi 6
Or you can go the other way, and for the same price, you get a convertible but a lower specced CPU and less RAM.
This is basically the same spec and price as the Acer but in a larger 15-inch format adding around 30mm to the width, 10mm to the depth and coming in at 1.81 kg
Overall
Overall this is an excellent Chromebook, it is built like a tank and offers plenty of performance while not breaking the bank.
The price point is attractive, and the build quality of these combined with easy free access to most office-type apps means this is particularly good for students wanting something affordable, portable and durable.
However, if you can stretch your budget, I would be tempted to look at Spin 13 with its rotating touch screen, newer CPU and Wi-Fi 6 support. However, that £100 difference represents a 20% price hike, so the Acer Chromebook 714 is still a good buy, regardless.