Recently Nvidia announced their new low power mobile GPU, the GeForce MX450. Its predecessor, the MX350 was only released in February 2020, with the MX250 being released in February 2019.
Nvidia hasn't released that much information about the GPU and a lot of companies have only just started using the GeForce MX350, with many others such as the Huawei Matebook 13 still using the MX250.
Nvidia GeForce MX450 Specification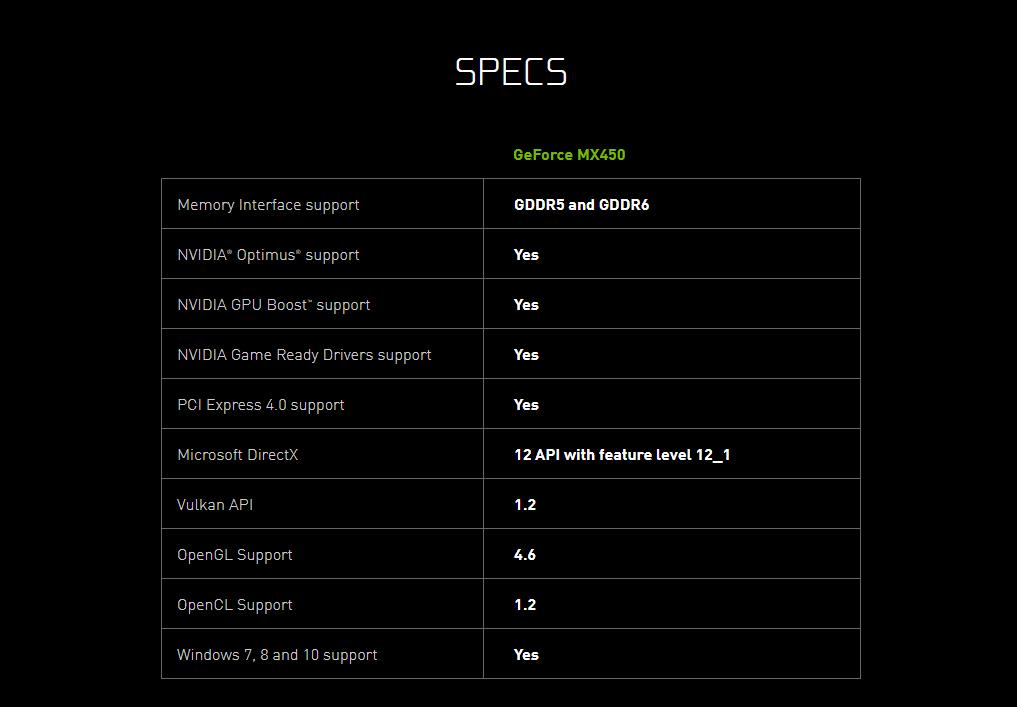 Nvidia hasn't been particularly forthcoming with the GeForce MX450 specification, but there are a few notable upgrades that could indicate some significant performance gains to be had over the MX350.
The MX450 is the first Nvidia device to support PCI Express 4.0. It then states it supports GDDR6 as well as GDDR5, something that's only supported on Turing based cards and later.
The low powered nature of these cards means it is unlikely to be able to use the bandwidth PCIe 4.0 offers, but the inclusion of it is likely so it can work alongside up and coming mobile CPUs that also support it.
The GDDR6 support should in theory, help gives things a boost, but with it also supporting GDDR5 there is no guarantee you will get that benefit specific laptops.
GeForce MX450 vs MX350 vs MX250 vs MX150 Specification
The below table gives some idea of how each generation has improved plus a comparison of the lowest GTX 1650 that is currently available in laptops.
There are also the GeForce MX230 and MX330, laptops featuring these are few and far between offering even lower performance than the MXx50 models.
GeForce MX
GPU
GPU Clock (MHz)
Shaders/Cores
Processing Power
(FP32)
Memory
GTX 1650 MQ
TU117
1020 – 1245 MHz
1024
2.55 TFLOPs
8Gbps G5 128-bit
GeForce MX450
N18S-G5-A (TU117)
TBC
TBC
TBC
10Gbps G5/G6 64b
GeForce MX350 25W
N17S-G5 (GP107)
1354-1468
640
1.88 TFLOPs
7Gbps G5 64b
GeForce MX350 15W
N17S-LP (GP107)
746-937
640
7Gbps G5 64b
GeForce MX330
N17S-G3 (GP108)
1531-1594
384
1.22 TFLOPs
7Gbps G5 64b
GeForce MX250 25W
N17S-G2 (GP108)
1518-1582
384
1.21 TFLOPs
7Gbps G5 64b
GeForce MX250 10W
N17S-LG (GP108)
937-1038
384
7Gbps G5 64b
GeForce MX230
N17S-G0 (GP108)
1518-1531
256
7Gbps G5 64b
GeForce MX150 25W
N17S-G1 (GP108)
1468-1531
384
1.18 TFLOPS
6Gbps G5/D3 64b
GeForce MX150 10W
N17S-LG (GP108)
937-1038
384
6Gbps G5/D3 64b
GeForce MX130
N16S-GTR (GM108)
1122-1242
384
6Gbps G5/D3 64b
Performance differences in benchmarks with MX350 vs MX250
Laptops with these GPUs don't offer the best performance, but they are capable of light gaming and provide a boost to productivity in GPU intensive applications such as photo and video editing.
There is no word on how the new GeForce MX450 performance, but looking at the previous generation, we may get an idea of what the new GPU will offer.
In my testing the MX250 on the Huawei MateBook 13 2020, I was able to play games such as Assassin's Creed Odyssey and Far Cry 5 with low settings. So hopefully the GeForce MX450 will make more games playable on ultraportables.
Looking at benchmarks of the MX350 vs MX250 there is:
25% improvement in Time Spy Score 2560×1440
28% improvement in the 3DMark Ice Storm GPU
24% improvement with the 3DMark Fire Strike Score
For actual gaming, this translates to:
67% improvement in Red Dead Redemption 2 on low settings (making the game playable with above 30FPS)
14% improvement in Star Wars Jedi Fallen Order at medium settings
23% improvement in Call of Duty Modern Warfare 2019 at low settings
16% improvement in Ghost Recon Breakpoint at low settings
Laptops with MX350 and MX250
There are only a handful of laptops that have launched with the GeForce MX350. These are all thin and lightweight laptops with the Huawei MateBook 14 being the heaviest at 1.53kg
, this includes:
Acer Swift 3
Asus ZenBook 14
Lenovo Ideapad 5
MSI Prestige 14
Many brands still use the MX250 including:
Asus ZenBook Duo UX481FL
Asus ZenBook Duo UX481FL
Huawei MateBook 13 2020 (Intel Model)
Huawei Matebook X Pro 2020
Xiaomi RedmiBook 13
When will laptops with the Nvidia GeForce MX450 be launched?
The GeForce MX450 is expected to debut in October via various Nvidia laptop OEM partners. With IFA next week I wouldn't be surprised to see some brands announcing laptops featuring it.