Dell Chromebook 11 Inch 3189 Review
Product Name: Dell Chromebook 11 Inch 3189
Offer price: 230
Currency: GBP
Availability: InStock
Summary
A small durable Chromebook that is exceptionally affordable compared to Windows alternative. This is a great little laptop for occasional work, general web browsing and light Android gaming.
It has been around three years since I have done a Chromebook review and since then the OS has come a long way. Primarily the ability to install Android apps exponentially improved the functionality of the devices, allowing them to sit nicely between Windows laptops and Android tablets while staying (mostly) affordable.
Chromebooks don't get a lot of love from manufactures, and there seems to be a trend of making them Student or Education laptops, with both Dell and Acer adopting this approach. It makes sense; these are affordable, durable laptops that can do most of the work a student needs. On the flip side of this, you have Google with its Pixel Slate which can cost up to £1550 presumably in an attempt to be an iPad Pro alternative.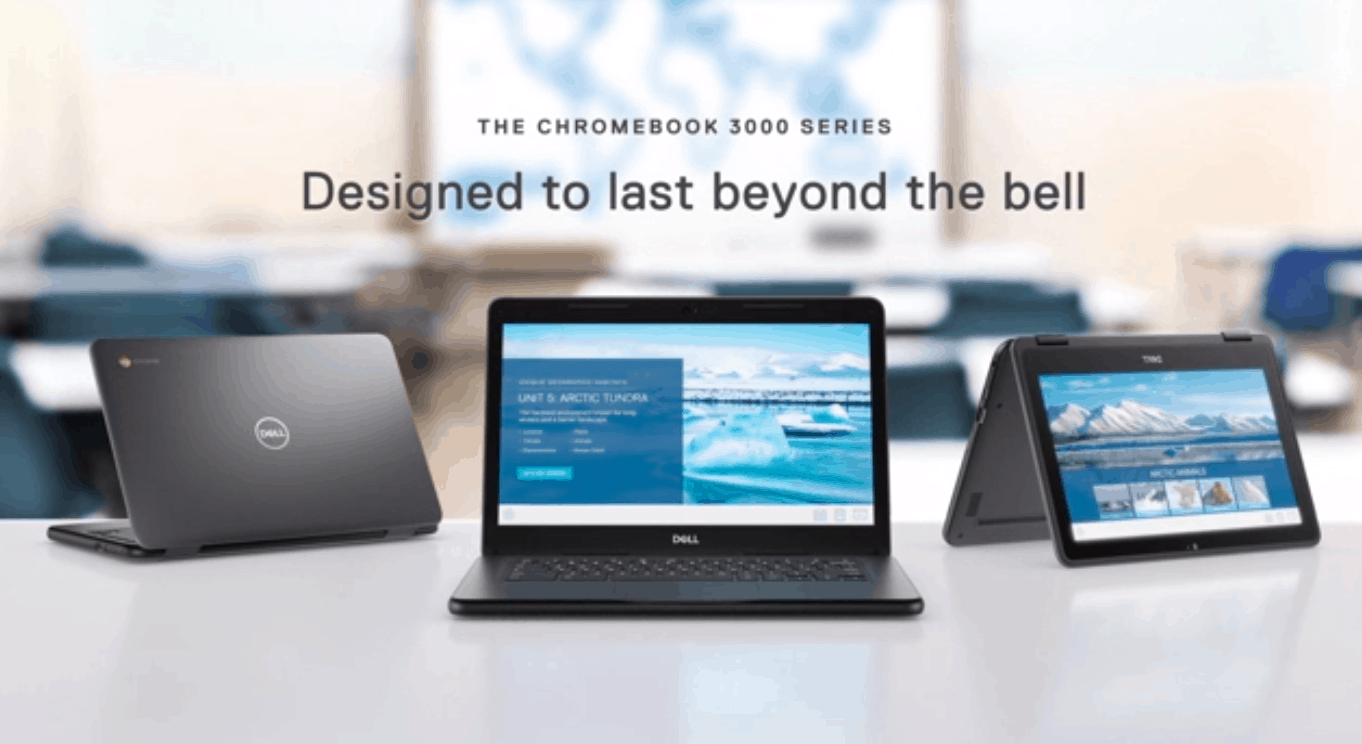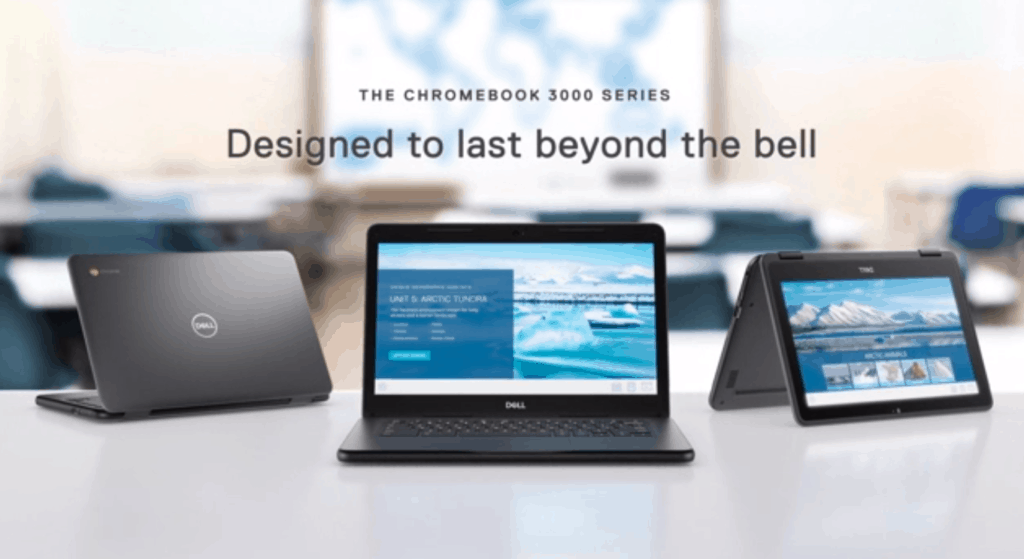 The Chromebook 11 Inch 3189 is one of the affordable student offerings by Dell, with current prices from £259 to £279 all of which use an Intel Celeron N3060 CPU have 4GB Memory and come in memory configurations from 16GB eMMC to 64GB eMMC. For the sake of £20, I would strongly advise getting the 64GB option.
At the time of writing there is also the Dell Chromebook 11 3000 2-in-1 available on Amazon with 4GB of RAM and 64GB of storage for just £229.99. I assume this is identical to the 3189 I have reviewed.
[content-egg module=Amazon template=list]
Specification Overview
Processor: Intel Celeron N3060
RAM: 4GB
Storage: 16GB – 64GB
Display: 11.6″ HD 1366 x 768 TN Touch with Corning Gorilla Glass
Ports: 2 USB 3.1 Gen 1, 1 Full Size HDMI, 1 USD Card Reader, 1 3.5mm
Dimensions: Height:20.75 mm x Width: 303.8 mm x Depth: 207.9 mm
Weight: 1.43 kg (3.16 lbs)
Design and Build
The 2-in-1 laptop comes with an 11.6″ HD 1366 x 768 TN touch screen with a total weight of 1.43 kg (3.16 lbs). The 11" screen makes this a small laptop while at the same time being a little bit chunky. The display has thick bezels around it, and the whole chassis feels quite large in comparison to its screen. The chassis also has a rubberised trim around its edges adding some more durability.
For the sake of comparison, the £1200 XPS 13 2-in-1 is 13.7mm at its thickest, while being the same width (but larger screen) and 9mm shorter in depth. It also weighs around 0.2KG less. A fairer comparison may be the Latitude 3380 priced at £429 with its 13.3-in display, i3-6006U Processor and full-fat windows. The Latitude is both thicker, wider and deeper and weighs more at 1.6Kg.
Corning Gorilla Glass protects the display, so it should hopefully stand up to more knocks than fancier laptops. In particular, I found the XPS 15 screen to be very fragile and expensive to replace, as you need to replace the entire lid. The 1366 x 768 resolution isn't ideal for fitting a lot of information on the screen, but due to the size of the display a higher resolution may not help that much anyway.
The chunky nature of this laptop does make it feel like it can handle more than a few knocks, and Dell advertises it as having best-in-class durability.
You get adequate connectivity with this, two USB 3.1 Gen 1 type A ports, which is enough to plug in any peripherals, while the HDMI out will be useful for watching media on the big screen. Similarly, you can easily transfer media, or expand the storage via the SD card reader.
At this price point, it would be nice to have USB-C charging. The TDP of the CPU is only 6W, but the power supply is rated at 65W. The newer Chromebook 11 3100 has PD USB-C but is quite a bit more expensive.
The laptop has a chiclet keyboard, which is sealed and protected from water giving it that extra durability compared to other choices. There is no backlighting, but this is to be expected at this price. The keyboard works perfectly well, I am never a fan on working on a laptop for long periods of time, but I was able to happily type out a few blog posts on this.
The touchpad works well too, there is nothing particularly bad or great, it just gets the job done.
Chrome OS
The OS of this laptop is what differentiates it from every other laptop I have reviewed in the past few years. There is considerably less functionality than a Windows-based laptop, but Chrome OS is less resource heavy so runs better on cheaper devices. With the inclusion of Android apps, the functionality has improved exponentially since my last Chromebook review in 2016.
For most users, the core functionality of Chrome OS should be more than enough, you have access to Google Docs which replicates all the functionality of MS Office. It can play stored media files such as music or movies or happily stream content from Netflix and other services.
Android Apps
Nowadays most Windows apps have an Android version or a 3rd party alternative, so if you are really struggling with what Chrome OS offers natively, you should be able to find something that works via the Play Store.
In particular, there are various media editing apps from the likes of Adobe, multiple social media 3rd party apps such as Fenix for Twitter, and the official Reddit app or its 3rd party alternative.
You also have access to the various games that are on the Play Store, so this can provide a big screen alternative to gaming on your phone.
Performance
With realistic expectations, the performance of this is good. I have a lot of Chrome extensions which can be problematic, even in well specced Windows environment, but I was pleasantly surprised how snappy it felt on this. Opening multiple tabs can cause some issues, but if you keep it reasonable, you should have no issues.
With access to Android apps, I was curious how well the N3060 would handle games. Usually, these games are run on powerful System on Chips such as the Snapdragon 855 so I wasn't sure how laggy graphically intensive games like Asphalt 8 would be, or how the keyboard would work. I was pleasantly surprised to find the game quite playable, and keyboard controls worked well, you have the option for WASD or the arrow keys for control and the space for Nitro. This gives the game a friendlier interface than touchscreen controls. I didn't test the FPS but I experienced no issues with performance and it was smooth throughout my gaming.
The 6W TDP of the CPU allows this to be cooled passively and therefore it is effectively silent in use and therefore perfect for working on in quiet environments. Or for me, when I use it on my lap in the evening, I hate the irritating fan sound when watching something on TV.
Battery Life
Battery life is excellent, and should comfortably see you through the day. I have used it for a press trip where I used it on a plane and train, and I comfortably go over 6 hours use without having to worry about charging it. I would expect that this can easily handle a full working day.
Overall
I like this laptop a lot, aesthetically it isn't great, and its durable nature doesn't make it as portable as some expensive slimmer options, but that durability gives you some reassurance when you are carrying it around in a bag all day.
ChromeOS has all the functionality you need for day to day activities, from document editing, web browsing, and watching media. With Android apps, you can expand the functionality to be almost as good as a regular Windows laptops, it is even capable of some light gaming with plenty of options on the Play Store.
There is no reason why this should be exclusive to students, I think most people can appreciate the benefits of an affordable, small, durable laptop. It is good enough for me to consider buying for myself for press trips, as I often get paranoid about breaking or losing an expensive ultraportable laptop.
It is worth noting that there is now a newer version of this laptop, the Chromebook 3100 which has an upgraded N4000 Processor and introduces USB Type-C that has Power Delivery. However, this model is £470 compared to the £279 of this version (or £229 on Amazon). So, while the 3100 will be a better laptop in most regards, it doesn't offer the same value for money this does, and you can get better specced Windows laptops for around the same price, such as the Latitude 3190 2in1 or Inspiron 14 5000 2-in-1.