Zyxel XGN100C 10G PCIe Network Adaptor Review Rating
Summary
The Zyxel XGN100C is an affordable multi-gig network adaptor that works as advertised. While 2.5GbE has become more popular and affordable, 10GbE throughput will save you a significant amount of time if you deal with large files and fast storage, easily justifying the cost.
Pros
Affordable 10GbE NIC from a reputable brand
No issues with performance or setting it up
Backwards compatible with slower Ethernet
Comes with a half-height bracket.
Cons
Slightly more expensive than the ASUS XG-C100C
The Zyxel XGN100C is one of the few affordable 10-gigabit ethernet network cards on the market.
The card is based on the Marvell AQtion AQN-107 10 GbE Network Interface Adapter, which is just the new name for the Aquantia AQ107 used on the ASUS XG-C100C now that Marvell has completed their Aquantia acquisition.
While 2.5GbE has gained mainstream traction, 10GbE is still floundering. This is changing very slowly, Zyxel seems to be one of the companies helping bring down the prices. You have this new affordable NIC then they have the unmanaged S1250-12 with 3x10GbE ports for around £250, and the cloud-managed 8x10GbE Nebula XS1930-10 for about £390.
[amalinkspro type="showcase" asin="B08MT61V6J" apilink="https://www.amazon.co.uk/dp/B08MT61V6J?tag=mighgadg-21&linkCode=osi&th=1&psc=1″ new-window="true" addtocart="false" nofollow="true" sc-id="6″ img-sizes="500:500″ imgs="https://m.media-amazon.com/images/I/413WpjPaqYL._SL500_.jpg" link-imgs="false" specs="Hyper-Fast 10Gbps networking" btn-color="#ff9900″ btn-text="Buy on Amazon" alignment="aligncenter" hide-prime="0″ hide-image="0″ hide-price="0″ hide-button="0″ width="600″]Zyxel XGN100C Internal Ethernet 1000 Mbit/s[/amalinkspro]
Features and Specification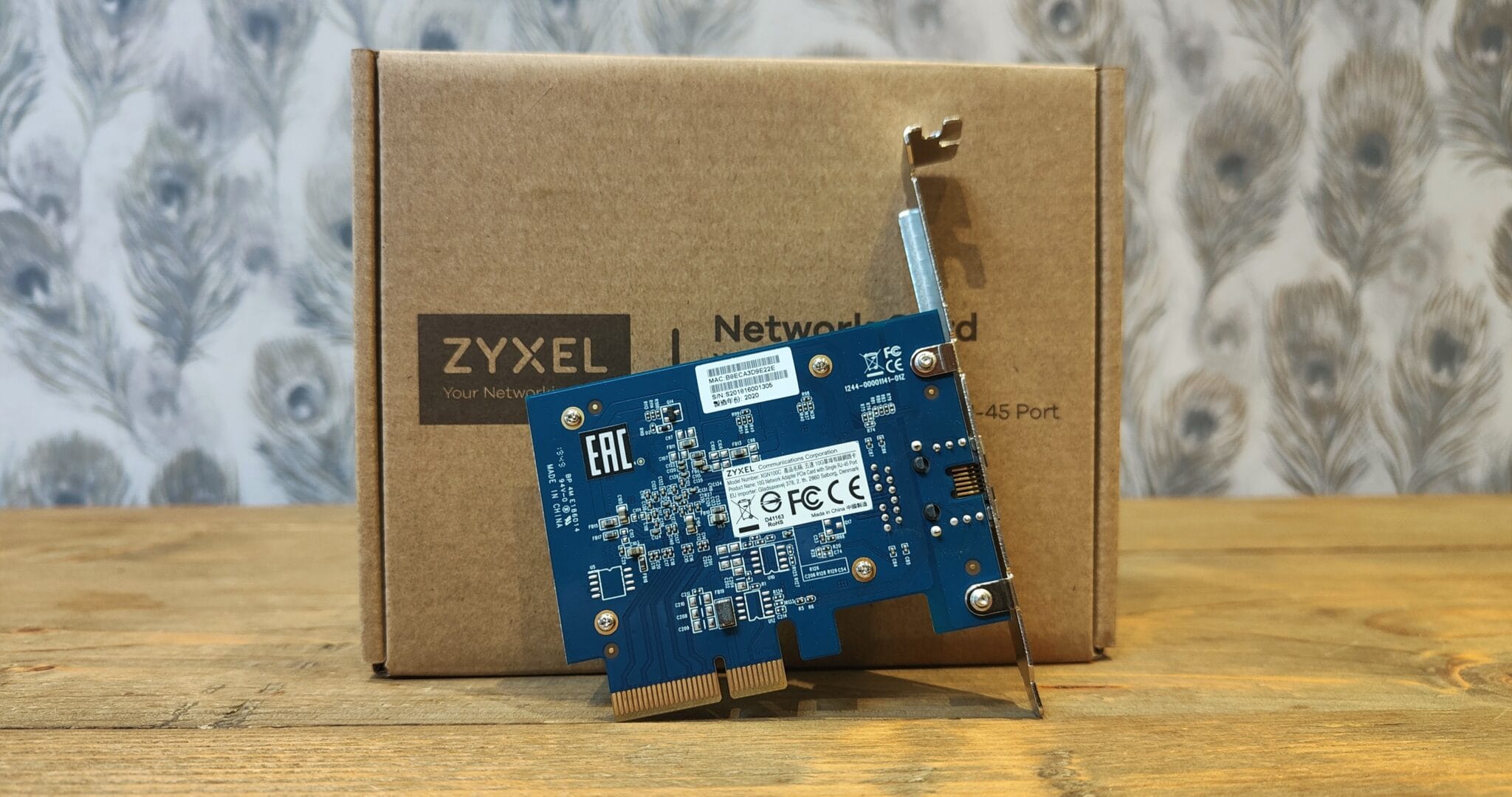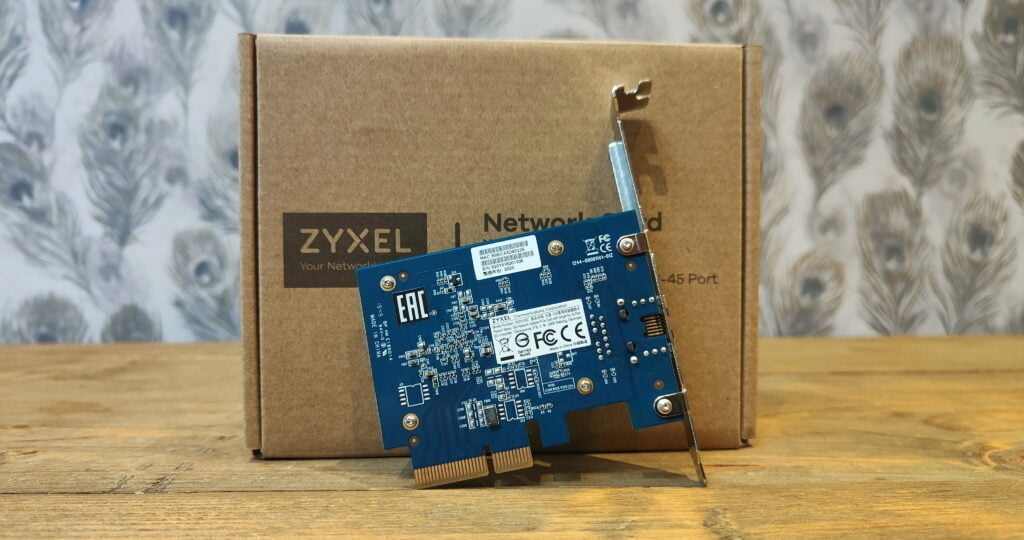 Interface: PCI Express Gen-3 (or2) x4 Host Bus Interface
Included brackets: Full and half height
Standard

IEEE 802.3an 10Gbps Ethernet
IEEE 802.3bz 2.5Gbps/ 5Gbps Ethernet
IEEE 802.3ab Gigabit Ethernet
IEEE 802.3u Fast Ethernet
IEEE 802.1az Energy Efficient Ethernet
IEEE 802.1p Priority Queuing

Performance

Quality of Service
Jumbo frame support up to 16 KB

Features

Compatibility with current network standards, including 10/5/2.5/1Gbps and 100Mbps
Support Windows and Linux
Built-in Quality of Service (QoS) technology

Supported OS

Windows 7, 8, 8.1,10 (32/64-bit) or Server 2012
Linux kernels 3.11, 3.2, 4.15, 4.2, or 4.44
CAT Cable Compatibility – Cat5e, Cat6 and Cat6a
Just to pad the review out a bit and also because there is some confusion about compatibility.
It is possible to run a 10Gbps connection on older Cat5e, but the maximum distance is 33m. Then for Cat6, it is 55m, and finally Cat6a for the full 100m.
Test Setup
My home network and servers are cobbled together with whatever parts I can find that is affordable. So my testing environment isn't 100% ideal.
I don't have a proper 10GbE RJ45 switch, but I do have the Zyxel XGS1210-12, which has 2x 10Gb SFP+ ports plus 2x FS.com 10GBASE-T SFP+ transceiver modules.
My work PC uses the Zyxel XGN100C on an AMD X570 motherboard with the AMD Ryzen 5800X and Kingston KC2500 NVMe.
Then the server is an AMD Ryxen 2600, B450 with the ASUS XG-C100C and using the Kingston DC1000M U.2 Enterprise NVMe for storage.
Performance
This worked out of the box for me, however, I did have to install drivers for the ASUS XG-C100C, originally. So you may find that is the case here. You can download the drivers from Zyxel.
iPerf performance is exactly as you expect. File transfers consistently hit 9.45 Gbit/sec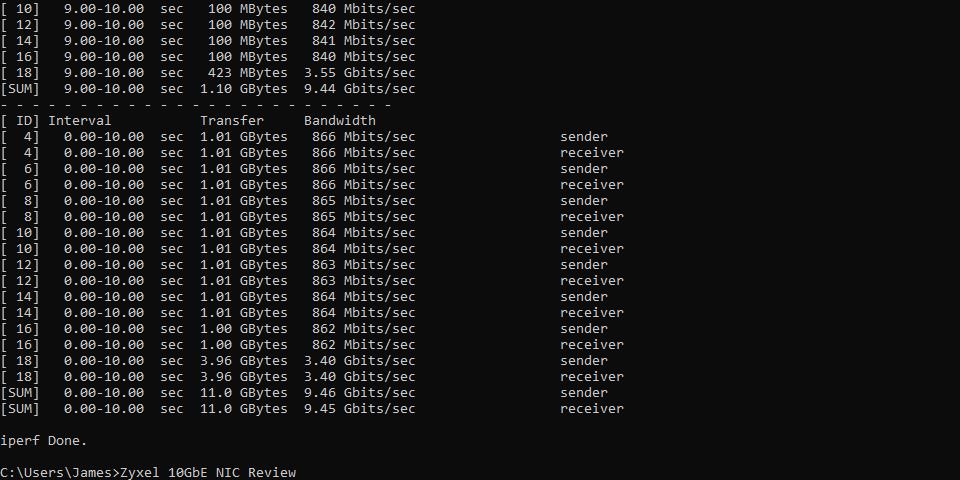 Using Crystal Disk Mark, the write file transfer speed saturates the 10-gigabit link with 1182MB/s, but the read speeds are about half of this. The read speed seems to be an issue with something other than the NIC, as I have seen this problem when testing Mellanox SFP cards.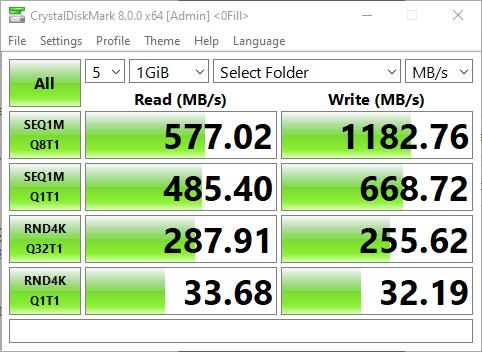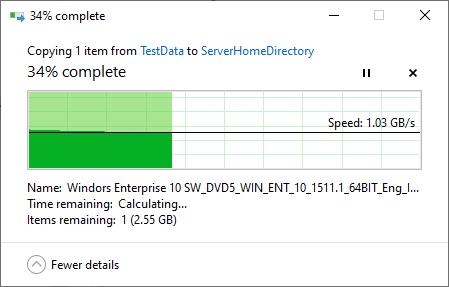 Even at 577MB/s read, that's faster than a SATA SSD and is likely to be faster than any RAID configuration you may have with HDDs.
Price and Alternatives
The Zyxel XGN100C has an RRP of £99.99 but at the moment the cheapest I can find it is about £110 via Misco.
The ASUS XG-C100C, which has been out for a few years has been unrivalled in price since launch and is currently around £85.
The QNAP QXG-10G1T is about £100
Bizarrely, you can buy the Aquantia branded AQtion 10G Gaming NIC for a massive £345, which will be essentially the same hardware as both the Zyxel and ASUS
If you want to go down the Intel chipset route, then you will need to pay significantly more
The 10Gtek Intel X540 single port is £171
The StarTech Intel X550-T2 Dual Port is £300
Overall
The Zyxel XGN100C might not be the absolute cheapest on the market, but it is not far off, and it has only just launched. I would imagine many business users would prefer the Zyxel name and branding over the Asus and its more home user/gamer focus.
It performs exactly as expected, is easy to install and offers full backwards compatibility with Gigabit, 2.5Gbps/ 5Gbps Ethernet.
The cost of this NIC is less of an issue than the switches to make the most of it, but prices are coming down. If you work in a creative industry or in any job dealing with large amounts of data, then time saved from the throughput speeds you achieve with 10GbE easily justifies the cost vs slower Ethernet.
Last update on 2022-06-19 / Affiliate links / Images from Amazon Product Advertising API