I reviewed the Thermaltake V200 RGB towards the end of last year, at the time it cost £79, and I classed it as a must-buy for affordable gaming.
Since then priced has dropped down to just £59.99, and for just a tenner extra compared to the original price you can get the case plus 550W 80 PLUS PSU (£89.99), which is a stonker of a deal.
I won't bother reviewing the case again, it is the same as last time, but better value.
As a quick recap, you get a lot of case for your money, it ticks all the boxes for current trends. There are three 120mm 12V RGB fans that can be controlled using a simple interface built into the I/O panel. It will sync with your motherboard if you have the correct RGB header for the fan controller, and there is a rear exhaust 120mm fan. If you plan on building a more powerful system in the future there are lots of expansion options. It a radiator up to 280mm in the front, the top of the case can also accommodate 2x 120 or 140mm fans.
The main side panel is tempered glass, and there is a PSU shroud to hide your/my poor cable management.
Thanks to Prime Day, I have put together a little budget PC, perfect for first time builds or just people on a tight budget.
My prices were affected by Prime Day, but if you shop around and don't mind buying a system a bit at a time when prices or low, it is easy enough to get roughly the same deal.
I actually grabbed two CPUs recently so there are two options.
Case & PSU: Thermaltake V200 RGB Tempered Glass Case + 550W 80 PLUS PSU – £89.99
Motherboard: MSI B450-A PRO AM4 DDR4 ATX Motherboard – £74.30
CPU:

AMD Ryzen 3 3200G AM4 Processor with Radeon Vega 8 Graphics – £87

GPU: SAPPHIRE Pulse Radeon RX 580 4G GDDR5 Dual HDMI/DVI-D/Dual DP Graphics Card – Black – £116.99 (optional if you get the 3200G)
RAM: Corsair CMK16GX4M2D3000C16 Vengeance LPX 16 GB (2 x 8 GB) – £66.80
Storage: Crucial P1 1TB M.2 NVMe SSD – £77.15
There are various places you could cut costs further, a 1TB NVMe drive sounds excessive for a budget build, but it was so cheap at the time it was hard to refuse. Currently, you can pick up a 500GB SSD for around £50.
Total cost of the recommended AMD Ryzen 5 2600 system – £528.23
Total cost of the Ryzen 3 3200G based system – £395.24
At the time of building this, my current monitor is the Samsung C49RG90 49-inch Super Ultrawide. Priced at £1200 it is not exactly the appropriate monitor for this build, but it was what I had at the time.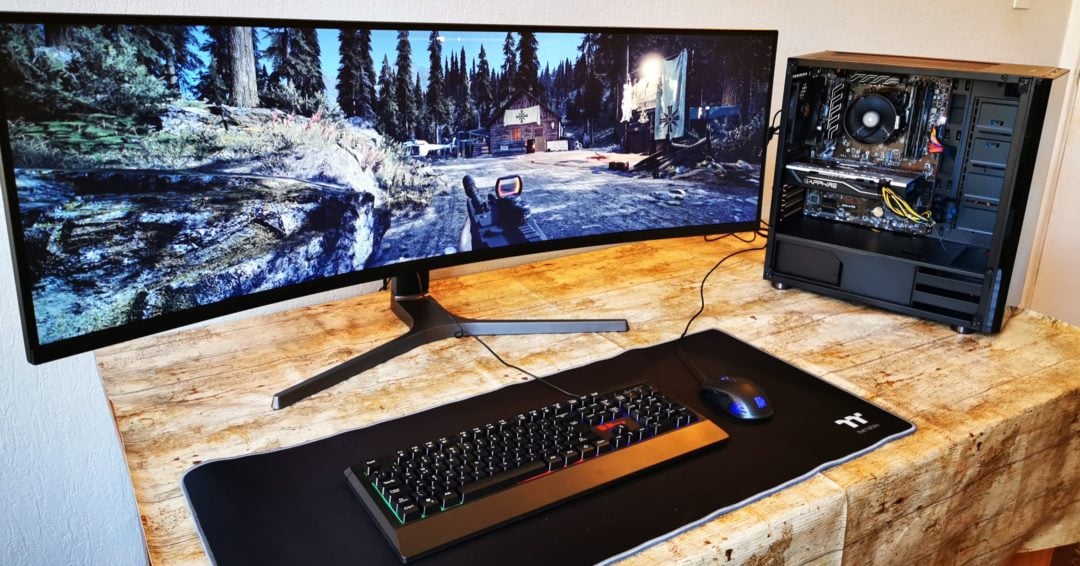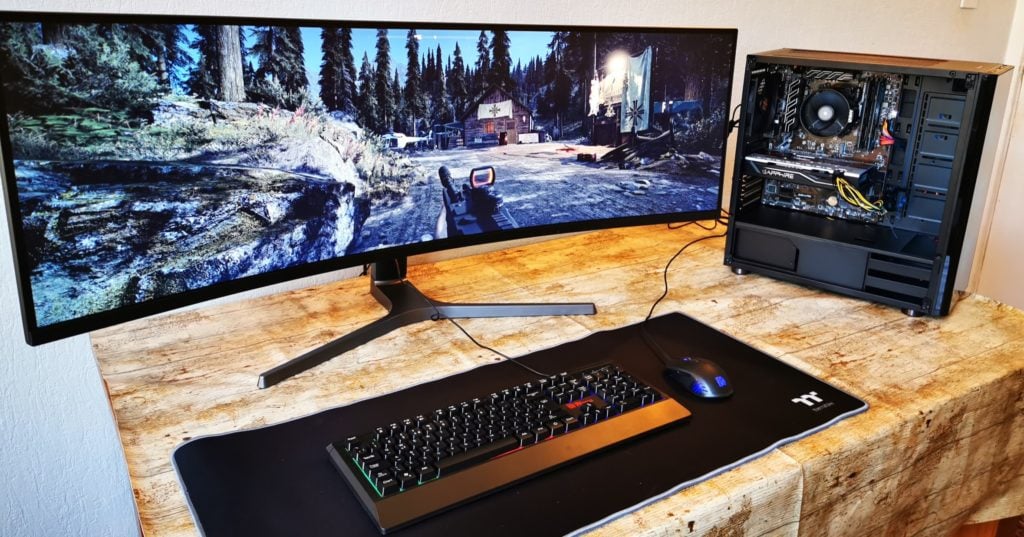 If you need to keep costs as low as possible, then the Thermaltake Ttesports Challenger Combo Keyboard and Mouse is worth looking at and set you back just £20.
I mainly bought the AMD Ryzen 3 3200G option so I could review it, but it is still worth considering if you want to build a basic PC for very light gaming, there is headroom for upgrades too, you can get a GPU later down the line, and even upgrade the CPU later too. I have not tested the Ryzen 3200G yet as it is not compatible out of the box with the motherboard, it needs a BIOS upgrade. For this reason, I wouldn't recommend it for first builds.
To keep costs down I used the stock cooler, it is actually decent enough, just not as quiet as many third party solutions and won't be able to handle overclocks very well.
This is the first time I have used an AMD GPU in years, I love the build quality and look of the SAPPHIRE Pulse Radeon RX 580. Its 4GB memory is a little limiting but for the price, you can hardly argue.
I love the case, it was mostly easy to build in, especially considering the price. However, the PCI brackets need to be snapped out of the case, and you really need to do this before the build, I scratched a little part of my motherboard by not taking care.
The PSU is very basic, you are essentially paying £30 for it, the main issue is the lack of sleeves over the coloured cables so with a tempered glass case you are going to have some less than attractive cables on show. The case does have a PSU shroud, so their exposure is kept at an absolute minimum, the main one being the PCI-E 8 Pin cable to the GPU. Looking at Scan the cheapest 550W PSU they sell is the Antec NE550C 550 at £44.99 so you are saving about £15. The PSU is also pre-fitted, which helps speed up the build a little.
Performance
With this being a budget build it is safe to say most gaming will be in 1080P. At 1080P this can handle pretty much everything you throw at it using very high settings. With some games, you will need to tweak the settings to get the best results, the main issue is the 4GB of memory doesn't cut it for some games.
At 1080P in the highest settings, all the games I tried were playable with over 30FPS minimum. Assassins Creed: Odyssey performed the worse with an average of 37FPS. GTAV, The Witcher 3, Rise of the Tomb Raider and Deus Ex: Mankind Divided all stayed above 60FPS. Dropping the settings a touch for some of the more demanding games will help keep the FPS about 60 for everything.
If you have a 1440P monitor, you can push the resolution up for some games. GTAV stays above 50FPS, Rise of the Tomb Raider and Far Cry 5 stay above 70FPS.
Overall
This year is a great time for PC builders, AMD has shaken up the CPU market the past few years with their superb Ryzen chips, RAM pricing has crashed, so has solid-state storage. Last generation GPUs can be had for bargain prices, sadly newer generation options are a bit of a rip-off.
Then you have companies like Thermaltake, who produce cases and PSUs to fit every budget, I still use the Thermaltake Level 20 GT RGB for my main case, it's massive and expensive and fantastic. Then on the other end of the spectrum, you can grab this Thermaltake V200 RGB and PSU for less than 90 quid. For a touch over £500, you can build a solid little gaming PC that has premium looks and loads of expansion possibilities.
You can buy the Thermaltake V200 RGB with PSU from Scan as part of a promotion they are doing with ThermalTake