The Suunto 7 has so far been the most exciting piece of news to come out of CES 2020, time will tell if it is any good, but it is interesting to see a sports watch company make such a dramatic shift to WearOS.
Previously, Polar launched the M600 with WearOS all the way back in 2016, and they never followed it up. Instead, the Polar M430 launched in 2017 as an upgrade to the M400 and then launch the Vantage range. Either the demand or the performance was not there for a WearOS device, even though the watch itself received favourable reviews.
Recently Garmin launched their Venu, it doesn't have WearOS but it is the first Garmin device to introduce an OLED display, which appears to be an attempt to improve its market share in the growing smartwatch market. The watch itself is basically a Vivoactive 4 but with an improved display but this comes with a cost of battery life, with 5 days in smartwatch mode and up to 6 hours in GPS + music mode (without always-on display).
Then the is the Apple Watch, while I am not a big Apple fan, they seem to be embarrassing Android WearOS with performance and functionality.
Battery Life
For many multi-sports watches live and die by their battery life and the biggest issue for a proper smartwatch is the abysmal battery life so it seems contradictory to use WearOS for a sports watch.
Suunto claims 18 hours typical use including 4 hours of outdoor tracking. There are a theoretical 48-hours if you do no sports tracking.
This is pretty good in the word of WearOS, I have struggled to get a full day when I reviewed some watches, and a day and a half would be optimistic.
The Polar M600 claimed 2-day battery life, so things have not improved much since 2016 it was also apparently capable of eight hours while working out and about four with GPS enabled The Suunto 7 can go 12 hours with GPS and HRM or 30-hours indoor tracking.
The Apple Watch 5 claims 18 hours with the following use: 90-time checks, 90 notifications, 45 minutes of app use, and a 60-minute workout with music playback from Apple Watch via Bluetooth,
Or for indoor workouts, you can get 10 hours, or 6-hours with GPS, and 5-hours with GPS and LTE
The Garmin Venu claims 5 days smartwatch with activity tracking and 24/7 wrist-based heart rate monitoring.
It can then do 20 hours with GPS, or 6 hours GPS + music
Display
The Suunto has an AMOLED display with a resolution of 454 x 454 with a peak brightness up to up to 1000 nits.
The Garmin Venu also has a an AMOLED but this runs at 390 x 390 pixels and there is no claimed peak brightness.
The Apple Watch 5 has an LTPO OLED display with 1,000 nits.
Then the much older Polar M600 1.3-inch 240×240 TFT display.
Chipset
The performance of a smartwatch is reliant on the processor it runs, and how bloated the OS is.
Because the Garmin Venu isn't running a normal smart OS they don't declare the chipset inside it, and the watch performs perfectly well. It is mostly a closed system apart from the CIQ apps.
The old Polar watch used a dual-core MediaTek MT2601 1.2 GHz chipset which ironically uses the same ARM Cortex A7 cores you will find in the newish quad-core Qualcomm Snapdragon 3100 chipset the Suunto uses, and the cores are clocked the same too, at 1.2 GHz.
The MediaTek MT2601 is made on a 48nm fabrication process vs 24nm of the Qualcomm. The GPU is an ARM Mali-400 whereas Qualcomm use their own Adreno 304 GPU.
The big selling point of the Qualcomm Snapdragon 3100 was the Cortex M0 co-processor which is a lowe powered CPU to aid battery life.
Apple uses its own S5 chip inside: 64-bit dual-core S5 processor, up to 2x faster than S3 processor (includes W3 wireless chip). The specification of this chip is undisclosed.
Apps and Functionality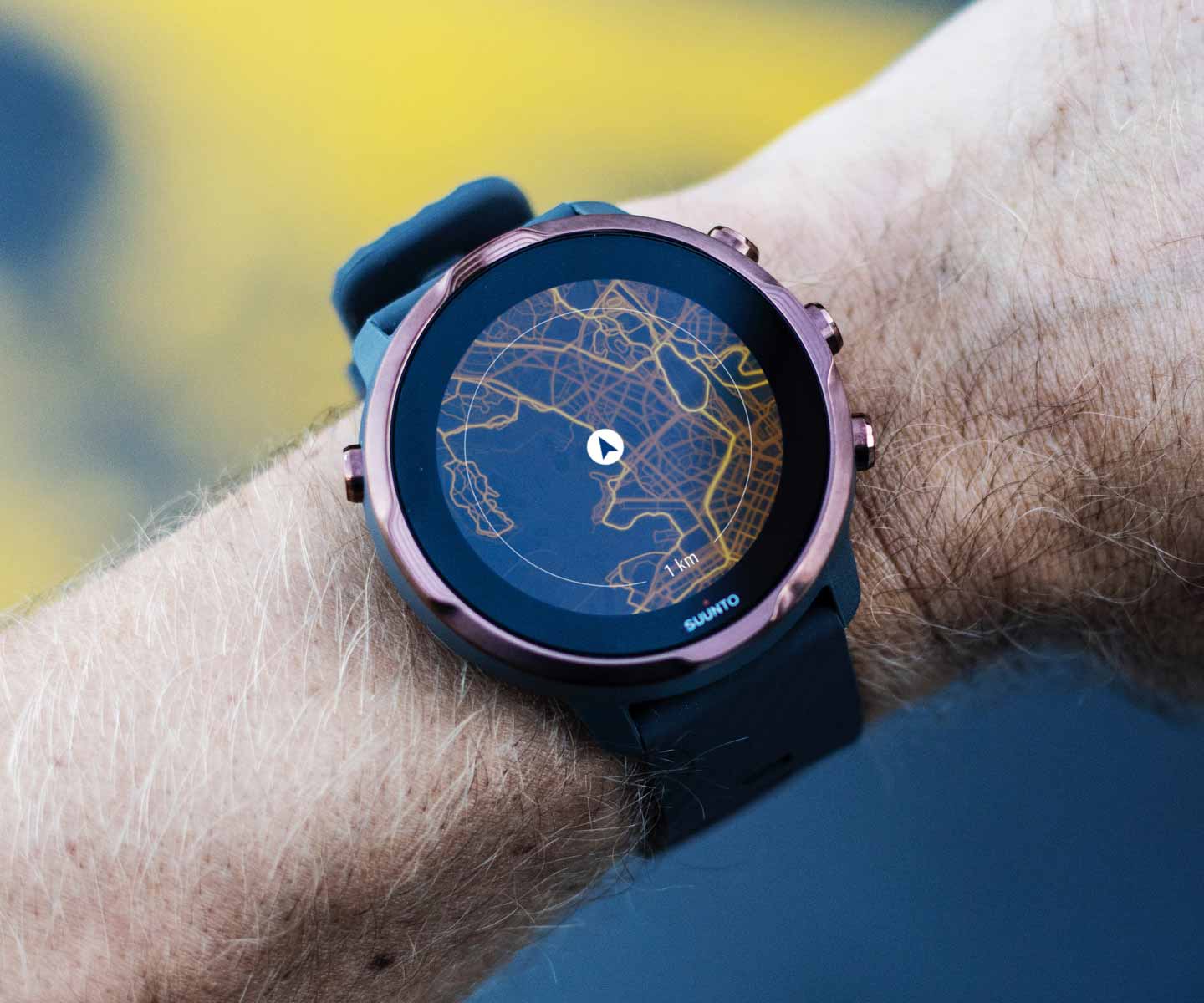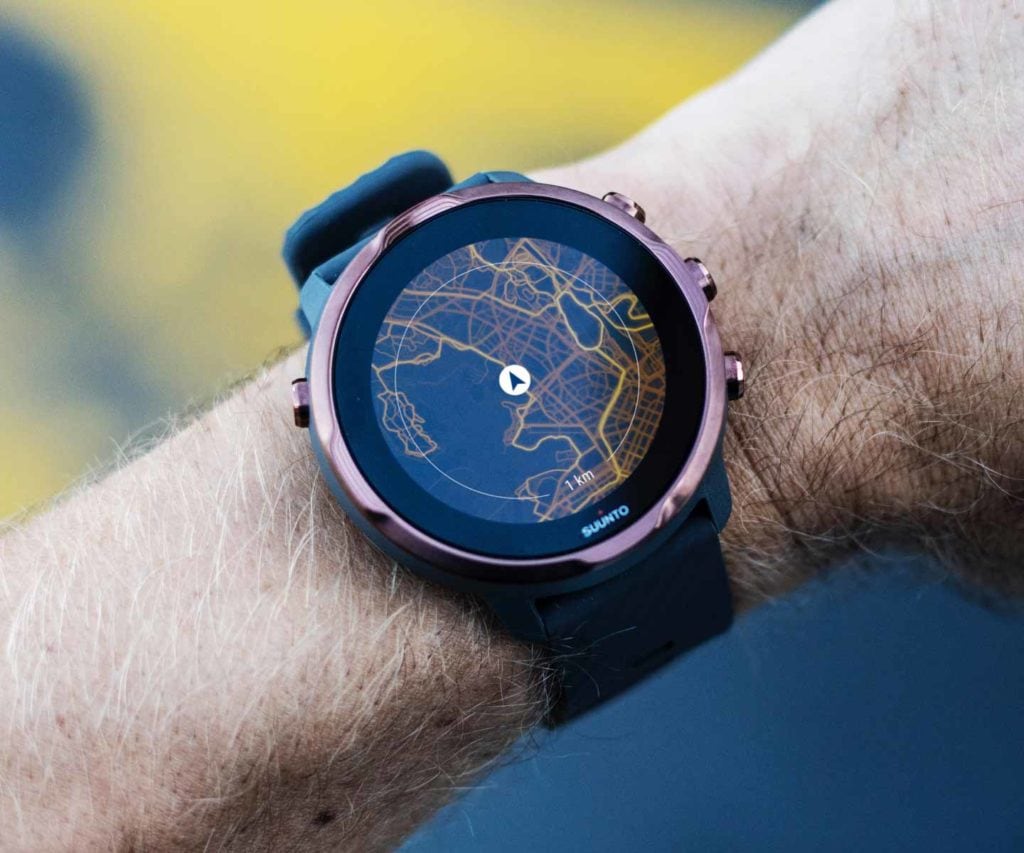 Garmin has dominated the sports watch industry with their feature-rich watches, and in some areas, they will continue to do so. No other company offers a wealth of information about your sports activities. The Garmin Venu is on the low end of the Garmin spectrum in terms of features, for example, there are just 5 Firstbeat features vs 18 on the Garmin Fenix 6.
As far as smartwatch functionality goes, the Venu will fall behind, you get music, payments and whatever Garmin decides you are allowed.
WearOS and Apple watchOS are open to development and offer a huge number of apps.
Suunto will have customised the OS to make it more sports orientated and this includes things like offline mapping, heatmaps for 15 activities and the usual Suunto sports tracking features. For comparison, the Suunto 9 had five Firstbeat features and the Suunto 5 has six.
The Apple Watch isn't really built to be a multi-sports watch, it is a little fragile but it is perfectly acceptable for running and cycling, things like GPS accuracy and heart rate accuracy are generally regarded as good.
Connectivity – HRM, Power Meter etc
For anyone semi-serious about their fitness tracking, the ability to connect external devices is essential.
All smartwatches have Bluetooth so you get some connectivity features. Some of these features will be reliant on an app that can make the most of it. So with WearOS and watchOS you can get Footpod compatibilities such as Stryd and heart rate monitoring from most straps.
Suunto hasn't stated its compatibility with external sensors, but the Suunto 5 and 9 are both compatible with anything that uses Bluetooth and this includes power meters and speed/cadence sensors for bikes. I would assume the same will be true to the Suunto 5, but we will have to see.
Price
The Suunto 7 is £429
The Apple Watch 5 starts at £379 on Amazon
You can still buy the Polar M600 and this is just £157.42.
So the Suunto 7 is definitely expensive, it is even expensive against other WearOS watch. However, it looks to be the most promising WearOS watch on the market, and the advanced sports features over the Apple Watch 5 may be justifies the cost.
[content-egg module=Amazon template=list]