The Android-based Wear OS platform has been getting a little long in the tooth with the platform struggling to gain traction, this has partly been down to no new system on chip being launched for it in the past 3 years.
The Qualcomm Snapdragon Wear 3100 is the first new chip to land for the wearables platform and many people hoped to see watches based on it at IFA this year but were sadly disappointed.
Finally, Qualcomm has gone official with the new platform and parts of the chip have been developed from the ground up specifically for wearables, whereas the old chipset was just a reworked mobile chip. The 3100 is based on a new ultra-low power system architecture designed to deliver a rich interactive mode, new personalized experiences, and extended battery life.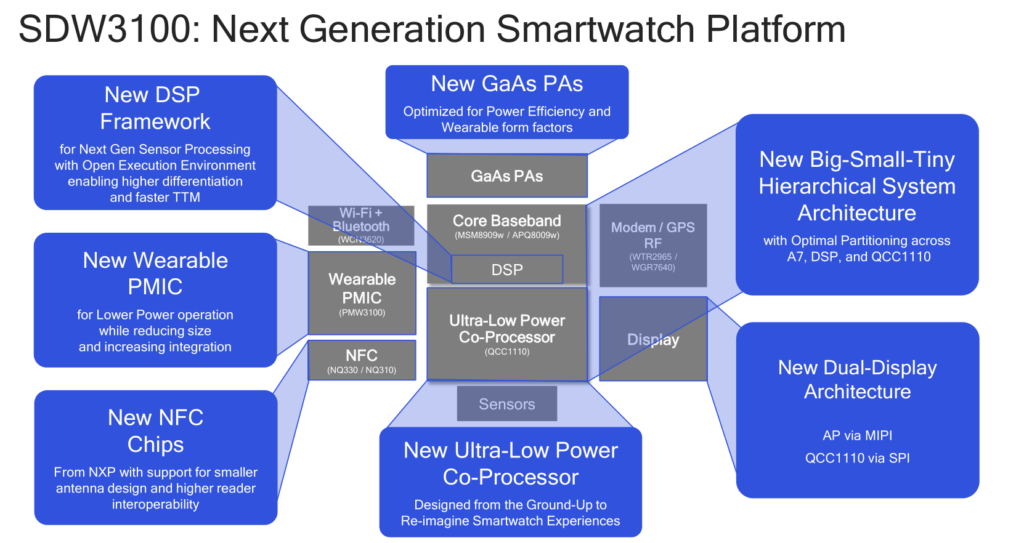 The chip uses a high-performance quad-core A7 processor, combined with a highly efficient integrated DSP, and the new ultra-low-power co-processor which is the part specifically designed for this wearable chip.
The Qualcomm QCC1110  co-processor is optimised for ultra-low power and is used to help with audio, display andsensorss for next generation watches. This is combined with a new wearable power management sub-system (PMW3100) which further.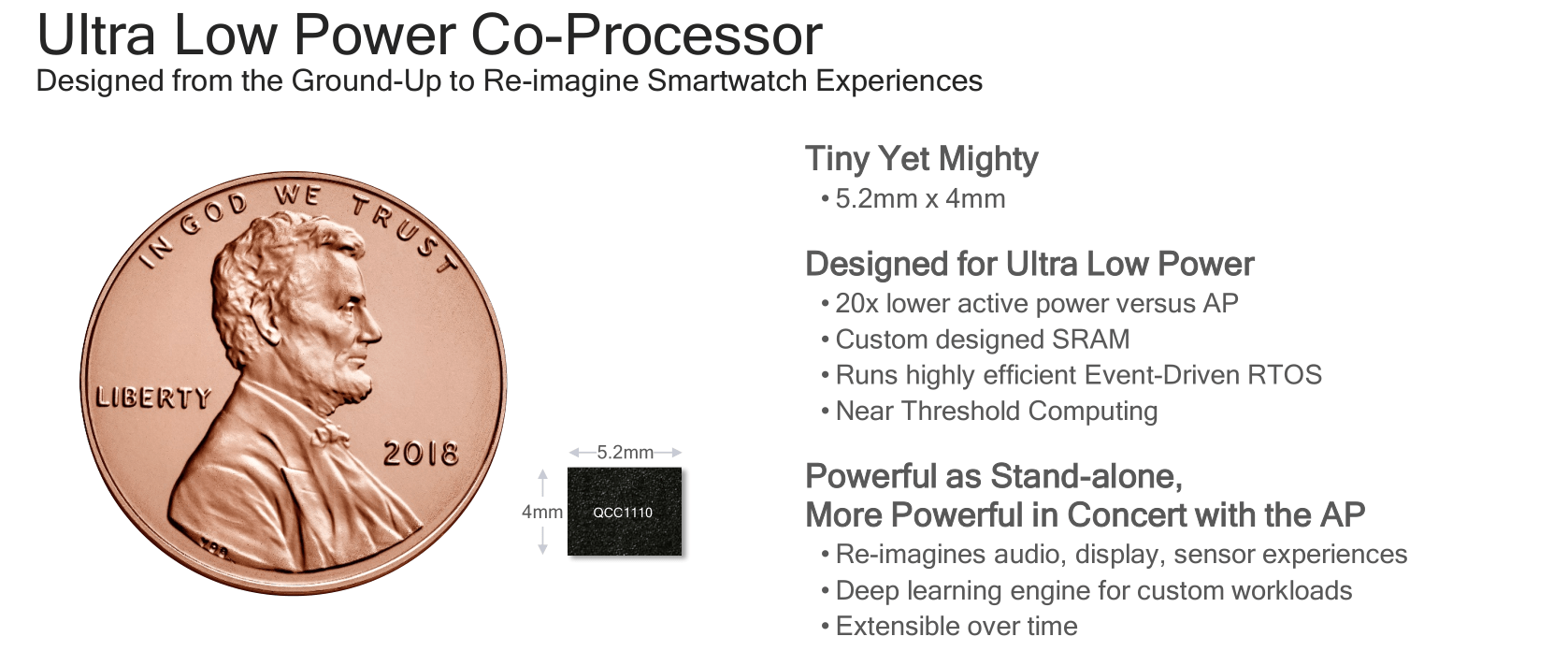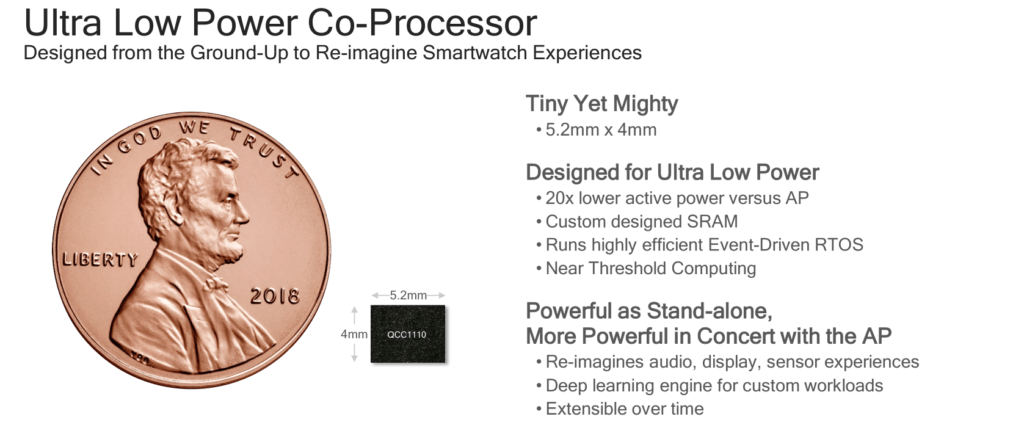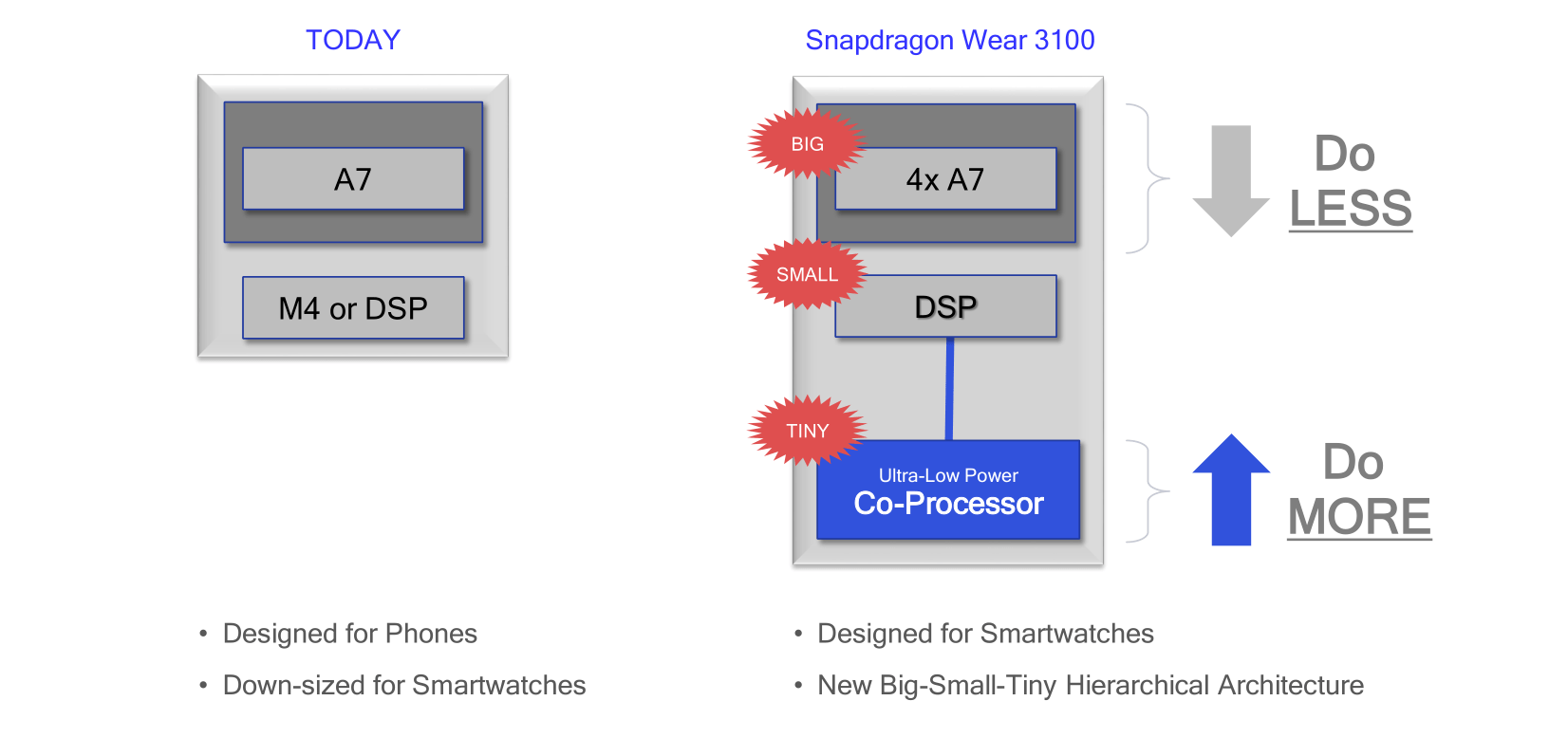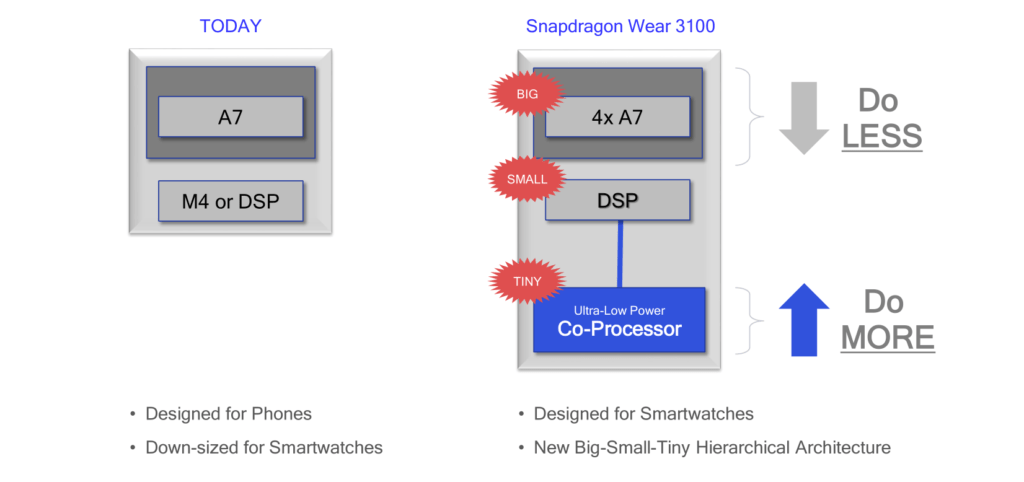 The new chipset combined with Wear OS is claimed to bring various new user experiences including:
Rich Interactive Mode – The press release is vague about specifics here but it states the 3100 will help deliver high performance, superior connectivity, smart sensing, and compelling features.
Personalised Experiences –  personalized experiences include the Enhanced Ambient Mode, Dedicated Sports Experiences, and Traditional Watch Mode. The Enhanced Ambient Mode helps the smartwatch to meet consumer desires for a fashion watch by supporting a smooth second hand, up to 16 colours, live complications and improved brightness. The Dedicated Sports Experiences is designed to allow active users to go for an ultra-marathon, swim long distances, bike for miles, or hike the mountains with GPS and heart rate turned on for the duration. The Traditional Watch Mode is designed to make it possible for consumers to continue to enjoy their beautiful watch for extended periods of time.
Extended Battery – The new platform is designed to help reduce power usage in various areas. They claim that under normal mode the new watches should be able to achieve a week-long battery life, while sports mode with GPS enabled can achieve 15-hours.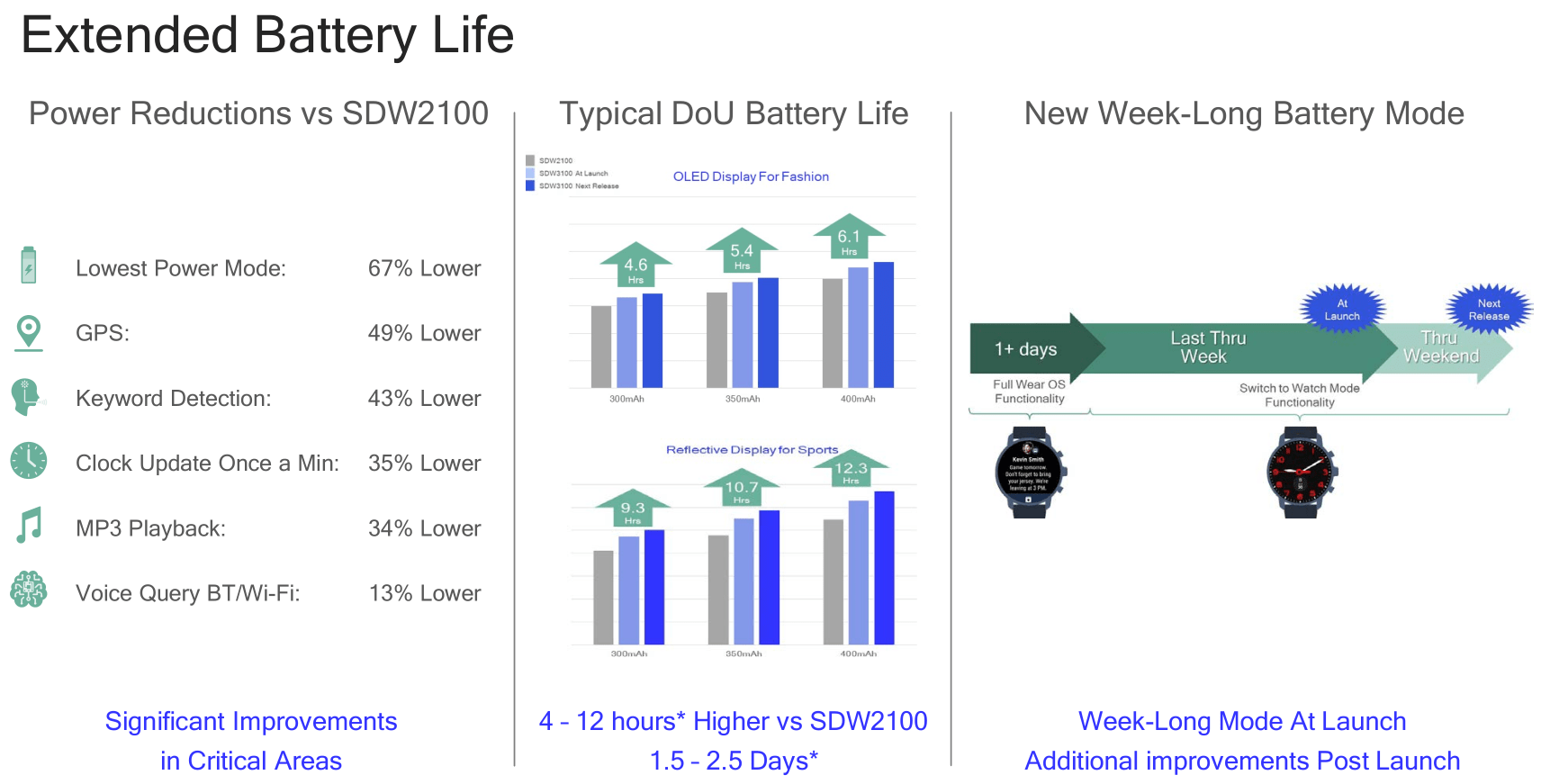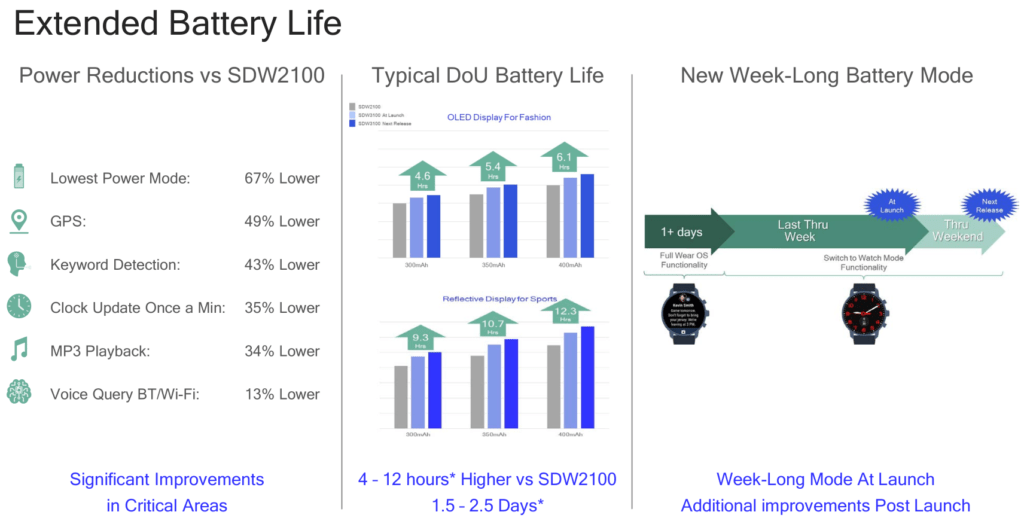 If you hadn't figured out, the press release repeatedly states the term ultra-low power and this seems to be the primary focus on the new chip, the battery life claims are very impressive, but just how accurate that is remains to be seen.
For smartwatches to be successful we really need true multi day battery life and a feature set to justify the additional cost of a gadget. Personally if there was a Wear OS watch out there with an extended battery with sensors and features to match the Garmin range of watches (including accuracy) I would buy one instantly.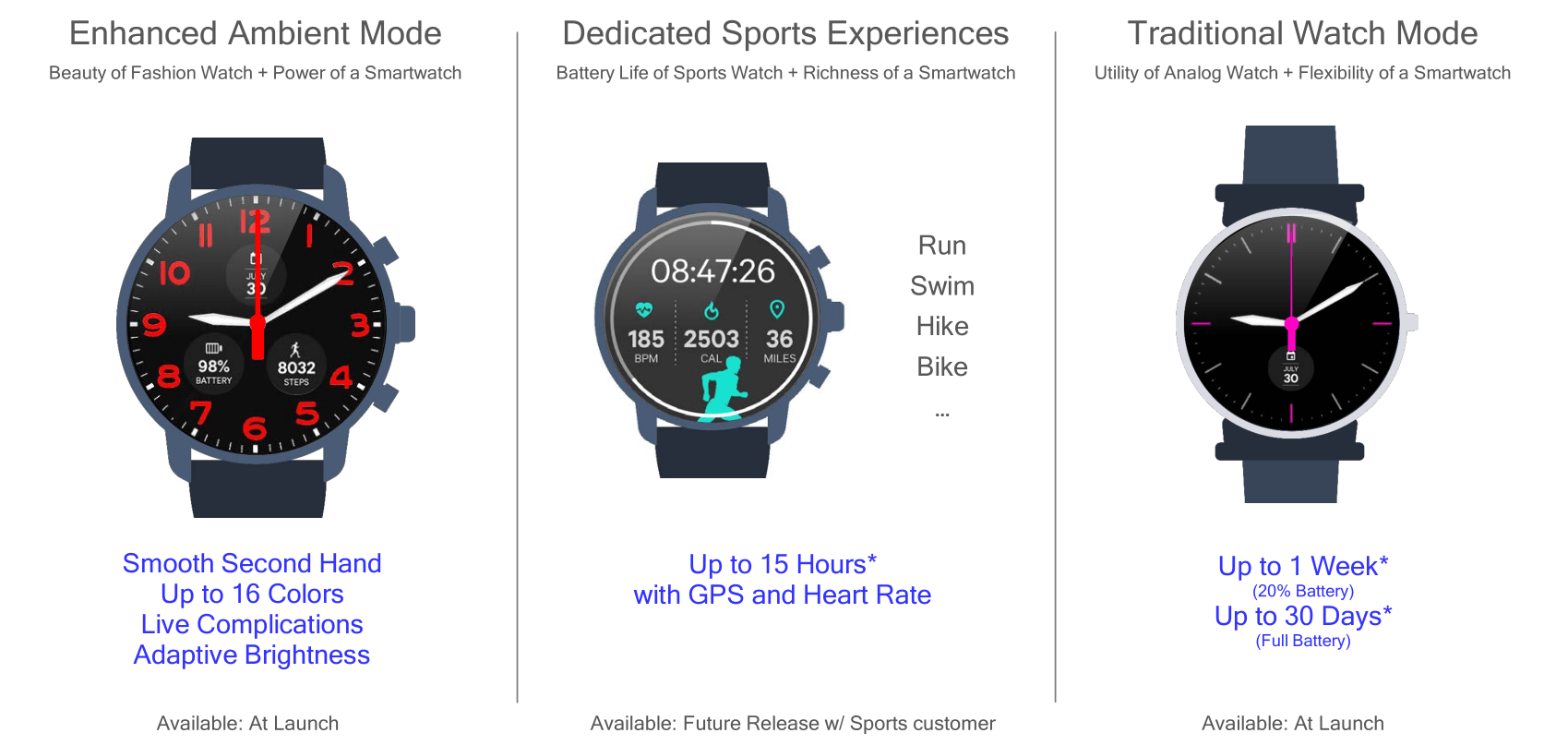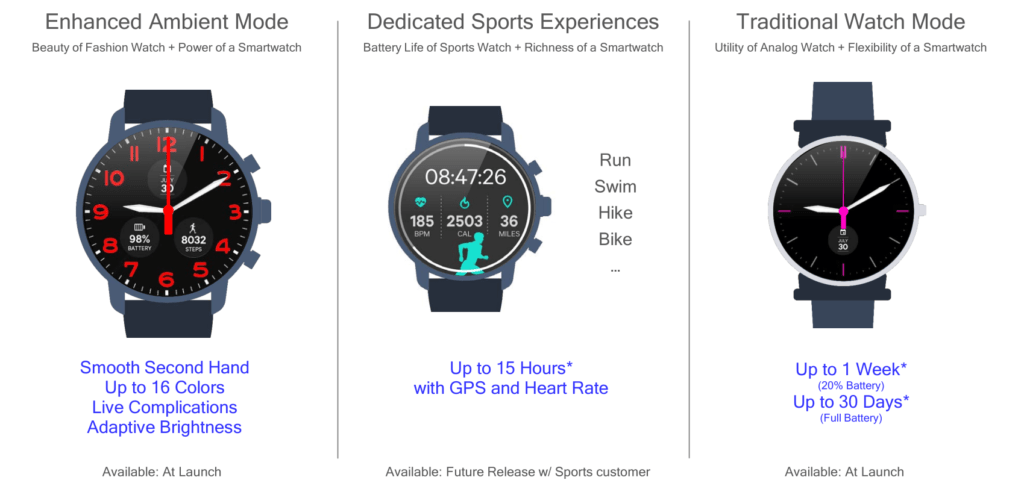 Unfortunately, the first companies planning on releasing smartwatches based on the new platform are all from fashion brands rather than companies you would expect to be early adopters. The current brands working on solutions include Fossil Group, Louis Vuitton, and Montblanc. The press briefing hints at the dedicated sports experience being available in the future with the implementation from a sports customer, so hopefully, we will start to see some more innovative solutions to the Wear OS platform soon rather than the current fashion orientated products.