The Samsung Galaxy A80 has been recently announced and is one of the more exciting phones of the year, being the first phone to feature the Snapdragon 730 and its quirky sliding and rotating camera.
The Snapdragon 730 is being touted as a high-end chip that is a more affordable alternative to the Snapdragon 855.
Recently the Galaxy A80 has been tested on AnTuTu achieving a score of 207,082 with another benchmark from prototype devices being 213,113.
It is believed that the phone will launch for around £600 making it not that far off the Galaxy S10, and more expensive than some of the affordable Snapdragon 855 based phones such as the Xiaomi Mi 9 which costs around £450.
So how does the Snapdragon 730 stack up against the flagship Snapdragon 855 and the chipset it is replacing, the Snapdragon 710?
Following the Qualcomm announcement, some benchmarks were revealed on Chinese websites comparing the Snapdragon 665, 730, and 730G against the older 710 and 660.
The benchmarks revealed that the SD730G achieved 222538 overall while the SD730 got 213113 in total, the SD710 was significantly behind at 167971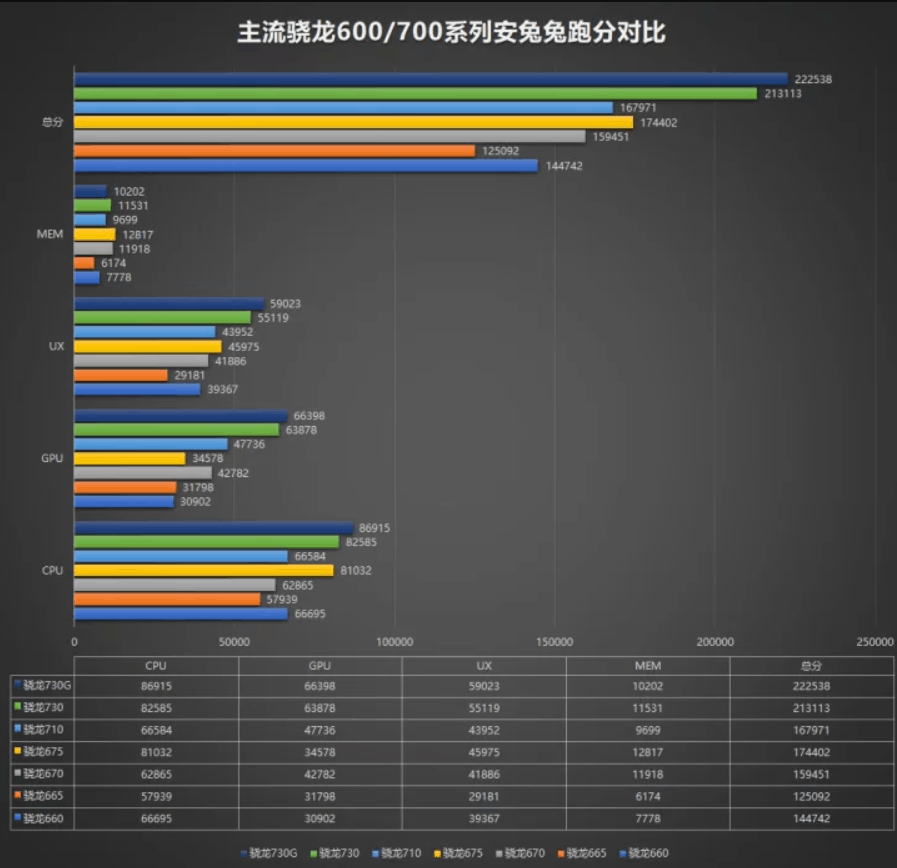 This would give the Snapdragon 730 a 27% performance improvement over the previous Snapdragon 710.
If we move onto real-world devices, the best comparisons to be made would be all Samsung phones, with the Samsung Galaxy A80 using the SD730, the Galaxy S10 with its SD855 and then the Galaxy A8s with the SD710. Then there is the older Samsung S9 using the SD 845.
Unsurprisingly the Galaxy S10 dominates the scores with 326,186, next up is the S9 with a score of 283,383, the A80 has a respectable 207,082 while the A8s at 173000.
Looking at the exact specifications both the SD845 and SD855 have much higher CPU frequencies which give them a significant advantage over the 700-series chips. Both the 800-series chips have their performance cores clocked at over 2.84GHz whereas the 700-series is clocked at 2.2GHz.
The biggest problem the Samsung A80 and Snapdragon 730 will have is pricing. I think the A80 will sell well due to its camera a design, no doubt appealing to the younger end of the market. However, when you can get the
Xiaomi Mi 9 for considerably cheaper, it doesn't represent the best value for money. Similarly, we haven't seen the OnePlus 7 launched yet, but it will almost certainly be priced lower than £600.
Snapdragon 730 vs Snapdragon 855 & 845 &710
Snapdragon 710
Snapdragon 730
Snapdragon 845
Snapdragon 855
Process
10nm LPP
8nm LPP
2nd Gen 10nm FinFET
7nm (N7)
CPU Cores
Octa-Core, 64-bit
Octa-Core, 64-bit
Octa-Core, 64-bit
Octa-Core, 64-bit
CPU
2x Kryo 360 (CA75)
@ 2.2GHz
6x Kryo 360 (CA55)
@ 1.7GHz
2x Kryo 470 (CA76)
@ 2.2GHz

6x Kryo 470 (CA55)
@ 1.8GHz
4 x 2.8GHz Kryo 385 + 4 x 1.7GHz Kryo 385
1x Kryo 485 Gold (A76)
@ 2.84GHz 1x512KB

3x Kryo 485 Gold (A76)
@ 2.42GHz 3x256KB

4x Kryo 485 Silver (A55)
@ 1.80GHz 4x128KB
GPU
Adreno 616
Adreno 618
Adreno 630
Adreno 640
RAM

2x 16-bit @ 1866MHz LPDDR4X 14.9GB/s with 1MB system cache

LPDDR4X Quad-channel 16-bit 1866 MHz
4x 16-bit CH @ 2133 MHz
LPDDR4x
34.1GB/s
Camera
Spectra 250 ISP
Dual:16 MP, MFNR, ZSL, 30 fps
Single:25 MP, MFNR, ZSL, 30 fps
Single:48 MP, MFNR
Single:192 MP
Spectra 350
Dual: 22 MP, MFNR, ZSL,30 fps
Single:36 MP, MFNR, ZSL,30 fps
Single: 48 MP, MFNR
Single: 192 MP
Spectra 280
Single HFR 16 MPix camera at 60fps ZSL
Dual 16 MPix cameras at 30fps ZSL
Single 32 MPix camera at 30fps ZSL
Spectra 380 Image Sensor
Dual: 22 MP, MFNR, ZSL,30 fps
Single:36 MP, MFNR, ZSL,30 fps
Single: 48 MP, MFNR
Single: 192 MP
Video Encode/Decode

2160p30, 1080p120
H.264 & H.265

10-bit HDR pipelines

2160p60 10-bit H.265
HDR10, HDR10+, HLG
720p480
2160p60 10-bit H.265
HDR10, HDR10+, HLG
720p480