Redmi K30 Ultra Review Rating
Summary
Amazing hardware and it is a superb phone, but just be aware of all the limitations of an imported Chinese phone and the fact that you won't be able to flash this with a Global Rom.
Pros
Superb hardware for the price
Beautiful display
Dimensity chipset feels just as fast as Qualcomm but at a lower price.
Cons
No SafetyNet, No Google Pay, No HD Netflix
No Band 20
feature the flagship Mediatek Dimensity 1000+ chipset and has allowed Redmi to reduce the price compared to the Qualcomm equipped Redmi K30 Pro, while also improving the display to 120Hz.
With this being a flagship spec phone priced at just $349.00, my impulse took over me and I bought it from Giztop. I actually ended up buying the 8GB/128GB version, which is $399.
This is the first time I have imported a phone, and in particular, it is the first time I have used a none global phone. I base most of my reviews on how well a device competes with others, but it is harder here because the software experience is ruined slightly by the Chinese ROM. Also, price comparisons are more problematic because UK phones costing much more.
For the sake of comparison, I have compared against my daily phone the Realme X50 Pro.
Redmi K30 Ultra vs Redmi K30 Pro (Poco F2 Pro) Specification Overview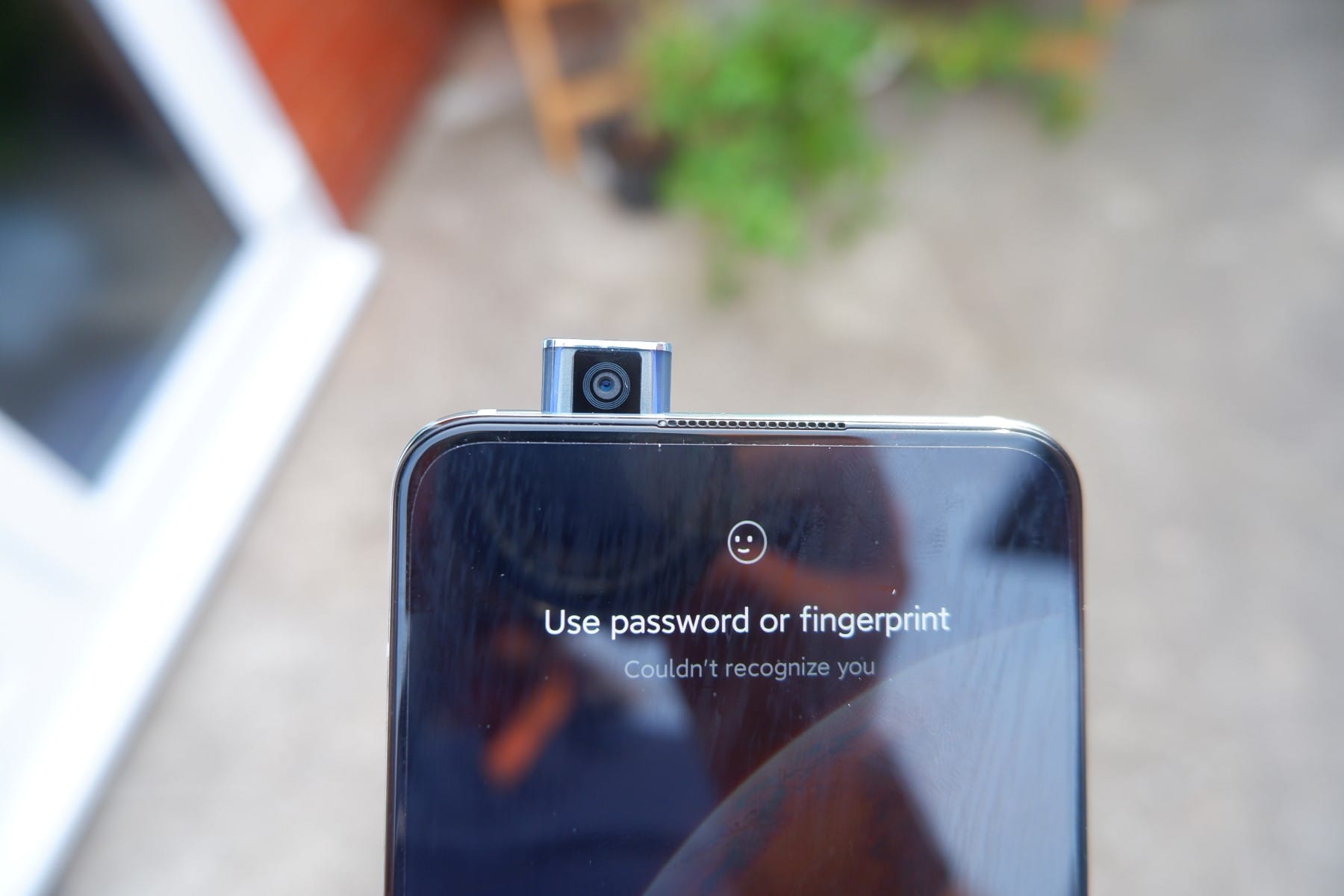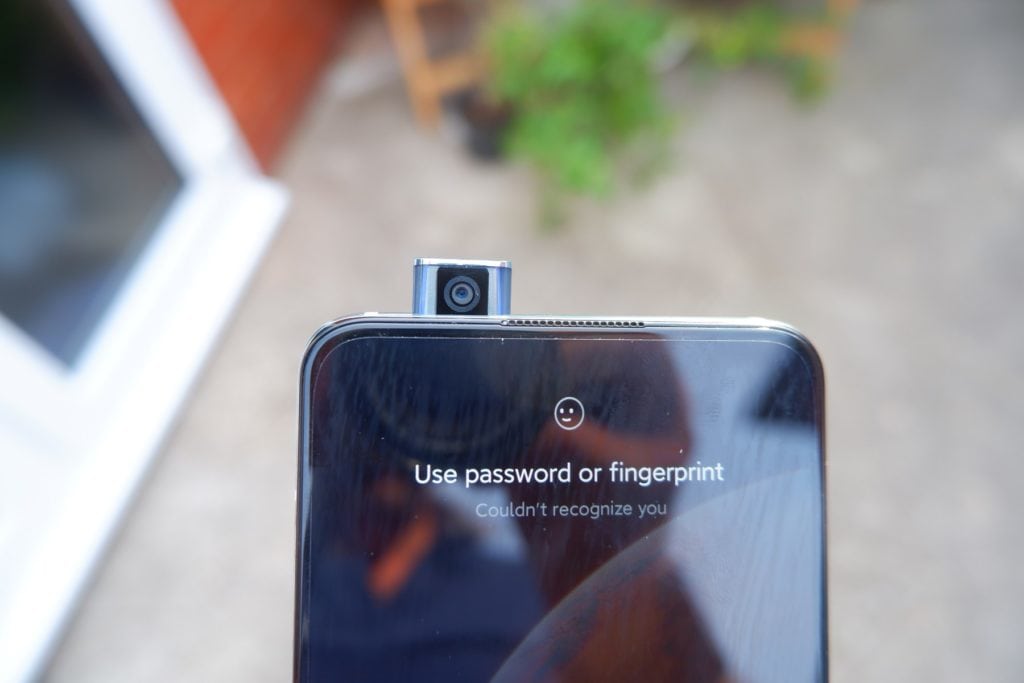 This is almost the same as the Redmi K30 Pro which launched all the way back in March and then was later released in May as the Poco F2 Pro for the EU and UK.
The changes include:
Swapping the Snapdragon 865 for a Mediatek Dimensity 1000+ chipset
Upping the refresh rate of the AMOLED display to 120Hz from 60hz
Changed the battery to 4500mAh 33W charging from 4700mAh 30W
Removed the 3.5mm headphone jack
I think that's it; there may be some other bits.
Both phones share:
6.67 inches AMOLED display running at 2400×1080 and 500nits brightness
6GB/128GB base config
64MP, 13MP ultra-wide, 5 telephoto macro and 2MP depth rear camera
20MP pop-up selfie
Reasons not to buy it for use in the UK
After receiving this phone, I started to experience buyers remorse. I don't think it is a bad phone, in fact, it is superb, but it was never designed for the UK market and for me I don't think I could live with it. Your mileage may vary.
Hardware Limitations – Band 20
I knew this didn't have Band 20 for 4G when I bought it, and to be fair, at home I have no issue with reception.
However, when looking at CellMapper, the 4G coverage for Vodafone around Blackpool quickly drops down to band 20 only once you move outside of the main town areas.
5G coverage is none existant on Vodafone around here (even though they were the first to announce availability in Blackpool).
Software – Chinese ROM, SafetyNet and Google Pay/NFC – No Global ROM or Xiaomi.eu
Currently, Redmi has no intention of releasing this to the global market, which means there will never be a global ROM to flash. Furthermore, the popular Xiaomi.eu ROM is based on the Qualcomm ROM, so it is unlikely that this will work properly, if at all.
You, therefore, have to put up with the stock Chinese ROM. This is still usable but just takes a lot more work to get it working the way you want.
Then, because this doesn't have Google on it as standard, it is, therefore, not SafetyNet certified, so things like Google Pay will not work, Netlfix will be stuck on SD content, and some banking apps won't work.
Poco F2 Pro is not much more expensive
While it is possible to live with all the above problems you need to consider if it is worth it when you can get the Poco F2 Pro 6GB/128 from Amazon UK for £376 or if you buy from Amazon Spain it works out as £351 vs around £270 of the Redmi K30 Ultra.
The K30 Ultra does have the added benefit of a 120Hz display, which is amazing, but the Dimensity chipset is not quite as good as the Qualcomm.
With all that said, let's move on to the main part of the review.
Software
I will cover this briefly first, as it is an extension from the above. Some people are not a big fan of MIUI. I am indifferent towards it. The main issue you have is that with this being the Chinese version, there is no Google installed by default and it is bogged down with bloatware.
You can uninstall a lot of it, and I found the best thing to do is just get rid of the default launcher, so I used Nova instead. The Chinese MIUI has an annoying feature to block 3rd party launchers, but you can go into the settings on Nova and assign the default launcher there, this will bypass the checks MIUI does.
You will also need to get rid of the default browser because the stock one is in Chinese.
However, even with these modifications, you will still get the occasional push notification in Chinese due to system apps. I think they are related to the Mi Store.
Design and Display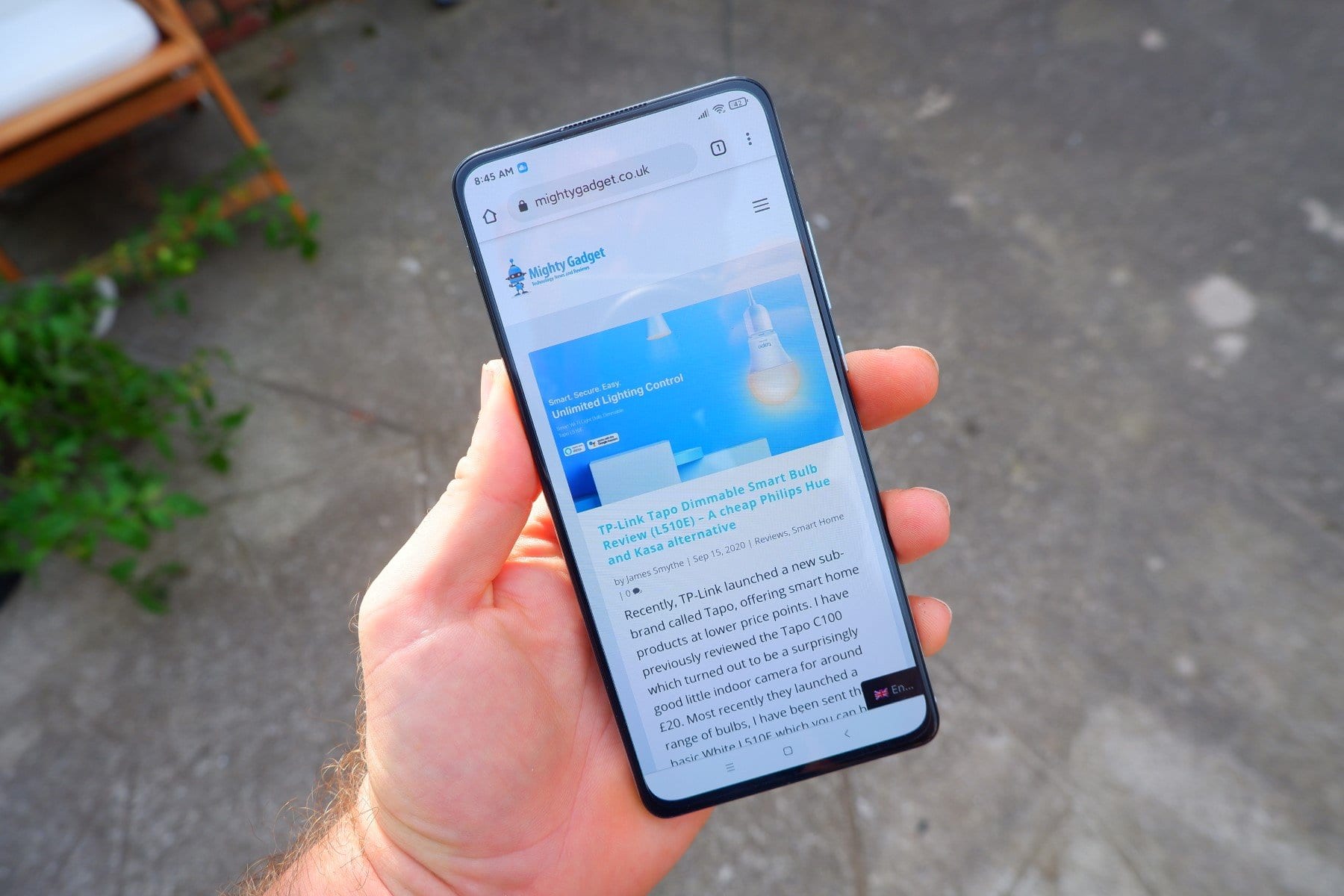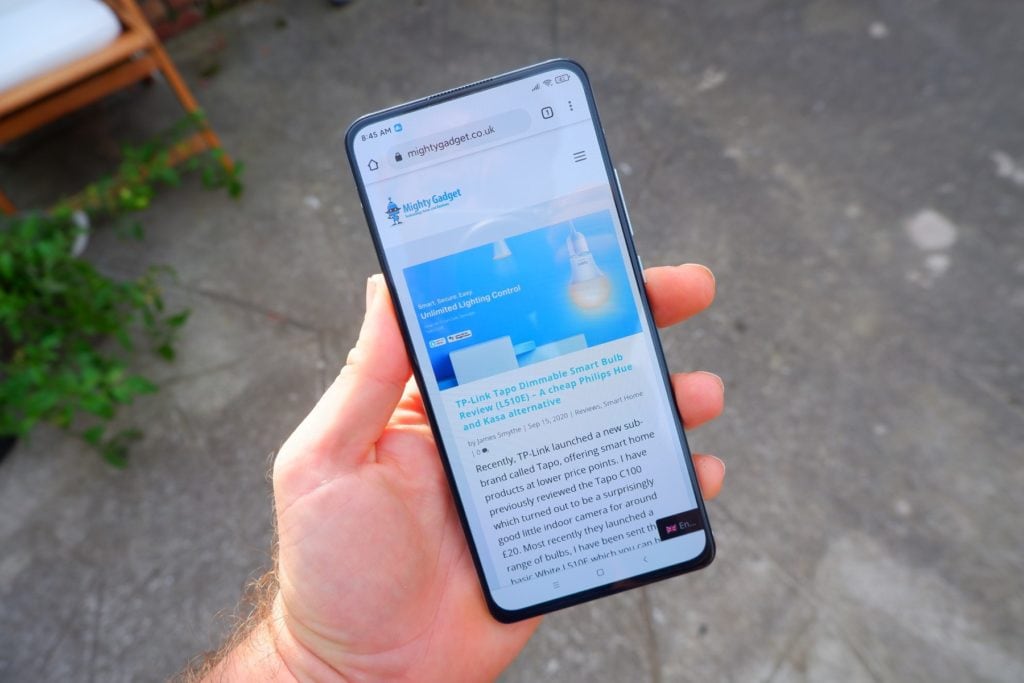 The build quality and overall design are superb, in my opinion. When I picked it up for the first time, it felt nicer in my hands than the Realme X50 Pro. They both have the same build materials, but the Redmi is physically larger with its 6.67-inch display and therefore weights around 10g more, which is noticeable
I much prefer the 6.67-inch sized display vs the 6.44 inches on the Realme, which is quite small by today's standards.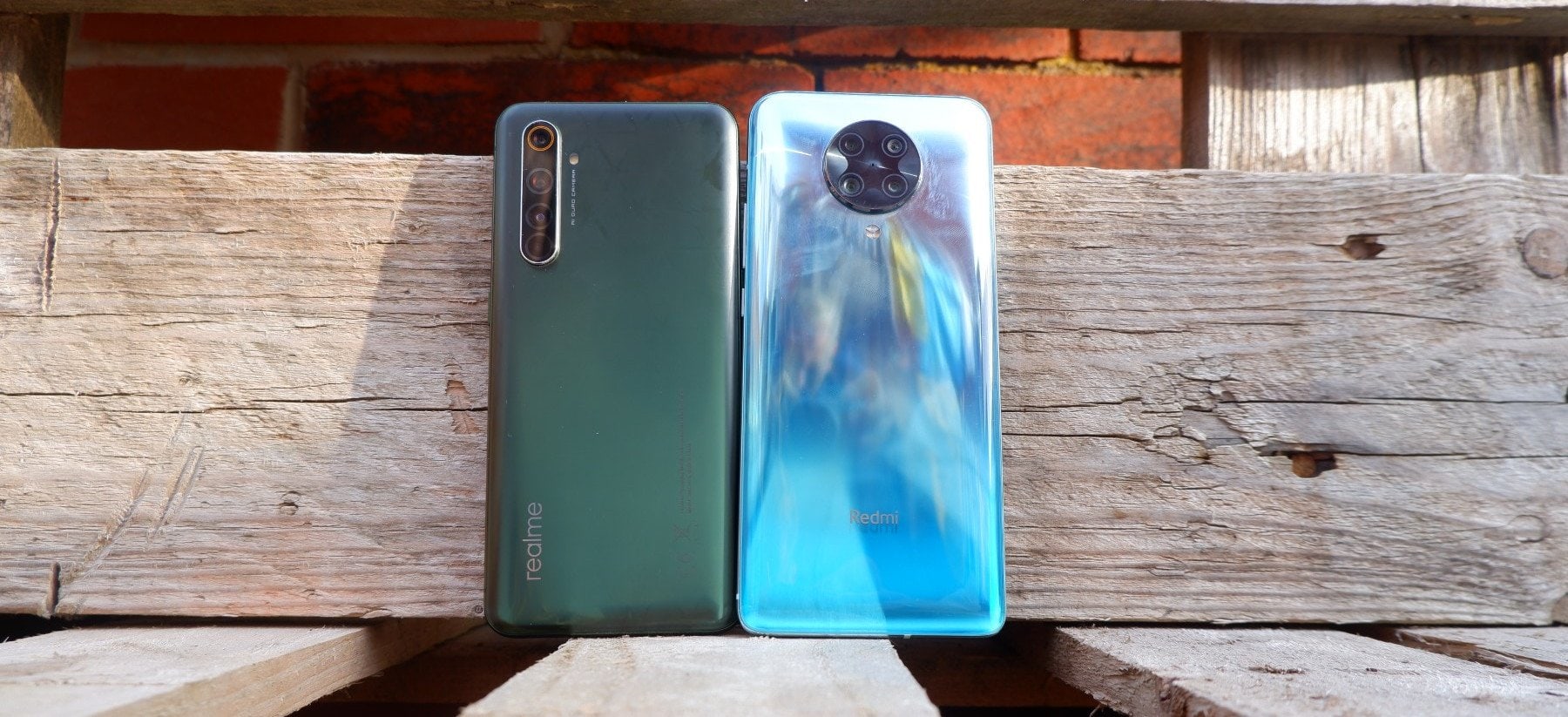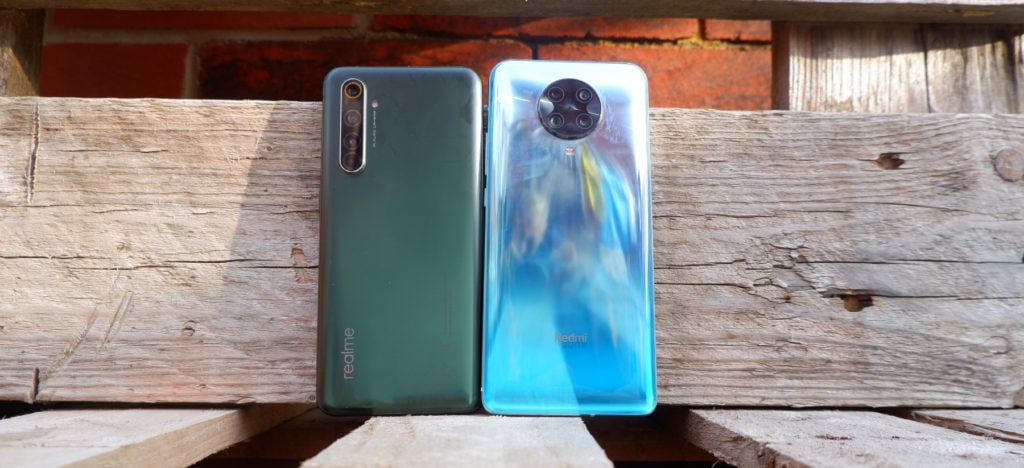 The phone lacks any CE markings, leaving minimalist Redmi lettering on the rear.
I went for the mint green colour, which is glossy and a fingerprint magnet, especially compared to the matt green of the Realme.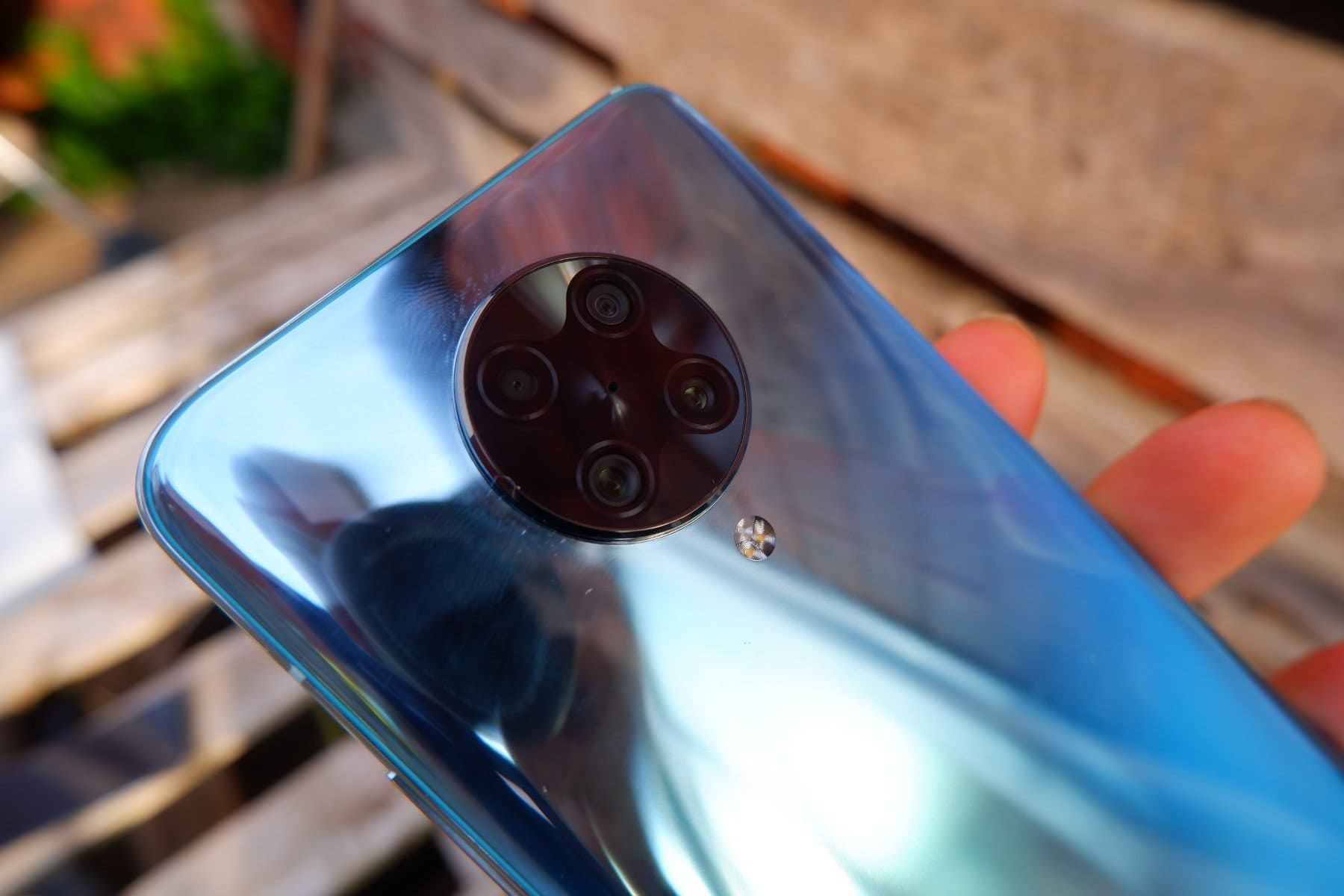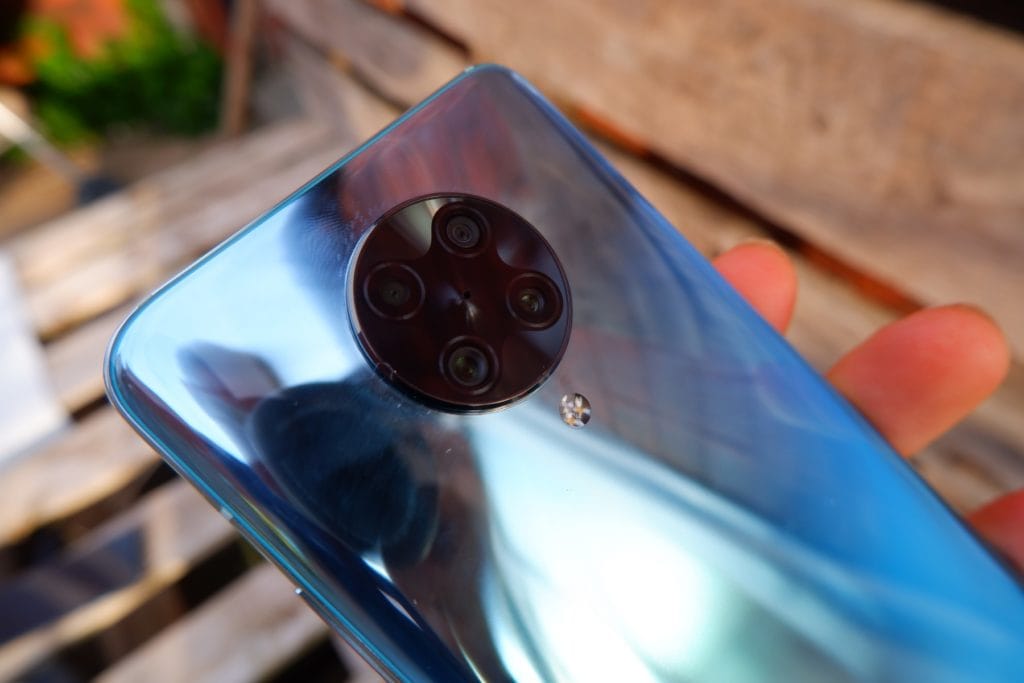 The display is the stand out feature for me. I am not a huge selfie fan so having no notch or punch hole is a big plus for me. Screen brightness is excellent with it performing significantly better than the Realme X50 Pro outside in bright conditions.
You then have the advantage of the 120Hz refresh rate. I can't say I notice that much difference between 90Hz but the overall experience is superb with everything running beautifully smooth.
One thing I never really thought of before buying a pop-up camera phone was face unlock. With this you can still enable face unlock, then when you switch on display, it will pop up quickly with blue LEDs (to illuminate your face) unlock then retract. I have been impressed with how quick and accurate it is. Admittedly not as fast as a notch/punch hole but I never felt that it slowed me down accessing the phone.
Camera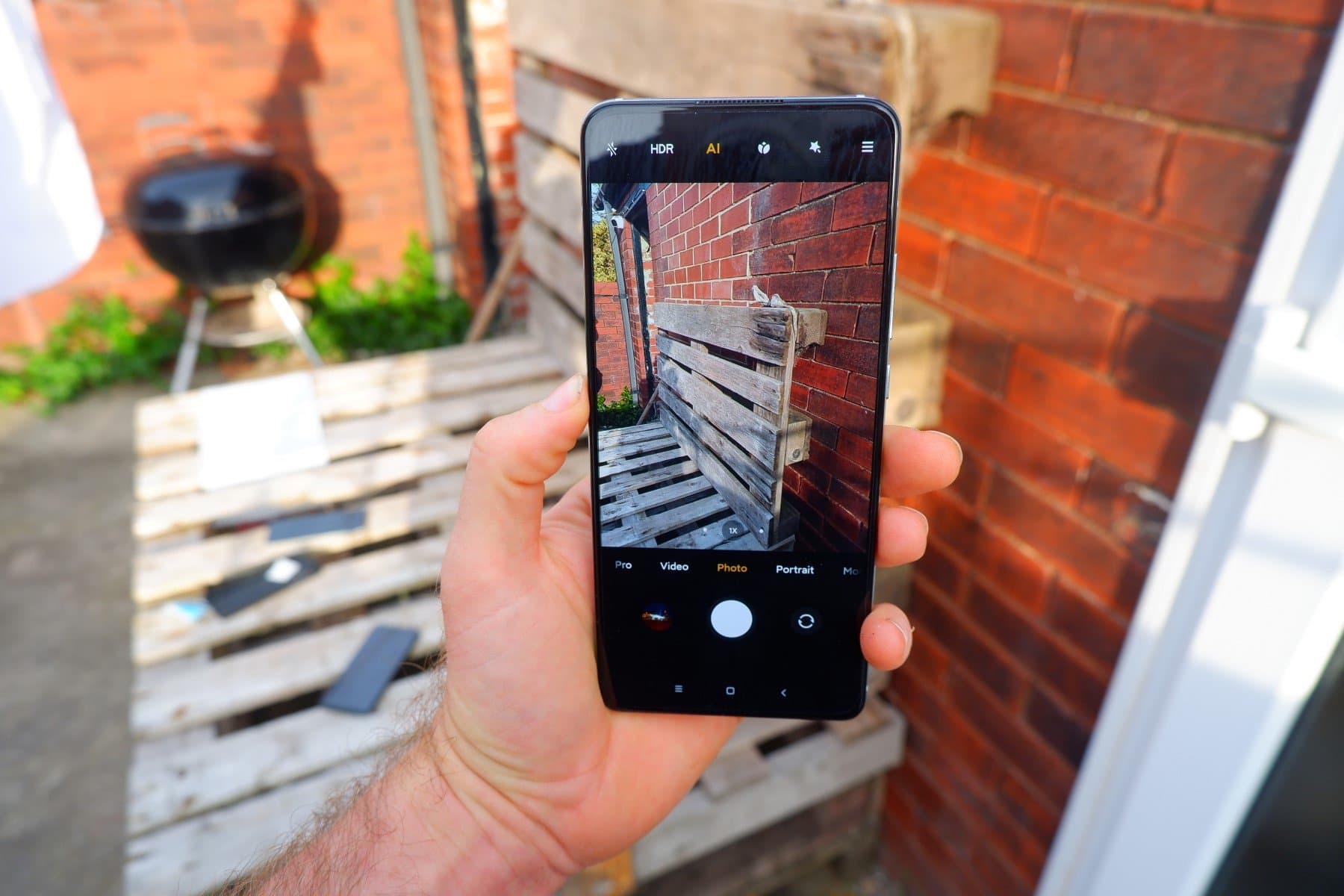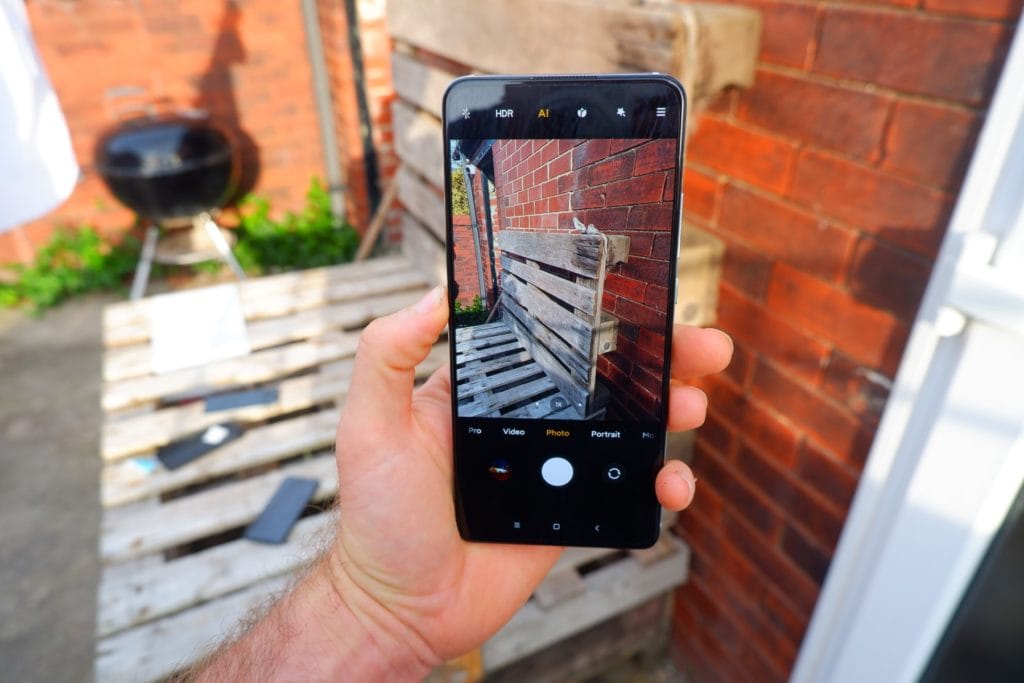 I have been impressed with the camera, the spec is middling at best, being similar to the mid-range TCL 10 5G, but overall the actual quality of shots have been pretty good, especially when you consider this costs around £300 imported.
The ultra-wide lens is a little flat and dull, and similarly, the lack of a decent telephoto lens is something I miss. Both of these problems exist for all phones priced at similar price points. It is only when you get to the premium-priced flagships doe brands pay more attention to ultra-wide and zoom.
Photo Gallery
Performance and Benchmarks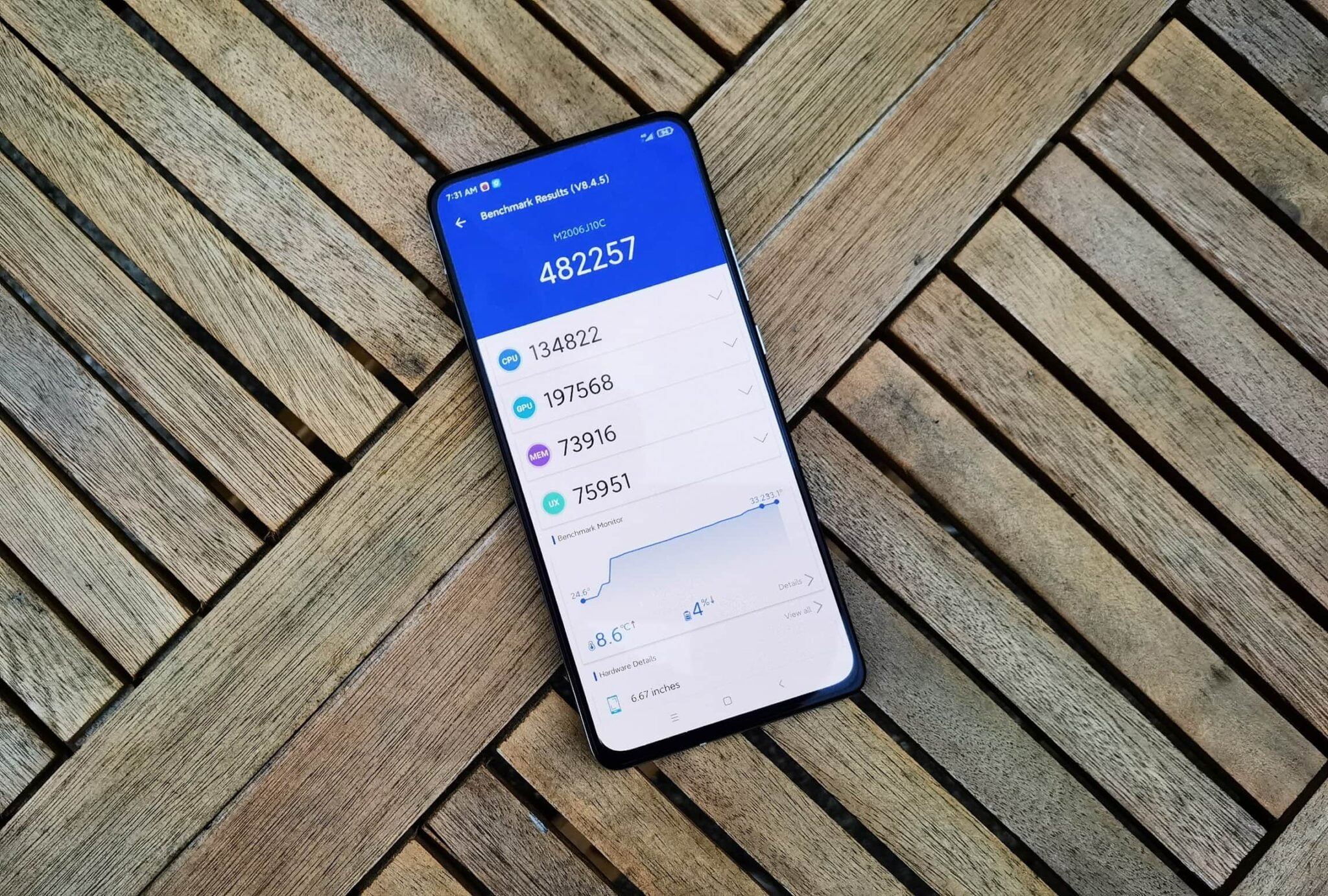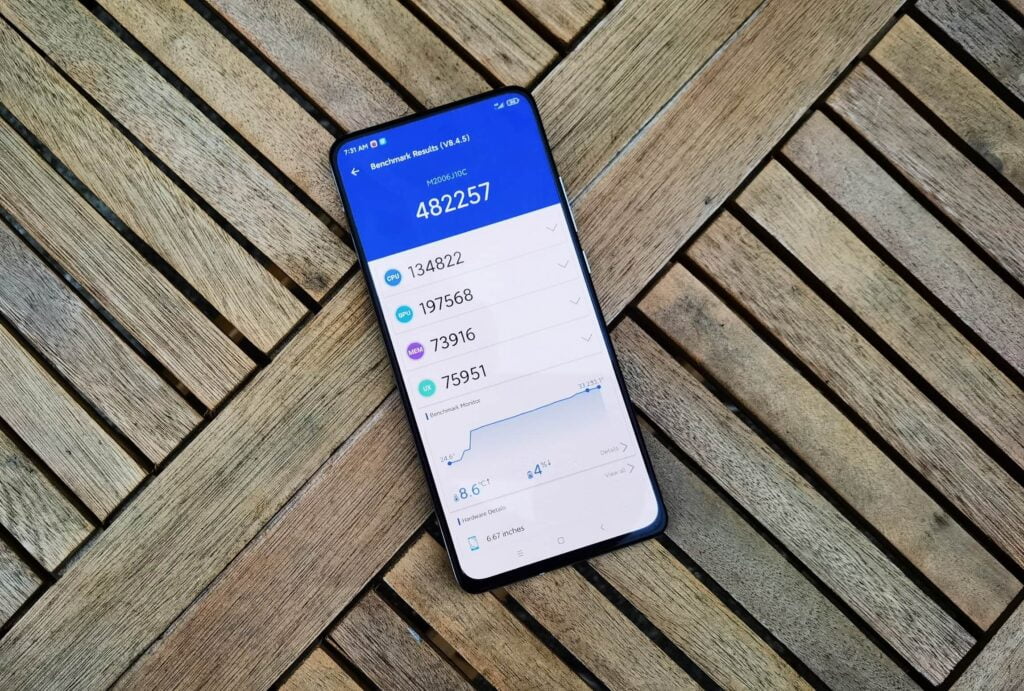 I have done a more in-depth analysis of the performance of this phone and how it competes with the Snapdragon 865 on the Realme X50 Pro.
For things like benchmarks the phone fell behind the Qualcomm by around 5-10%, which is fine by me, it sits at a lower price point, and for real-world usage, I can't tell the difference.
Between the Mediatek chipset and 120Hz display, the phone is generally a joy to use.
Synthetic Benchmarks – Geekbench – Antutu – 3D Mark
Antutu
The Mediatek can't quite compete, but it isn't far off from the Qualcomm. With the Black Shark, the difference is 11% with the CPU suffering the most with a 19% difference in performance then the GPU is 9% behind. Memory is 12% behind, and UX is almost identical with 0.1% difference.
Total
CPU
GPU
Mem
UX
Huawei Mate 40 Pro
Kirin 9000
531270 (normal)
686835 (performance)
Huawei P40 Pro
Kirin 990 5G
498283
149923
176913
100022
71425
Redmi K30 Ultra
Dimensity 1000
482257
134822
197568
73916
75951
Realme X50 Pro
SD865
590914
183192
218623
104222
84877
BlackShark 3
SD865
545049
167419
217589
84009
76032
Huawei P30 Pro
Kirin 980
395415
133469
131864
67956
62126
3DMark
When I first got the phone, this would not run at all, it wouldn't allow me to download the files needed to run the benchmark. As I wrote this review, it decided it would work.
Similar to the other results this is a little behind the SD865 scoring 8% and 7% less in the two results.
| | Chipset | Sling Shot Extreme OpenGL | Sling Shot Extreme Vulcan | Wild Life |
| --- | --- | --- | --- | --- |
| OnePlus 9 Pro | Snapdragon 888 | Maxed Out | Maxed Out | 5775 |
| Samsung Galaxy S21 Ultra | Exynos 2100 | 7736 | 6467 | 5741 |
| Xiaomi Mi 11 | Snapdragon 888 | 8274 | 8182 | 5663 |
| Huawei Mate 40 Pro | Kirin 9000 | 9168 | 8401 | 5976 |
| Asus ROG Phone 3 | Snapdragon 865+ | 7645 | 7002 | 4127 |
| Realme X50 Pro | Snapdragon 865 | | | 3791 |
| Black Shark 3 | Snapdragon 865 | 7215 | 6606 | |
| Redmi K30 Ultra | Dimensity 1000+ | 6614 | 6143 | |
| OnePlus 7T | Snapdragon 855+ | 6278 | 5504 | |
| Black Shark | Snapdragon 855 | 5791 | 5030 | |
GeekBench
Chipset
Single Core
Multi Core
Honor Magic4 Pro
Snapdragon 8 Gen 1
1220
3569
Xiaomi Mi 11
Snapdragon 888
1139
3693
OnePlus 9 Pro
Snapdragon 888
1109
3487
Samsung Galaxy S21 Ultra
Exynos 2100
1079
3381
Google Pixel 6
Google Tensor
1042
2957
OPPO Find X5 Pro
Snapdragon 8 Gen 1
976
3484
Asus ROG Phone 3
S
Snapdragon 865+
975
3357
OPPO Find X3 Pro
Snapdragon 888
928
3357
Realme X50 Pro
Snapdragon 865
910
3205
Redmi K30 Ultra
Dimensity 1000+
782
2890
Samsung Galaxy S20
Exynos 990
772
2590
This was the other benchmark that completely failed to run in the past but has now decided it wants to work.
Performance is good, but the performance gap between the Qualcomm is a little bigger with a 13% lower score for both the single and multi-core tests.
Battery
Battery performance is excellent; the phone scores one of the higher marks on the synthetic PC Mark battery test I have done. You will easily get a full days worth of usage out of it, and the 33W charge is plenty (though it is a 2-pin plug due to it being an import).
Pricing & Competition
At $349 for the 6GB/128GB model this is incredible value for money, but a little misleading with it being a grey import. You may also get stung with import fees, increasing the price quite a bit.
The Realme X7 Pro is the direct competitor here. Currently, it costs a little more at $399 but has 65W fast charge. With this also being a Chinese phone it suffers from all the same limitations including no 4G band 20.
The Poco F2 Pro is the best option costing between £350 and £370, it lacks 120Hz but offers the same experience as the K30 Ultra for everything else with none of the drawbacks.
Nothing else really comes close, the Black Shark 3 at £539 is the next cheapest SD865 phone or the Realme X50 Pro.
For anything cheaper, you would need to step down to a lower-powered Snapdragon 765G chipset which is on the Realme X50, OnePlus Nord and  TCL 10 5G.
Conclusions
As I said at the start of this review, it is hard to draw up a proper conclusion. The hardware itself is superb, I love the display and the pop-up camera, the camera is excellent considering the price, and the Dimensity chipset offers more than enough performance.
However, the attractive price point is misleading with this being a grey import rather than through official UK channels.
You then suffer from all the limitations a Chinese phone has in the UK. This is not really a fault by Redmi as it was never designed for the UK.
So overall, it is an amazing phone, just not one I would particularly recommend for UK users (unless you are happy to accept its limitations).
Last update on 2022-05-17 / Affiliate links / Images from Amazon Product Advertising API