Realme launched last year after splitting off from OPPO, but still owned by BBK Electronics the company behind OPPO, Vivo and OnePlus.
The focus of Realme has been to develop affordable phones with excellent performance and stylish design.
Following hugely successful launches in Asia, Realme are finally bringing their brand to the UK and other European countries with the Realme 3 Pro.
The Realme 3 Pro is powered by a Snapdragon 710 processor and comes with a 4045mAh battery with VOOC 3.0 flash charging. Realme 3 Pro also includes Sony IMX 519 16MP + 5MP rear cameras, and a 25MP selfie camera for more distinctive and detailed pictures. Realme 3 Pro comes in 2 variants; 4 GB RAM + 64 GB ROM at €199 (£175) – and 6GB RAM + 128GB ROM at €249 ( £219) – in 2 exquisite colours, Nitro Blue and Lightning Purple.
For comparison, the newly announced Pixel 3A launched at £400 and comes with a lower specced Qualcomm Snapdragon 660 chipset, albeit a widely regard superb camera. The Oppo RX17 Pro which uses the same SD710 chipset currently costs £449. So this phone offers tremendous value for money for users wanting near flagship performance but at an affordable price point.
The phone will go on sale through www.realme.com/eu at 12pm CET, June 5, 2019.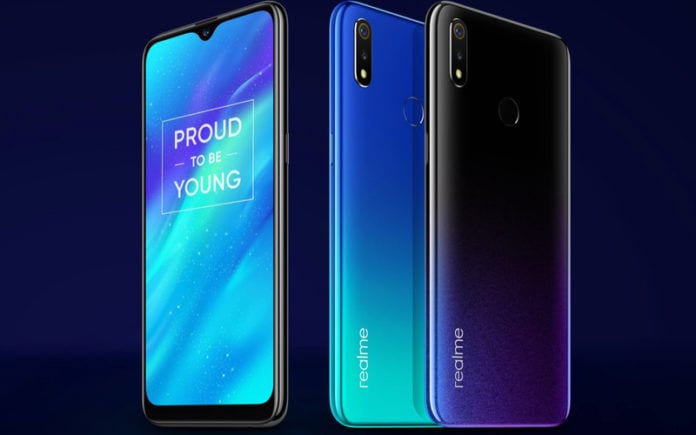 Full press release below:
Realme 3 Pro: Speed Awakens with flagship gaming experience
Built on 10nm process-manufactured Snapdragon 710 processor and Kryo eight-core architecture, realme 3 Pro can achieve a clock speed of up to 2.2GHz. The Adreno 616 GPU is the best gaming chipset that guarantees real visual sense, more efficient and advanced 3D image rendering. The X15 Modem guarantees smooth calling and data experience, and much faster download speeds. With the Spectra 250 ISP, realme 3 Pro also supports super high resolution image capture and 4K video capture, along with zero shutter lag, motion compensated temporal filtering, and accelerated electronic image stabilization.
Realme 3 Pro comes with TouchBoost, an all-round in-depth optimization for touch control in games that helps to shorten system reaction time; shorten image frame response and prioritize the CPU support on touch controls. With TouchBoost, response time for character movement in heavy games can be 16.2% faster. Especially in PUBG, when using telescopes to aim at enemies, the response time is 21.6% faster.
The other optimization feature, FrameBoost, helps optimize graphics on the realme 3 Pro. It can detect heavy-loaded scenarios, and then boost the processor at a high frequency to keep the frame rate at a high and stable level. FrameBoost improves the frame rate by 38% on the realme 3 Pro.
Realme 3 Pro: Cameras for distinctive pictures and detailing in night and light variations
Realme 3 Pro follows the brand's R&D mentality across hardware, imaging and user experience while significantly improving hardware configurations on its predecessors: the dual rear cameras are now an upgraded combination of a Sony IMX519 16MP primary camera + a 5MP secondary camera, with the primary camera's single pixel size being 1.22um and with large f/1.7aperture.
Realme 3 Pro supports 960fps/720P Super Slow-motion video-shooting to slow down the wonderful moments in life for more fun. This is also the first mid-range model supporting this feature.
With the multi-frame synthesis technology, multiple pictures with 16 million pixels can be synthesized into one 64MP Ultra HD picture, with bigger size and more details. Realme 3 Pro's Ultra HD solution uses "pixel copies to increase pixels", synthesizing more real pixels to produce outstanding pictures of better quality, even better than high-pixel image sensor shots.
With the aid of AI, multi-frame synergy and the anti-shake algorithm, the Nightscape mode on realme 3 Pro significantly improves the imaging quality in dim light. The Nightscape mode now comes with RAW format for more detailed adjustment.
To meet user demand for better imaging effects, colour and style, realme 3 Pro performs better in Chroma Boost mode. Using AI technologies, scenes in photos are recognized and optimized accordingly into a larger dynamic range, with more enriched details in highlighted parts and shadows, and more balanced exposure.
Realme 3 Pro: Speedway Design with FHD+ Dewdrop Full Screen
Inspired by racetracks in Le Mans, realme 3 Pro has 82 S-shaped curves on the phone back, running parallel through the fingerprint sensor, realme logo and rear camera. The gradients have been changed to the oblique direction, with a perfect blend of texture, lighting effect and colours.
Realme 3 Pro also comes with FHD+ Dewdrop Full Screen that integrates the front camera, light sensor and distance sensor. Realme 3 Pro boasts a 90.8% screen-to-body ratio, super wide view, and much more efficient display of information. It gives users a more visual immersion while viewing images and watching videos. Corning Gorilla Glass 5, more durable than others, protects the screen.
Realme 3 Pro: High-capacity 4045mAh Battery with VOOC 3.0 Flash Charge
Realme 3 Pro is built with a 4045mAh high capacity battery, that allows users to heavily use the phone. Through CABC (Content Adaptive Backlight Control), realme 3 Pro can dynamically optimize screen display, reducing the current on the screen and save power, extending the battery life by 5% and 10% respectively.
Realme 3 Pro carries the brand new VOOC 3.0 flash charge technology (low-voltage high-current charging approach*), with 20W (5V4A) charging power that can bring a dying battery quickly back to life. Less heating and higher charging efficiency ensure that realme 3 Pro features the fastest charging speed and charges efficiently while handling heavy-duty tasks as well.
Realme 3 Pro: ColorOS 6.0 on Android 9.0 Powered by the latest ColorOS 6.0 system, realme 3 Pro adopts the borderless design philosophy and delivers a purer interface. Users can get information more efficiently