Anyone half-serious about fitness will know that the optical heart rate monitoring on watches is prone to serious inaccuracies. It is not so much that the sensor is inaccurate, just the wrist is an awful place to monitor your heart rate.
I have reviewed several heart rate monitors now and bought many more. I have a bit of a love-hate affair with them. I am a very sweaty person, and my toxic sweat seems to kill off chest straps for fun. The Garmin HRM-RUN seemed to fend off my sweat the best, but once the battery dies, it seems to be impossible to get it to work again properly, I have had three of those.
I bought the original Wahoo Tickr, which failed after a while, and the recently updated Wahoo Tickr & Tickr X barely worked for more than a few weeks. Even my replacement Wahoo Tickr X failed within days/weeks.
DC Rainmaker often states how optical armbands are less accurate than the chest counterpart, while this may be true, my Polar OH1 is the one HRM that has lasted for multiple years. At this point, I'll take reliability over it being super accurate.
Both Powr labs HRMs are on Amazon US with cheap import fees
Powr labs HRM Features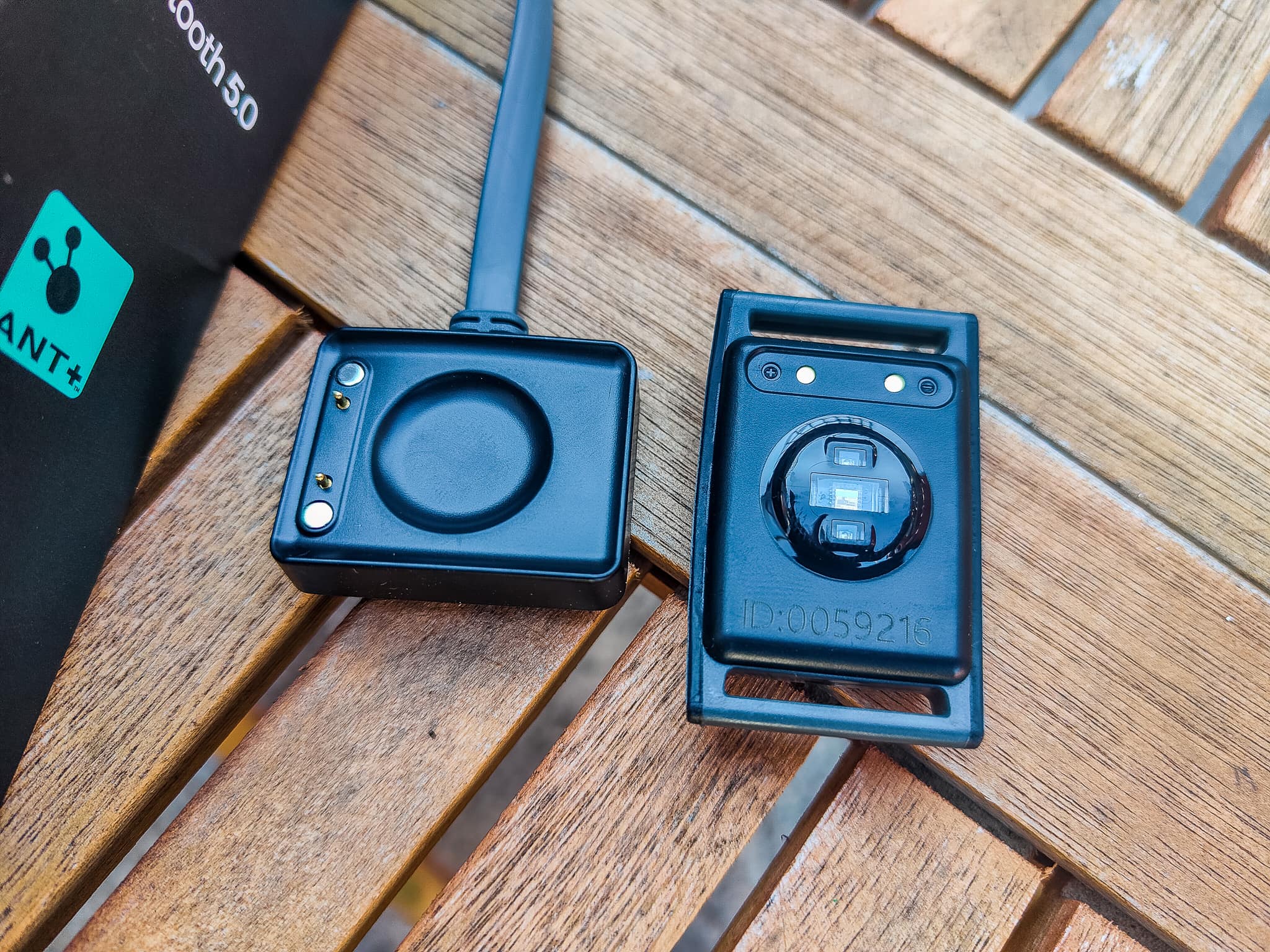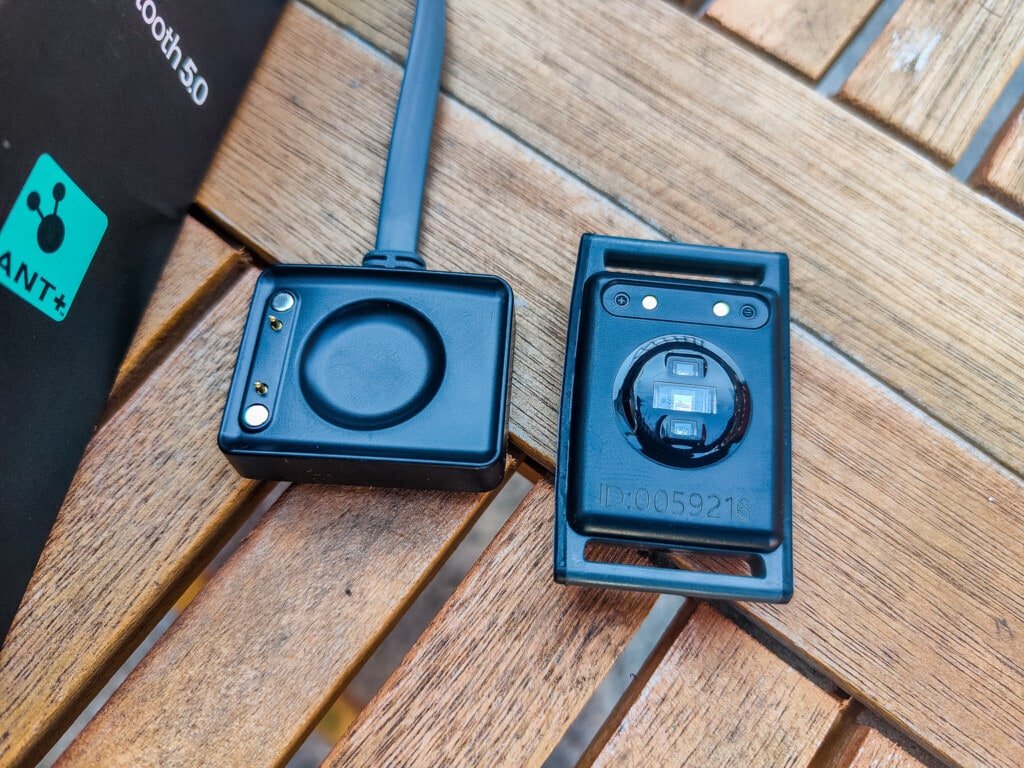 Both devices have similar features apart from the fact that one is a chest strap and the other an optical armband. They both have:
Dual-band Bluetooth 4.0
ANT+ protocol
IPX67 sweat & water-proof (neither product is recommended for swimming)
Similar to the Garmin Dual-HRM, you can connect two devices via Bluetooth then also connect via Ant. This can come in handy for indoor training where you may connect to Zwift, your watch and maybe a bike computer.
The chest strap battery is only rated for 6 months, but they will provide 12 months of free battery replacements (I assume to US buyers). The chest strap design is just your generic clip in monitor using a replaceable watch battery.
The armband has an impressive up to 60-hour battery. It only has two flashing LEDs with the sensor in the centre. In comparison, the Polar Verity Sense using a ring of six LEDs, which in theory should help it be more accurate. The main issue with the armband is that the strap is not elasticated, you need to make sure you get a decent fit before you start the activity. On one occasion it slipped down my arm little becoming loose, this then led to issues with the readings.
Powr Labs Heart Rate Monitor Chest Strap & Arm Band Accuracy vs Polar Sense
For ease, I did most of my comparison testing indoors. It is a bit difficult running three devices running outdoors.
Zwift is the easiest method for me to test as I can use Zwift, then my Garmin Edge 520 and Fenix 6. I have a bit of weird heart rate cycling indoors with my HR staying at one rate for quite a while. So I also used the treadmill will both Powr Labs devices, one connected to my watch and the other to Zwift.
Indoor Cycling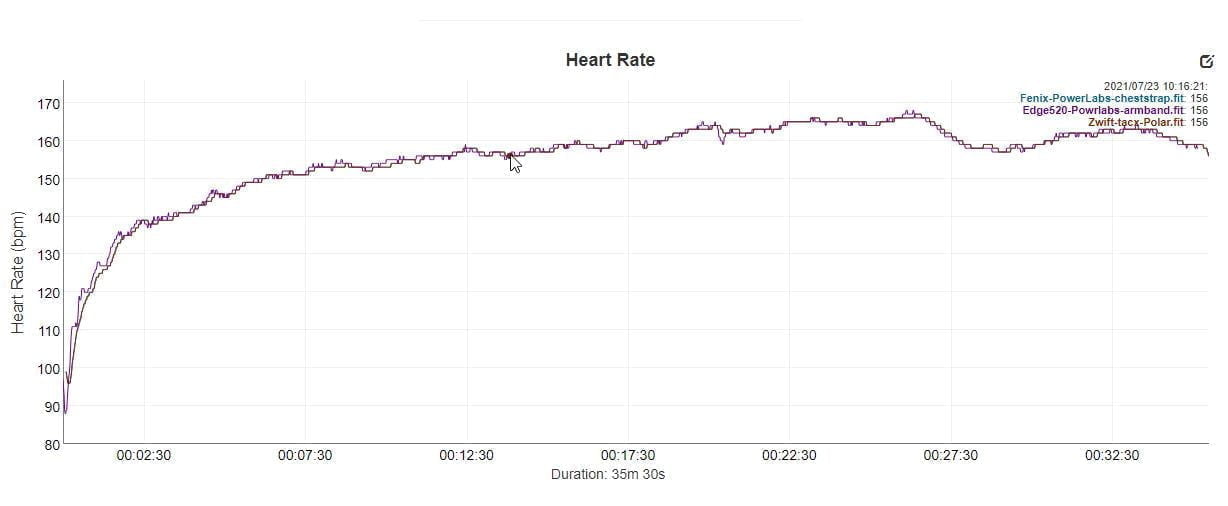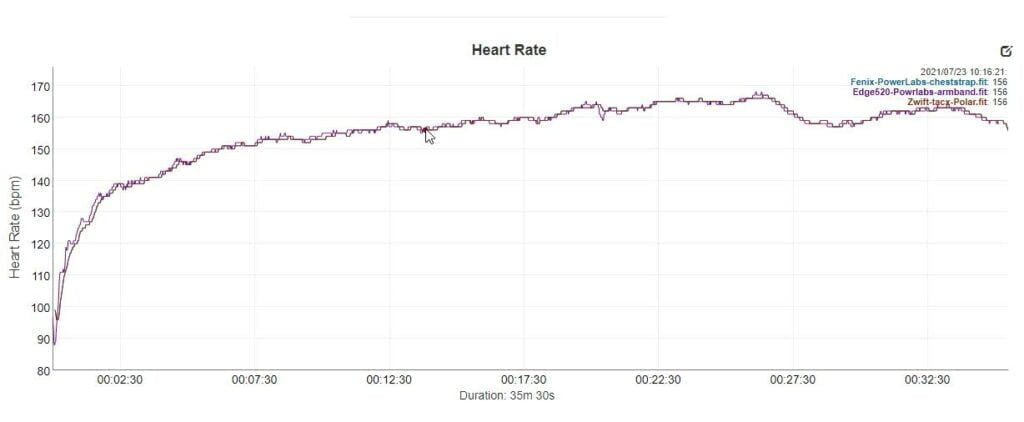 I tested with both ANT+ and Bluetooth, neither seemed to have connectivity issues. From experience, I have had issues with Bluetooth connectivity for all my devices when using Zwift, so I will always opt for ANT+ when possible.
The results are mostly as expected, each device giving a similar reading with a few deviations here and there. Generally, this is only 2-3bpm, which I am fine about. The overall average difference is less than half a bpm.
I find arm bands occasionally take a little while to get an accurate lock on the heart rate. Zooming in on the above graph, there is a notable difference of around 7bpm between the Powr Labs arm band and the chest strap. It then settles down at just under 2 minutes.


Treadmill


The treadmill had a more natural-looking heart rate curve, and there were a few discrepancies. It looks like the armband wanders off track a little more frequently than the chest band, and I suspect it is the armband that is at fault. While some of the gaps look big, it is still only a 3bpm difference in the worst-case scenario, that may be an issue for an elite athlete, but I don't really care.
Outdoor Run


On my most recent run, I used the Powr labs chest strap with my Garmin Fenix 6 then the Polar Sense with the Strava app. Again, both monitors matched up closely, with no significant difference in the readings for almost all of the run. The one exception is at the start, where it looks like the Polar takes a little while to get going.
Price and Alternative Options
Chest Strap
The Powr Labs chest strap is £43.45 on Amazon UK or $45 on Amazon US. You can import it for $51.72, which works out at £37.81.
The Garmin HRM-Dual is the best/most reliable chest strap I have used (it still died), and this is £10 more at £53 available on Amazon. It has dual Bluetooth, ANT+ and an impressively long battery at around 1200 hours (3.5 years @ 1hour per day)
Arm Band
The armband isn't currently available on Amazon UK, but has an RRP of $84.99 including import costs from Amazon US, so about £60. At the time of writing, it has dropped to $74.99 and there is a $10 off voucher on the page making it $64.99 or $71.91 if you import to the UK. That's £52.29 which is a great price.
Click here to buy from Amazon US
The Wahoo TICKR FIT is the closest in price at £62.46. It only has a 30-hour battery life, and I think it can only do one Bluetooth channel.
The Polar Verity Sense is the best alternative at approximately £80 on Amazon, with two Bluetooth connections, 20 hours battery life, built-in memory, and you can go swimming with it.
Overall
I have been impressed with both Powr Labs heart rate monitors so far. They both connect reliably, maintain connection and, to the best of my knowledge, offer accurate readings.
I have obviously not tested the long term durability of either device. From experience of other brands, I wouldn't be surprised if the chest strap has issues sooner or later, while I think the arm bad should be OK.
The Powr Labs chest strap is cheaper than the Garmin HRM-Dual but more expensive than the Wahoo Tickr. The Wahoo never worked for me properly, so I am not going to recommend that over the Powr Labs, but users that haven't seen this review will no doubt be tempted to go with the cheaper big brand name than an unknown name. I'd say Powr Labs could do with knocking £5-10 off the price.
Powr Labs Bluetooth Heart Rate Monitor Armband Review Rating
Powr Labs Heart Rate Monitor Chest Strap Review Rating
Last update on 2022-06-19 / Affiliate links / Images from Amazon Product Advertising API