Suunto recently put up the pre-order page for a new Suunto 3, but there has been a suspicious lack of press releases and other coverage
With the recent launch of the WearOS based Suunto 7, I was hoping that Suunto may have done something radical with their affordable options, but it appears not.
First of all, the price of the Suunto 3 is £199, while the Suunto 3 Fitness is £149.99 direct from Suunto but you can get it for just £115 from Amazon. So we are looking at a big price hike.
At £200 they are dipping into Garmin territory with the Vivoactive 3 being cheaper the Instinct being the same price and the Vívoactive 4 and Forerunner 245 is a bit more.
The design has not changed much, the new model does look nicer but they have identical weight, bezel material and glass material. The case material has switched from glass fibre reinforced polyamide to ABS.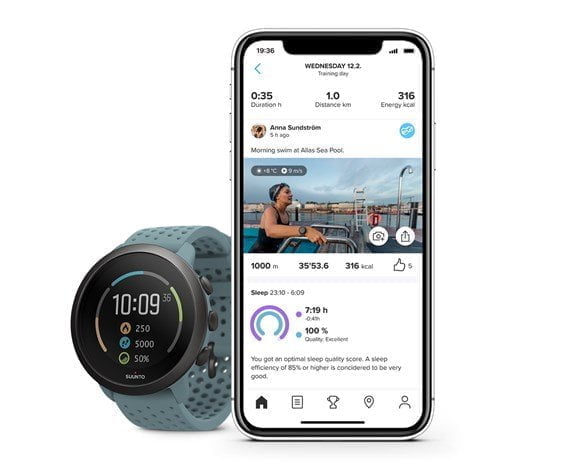 There are new colours but that hardly justifies the 33%+ price increase.
The display resolution and size remain the same as does the battery life.
In fact, if you click through the specification on both watches, everything is identical
5Krunner reports that the Valencell sensor used in the latest watch is the newer v1.4 from 2019.
He also states that there are new fat and carb-burning stats with Suunto now estimating carb usage and if and when you are in the fat-burning zone. I can't say I am a big fan of the fat-burning zone concept as far as weight loss goes, I find it misleading for people just getting into fitness and weight loss. However, the carb estimations could be useful for more advanced athletes on endurance events wanting to gauge nutrition needs.
I would assume the Suunto 3 Fitness will be phased out leaving just this. At the moment, I would say there is no point buying this over the older model though.


Product highlights of the Suunto 3 (both versions) include:
 Adaptive training guidance
 24/7 activity tracking with steps, calories and sleep
 Calls, texts and notifications to watch
 5-day battery life with activity tracking on
 Stress & recovery monitoring
The adaptive training guidance is perhaps the stand out feature when comparing it to other brands.