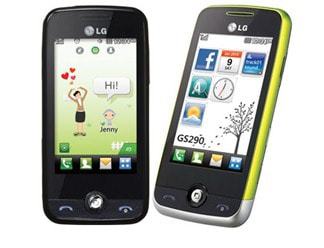 In the old days pay as you go phones were cheap, cheerful and do everything required out of a phone one would need. They text, they ring. Nowadays, although not packing the super technological goods of an iPhone, HTC Desire or Galaxy S they still do their job and have basic extras. The LG "Cookie Fresh" GS290 is just that. As one of the cheapest touchscreen PAYG phones on the market (from £40ish) you wouldn't expect too much, but if you want to know more on what we thought of it, then please click on and read our review.
Small, light and reasonably thin is the Cookie. Sporting a matte black finish, the one we're reviewing is the standard all black affair but (as the picture shows) you can get the GS290 with coloured sides if you so desire. Despite it's small appearance, the phone features a 3" WQVGA or 240×400 pixel display which takes up the majority of the phone, which is great, more screen is better. Below the screen you have the usual concoction of the phone button to pick up/make calls and the call end/power button with a little Home/Menu button sandwiched inbetween. On the sides of the phone you get the volume controls, a camera ready button and a button/screen lock button. There's also two gated slots, one for your USB charger and the second hides your microSD slot. All in all everything you'd expect so far. On the reverse of the phone is a 2.0MP camera and some script telling you that it's a 2.0 Mega Pixel camera. Besides that the reverse is pretty boring, not that that is a fault or anything, it's pretty normal for a phone, anyway enough said about that.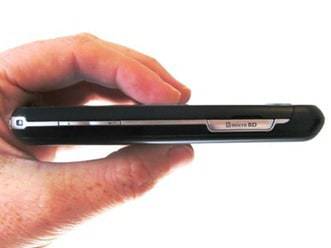 Let's switch on and go. First noticeable thing that you'll come across is the screen. Now as it's a cheap phone the resistive touchscreen is in full effect here rather than the smarter capacitive screen, but when you're looking at the price range of this phone it should be expensive. As with the majority of resistive touchscreens I've come across this is no different. They're not the most responsive and if you're used to using an iPhone or other smartphones you may find that trying pinching and multi-touch gestures don't work. Also a problem I can see arising here is the size of the on-screen icons and the accuracy of the touchscreen. I kept finding myself pressing the wrong button, usually through a little frustration but mostly just because things were a little close together on the small screen. One thing we can say that's great about it though is that for it's size and the general price of the phone, it's sharper than any entry level phone I've come across before with very bright colours and very clear, easy to read text.
The interface itself is alright. If you're used to LG phones you'll probably know what i mean by it's homescreens. Much like the iPhone you have screens that can be flicked between each other with a gesture. The first screen is for your apps/widgets. These can be customised and moved to whatever you desire. There are some pre-loaded apps/widgets for you to use but you can also download more if you so wish but remember this isn't Android or AppStore standard apps but their is a Facebook one which I'm sure the majority of people including myself was happy to see. The second screen is what LG are calling the "livesquare" This is your social networking screen. You can place avatars of your favourite contacts on here and from this it can quicklink to calls, emails or texts to said friends. The third screen is essentially a variation on the livesquare but is solely a speed-dial screen, only a couple of clicks quicker than than the livesquare, so really a bit pointless.
So what's next, let's press the menu button. Again if you've used LG phones before particularly the S-Class one's you'll know the layout and icons. Basically the screen fills with 16 icons broke down into 4 different lines. Each line represents what type of shortcut is represented within it such as communication, entertainment, utilities and settings. If you scroll over to the right with your finger, you'll notice there's another screen with another 16 icons for you to pick from. However this is a strong point for the touchscreen to let you down. Scrolling the screens from left to right could sometimes prove difficult and more often than not you'll be opening programs you don't want to open etc. Maybe when you get fully used to the response of the screen you might become a master but in reality patience could be lost quite quickly. One good thing about the Cookie Fresh though is it has a multitasking cool which proves to be easier to get the programs you want running. Another press of the Menu button brings up a shortcut screen which lists what's currently being run at the time. If you keep programs open all you'll need to do is click on whatever you want to go to on the list and you'll be transported there quick as a flash, i liked this.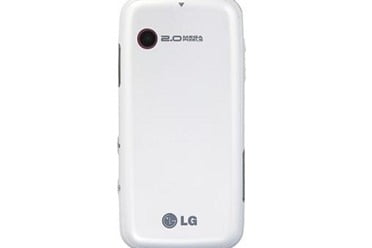 Making a call is pretty much the same with all phones so we can't really discuss much other than the fact the sound quality was pretty good. The volume controls on the side are easy to use when you're on the phone and the volume levels are great at no point did i struggle to hear the caller on the other end. Texting was quite basic but very easy to use. The Cookie Fresh has opted for a software alpha-numeric input. This makes sense really. An on-screen QWERTY would be very difficult to use so going back to alpha numeric meant I had to polish off the old-skool texting skills. It worked reasonably well although again you might often find you mis-typing things due to the resistive screen.
Now I didn't spend lots of time trying all the programs/widgets on the phone as most were rather basic and uninteresting. I'm not completely writing them off, it's just the phone is rather basic and thats all the apps are. The web browser isn't fantastic, ok I guess for checking football scores or basic text surfing, but as there's no WiFi or 3G connectivity that's pretty much all you'll be able to do anyway. I had a rather extensive play with the camera in different scenes etc. If you're in a well-lit room or outside and have a steady hand the picture quality isn't that bad. However in low light and someone with not so steady hands like myself a bit of blur crept in. Due to a lack of Flash too there's no real way round it. All in all though the camera wasn't that bad and I was quite impressed with a couple of the shots I took. The camera also has a video mode. Again similar problems, it's not super smooth and in low light the picture quality isn't great.
The Conclusion. Well the Cookie Fresh is what it is, an entry-level phone. We were very impressed with the super bright, sharp display which is usually bobbins on this price-range of phone but LG have nailed this making a non-smart phone look……… smart. The phone itself is aesthetically pleasing it certainly doesn't offend the eyes in anyway at all and is hardly noticeable in your pocket. Certain aspects of the interface and OS are good like the avatars for your friends and the quick text/phone options. The only downsides to the phone really are the resistive nature of the screen which could make me frustrated at times in trying to open things or flick through the homescreens and the odd text message mistakes. The other problem is the lack of high speed connectivity. Not a problem if you don't need it, but if you're an internet addict and need plenty of information then you aren't going to get it in a hurry from this phone. All in all a great entry level phone if all you want to do is talk and text and for the price it certainly offers everything and more you'd expect from it in comparison to to other phones at that price.