Those kind folk at Creative gave us a pair of their new EP-3NC Active Noise Cancelling headphones to test out so we can tell our MightyGadget readers all about them. So here's what we thought.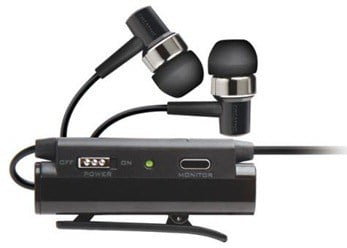 The clue in what they do is in their name. Active Noise Cancelling headphones basically counteract the effect of background noise meaning that if you're listening to your ipod in a noisy area like a train, aeroplane or walking down a busy street, the technology will almost fully remove the constant drone you can hear alongside your music. Creative have always been pretty good with their audio goodies so when it says up to 90% ambient noise cancellation, you're pretty sure it won't be lying.
Firstly the earphone's themselves are the in-ear type with the silicone buds that sit on the end. Now these are noise cancelling in themselves to a certain degree as they sit inside the ear-canal and expand to fill any gaps, reducing the background noise getting in and keeping the good sound in the ear. The silicone buds come in three different sizes to suit the user, due to my small stature the small ones were enough for me keeping the phones nice and comfortable in my ear with few slip-outs.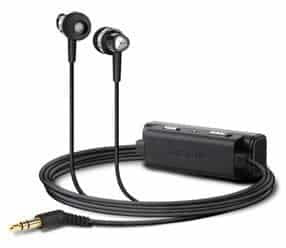 Secondly there's the active noise cancelling unit. The unit requires a AAA battery to operate and perform the noise cancelling, but the battery life can be up to 100 hours on constant, but you don't need the noise cancelling on all the time, just in noisy areas, plus the headphones don't require the battery to actually work so if it runs out, your music won't suddenly cut out. How does the noise cancelling work? The EP-3NC basically has external microphones that monitor the background noise around you and then produces a sound within the unit that's in the exact opposite phase which essentially cancels it out. Now by any means it doesn't cancel every single noise out, but it's great against monotonous sounds. The first time I used it I was in a room with a refrigerated vending machine which gave out a loud constant noise. Just putting the phones in and switching on instantly cut out the drone(with no music played). I also tried them walking down a main road, where the cars going past could hardly be heard and what I was most impressed with was using them on the train, cutting out the engine noise to almost nothing. Also on the unit is a "Monitor" button. Upon being pressed and held it cuts out the music so you can listen to what's going on around you without having to stop your music or take the headphones out, obviously something they've thought about if you were using the headphones whilst travelling to hear announcements, ticket conductors/stewardesses etc. A nice little feature.
This comes in halfway up the cable and is about the size of my thumb. . The unit itself is quite heavy for it's size and this could prove a little annoying in finding a comfortable position to place it when using the headphones. It has a clip on it to attach to your clothing, pocket, whatever so it wasn't swinging freely or dragging the headphones from your ears but with it being in the middle of the cable and the majority of the time I'd have it clipped to the top of my jacket there'd be too much cable at the headphone and not enough going to my iPod in my pocket. Now this wasn't a major problem by any means, it just took a few goes to find a comfortable place to put everything for when i was walking around. When sat down it wasn't a problem at all.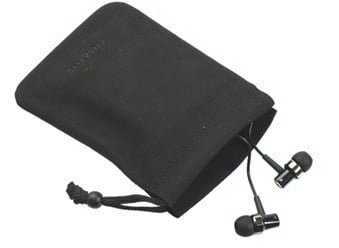 The sound quality is another thing I was impressed with too. The EP-3NC gave out rich, bassy sound and when I tried different music types on it they all sounded great. The volume levels are to high standard and didn't really change at full volume(which was pretty darn loud) If you're the complete audiophile though these might not be completely up to your standard for music with very high ranges like classical for instance but great for your run-of-the-mill rock, dance and hip-hop.
The conclusion I've come to with these is basically they're great, especially if you like bassy sounds to your tunes and do a lot of travelling. The noise-cancellation really makes a difference and i was truly impressed at how well they worked on a noisy train journey. At around the £90 mark at most retailers these are definitely worth it. You also get a little leather case to put them in when not in use, which I always use due to my proneness of sitting on things and breaking them, plus again aiming for the traveller you get one of those double adaptor for use on some aircraft. Creative again we salute you!