In my opinion, the Huawei Watch 3 has the best hardware experience on any smartwatch currently available, though this may change with the imminent Samsung Watch 4.
However, with Huawei using their brand new Harmony OS, the software experience doesn't quite match the outstanding hardware. The OS itself is a pleasure to use and can easily rival Wear OS, but there is a desperate need for some great apps.
Things are improving, but slowly. In a short period of time, I had the Huawei Watch 3 to review, they launched a new payment app enabling NFC payments.
Since I sent the watch back, they have rolled out turn by turn navigation which uses Petal Maps.
Now they have announced TRUCONNECT, one of the first major UK partners to deliver an integrated app for the Watch 3 and offers loads of great fitness content directly on the watch!
I have not used the app either with Huawei or other platforms, nor do I have much intention to. But it seems to offer a variety of workouts guided by fitness influencers and minor celebrities.
As great as it is to see new apps come to the Huawei Watch 3, I still desperately want them to roll out some proper fitness apps with 3rd party integration with sites such as Strava, TrainingPeaks, MyFitnessPal etc.
Full Press Release:
Huawei has announced that TRUCONNECT by TV.FIT is launching on HUAWEI Watch 3 Series smartwatches from today. The global fitness and wellness community app launched on Huawei's AppGallery last year and is one of the first major integrated apps running on the HarmonyOS powered device.
The fitness app, which offers a range of workouts for all levels led by specialist trainers and celebrities, including Gemma Atkinson, Helen Flanagan, and Jacqueline Fernandez, launched on Huawei smartphones last year and will now be available to download on Huawei's new flagship smartwatch series, offering a seamless and connected journey between Huawei devices.
The app utilises the continuous health monitoring capabilities of the watch, including heart rate and burned calorie tracking, to ensure users have the best data possible to get the most from their workouts. TRUCONNECT will also bring new features and capabilities to Huawei users first, such as the ability to pause and restart their workouts, as well swimming and climbing tracking (to launch in the coming weeks), delivering even more benefits to customers.
To ensure HUAWEI Watch 3 owners get the best the app has to offer, TRUCONNECT and Huawei are rewarding all Watch 3 and Watch 3 Pro customers in the UK with a year's free subscription to the service, granting unlimited access to fitness and wellbeing classes. More details can be found here: https://truconnect.fit/huawei/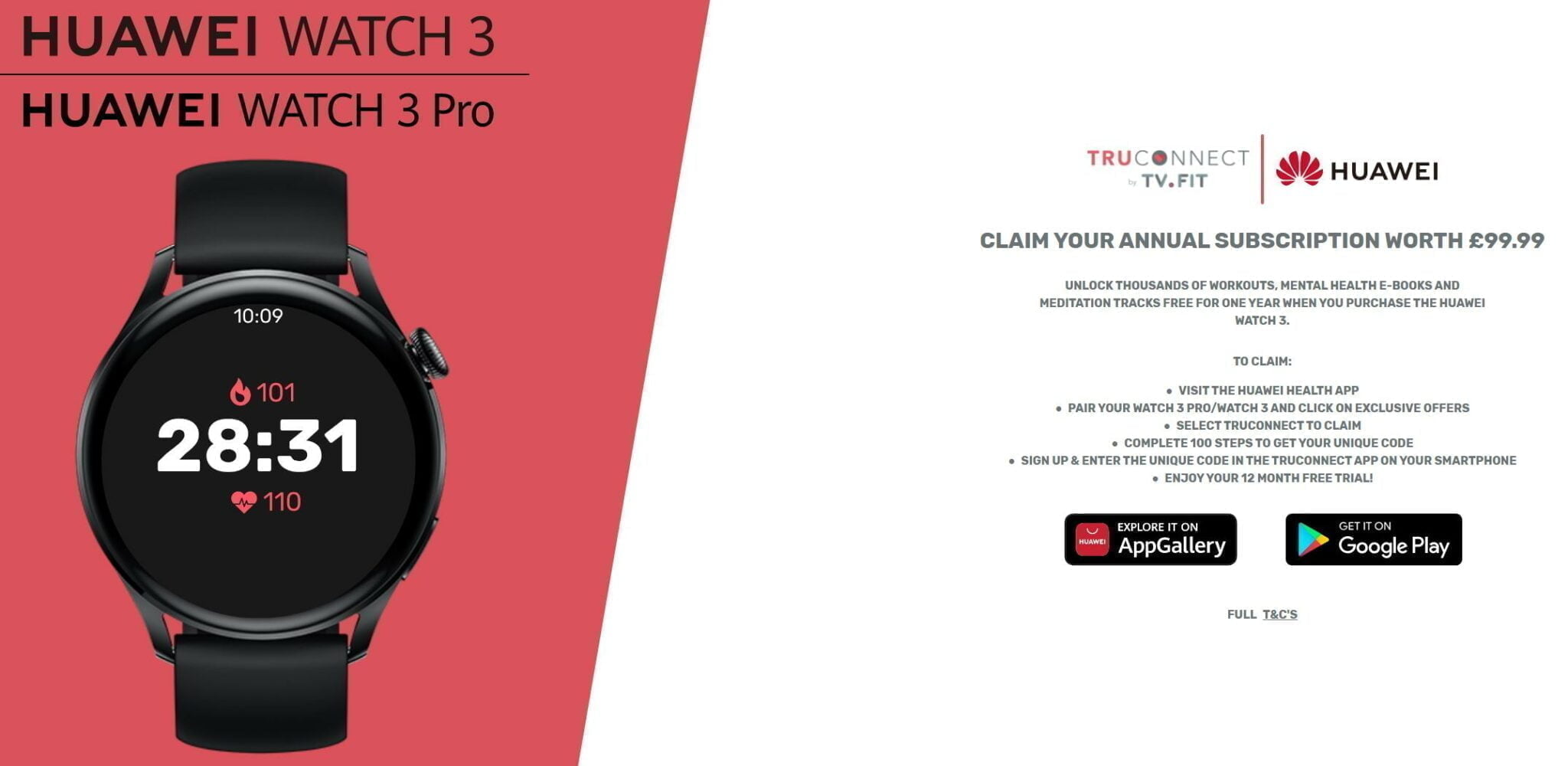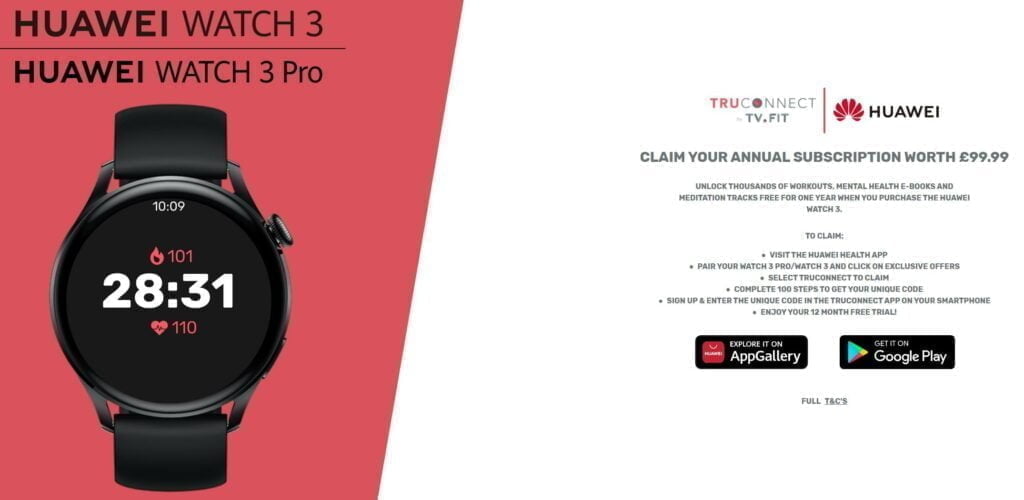 The HUAWEI Watch 3 Series are the first Huawei smartwatches to run HarmonyOS, bringing users convenient and smart life experiences that are underpinned by continuous health monitoring features (including a high-precision temperature sensor for the first time to support skin temperature detection). The watch also has up to 21 days battery life and independent calling.