Another new bit of Garmin Fenix 6 news, I am unsure if the flurry of leaks is a good indication of accuracy or perhaps people trying to monopolise on the recent hype about the new range.
Previous leaks have included claimed product renders of the Fenix 6 and other Garmin devices, plus some reportedly real-life shots of the Fenix 6X Pro.
Either way, it has been claimed that the Garmin Fenix 6X Sapphire and the 6X Sapphire Solar were briefly listed on Amazon. The images look real, and it is quite feasible that Amazon accidentally listed the watch, it is also possible Amazon have used the wrong dates.
The Garmin Fenix 6X Sapphire was listed for $949.99 while the 6X Solar was $1,149.99 with both being up for pre-order with a launch date of the 29th of August 2019.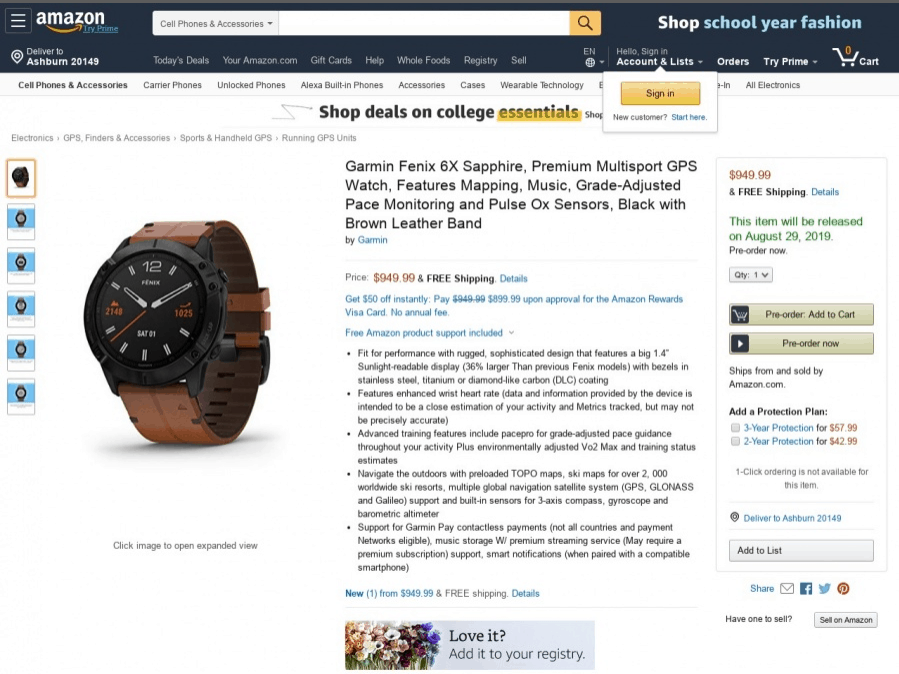 These prices are steep, but these are the top of the range models. The current 5X Plus Sapphire is $1,049.99 so if anything the price is cheaper. Though this could be another red flag, most companies like to go up in price with generations.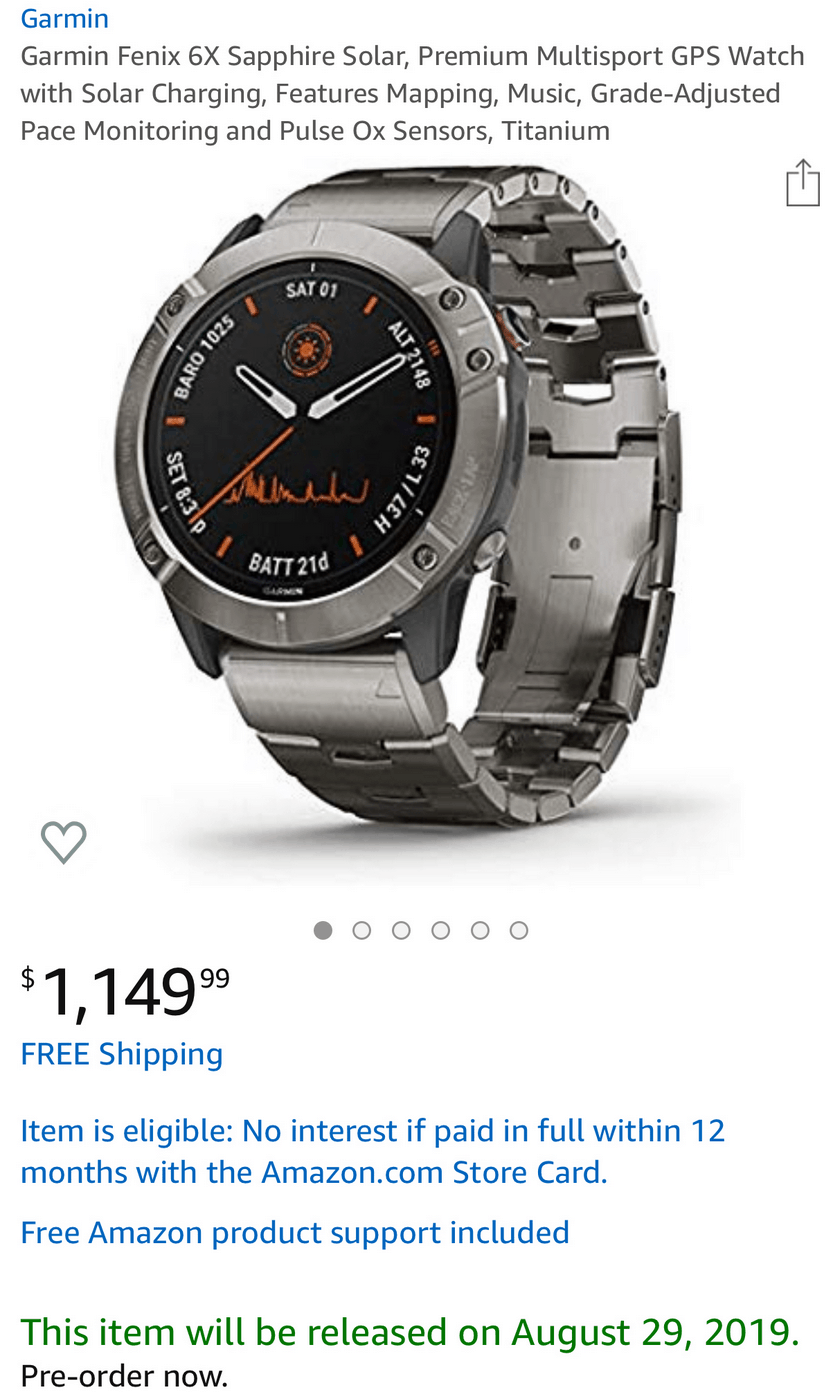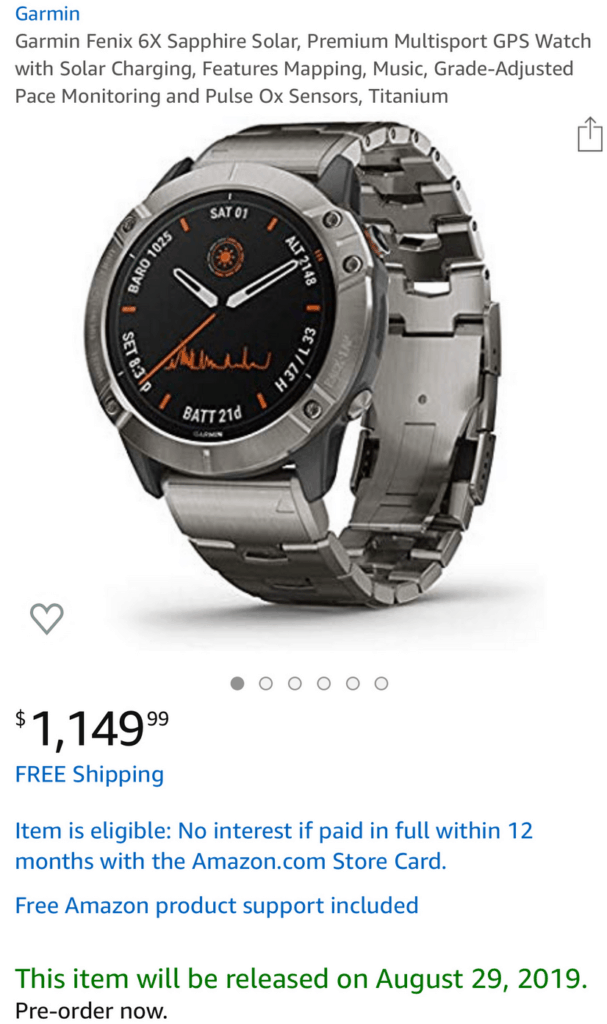 It is the date that is bugging me, it would be unusual for a tech company to launch a flagship product to the public days before one of the worlds largest tech shows. Normally what would happen is they announce the product a couple of days before the show, with it on full display at the show, then available to the public after the show.
Furthermore, Garmin has traditionally launched the Fenix line at CES in January which followed the above announce and release schedule.
That being said, I guess it is possible that Garmin wants to get ahead of the other major releases at IFA.
Assuming the images are real, a likely possibility is Amazon messed up and have put down the wrong dates.
The listing did reveal quite a bit of information about the new series. It doesn't represent quite the jump in features that the Fenix 3HR to Fenix 5 had, so some people may be a little disappointed.
The Garmin Fenix 6x Sapphire comes with a scratch-resistant 1.4" sunlight-readable display. This is 36% bigger than previous Fenix models which sport a 1.2″ screen (Fenix 6 will come with a 1.3″ and 6s with a 1.2″ display).
The biggest new feature that is listed is PacePro which is "grade-adjusted pace guidance throughout your activity". This appears to be an alternative to power that is used in Stryd or if you use a chest strap for run dynamics. Instead of a power reading, it will provide an equivalent pace when you are running uphill. So this might be 7mins per mile on flat, then if you run 8 mins per mile on an x% gradient the PacePro will feedback you are running an equivalent of 7mins per mile. I have not really used power much myself, but it is supposed to be an excellent way to balance out your effort across runs. Something I should do for marathons!
As you would expect, most of the features from the Forerunner 945 have been introduced. This includes the latest Garmin ELEVATE heart rate module and all the Firstbeat features, which totals 18, and is the most of any watch on the market using Firstbeat.
First beat features include:
VO2max Fitness Level
Lactate Threshold
Functional Threshold Power (FTP)
Training Effect: Aerobic
Training Effect: Anaerobic
Real-Time Performance Condition
Calories Burned
Training Load
Training Status
Training Load Balance
Workout Labels
Quick Stress Level Test
All-day Stress & Recovery
Heat and Altitude Acclimatization
Body Resources
Race Time Predictor
Respiration Rate
Other than that, there are pre-loaded TOPO maps and ski maps for over 2,000 worldwide ski results. Like its predecessor, there's support for multiple navigation satellite systems (GPS, GLONASS and Galileo). Built-in sensors include a 3-axis compass, gyroscope, barometric altimeter and PulseOx.
While the Solar model was listed, there is still no idea of what this is exactly. The obvious conclusion is solar battery charging, but how effective this is on what is effectively a smartwatch is unknown. If you are in the middle of a multi-day hike I guess any battery-saving is useful.
What we don't know, or hasn't been upgraded
Several features have been speculated, the Amazon listing didn't reveal that they have been included, but it doesn't mean they won't be there.
Screen upgrade – So far unconfirmed, either unlikely or a small resolution upgrade
ECG – Unconfirmed, with it not being listed in the main features could indicate this is unlikely
LTE – It does not appear to be on either of these models
Additional smartwatch features – So far it looks like the normal music and NFC are included but nothing else. More storage is possible.
Images via 5KRunner