Ezviz C3A Full HD Wi-Fi Camera 1080p Review Rating
Summary
A excellent addition to an existing Ezviz system and the 4G base station allows the camera to provide functionality many others can't. However, as a stand-alone camera, it struggles to compete with more established brands in the wire-free market.
I have reviewed a lot of Ezviz products in the past year, or so, they have one of the most comprehensive ranges of home surveillance on the market. One thing they did not have was a battery-powered wireless camera, which is a little odd considering how popular this market is.
Now that has changed with the launch of the Wire-Free C3A Camera. It is a slightly strange concept, the cameras themselves work individually similar to how Reolink works, but then you can pair the camera with a base station to improve performance (similar to Arlo and Eufy)
Specification and Base Stations
C3A Wire-Free Camera


The C3A camera uses a 1/4" 2-Megapixel sensor with a 125-degree field of view and records at 1080P with a max 15FPS adaptive framerate.
There are a built-in microphone and speaker for two way audio and there is a removable 5500mAh battery which gives you around 2-months battery when used by itself. With the battery being removable you can optionally buy more batteries and a charging dock, allowing you to switch around the batteries with no downtime.
There is a PIR Motion Detection Sensor and the spec sheet says customisation alert area, which seems to be just camera sensitivity unless I have missed a setting in the app.
As mentioned, the camera works 100% independently allowing you to buy one camera at a time rather than invest in a more expensive system.
Base Station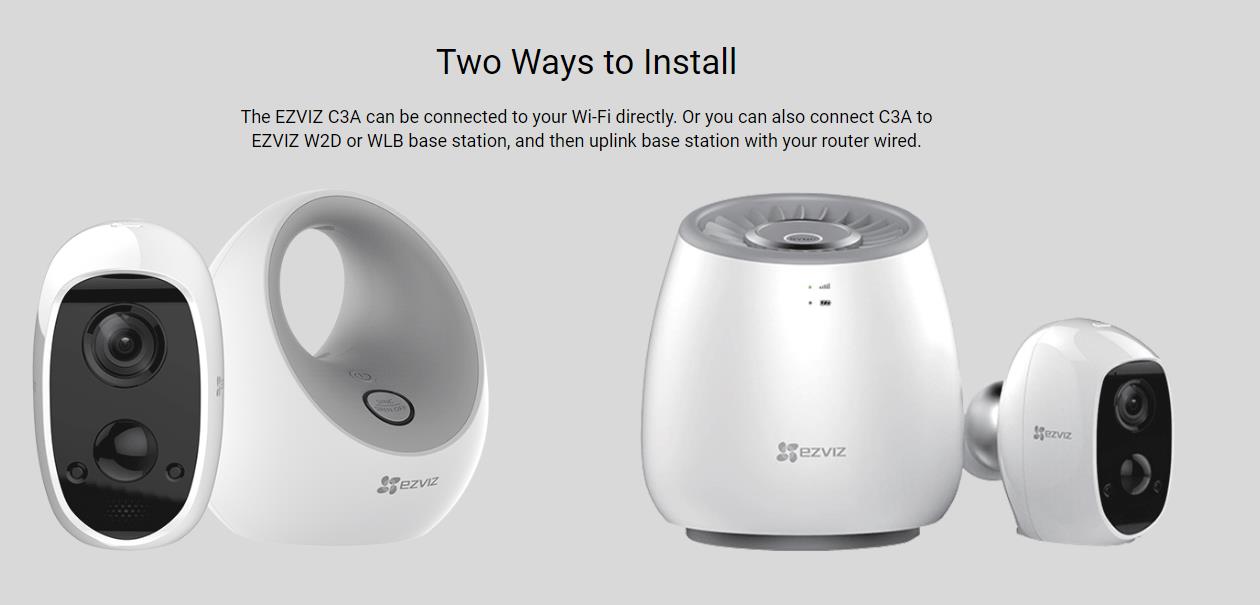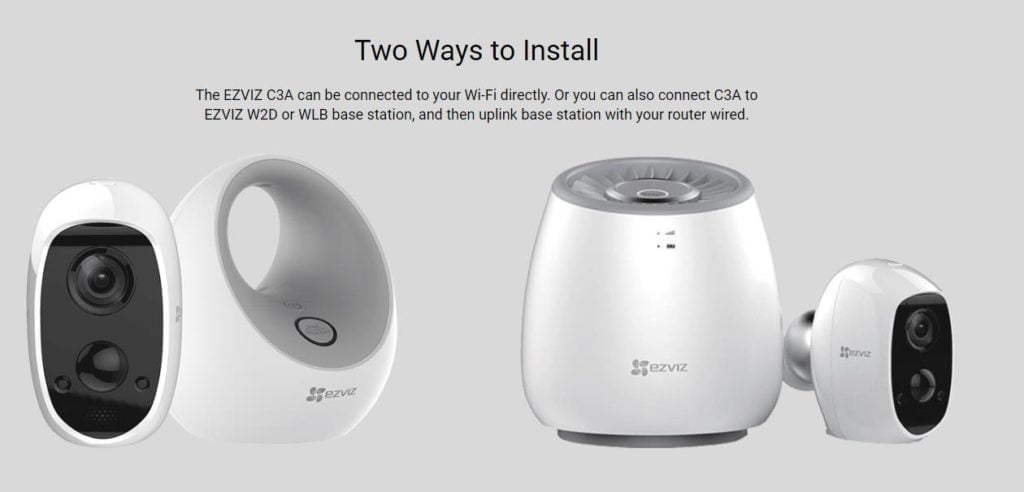 The optional base station is quite a unique feature, and there is not just one base station either, you have two possible options.
W2D – this is the standard station that is powered by microUSB and supports a 100dB siren. You can then pair the cameras and station with the one-click sync button.
WLB – This is a 4G equipped based station which also has a 100dB siren. This allows you to set up cameras anywhere even if there is no Internet. However, the base station itself requires power, so you will need some access to a plug socket (unlike the Realink or Arlo Go).
With the base station, you can connect up to 6 cameras, and the Ezviz website state that it just extends the battery life. However, the descriptions on Amazon state up to 9 months battery life.
No Ezviz NVR compatibility
One of the appealing aspects of the Ezviz range of cameras is the compatibility with an Ezviz NVR, allowing you to record 24/7 while also offering vastly superior storage capacities than microSD.
It comes as no surprise that this does not have this functionality, as it would trash the battery.
Set up & App
The Ezviz app is still used for everything, which I have been quite happy with over the past few years of using it. As I already had an account I just needed to add the camera, scan the QR code and everything was set was up and running quickly.
Motion Settings
Similar to the other cameras, to modify motion recording, you need to go to Alarm Notification, enable alarm notification, and this will allow you to tweak the motion settings. It doesn't make the most sense, but it is what it is.
All the other cameras I have used from Ezviz have motion zones, allowing you to optimise recording and notifications. This does not have them. It is reasonably common with battery-powered cameras, but many newer models have zone features. Furthermore, a growing number of devices have AI object detection reducing false alerts further.
With this, all you can modify is the sensitivity and schedule.
Performance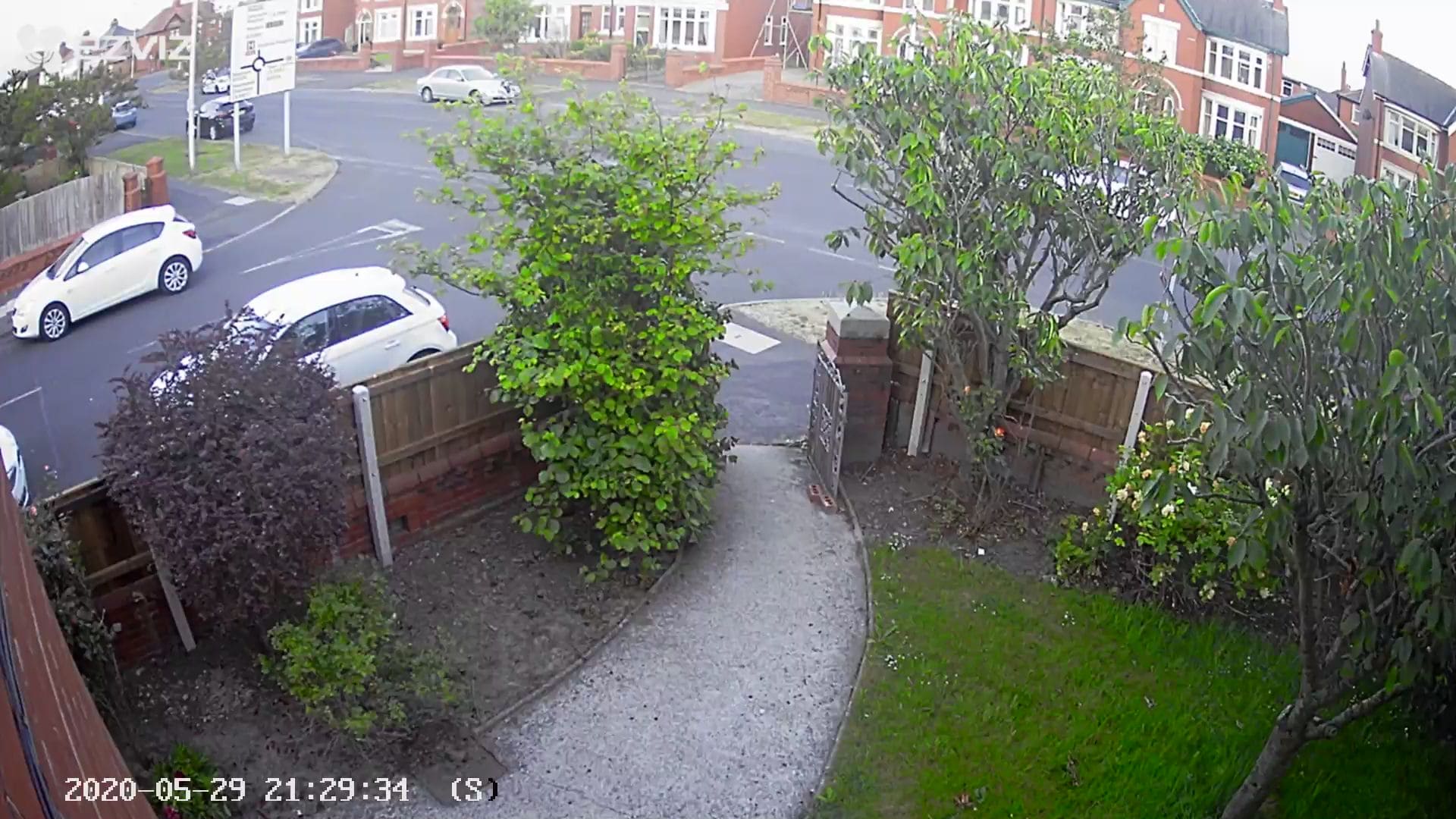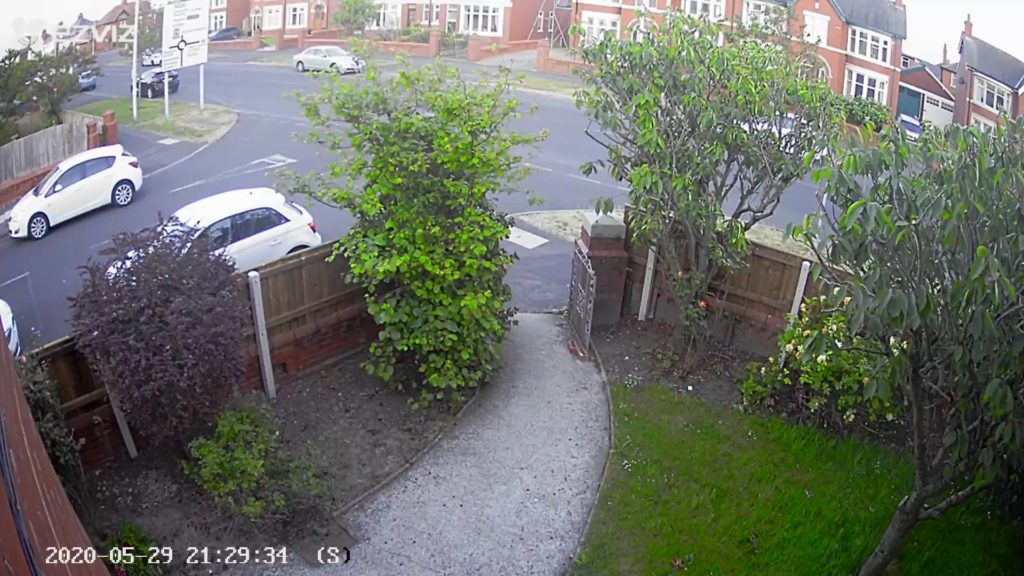 Video quality is good, it won't compete with wired cameras that often go well above 5MP. However, I would say the video quality is on par with the Eufy 2C, possibly even a little bit better.
Night time recording is good as far as black and white goes, but many cameras have started to offer colour night vision, so it is good but far from the best.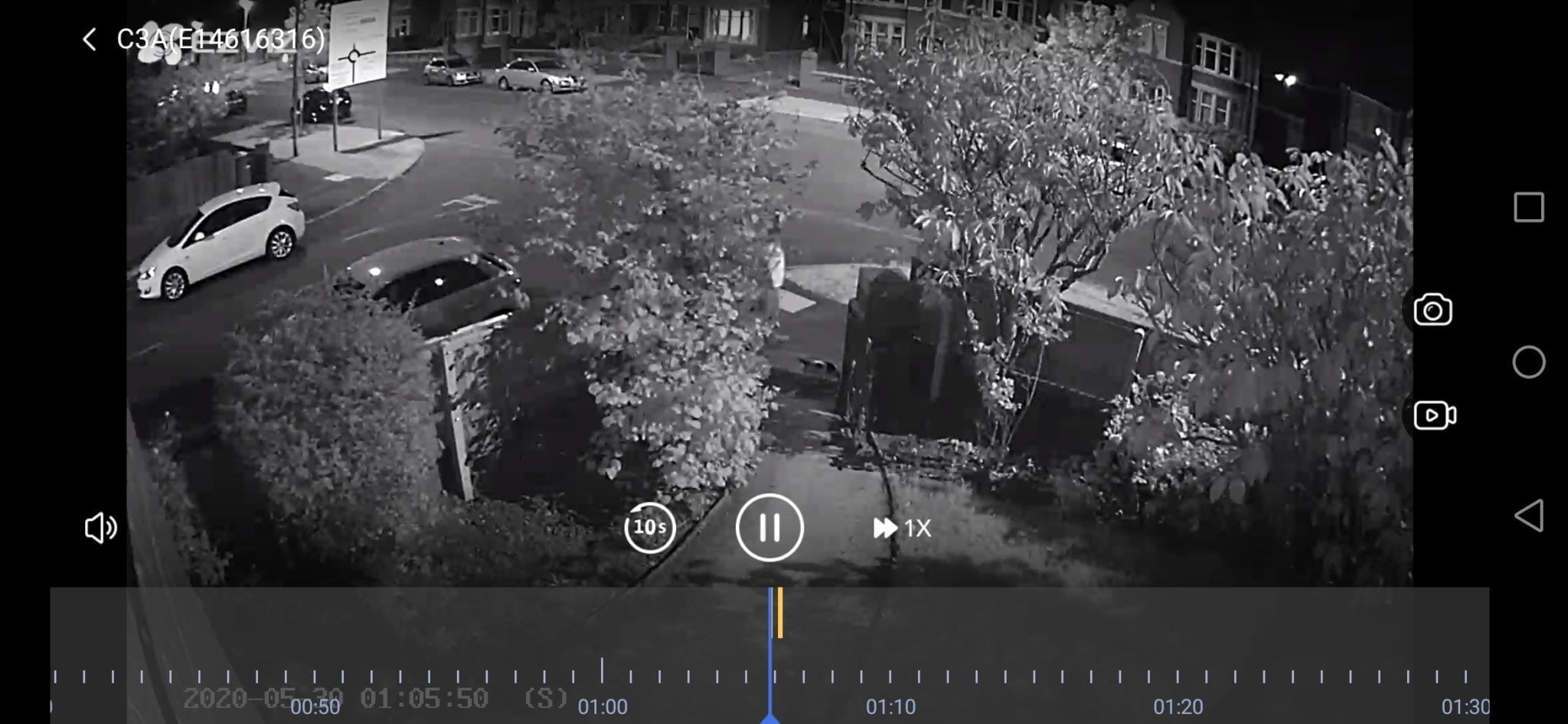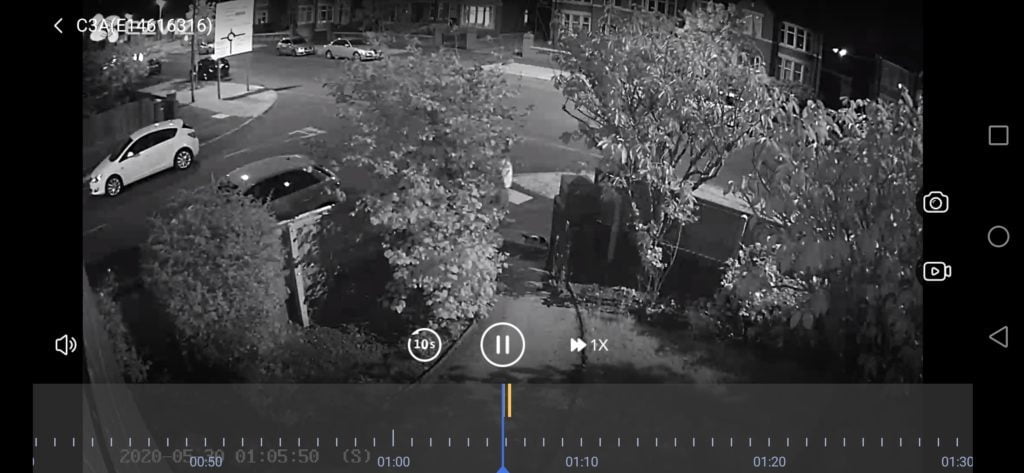 Frame rates are quite low, to save battery, and due to the location of my camera, I seemed to get a lot of very short recordings. While the camera didn't miss anyone entering my property, it was hard to dial down the settings enough to limit false positives.
Battery Life
Battery life was not the best, with the camera located outside a bedroom window I got maybe 3 weeks out of it. With it pointing towards a street and having trees in the garden, I think the motion recording was triggered too often. You can, of course, dial things down but then potentially miss intruders.
This is where zoned motion detection comes in handy. With the Eufy 2C, I get far less than the advertised 6 months, but it is normally around 3 months.
However, with the base stations, you should find that the battery life goes up exponentially.
Cloud Recording


Ezviz has both cloud and local recording, giving you more flexibility than the likes of Arlo and Ring. However, the cloud recording plans are a bit on the pricey side at £7.49 / month for four cameras. Ring is £7.99 for unlimited. I am sure they only used to do £4.99 per camera, so the prices have dropped a little.
Unlike Ring, you can use microSD, which will be a much more cost-efficient way of recording.
Price and Competition
The Ezviz C3A faces still competition with plenty of companies having years of experience with wire-free cameras.
Reolink Argus 2
The Realink Argus 2 is the closest competitor which is being an independent unit with no need for a base unit. You can currently pick it up for just £84 including a solar charger. This was also one of the first cameras to use a Sony Starvis sensor, which offers improved low light performance and colour night vision.
EufyCam 2C
The EufyCam 2C is easily my favourite system I have reviewed in the past year or so. You get six months battery life, colour night version recording, NVR compatibility and a spotlight with a two-camera system costing £230.
In comparison, the Ezviz C3A twin pack with the base station is £269.99
Overall
If you already have Ezviz cameras on your network, then the C3A is a logical addition to the system offering you some flexibility with a wire-free camera.
Beyond that, while this is not a bad camera at all, it doesn't quite stand up to the competition.
It is more expensive than the Reolink Argus 2 while not offering some of the features such as colour night vision.
The EufyCam 2C is about the same price if you want two cameras and offers vastly superior features all around, including a battery that lasts three times as long, a spotlight, colour night vision, human detection and zoned motion alerts.
However, my review was limited to just the camera by itself, some of the issues such as battery life seem like they would be resolved with a hub.
In particular, the 4G hub is a stand out feature that few competitors have, the Arlo Go is £268, and Reolink Go is £238 both per camera, though their 4G connectivity runs through the camera itself, meaning no power cable required.
So if you need to monitor a remote location (that has electricity to power the hub), then this could be an ideal solution.
Last update on 2022-05-18 / Affiliate links / Images from Amazon Product Advertising API