We don't often feature projectors on this blog, but we recently got to review the the Elmo Box-i T350 portable LED projector.  This is a somewhat unknown company to consumers because Elmo established itself in the education market, but is now looking at targeting consumers with this portable gaming projector. Unlike your normal home theatre projectors this is a tiny little thing weighing a mere 0.5kg with a footprint of around 15cm square that is capable of projecting images as large as 1.7m diagonally.
The BOXi T-350 features a single HDMI connection for video sources and a mini-stereo output jack for sending sound through an audio system, speakers, or headphones.  A full-function IR remote control is also included.
For efficiency, the BOXi T-350 employs a long-life LED lamp and features an "ECO" mode which reduces power consumption by 46%.  The projector uses a short throw lens which allows it to project  1.7m images from just from just 1.3m away. Rated at 300-lumen projectors, the BOXi MP-350 is built around a 1280×800 DLP chip.
When the box arrived it was surprising just how small it is, once I had got it out of the box it could fit in my palm and felt a bit too light if anything. While it is a bit of a silly comparison home theatre projectors can range from 3kg to well over 10kg.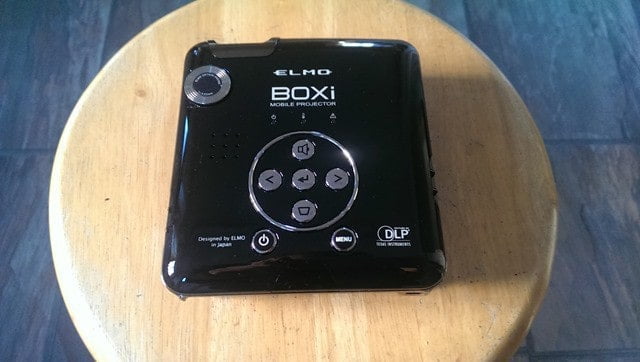 When setting up the Elmo with my PS3 and speakers I found its lightweight nature to be problematic. The weight of the cables was enough to move unit which as you can imagine completely messes up the alignment of the projected image. It was made even worse by the fact I am a bit of a clutz so knocking anything nearby the unit could make it move slightly.
Loading up my PS3 to play GTAV I found that the projectors cooling fans were annoyingly loud, it is considerably louder than the PS3 fan and has that slightly annoying high pitch hum of a small cooling fan. This is clearly a compromise of its size, there just isn't the surface area to cool the unit efficiently without a small fan running at a high RPM, and there certainly isn't enough room to fit a 120mm fan.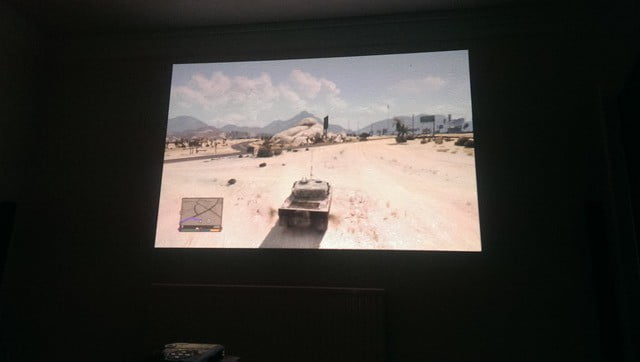 Once I got past the noise issue I found the BOXi T-350 quite fun to play with, its controls were easy, though it took a little while to get the image focussed the way I wanted. Colours seemed excellent and I didn't notice any issues with rainbow artefacts.
One of the major selling points of the BOXi T-350 is that its red, green, and blue LEDs should pretty much last the life of the projector. Elmo rates the LEDs at 20,000 hours which means that the running costs of the projector should be negligible.
Overall I found that the projector was quite a niche product because of its size and noise it is not really suitable for a main projector however it is targeting the portable marketing and it would make a great little device for gaming nights or in a more formal situation such as schools or offices for presentations. Due to its noise I am not sure how often I would want to use it for movies and the 3.5mm output means you would only be getting stereo output. It can be bought for as little as £426 online which makes it one of the more affordable palm projectors on the market and if you regularly hold gaming parties or do business presentations it is well worth a look.