Doogee may not be a household name, but when it comes to rugged phones, they are one of the biggest in the business.
I have recently been checking out their top of the range phone the Doogee S95. While it is not perfect, I found it to be a lot better than you might expect from a relatively unknown brand.
What is a rugged phone?
The term rugged phone is mostly self-explanatory, but there is more to it than just being more durable than your typical consumer orientated device.
All rugged phones have a high waterproof rating, some will only match the IP68 rating you get on the likes of the Huawei P40 Pro, but others, including the Doogee S95, go up a notch to IP69K.
The IP69K rating provides protection against ingress of dust and high temperature, high-pressure water – making products with this certification ideal for use in conditions where equipment must be carefully sanitised.
Most of them are then also built to the MIL-STD- 810G standard which is a series of tests developed to make sure a device would continue to work in an extreme environment.
Specification Overview
Weight: 284g
Dimensions: 168 x 79.3 x 13.8mm
OS: Android 9 Pie
Screen size: 6.3-inch
Resolution: 2160 x 1080
CPU: Mediatek Helio P90
RAM: 6GB of RAM
Storage: 128GB
Battery: 5150mAh with wireless charging
Rear camera: 48MP + 2MP + 8MP + 8MP
Front camera: 8MP
NFC: Yes
3.5mm: No
Extras: Modular design with a battery pack and speaker
Design and Display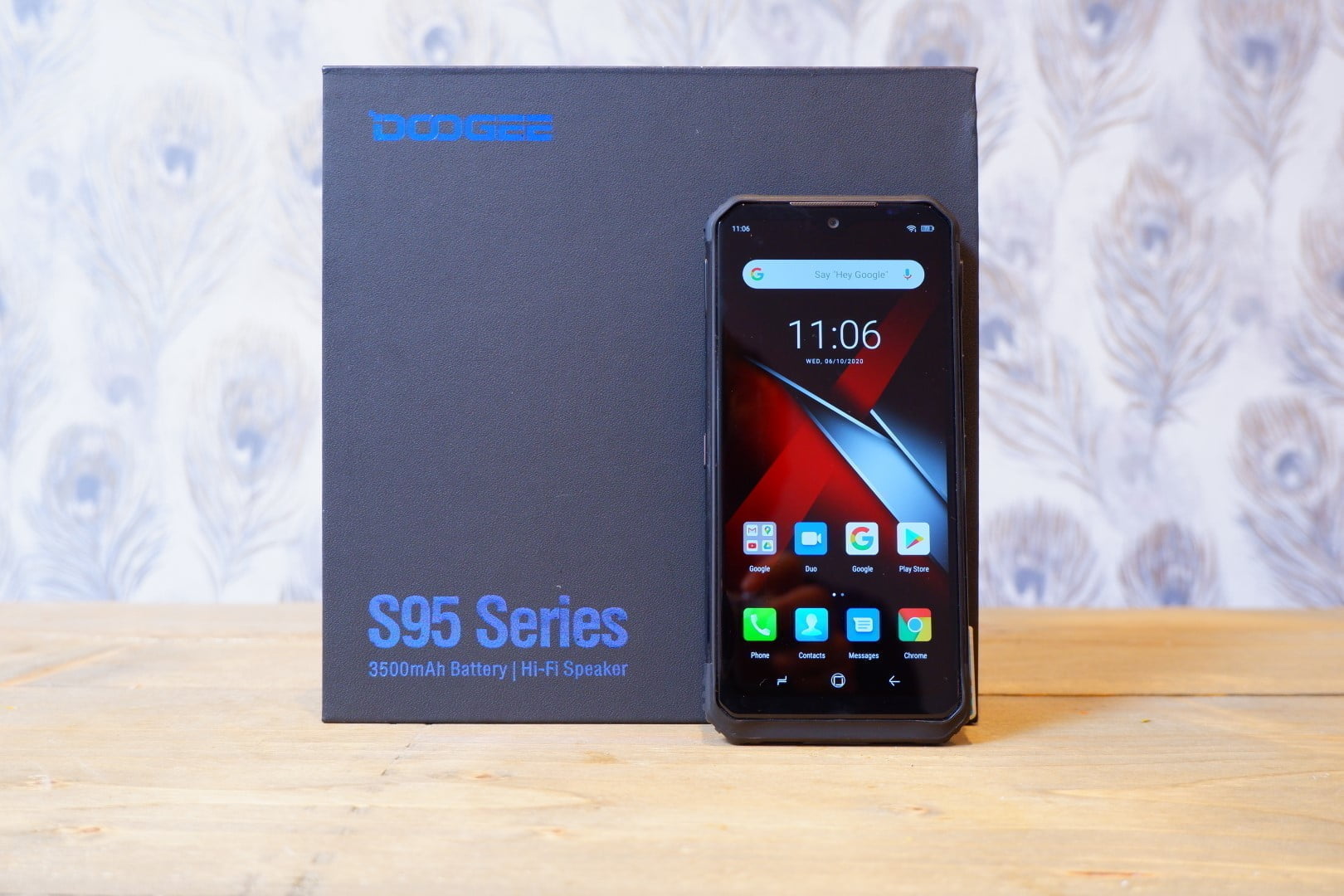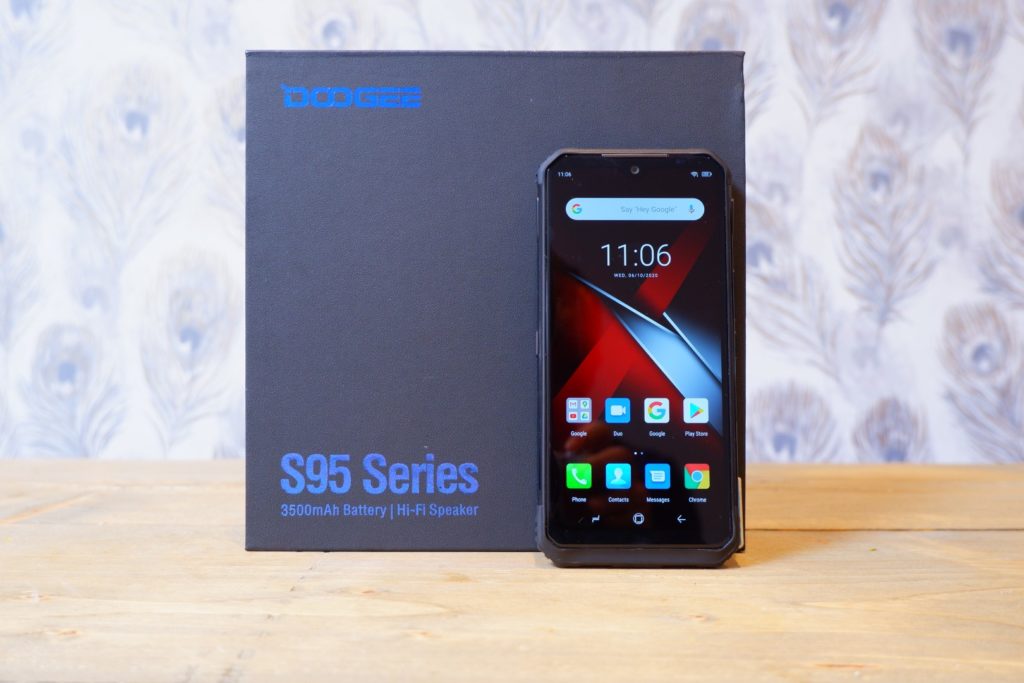 Talking about a phone design has become a monotonous affair with all phones generic slabs of glass. Not so here, while the underlying phone is quite generic, it is a bit piece of glass with a camera square on the rear, and a side-mounted fingerprint scanner, it is much more than that.
The phone feels and looks like it has had a third party rubber case glued to it, it is not the most attractive, but it is highly functional. The corners have extra thick rubber bumpers; then they also raise up past the screen providing protection from drops face down.
The two sim card slots and USB ports have special port protections protecting them from any ingress.
Then on the rear of the phone is a strange square of pins. This is the modular part of the phone, allowing you to attach the battery pack or speaker.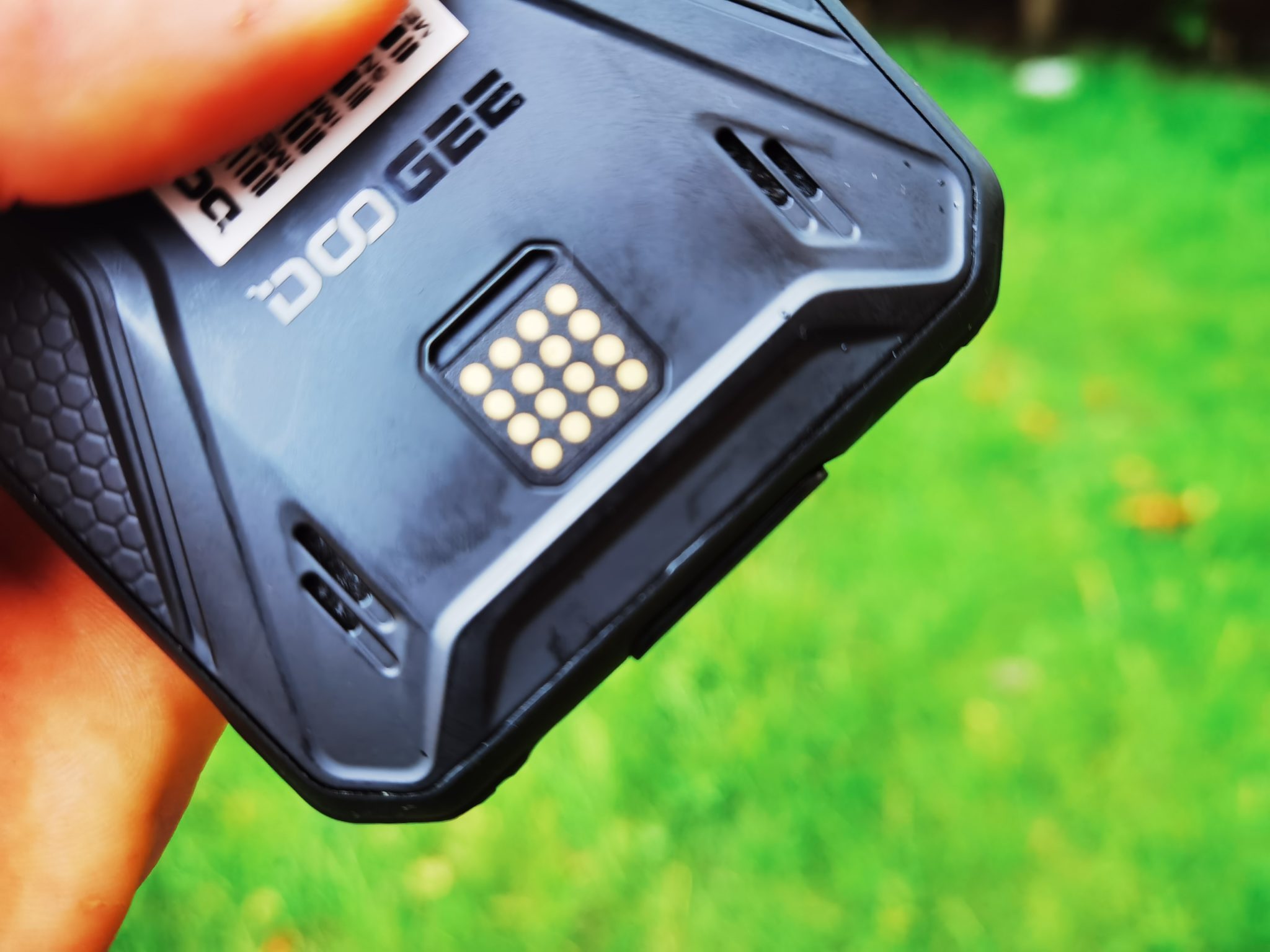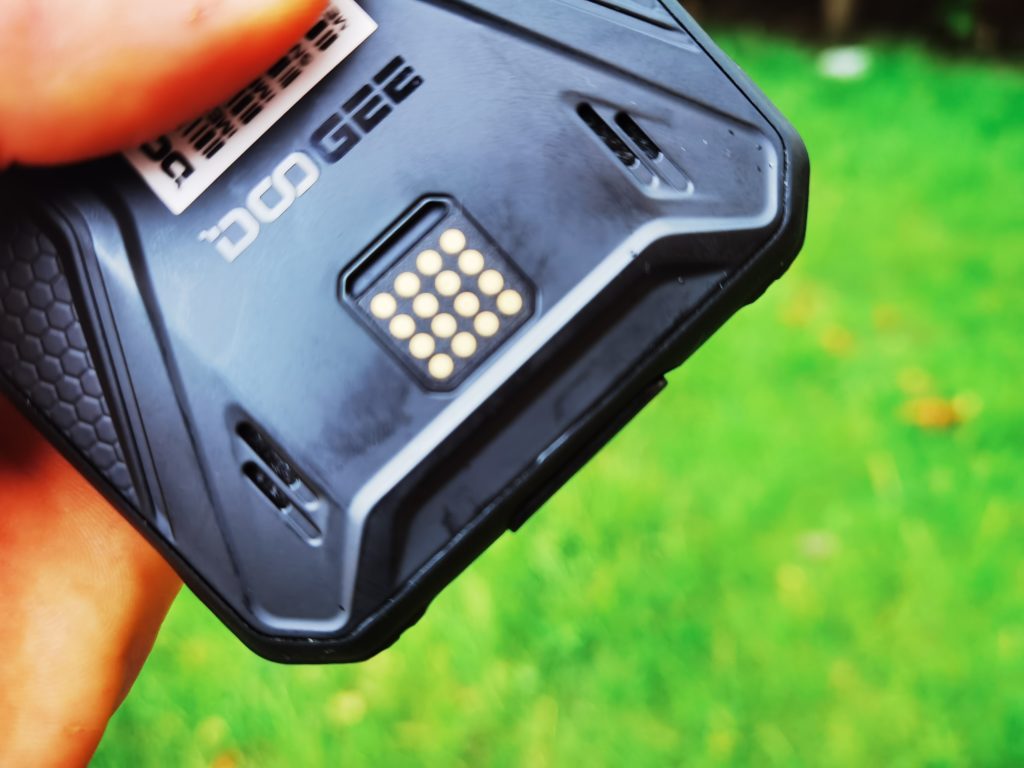 The display is IPS running at 2160 x 1080 with a dewdrop notch with large bezels especially at the bottom, but this is hardly an issue for this style of phone.
The quality of the display is OK. It is perfectly usable, but colour accuracy is not as good as mainstream phones, and screen visibility in direct light could be better. Both these issues are partly due to the limitations of the IPS display technology.
The phone also has a side key which can be mapped for several functions, one of which is an SOS call where you can set up the phone to call and text up to three contacts and have the phone enable the flash.
Camera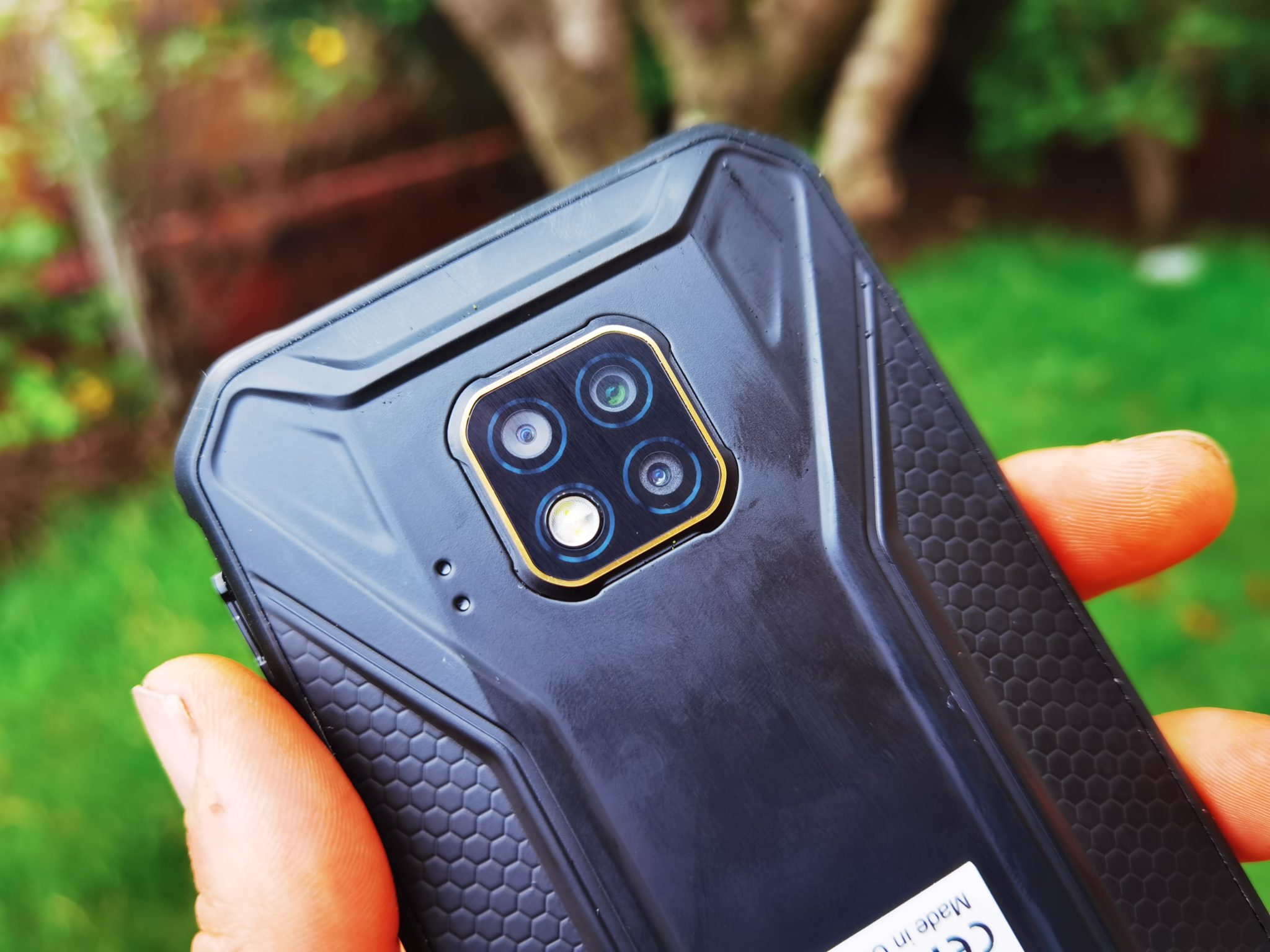 While the primary lens is better than expected, perfectly capably of producing some excellent shots, the ultra-wide lens is awful.
I have experienced multiple issues with this lens, on a good day, it will take a normal shot, but considerably worse quality than the main sensor. There is normally noticeable lag with the processing, but it is just about usable.
On other days, there has been considerable distortion around the edges and moderate laggyness.
On a bad day, it just locks up and won't allow you to photo anything until you force quit the app.
Anecdotally, this seems to occur more when taking photos in bright light.
The zoom function is better than the ultra-wide, but not something you want to use regularly.
To be honest, I expected all the cameras to be terrible, so having one semi-decent lens was a pleasant surprise.
Photo Gallery
Performance and Benchmarks
The S95 Pro uses a Mediatek Helio P90 chipset; this is very much a mid-range chipset offering similar performance to the Snapdragon 675 found in the £400 TCL 10 Pro or the £200 Realme 5 Pro.
This chipset is quite high end in the world of rugged phones, there are only a couple of other brands using better than this, and for a much higher price.
The chipset itself is perfectly decent for most day to day activities and can even handle some gaming relatively well.
Battery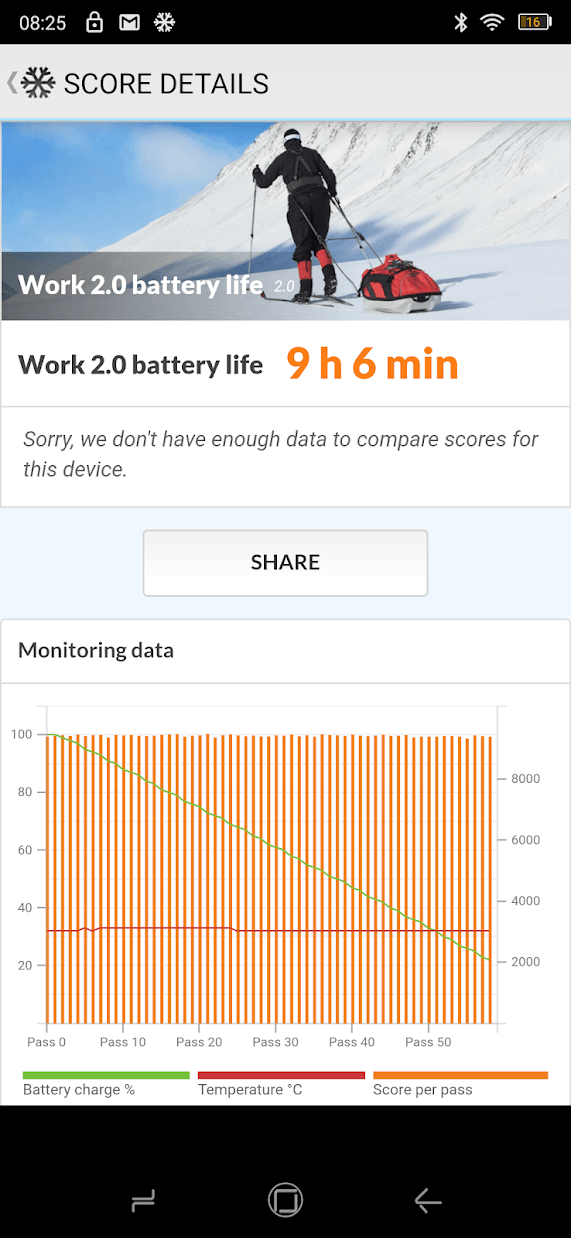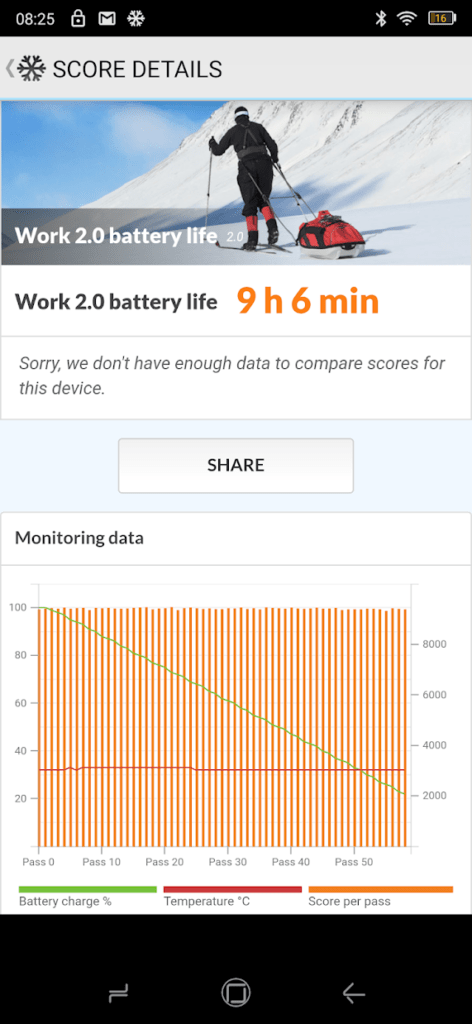 The combination of mid-range Mediatek chipset and 5150mAh gives this phone superb battery life.
Using a synthetic PC Mark battery test the phone only manages to achieve 9 hours 6 mins, but I suspect this is Mediatek's bad habit of running the chipset at higher frequencies when benchmarks are run.
In real life usage, you should easily get over a day of heavy use. Combining this with the battery pack, I would expect a couple of days of heavy use, maybe 3 days moderate use.
Software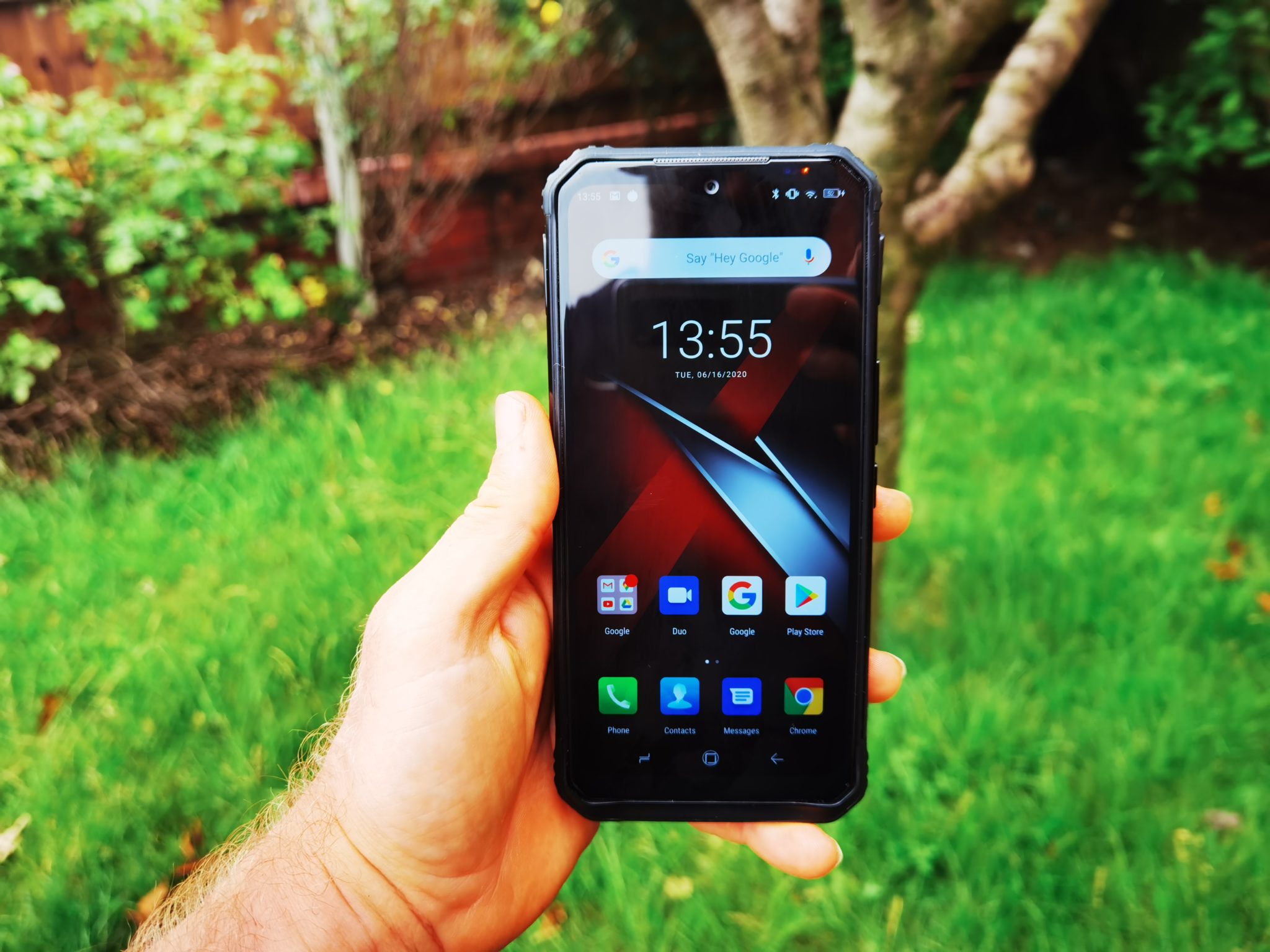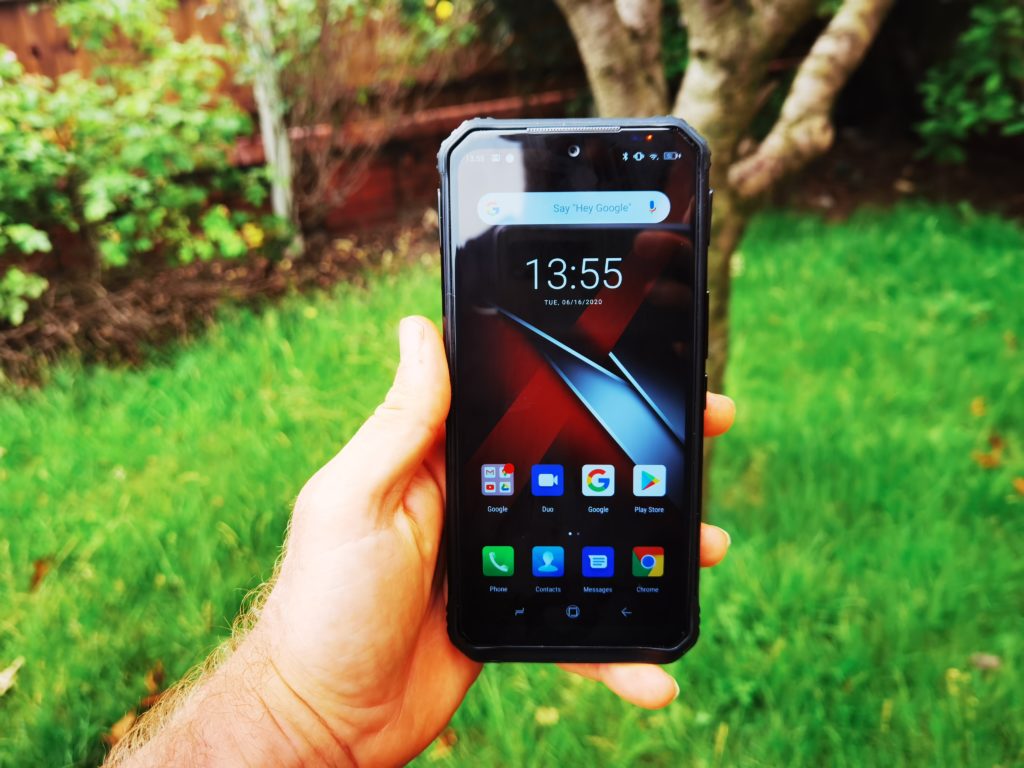 The software side of things is not great, this is running Android 9, and there appears to have been no updates so far this year. While the phone is perfectly usable like this, app compatibility and security issues could become a problem in a year or so. This is a common issue with affordable phones and lesser-known brands. Even big brand names can be poor at updating their affordable phones, but at least they normally launch with the latest version of Android.
There is no app drawer, so all your apps will get dumped onto the home screen. This is not uncommon nowadays, but it is nice to have the option. You can easily switch to a different launcher though
You get quite a lot of pre-installed apps too, some of these are DIY/trade orientated with a compass, gradient metre, heigh measurement, and plumb bob. All of these apps are available via Play Store (or similar apps), so there is no unique functionality added that I am aware of.
Accessories – Battery Pack & Speaker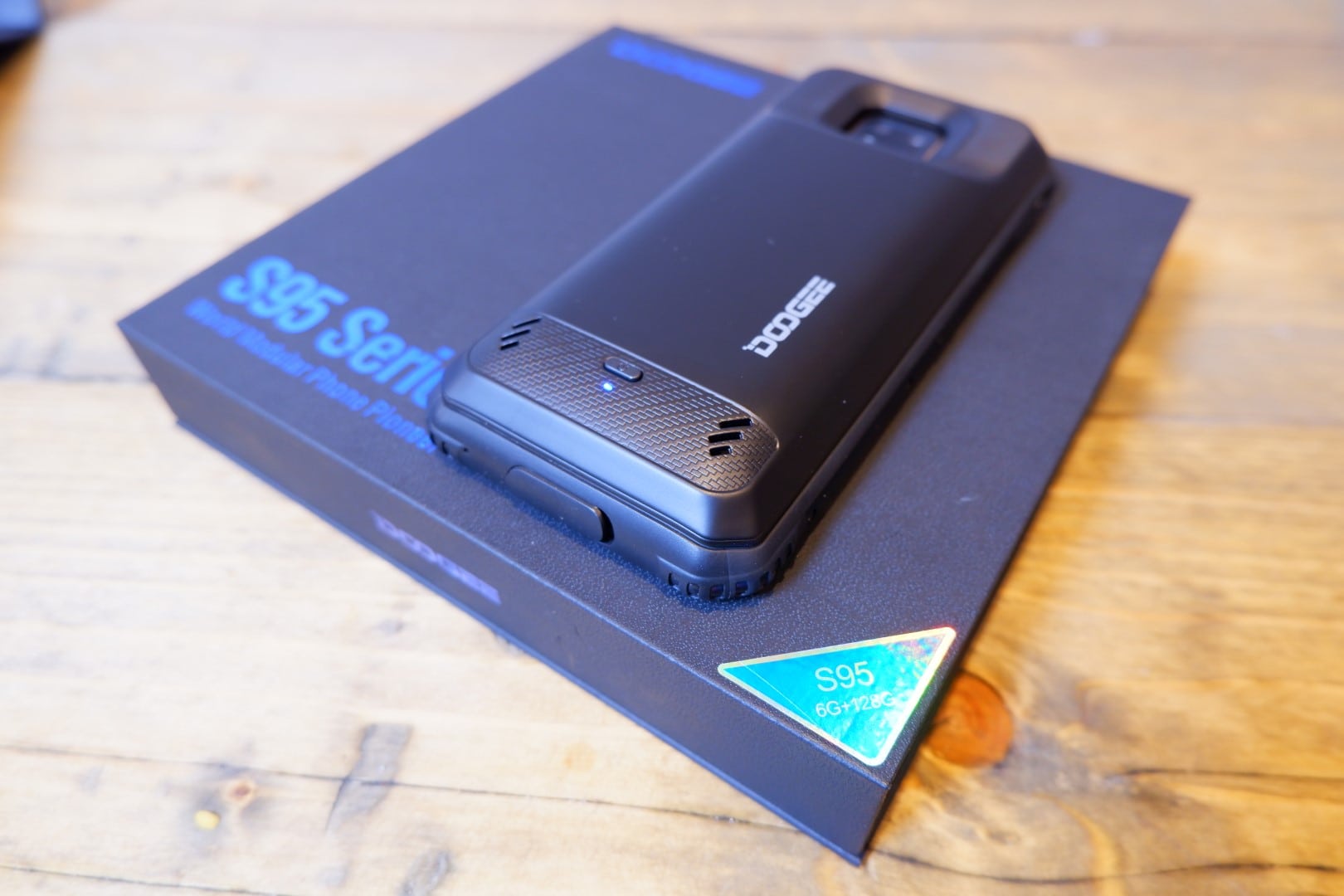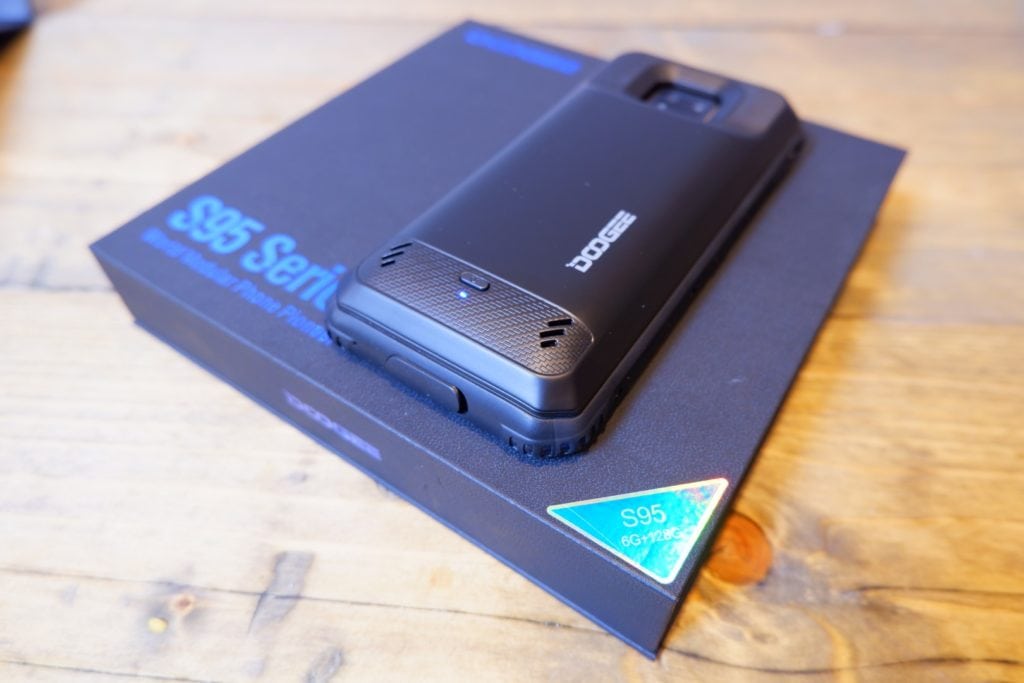 The modular nature of these phones is what differentiates it from competing brands such as Blackview and Ulefone.
My sample is the Doogee S95 Super, with the Super moniker indicating it comes with speaker and battery pack.
Battery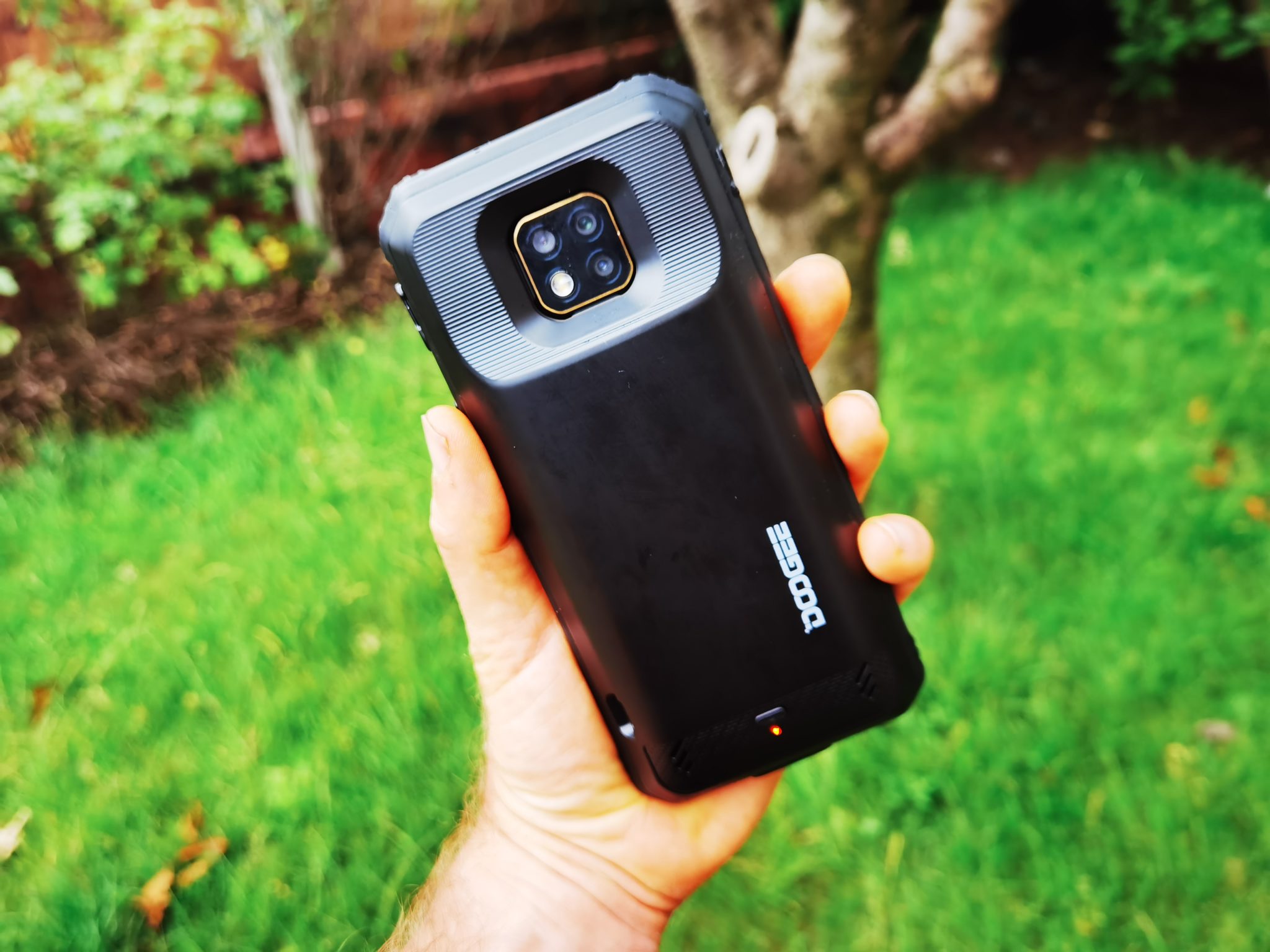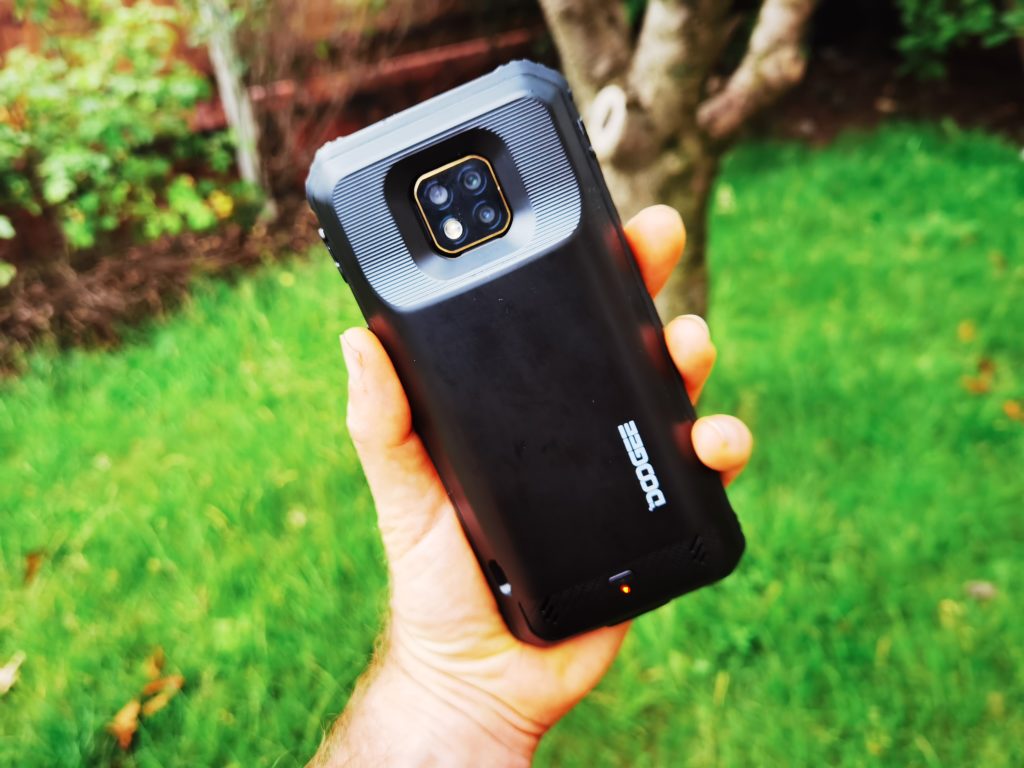 The battery pack holds a 3500mAh charge which in theory would give you a 66% boost in battery life assuming no energy loss. It clips on magnetically with nothing else to lock it in place, so I imagine it would be possible to knock it off in your pocket or bag reasonably easily. Apart from that, I think this is a superb idea, it is much more convenient than a power bank with a cable, and if you are on a building site or somewhere remote, you may not have easy access to mains.
Speaker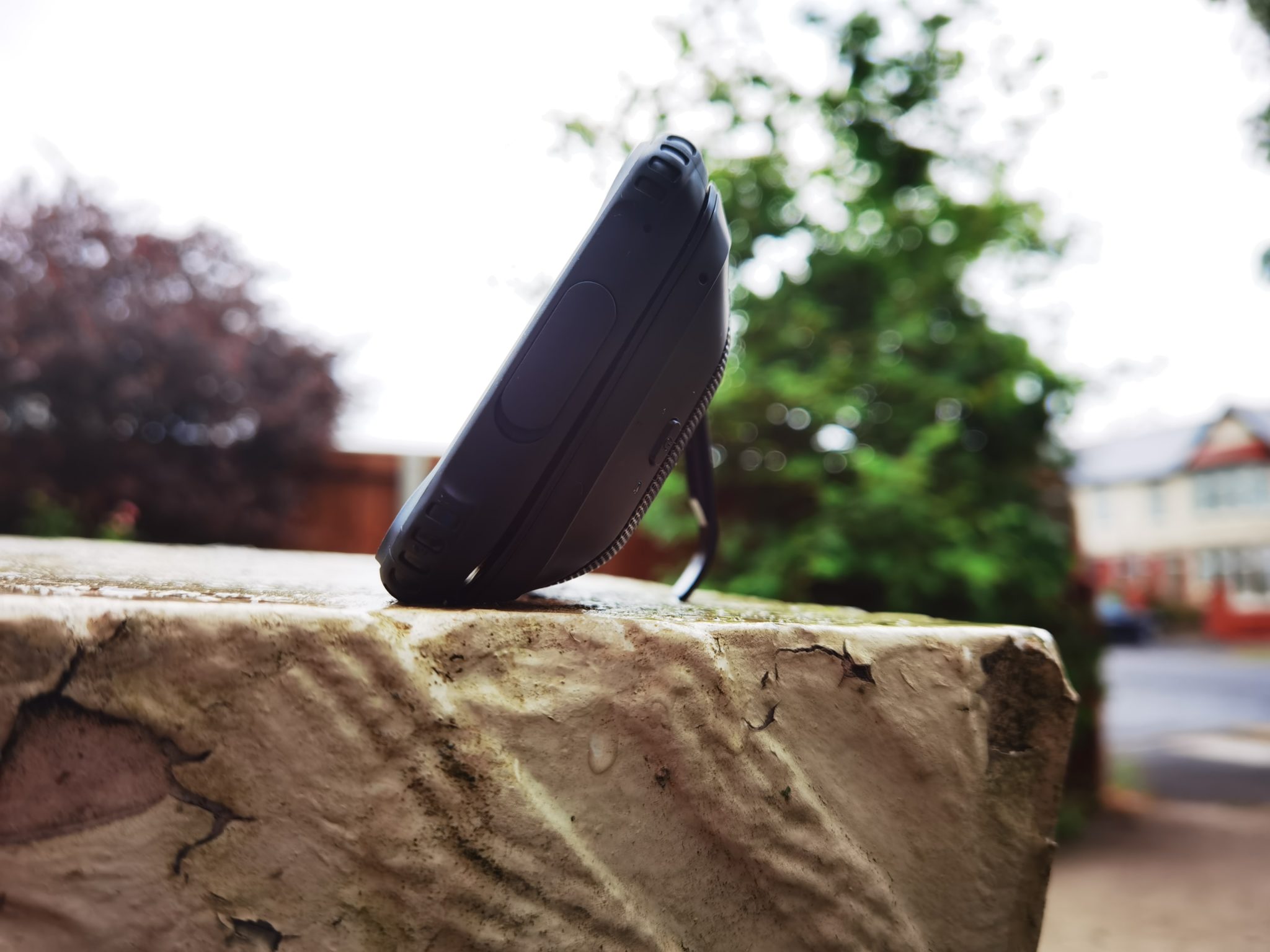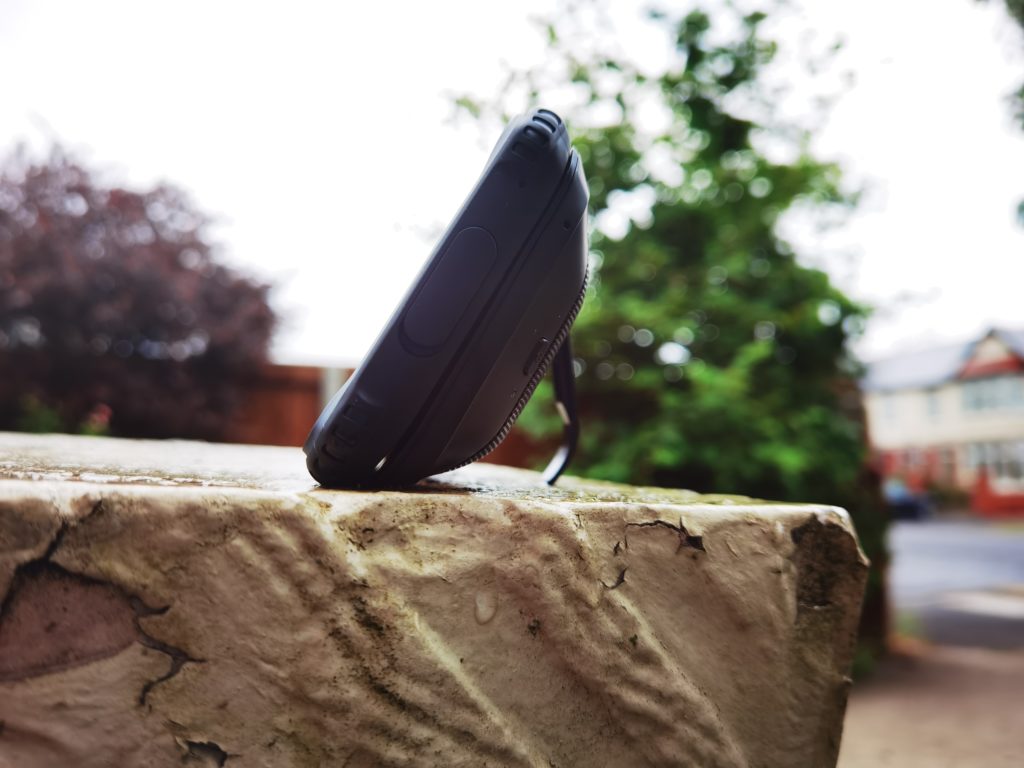 The speaker attachment is also surprisingly useful too. Again, if you are working away and don't have access to a laptop or other device for media, this is great to be able to watch movies and TV. There is a built-in flip-out stand too, so it props the phone up in the perfect position to watch media.
It is worth noting that the accessories are not rugged, so they lack the waterproof rating and MIL-STD- 810G.
Pricing & Competition
I have made a more thorough list of rugged phones in a previous post, but there are three likely alternatives
The Blackview BV9900 has a very similar specification but lacks the modular design, it costs a little bit more but has 8GB of RAM and 256GB storage.
The older Blackview BV9800 Pro uses a slower Helio P70 chipset but has a 6580mAh battery and an FLIR thermal imaging camera, this seems to be one of the most recommended rugged options on the market.
The Ulefone Armor 7 has an almost identical specification but lacks the modular design.
Conclusion
I had very low expectations with the Doogee S95, it is not a company that is well known for superb phones, and many of the low to mid-range Mediatek chipsets don't have the best reputation.
It is not amazing, I am not going to swap out my P30 Pro for it any time soon, and there are a few serious flaws with it.
However, I came away surprised at how good this was; the chipset is more than powerful enough to run this as your daily phone without it annoying you. The primary camera is perfectly decent for casual use, and the phone itself doesn't feel too chunky to use as a daily driver. The modular magnetic accessories appear to be genuinely useful and something unique compared to competing brands. The price is good too, undercutting other options based on spec, and I don't feel like you are paying too much of a premium from the ruggedised features compared to mainstream phones.
On the downside, the ultra-wide lens is bordering on unusable, and it is still on Android 9, from what I can tell, there have been no updates issued this year. So, while this phone may physically survive several years of abuse, I suspect in a couple of years the software on the device will start to cause you serious issues. Sadly, this is a common issue with many of the rugged phone brands (and generally many other smaller/affordable Chinese manufacturers).
Overall though, if you need a rugged phone, and want to use it as your daily device, the Dooggee S95 should be a strong consideration. It offers reasonably good value for money, and much better than average performance compared to other rugged options.
Last update on 2022-06-19 / Affiliate links / Images from Amazon Product Advertising API