D-Link DCS‑2802KT‑EU Wire Free Camera Kit Review
Product Name: D-Link DCS‑2802KT‑EU Wire Free Camera Kit
Offer price: 299
Currency: GBP
Summary
Competitive pricing makes the D-Link DCS-2802KT an appealing choice over Arlo and Eufy. It is not flawless but I doubt it will be an issue one you set it up and leave it to do its thing.
Conveniently following on from the Anker Eufy E review, I have also been checking out the new D-Link Wire-Free Camera Kit. Functionally this is very similar to the Eufy E, and the Arlo Pro which both of these systems will be trying to steal some of the market share from.
The D-Link has an RRP of £442.00 which is frankly ridiculous if they want to compete with Arlo. However, this has quickly dropped in recent months, the first few days of March is dropped as low as £229, and it currently sits at £299. Both the prices are much more reasonable undercutting both Arlo and Eufy.
[content-egg module=Amazon template=list]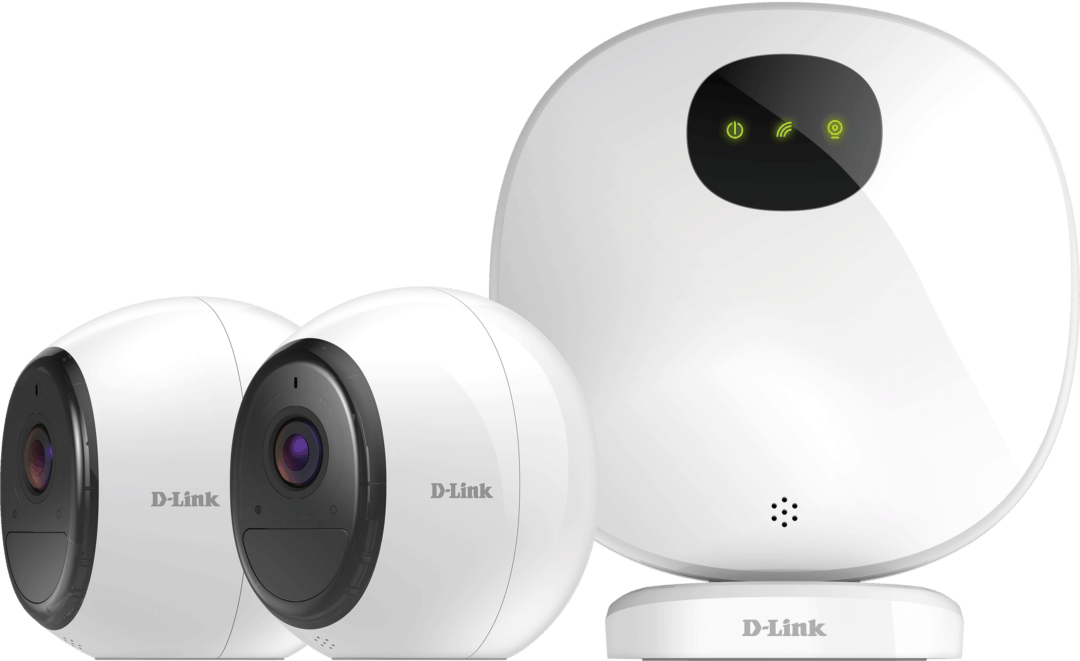 Similar to the other systems this is a wire-free outdoor camera with a home base. All three options have a similar camera design and mounting mechanisms. D-Link includes both magnetic indoor mounts and screw on outdoor mounts which is more generous the Arlo.
Each camera can do 1080p Full HD, is IP65 rated and has a loud 100 dB Siren. Each camera in the Kit comes with a 6700 mAh rechargeable Li-Ion battery, giving you uninterrupted surveillance for months on a single charge. Specifics of the battery length are not mentioned, and it is worth noting that the batteries are not removable, so when you need to charge them, your surveillance will be down. I doubt battery life will be a concern, they don't take that long to charge, and if you do it when you are at home it is unlikely you will be burgled, plus you should only have to do it every few months.
As the battery can't be removed, the camera will have a limited lifespan: once the battery is exhausted and can't hold a useful amount of charge any more, you'll have to throw away the camera. I would expect this to take a few years though, so you should get your monies worth.
The hub also has a microSD card slot and a USB port for connecting external hard drives and storing videos locally. The unit also comes with one year of free cloud recording. Beyond the first year, you will have 1 day retention or the basic plan ups this to seven days of storage for £2.29 per month or £21.99 per year, and the Premium is £4.49 per month or £43.99 annually and finally Pro with 30 day retention at £8.99 and £87.99. This is where both D-Link and Eufy fall a little short, as Arlo has recurring 7 days of free cloud recordings. Eufy doesn't have cloud recording yet, but D-Link Premium is cheaper than Arlo Premier however only offers 14 days recording, and the Pro is more expensive than Premier.
The camera plays nice with both Alexa, the Google Assistant and IFTTT. Now you can stream live video from your camera to Amazon Fire TV, Echo Show, Echo Spot or Google Chromecast. I wasn't able to test the streaming function as I don't currently have a smart display to hand, but this is a feature I am particularly interested in, and I have been very frustrated at the lack of support from Ring for this.
Additional cameras will set you back £139.99, and you can use other cameras from the D-Link range all within the mydlink app.
Overall, on paper, the system ticks a lot of boxes, it cheaper and arguably better specced than the other models.
Setup & App
I had some issues getting this system to work, but I got there eventually. When it arrived, the cameras were already on so I am not sure if this caused an issue.
The set-up process is similar to most other devices, download the app, sign up and scan the QR code on the camera, and do the sync process. For some reason, my system would not connect at all, and after about 5 attempts I did a hardware reset, then it worked straight away. So if you experience issues, do a hardware reset and see how you get on, as it was extremely quick once I had done that.
The D-Link app isn't as nicely designed as the Eufy or Arlo, but it is easy to navigate and functional, it does, however, have the occasional time out when trying to view a live feed. My placement is different with this review, with the base unit in my office and the cameras a bit further away from each other, so this could explain the occasional issue.
With everything set up you have the usual setting that you can modify including switching the microphone on and off, altering the sensitivity (but not trigger length). There is an anti-flicker option allowing you to switch to 60hz instead of 50.
When viewing a live feed, you can enable or disable the mic, push to talk, take a snapshot or start a recording. The preview images give you a battery level for each camera and signal strength; when the battery goes low you will get notified
There are some interesting automation functions which Eufy at least does not offer. One Tap allows you to customise how the system works in different situations. For example, when you leave the house, you can tap the 'Away' status via the app and a customisable cause & effect will start. For example, when you leave the house, you can tell the system to sound the alarm on motion activation or say you have guests over, you can select privacy mode, so the camera doesn't record.
Performance
Performance is good, I would say a bit better than Eufy, though my placement is different and there is different lighting. Both are certainly good enough for security. The cameras have a nice 140-degree wide-angle lens (slightly wider than the 130-degree Arlo), so with the camera pointing at my front door, it covers a wide area easily being able to record people walking down my path left or right.
Motion detection is excellent so far, outdoor cameras are very prone to false positives, but so far this has done very well. The camera that sits outdoors has a bush to the left of it; my wired cameras are constantly triggered by the motion from the wind or even shadows when it is sunny. I have only used this for a few weeks, but so far it has not caused any false positives.
Overall
Based on the current pricing and not the RRP this is a decent system, and if you can pick it up for its lowest price of £229.99, I would say it is a great system.
That being said, it is far from perfect, set up for me was glitchy, the app isn't as nice as others, there is no zoned detection, and connecting to a live feed can take a couple of goes. However, I don't regard this as too much of an issue, for me home surveillance should be a set it and forget it situation, and once this is up and running, it works well.
Motion detection is accurate, the videos are decent quality in both daylight and night time, plus the 140-degree lens capture a large area. Cloud recording pricing could be a little better, but for me, if I am buying a more affordable system, it is the local storage that is more important.