Aqara Smart Wall Switch H1 (No Neutral, Double Rocker) Review Rating
Summary
The Aqara Smart Wall Switch H1 EU with its no neutral design is a superb affordable smart switch. It integrates seamlessly with the rest of the Aqara ecosystem and you can expand its functionality with other smart home systems via Home Assistant.
Pros
Easy to set up
No neutral wire needed making it one of the few options that work in many UK homes
More affordable than most alternative options
Far superior to WiFi options
Attractive/neutral design
Cons
No Dimming
Will require a back box deeper than 35mm
Following my review of the Aqara Camera Hub G2H, I have been checking out the Aqara M2 Smart Hub and the new Aqara Smart Wall Switch H1.
The Aqara Smart Wall Switch H1 model I have used is the no neutral, double rocker EU variant. It is exactly the same as the standard H1, but as you can guess, there is no need for a neutral wire which means it should work in most UK homes even if you have older wiring.
This is just an on/off switch with no dimming. You can remap the buttons to control other automations if you require.
See Also: The best Z-Wave & Smart Home Switches & Buttons
Sale
Aqara Smart Wall Switch H1 Light Switch Depth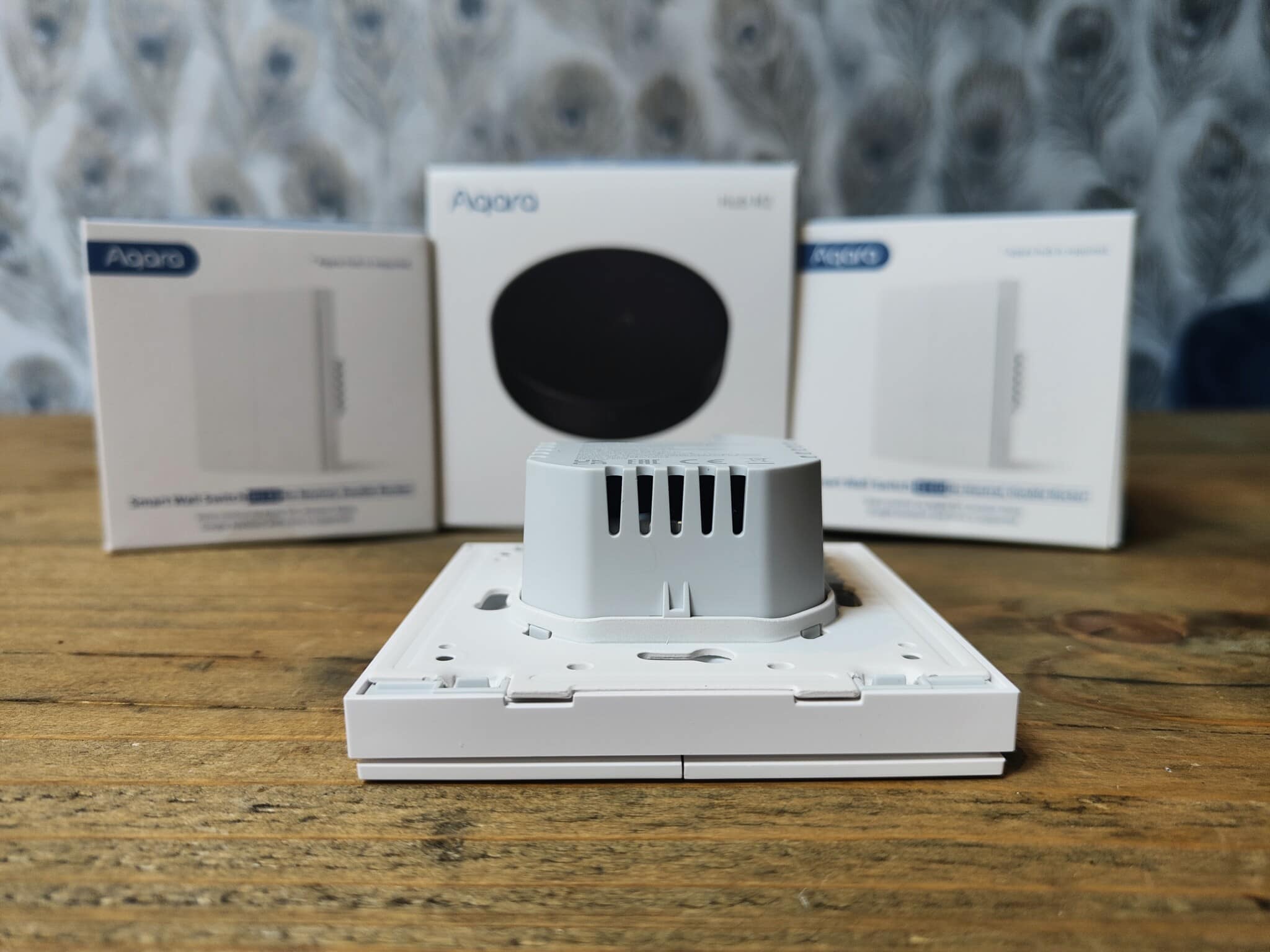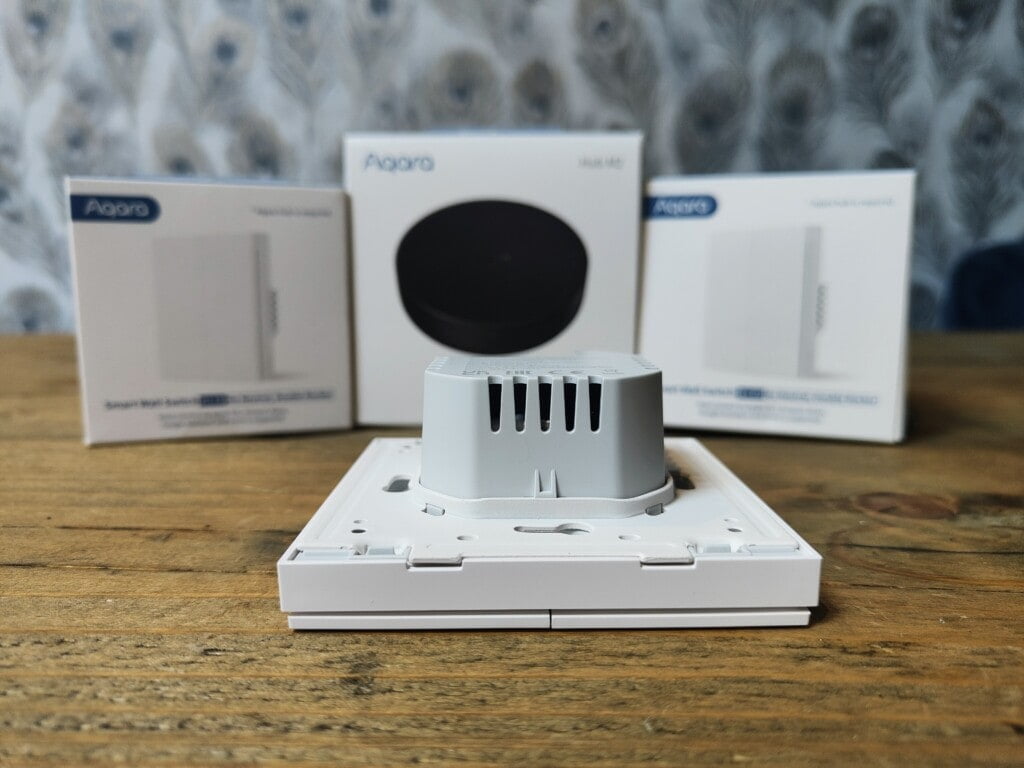 Even though this should work in most UK homes, there is a good chance the back box of your light switch won't be deep enough. This is a problem that has plagued me every time I have tried out smart light switches.
The standard depth for a UK back box is 35mm. The Aqara switch has dimensions of 85.8mm × 86mm × 37.55 mm. So you will need a deep back box.
When I had my kitchen renovated, I had deep back boxes put in for this exact reason. However, even with this I struggled to squeeze it in due to the two-way cables filling up some of the space so I had to use a gang spacer plate to add a bit more depth. It is not the most elegant of solutions, so I will likely need to get an electrician in to sort it out properly at some point.
Installation & Set Up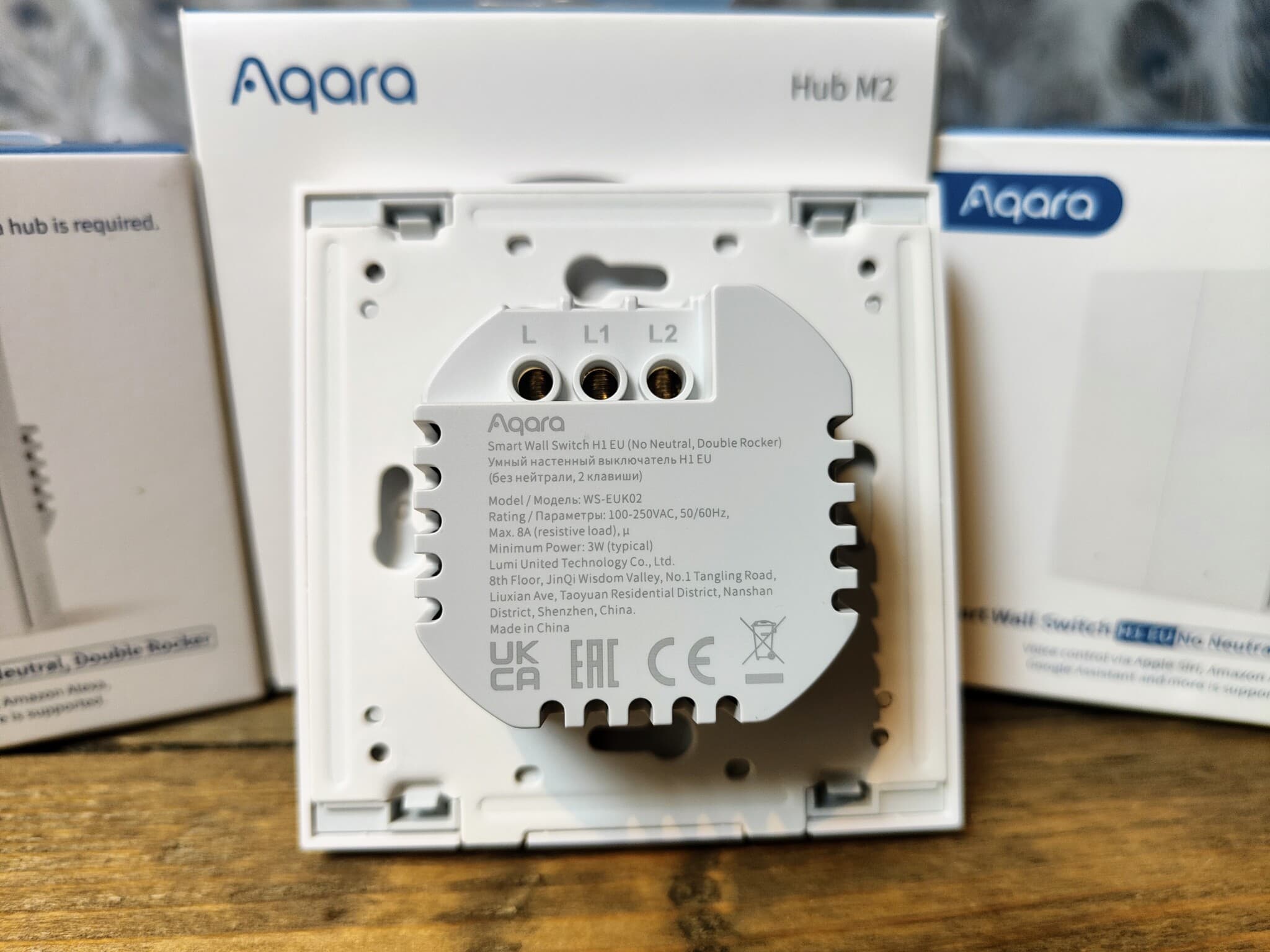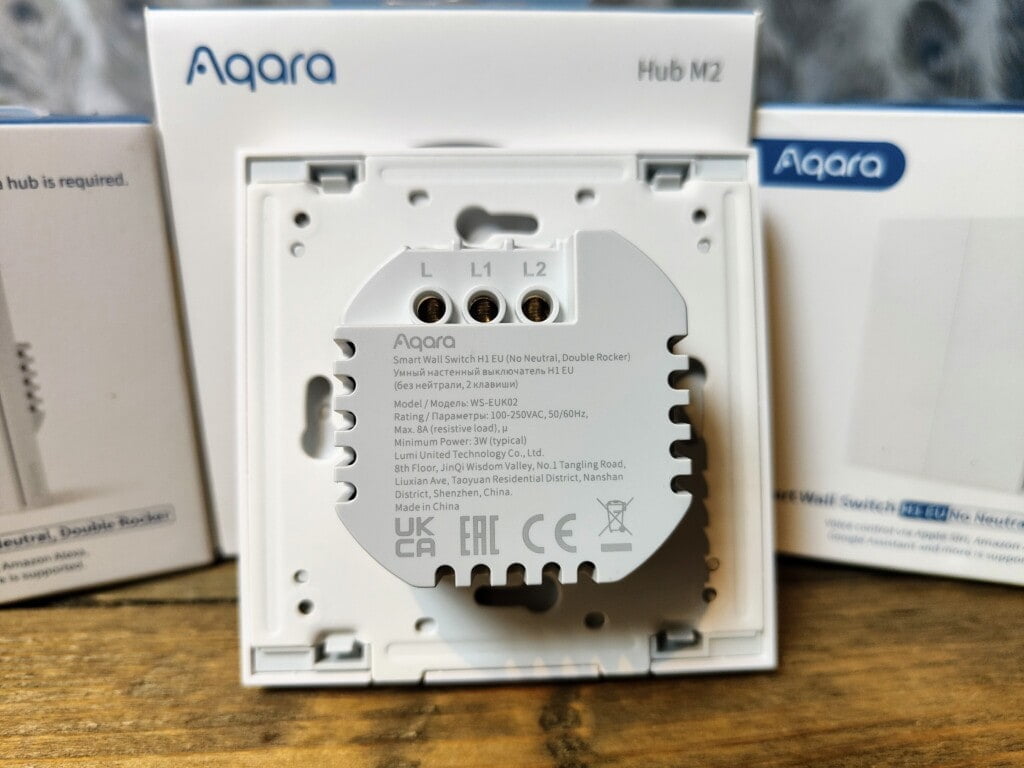 I am certainly not an expert with DIY, and doing anything with electrical wiring is always a bit daunting, but it is quite easy.
With all the lights switched off at the mains, it is just a case of unscrewing your existing switch and swapping things over. Just to be safe, I always take a photo of the existing wiring and also double-check the wiring colours online.
You will need to detach the front plate of the Aqara, so you expose the mounting holes for the screws.
Once screwed in, you can just clip on the front plate again. With the physical installation done, the light switch will as a standalone unit, so I checked that the light was working for each gang before I screwed everything in and set up the system.
From the Aqara app, you will follow the standard set-up. Select the accessory you want to add and follow the instructions, this includes holding down the switch for 5 seconds until the blue light starts flashing. With set-up mode activated, the hub identified it extremely quickly. I have been quite impressed by how quickly things get detected and activated with Aqara.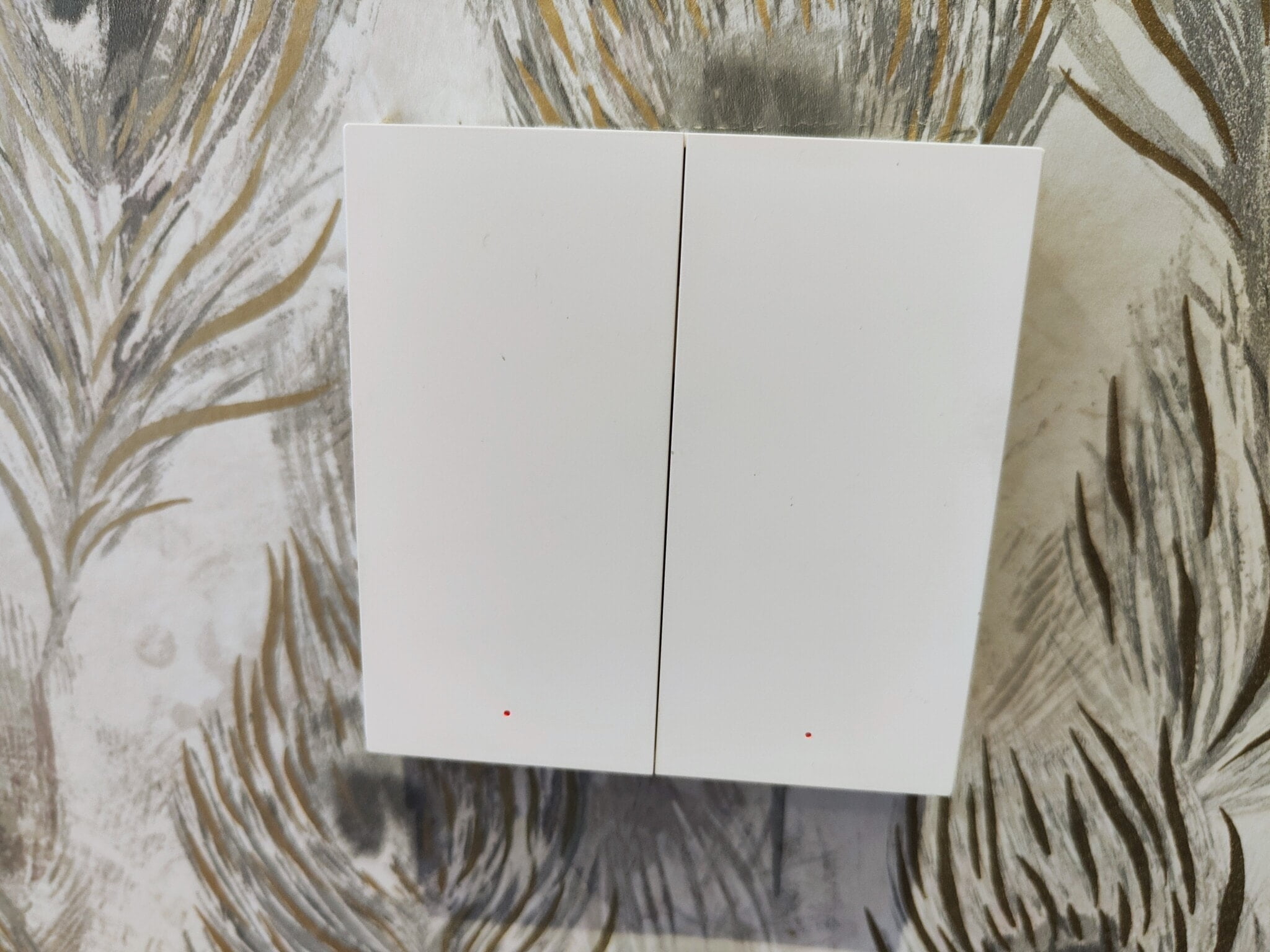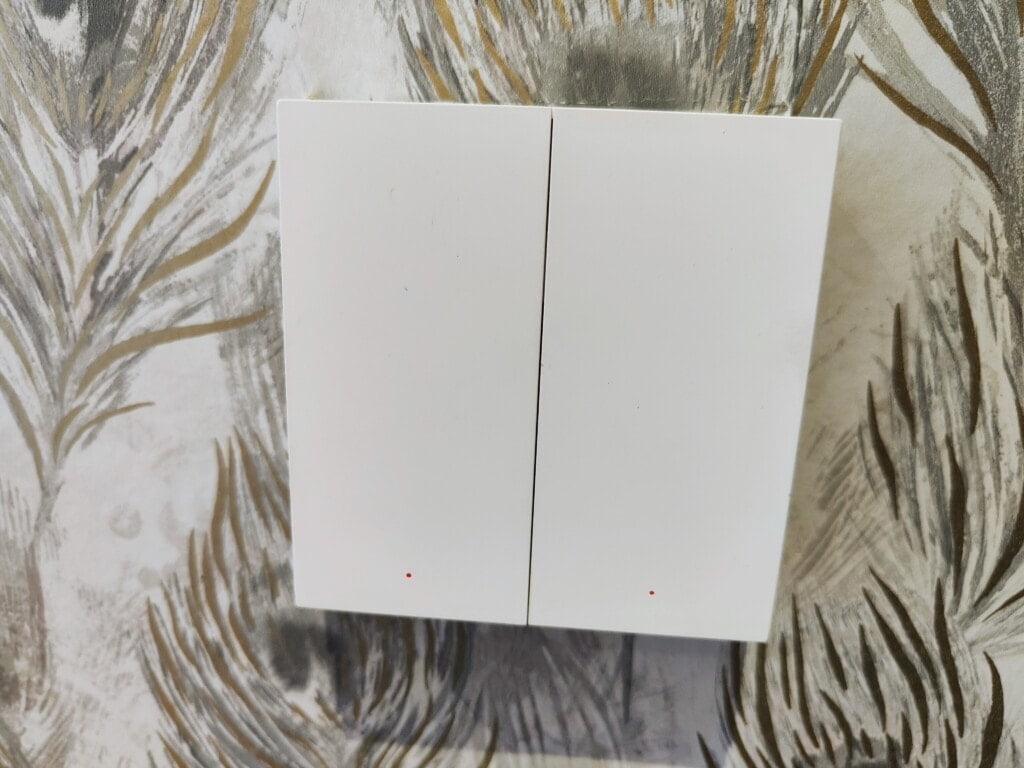 Remapping Buttons
It is possible to disable the light switching capabilities of the buttons and remap them to something else. I assume this will work if you only have one gang of lights wired but then use the double rocker switch with the unwired button automating something else.
Within the app, you can go into the switch settings and change to a wireless switch. Then remap the button press to whatever you want.
Page 2 has the automation features, price and alternative options and my final thoughts.
Last update on 2022-06-19 / Affiliate links / Images from Amazon Product Advertising API