Alcatel 3V Review
Product Name: Alcatel 3V
Offer price: 109
Currency: GBP
Availability: InStock
Appearance -

90%

Specification -

70%

Camera -

85%

Battery -

70%

Price -

90%
Having been previously impressed with the Alcatel A7 which retails for £189 I have now been sent the new Alcatel 3V to try out. This phone is well into the budget territory and costs just £95 on Tesco Mobile, which is only a small amount more than the Umidigi A1 Pro, but you will get a proper warranty and easy returns to Tesco if something is wrong with the phone.
I usually prefer Amazon but at the moment it is listed at £171.76 which is quite a big difference.
[button link="https://mightygadget.co.uk/alcatel-3v"] Buy the Alcatel 3V from Tesco[/button]
While this is a budget phone, Alcatel has managed to make it look like something far more expensive. You get a massive 6.0-inch display running at 1080 x 2160 pixels giving an aspect ratio of 18:9 and a screen to body ratio of 75%. It is not quite the 83+% the OnePlus 6 achieves, but this still looks modern with nice slim bezels.
Even with a decent screen to body ratio, the 6-inch display makes this quite large. Considerably larger than the A1 Pro and fractionally larger than my daily phone the Mate 10 Pro.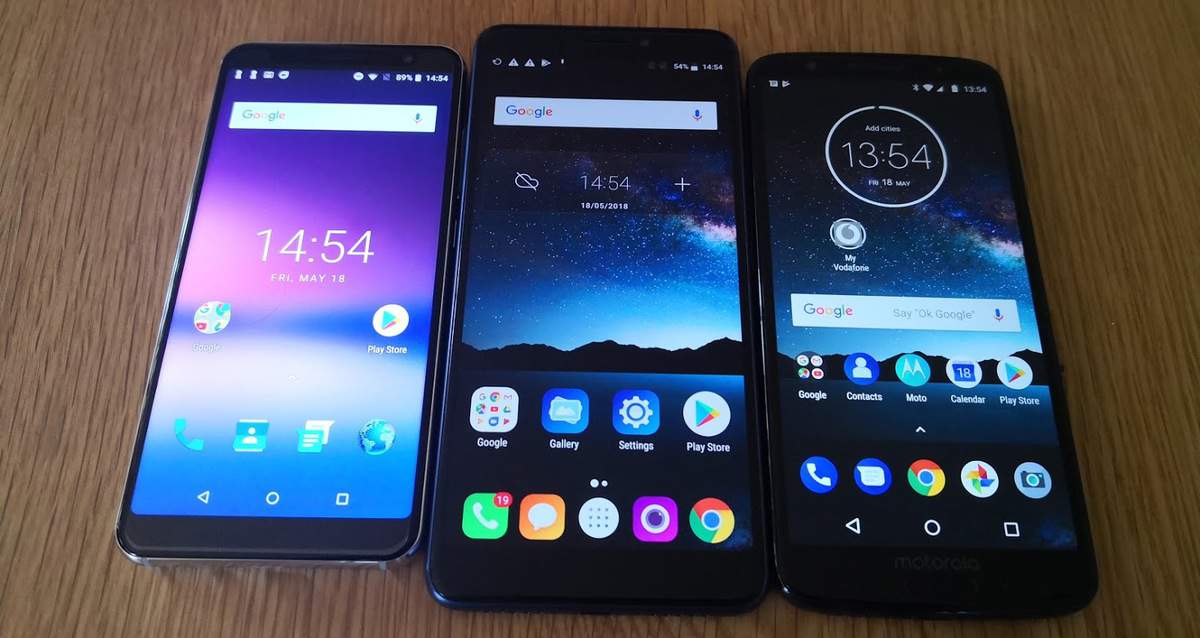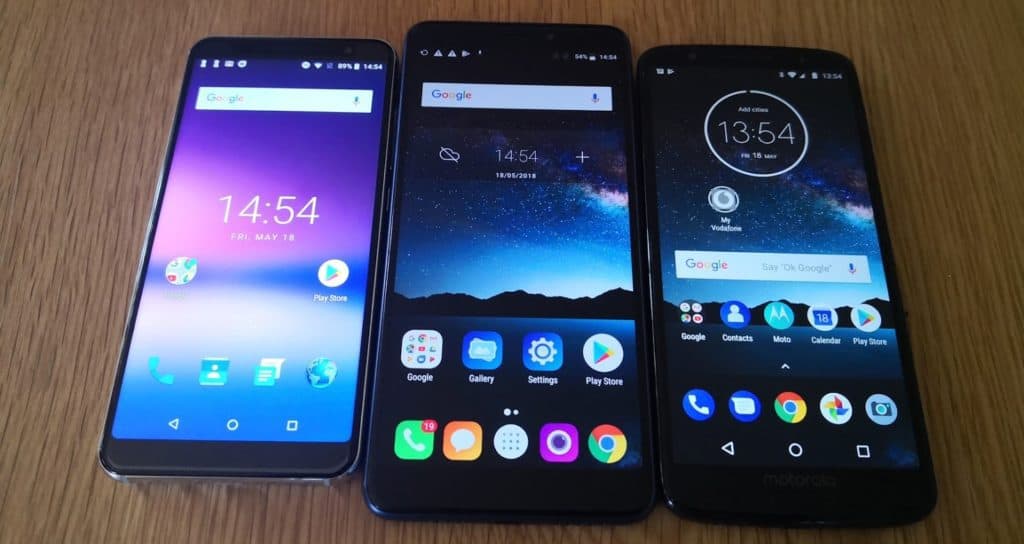 Similar to the Alcatel A7 the 3V cuts costs by using a plastic body which gives it a lightweight and slightly cheap feel to it, but plastic is not all bad, it will be far more durable the popular glass body trend.
The model I have been sent is in an attractive metallic blue, which covers both the back and the sides.
The full specification of the phone includes:
Display: 6.0 inches 1080 x 2160 pixels, 18:9 ratio (~75.5% screen-to-body ratio)
OS: Android 8.0 (Oreo)
SOC : Mediatek MT8735A – Quad-core 1.45 GHz Cortex-A53 – Mali-T720MP2
Storage : 16GB (32GB model available too), expandable via MicroSD
RAM : 2GB
Rear Camera: Dual: 12 MP (f/2.2, 1/2.8″, 1.25 μm, PDAF) + 2 MP (f/2.4, 1/5″, FF), phase detection autofocus, LED flash
Front Camera: 5 MP, LED flash
NFC – Yes
Battery – Non-removable Li-Ion 3000 mAh battery
USB : microUSB 2.0
Specification wise there is nothing particularly special about it, the storage has 10.6GB useable which will fill up very fast, but a decent microSD card can increase that exponentially.
It would have been nice to see USB Type-C just because I now have more of the cables. The much more expensive Huawei P Smart uses this cable still, so it looks like a standard that is sticking around for a little longer.
Performance & Software
With the Mediatek MT8735A SoC and 2GB of RAM you may expect this to run poorly, this is a 3-year-old chip now. However, running Android 8.0 it appears to run quite well, I experienced no noticeable laggyness when browsing apps or going through menus, and social media works well.
Android 8.0 appears to handle the relatively low amount of RAM quite comfortably, and I have found this phone to work perfectly well for my day to day tasks.
Alcatel has used the same Joy Launcher as the A7 which has a slightly cartoony look to it, while it looks nice, I prefer something a little more clean and modern. It is easy to switch to Nova though.
There isn't a huge amount of additional software installed, but there are at least 3 notable additions. Alcatel apps which appears to be their own app store and something I immediately ignored. Enjoy.now which seems to offer discounts and rewards, again I ignored it. Lastly, there is the Alcatel File Manager, which I am not sure why Alcatel insist on using as it regularly gets criticised online. My previous experience with File Manager had it forcing notifications on me about optimisations. This time around it hasn't done that to me yet, so maybe it has been updated.
Camera
The camera can occasionally be a little hit and miss; sometimes I found it took fantastic shots, much better than expected from a phone of this price. Other times the shot would initially look OK but then looking at the details there is some blurriness, I suspect this may be due to no optical image stabilisation combined with my slightly shaky hands.
There is a bit of lag with loading the camera app up and then some shutter lag. Not as bad as the A1 Pro, and I experience no glitches with the app, unlike the A1 Pro.
You get a few additional modes over auto, and you can shoot in HDR and there is the ever popular bokeh style that you can apply to images.
My overall impression of the camera was excellent though. It doesn't feel that long ago the mid to low-end phones would take truly awful photos, but that no longer appears to be the case.
Battery
The 3000mAh battery is the standard for many phones and something I hope we move away from sooner rather than later. During my use it performed well but not greats, distinctly average let's say. The low-end SoC will save quite a bit of battery, but then you have a huge QHD display that needs to be driven.
During a walk out into the country to test the camera, the battery coped well enough, I managed to use it for a large part of the day taking plenty of photos, and it didn't die on me. You are not going to get 36+hours as you find on a 4000mAh battery of the Mate 10 Pro.
Overall
This is a solid phone for the price; you get a huge bright display with minimal bezels giving the phone a modern premium look.
The camera has the potential to take fantastic pictures (based on my very amateur opinion), and the overall performance is smooth, and I experienced no notable glitches or degradation in performance.
The large display and better than average camera are the stand out points for me.
It would be nice to see Alcatel adapt the Android One program so that you could get a budget phone with the latest android and no annoying apps.
Tesco is selling the phone for just £95 SIM Free, at this price point it is the phone is very appealing. It has similar specs to the UMIDIGI A1 Pro, but I experienced fewer glitches with the software. It is more expensive, but you have a proper 2-year warranty and customer support based in the UK provided by Tesco. I would happily pay a £20 premium from a UK based trusted brand.
[button link="https://mightygadget.co.uk/alcatel-3v"] Buy the Alcatel 3V from Tesco[/button]