Today Huawei has announced the new P30 series of phones including the much anticipated P30 Pro.
The past few days have seen a lot of leaks, some of which came from Huawei directly, most of them are accurate. However, I was lucky enough to attend a pre-briefing for the new phones in Amsterdam, and I got to spend a couple of hours playing with as well as a boat trip to test out the camera. Sadly, Huawei wouldn't allow me to save any of the test shots so you will have to monitor social media for and samples I take over the next few hours.
The P20 series saw over 16 million devices sold and it still sits at the top of the DxOmark rankings, the authenticity of these rankings is up for debate, but no one is going to argue that the P20 Pro has a fantastic camera. The P30 Pro takes this the successes of the last generation and refines it into what could be a spectacular camera phone.
Huawei P30 Pro hands-on photos
P30 Pro specification and hands-on
As we already know the new P30 Pro features a quad camera system developed in conjunction with Leica. The primary camera is a 40MP Huawei super spectrum 27mm lens with f/1.6 and OIS, then there is the 20MP ultra-wide angle 16mm lens with f/2.2 and finally the 8MP 5x optical periscope zoom 125mm lens with f/3.4.
The optical camera is square because it is a prism and light hits the lens then bounces via the periscope prism 90% down towards the zoom lens array. The 5x optical zoom is then used to create 10x hybrid zoom, which you can then zoom up to 50 with digital.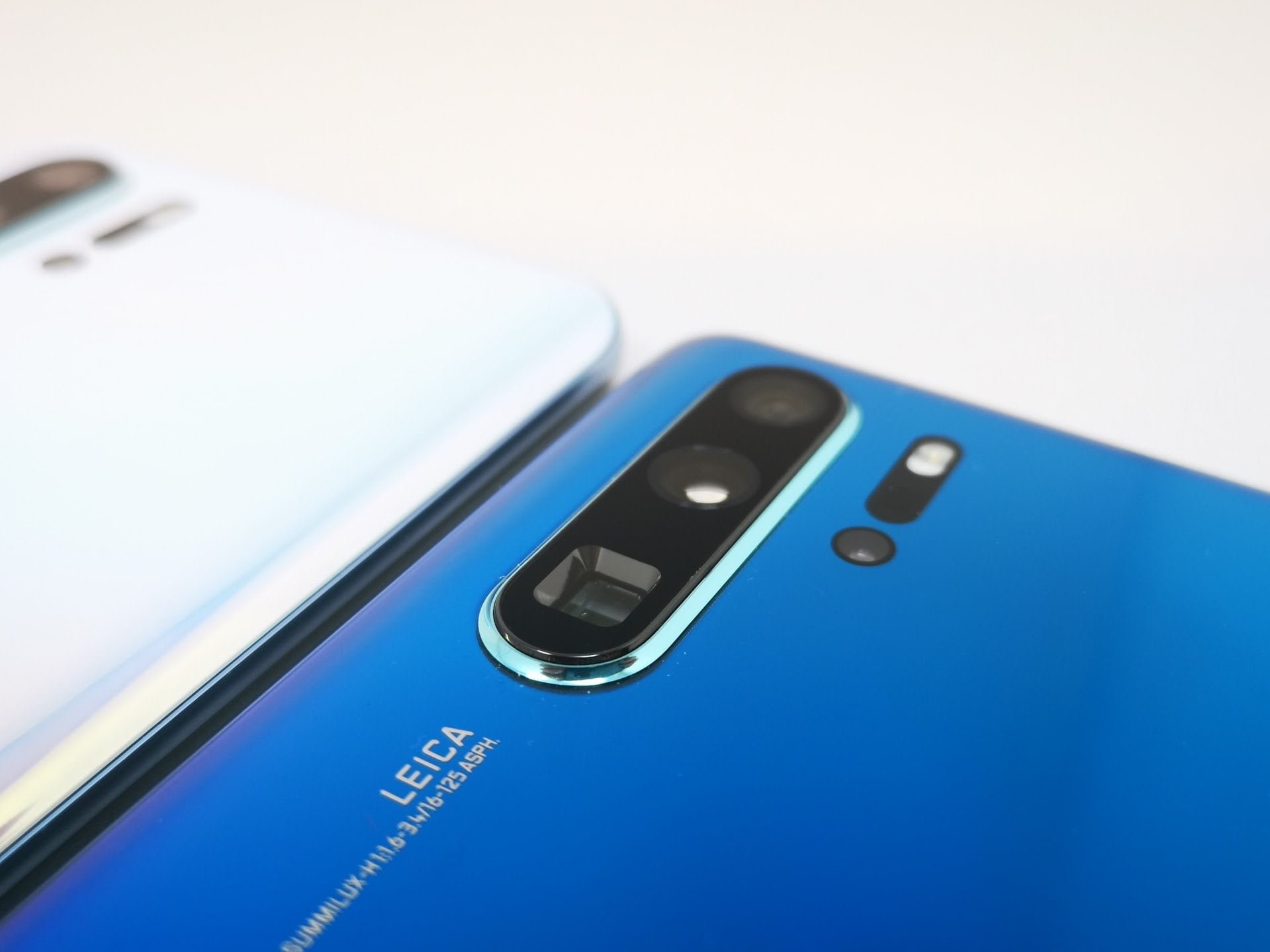 The fourth lens is a time of flight sensor which will be used to improve the bokeh effects of photos and can be used for 3D scanning or AR.
Huawei has done more than just upgrade the lenses though. They have apparently changed the full camera stack, so what was RGB is now Red Yellow Blue, this change is behind the exceptional low light performance the phone can achieve. Huawei state an ISO of 409600 and during my time testing it was phenomenal, far outclassing my Huawei Mate 20 Pro. In comparison, the P20 Pro had an ISO of 102400.
All the cameras feature OIS, but now Huawei has introduced AI OIS, so the AI features are used in to help keep things as stable as possible. We only had a brief test and demo of this, and it does look great, but we will have to wait and see just how great it is in real life. The AI has also been used to implement new photo features including super portrait which avoids blur with moving images, and AI HDR Plus which helps avoid dark patches in bright shots. I didn't get much time to test these new modes so we will have to wait and see how good they are.
The screen is a massive 6.47 inches with curved edges running at 2340×1080 19.5.9, thankfully the notch has been reduced from the Mate 20 Pro, and this now has a small water drop style which hides the 32MP selfie camera. Even though it is massive, it did fit comfortably in my hand, but we will have to see how comfortable it is over the next few weeks.
The fingerprint sensor is now located a bit lower down on the screen, and Huawei claim the performance of this has been improved. It worked well for me, but it is daily use that will really test it.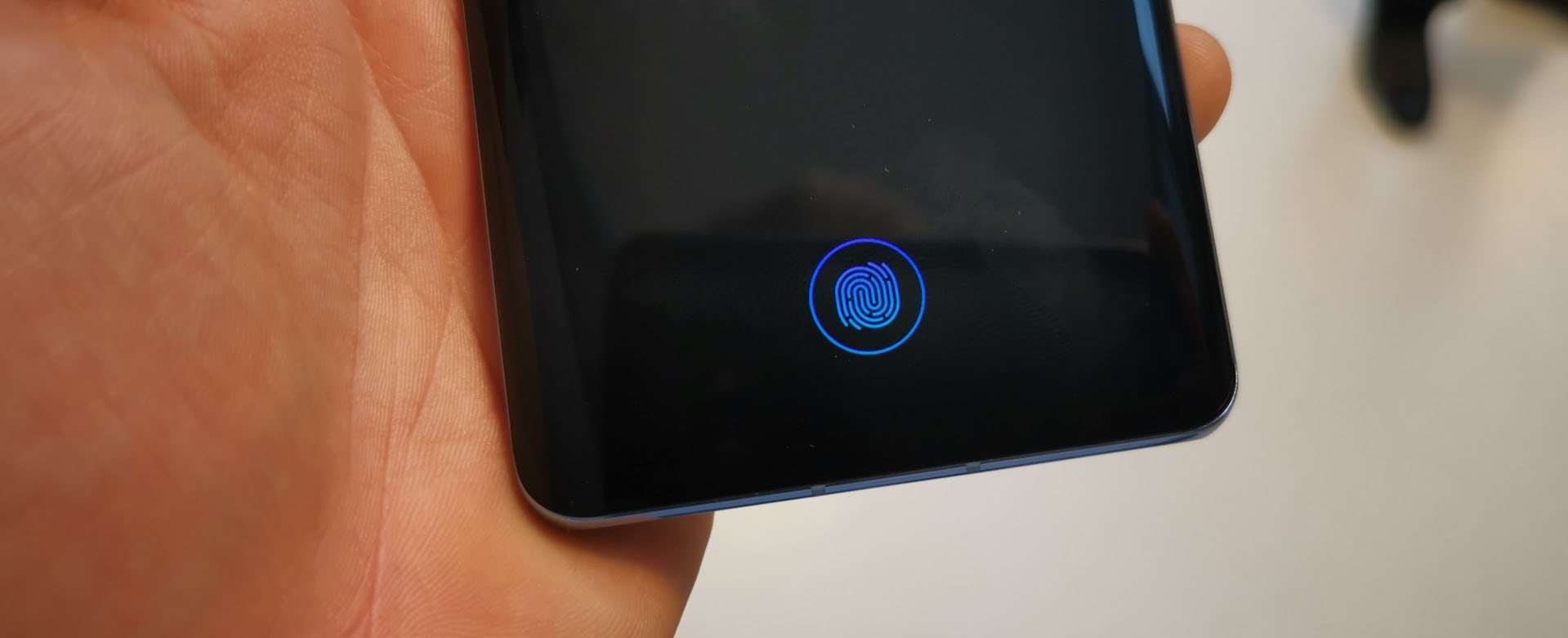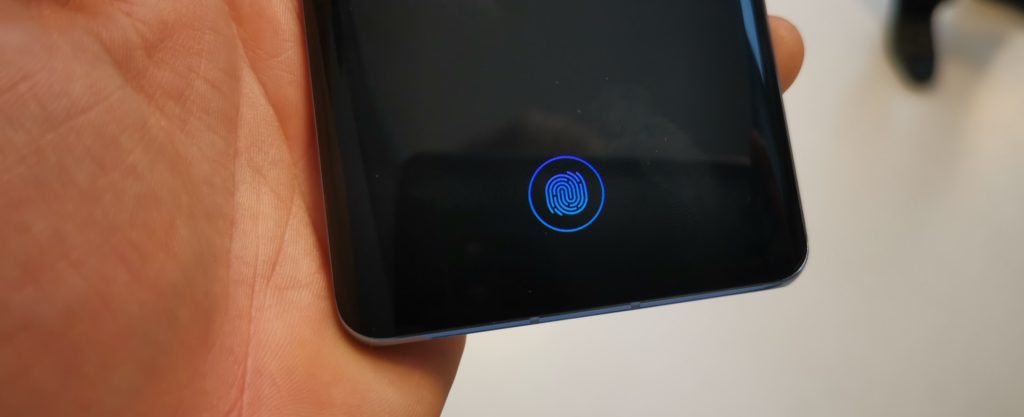 As usual with this series, it uses the latest flagship processor that gets introduced with the Mate series. So this has the Kirin 980 chipset, however the RAM has been bumped up compared and will now have 8GB. For storage, there are 128/256/512GB options and the nano memory card slot that was introduced with the Mate 20 Pro range.
For the battery, you get 4200mAH with 40w Huawei supercharge which can do 0 -70% in 30mins plus 15w wireless quick charging and reverse wireless charging.
There is no 3.5mm headphone jack, and the phone is IP68 rated. This phone is not released with a 5G option, I suspect this will be launched with the Mate 30 Pro (ignoring the costly Mate X).
Design-wise, the phone looks amazing, as far as a big slab of glass can go. It is the new colours that are particularly striking, you get your usual boring black, and a pearl white, but then there is breathing crystal, amber sunrise, and Aurora. It is the breathing crystal and amber sunrise that are the two stand out options, and I suspect they will be the most popular.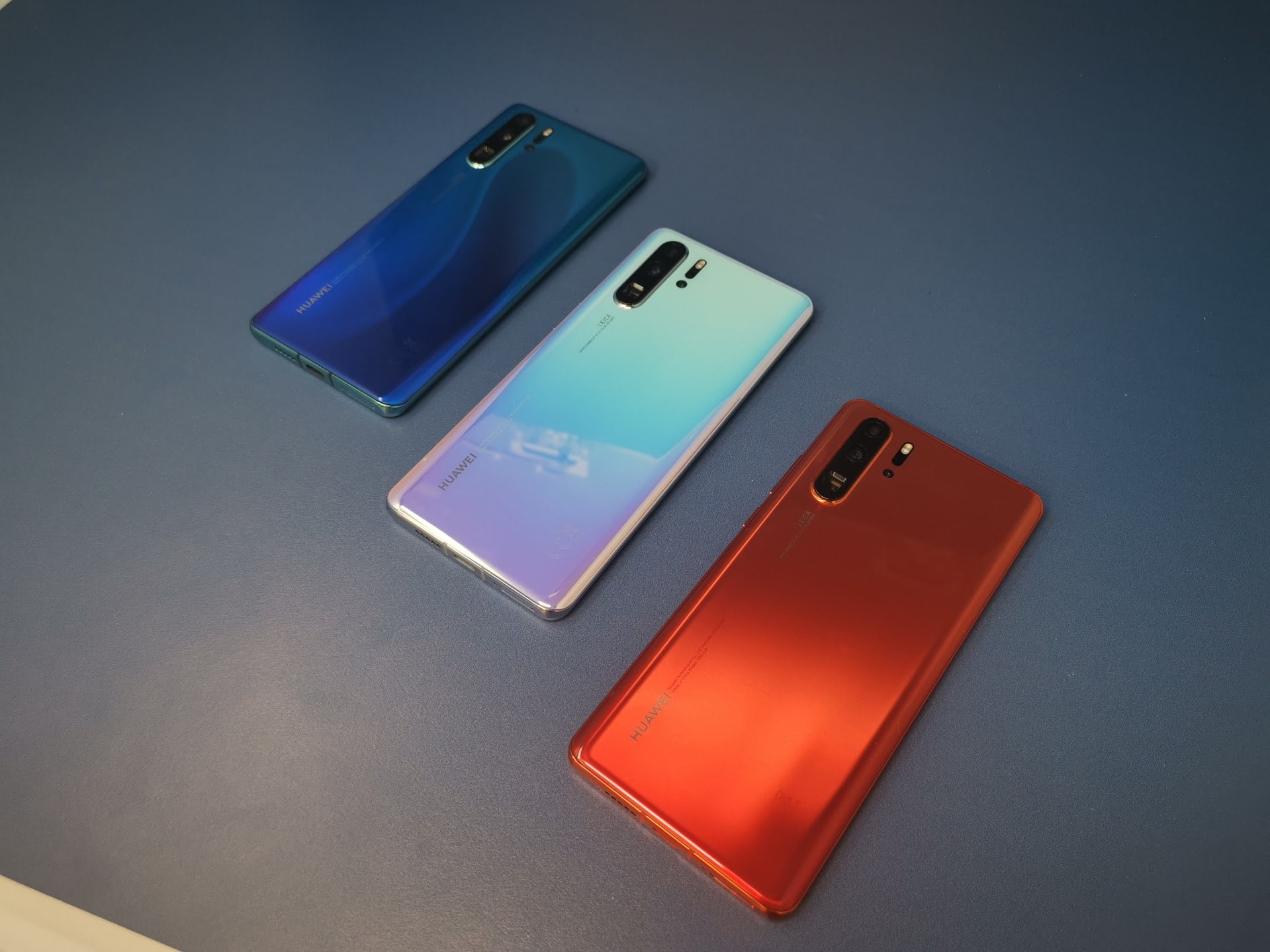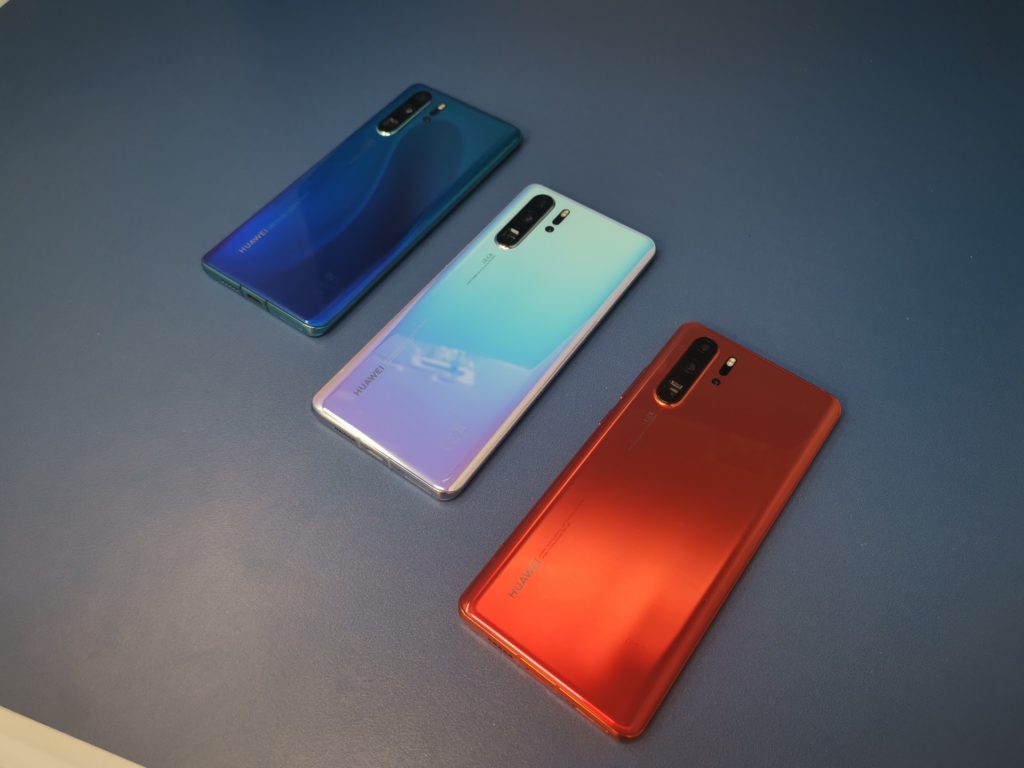 There is a significant camera bump, I didn't think to compare it to the Mate 20 Pro, but I would say it is larger, likely due to that periscope lens. As leaked, the phone has a strange flat bottom and top, with the sides of both sides being curved. I suppose when you have a phone that is all glass it is these small design flourishes that help it stand out.
During my time with it, the main thing that was really tested was the camera, there was not enough time for battery or performance tests, and it is likely to perform similarly to the Mate 20 Pro.
The limited time I had with it, the camera is terrific, it does everything Huawei claims it does. You can now switch on and off the AI function from the main camera screen, so you don't have to go deep into the settings. During our boat trip, some pro photographers were showing some demo shots they had done with AI on, and they looked flawless.
The low light functionality is arguably more impressive than the zoom. We had a test room which had no lighting at all, the P30 Pro was able to take an adequate shot of a piece of artwork with no flash on at all. In comparison, my Mate 20 Pro barely registered anything. While I wasn't allowed to transfer the P30 Pro shots away, the below is what my own phone captured, in comparison the P30 Pro was very clear, easily making out all the artwork, it just looked like a shot under slightly poor lighting rather than pitch black.
Overall though, I am super excited about this phone, it is perhaps evolutionary vs revolutionary. So, unless you really need that low light performance there is probably no need to upgrade from the Mate 20 Pro or P20 Pro if that's what you currently have. However, if you are looking for a flagship in 2019, then this is a phone that should be top of the top of your shortlist (assuming you don't want 5G).
P30 Specification
We didn't get a hands-on with the normal P30 as the P30 Pro is the device that most people are interested in. However, it has an impressive specification too, with more affordable pricing.
This reduces the camera spec down to 30MP / 16MP ultra-wide / 8MP with 3x optical zoom.
It will have 6GB of ram with 128GB of storage and come with a 3650mAH battery.
This is a little more pocket-friendly at 6.1-inches and 2340×1080 at 19.5.9.
Pricing
The pricing was not revealed to us; however leaks have indicated that the entry-level Huawei P30 will start at €749, which is around £640.
The Huawei P30 Pro version that comes with 8GB of RAM and 128GB storage will reportedly set you back €999, or around £855. Upgrading to 256GB of internal storage will push it up to €1,099 – or about £940.
This post will be updated with official prices once I know more.
Pre-order bonus
Nothing is confirmed, but it is likely Huawei will have a decent pre-order bonus. For the Singapore launch, it is believed there will be a free Huawei Watch GT and JBL Clip 2 speaker.
Recent news suggests that there may be a free Sonos One with EU pre-orders. Again, I will update this post when there is confirmation.