Thermaltake View 22 Tempered Glass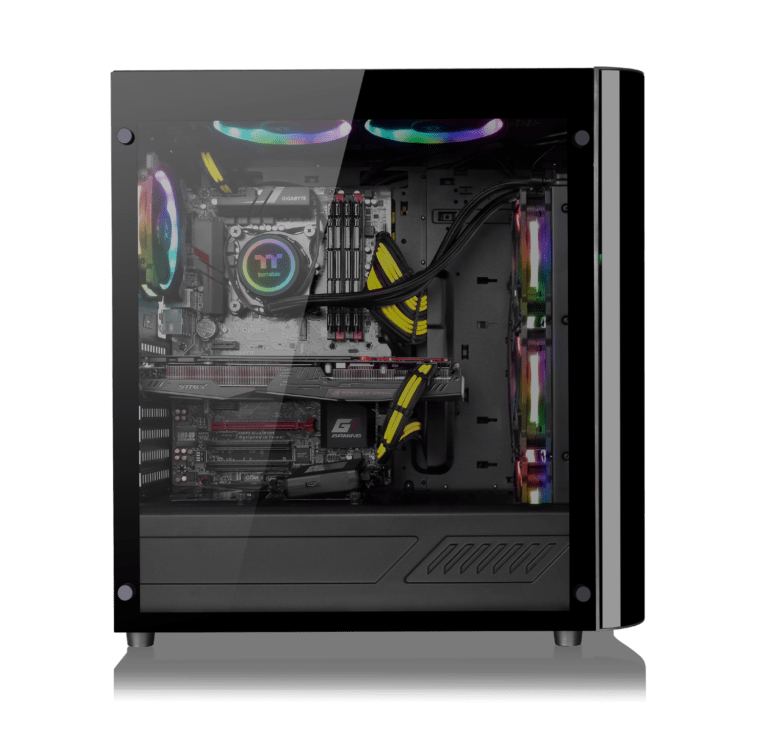 Product Name: Thermaltake View 22 Tempered Glass
Offer price: 67.74
Currency: GBP
Availability: InStock
I don't get the opportunity to review much desktop PC related stuff, so I was excited when Thermaltake asked me to review one of their latest cases.
The Thermaltake View 22 Tempered Glass is a mid-tower full ATX case which features streamlined front panel structure, one durable 4mm thick left tempered glass window, one preinstalled 120mm rear fan and a built-in power supply cover for clean cable management. It also supports the latest PC hardware, including the most advanced graphics cards, and air/liquid cooling solutions.
It is currently priced at just £59.99 on Scan plus £5.48 delivery. Alternatively, it is on Amazon Prime sold by CCL for £67.74.
Features
At this price, I would class it as a budget option, but that does not mean it lacks in features. Thermaltake have managed to squeeze in a considerable number of premium features into this affordable option including:
4 mm Thick Left Tempered Glass Window Design
The 4 mm thick left tempered glass panel guarantees the durability of the window and display your build with crisp clarity.
Streamlined Front Panel Structure
Front panel adopts streamlined curve design to give the chassis a sleek and dynamic look.
Built-in PSU Cover
The View 22 TG is equipped with a full-length PSU cover to hide those unsightly cables from view and give your build a sleek and tidy look, and what's more, a better airflow.
Tool-Free Installation
The View 22 TG comes with tool-free drive cages to provide the ease of installation/removal and maximize the interior space for highly customizable layouts. Users get to mount up to two 2.5″ HDD inside the left side panel or on the PSU cover. There are also dual removable, interchangeable HDD drive bays held in the PSU cover which allow for position adjustment according to the PSU length.
Dust Reduction
Superfine front filter, front panel filter, and bottom filter come with excellent protection and reduction against dirt and dust.
Supports High-End PCs with Outstanding Expandability
The View 22 TG guarantees outstanding expandability, supporting a tower CPU cooler with maximum height 160mm, a dual expansion slot VGA of up to 400mm in length without HDD rack, and a power supply with length of up to 160mm; plus, it has the ability to accommodate multiple 3.5″/2.5″ storage devices at the same time.
Superior Cooling Capability
The View 22 TG is optimized for superior cooling capability with a mesh panel design and a preinstalled 120mm rear fan. The case can house up to dual 140mm intake fans and one 360mm radiator, allowing users to build a complete high-end system.
Design & Build Quality
The case I use on a day to day basis is the Fractal Design R5, and most of my comparisons will be made against this. However, it is worth noting that it is a much more expensive case, and a different design aesthetic.
Initial impressions of the case are positive, its an all-black affair like most PC cases but its curved shaped front gives it a little bit of character making it look marginally less generic than my current case.
At only 6.95KG it is quite light compared to what I am used to, but the overall build quality appears to be good. During my basic inspection, I didn't pick up any noticeable issues with the build. The metal side panel is quite thin and reminiscent of the panels of cheap cases I have used in the past, but this is an affordable option, so to be expected.
The top dust filter is attached loosely with nothing holding it down, it fits flush with the case so won't move around when in place but at the same time it is quite easy to knock it out of place. It does mean cleaning it is extremely simple though.
There is only one 3-pin fan included with the case, which is not exactly ideal for most builds, but it presumably helps keep costs low and offers you the option to add your preferred fan. For me, I prefer this option, I would prefer to buy my own low noise PWM fans than be supplied 3 loud 3-pin fans. An Arctic F-12 PWM only costs around £5 though my go-to fan is usually the Nanoxia Deep Silence Fan as an affordable option compared to Noctua.
The case itself has some impressive cooling options for both fan-based and liquid cooling. The front and top panels can support radiators up to 360mm, and there are fan mounts for either 3x120mm or 2x140mm. The rear exhaust can handle fans up to 120mm. You then have the option for a CPU cooler with maximum height 160mm.
While this is only a mid-tower case, so quite a bit smaller than my Antec, it feels quite spacious. The main compartment seems smaller, but there appears to be a lot more room for cable routing on the underside.
There are some flexible storage mounting options, with 2×2.5mm trays that can be located on PSU shroud or you can move them to the back of the main tray, then a hard drive cage located behind the PSU, which can be removed and relocated.
The PSU shroud is fixed into place, so a little bit of thought is required when installing the PSU.
The tempered glass panel is held in place with 4 thumb screws and protected by some rubber grommets.
The accessories you get are basic but adequate. There are plenty of screws that should accommodate most builds as well as a few zip ties to tidy your cables.
Build Process & Performance.
The overall build process was quite straightforward, I would say it was easier than the Fractal case. There is a lot of room on the rear of the motherboard tray to route your cables, in particular, the front area is raised up from the main tray, this gives a huge space to route all your cables down. Great for messy builders such as myself.
The raised part of the tray provides cable access to the SATA ports on the motherboard, and with my ASUS Strix board, I did find this a little tricky getting multiple SATA cables attached. It was the hardest part of the build.
As mentioned the PSU shroud is fixed into place, so it was easier to attach all my cables, place it loosely into position and do my cabling, then screw the PSU into place last.
If you want to keep the hard drive cage in place, you will need to remove it to do any cabling.
Overall the build process was much more pleasant than any other affordable option I have used in the past, and most premium solutions too.
The performance of the case is dictated by the cooling, using the default configuration, it does OK but is understandably not amazing. CPU and GPU temperatures remained mostly identical to the Fractal case, as these temps were mainly controlled by the fans on those components. The main issue is the fan noise, in a quiet room, it is easily audible from a distance. It has got a reasonably pleasant audio profile, so I didn't find it overly annoying as you do with some fans, but if you are after silence, you will need a fan upgrade.
Overall
I was pleasantly surprised by this case; it has an attractive design with some great premium features while being very affordable.
There is plenty of room for some serious water cooling options, and there is loads of space for cable management. It should be able to handle the vast majority of peoples builds with ease.
The PSU cover and cable management options make it very simple to get a clean looking build to show off with he tempered glass even if you have poor cabling skills. I was impressed with the hard drive mounting options too, you can't install loads of drives, but there is little need to have a lot of drives nowadays.
The fan is a bit noisy but this is a cheap fix, with the layout options of the case, this was designed for you to choose your own cooling options.
If you are a gamer on a budget wanting a great looking easy to work with case I thoroughly recommend the Thermaltake View 22 Tempered Glass.