Black Shark 3 Review Rating
Summary
The most affordable phone with the superb Qualcomm Snapdragon 865, the Black Shark 3 has an incredible battery life and gaming focussed features to maximise your enjoyment and perfect for any mobile gaming fan.
I was very impressed with the Black Shark 2 last year. It helped that it was easily one of the cheapest flagship phones to launch at that point in the year.
They have no followed this up with two models, the affordable standard Black Shark, and a more premium Pro model with a gigantic display and physical should buttons.
However, this year Black Shark has a bit more competition the OnePlus 8 has been out for a few weeks, the Realme X50 Pro is now available and even the Red Magic 5G is available in the UK (though out of stock).
Specification Overview
Display: 6.67 inches 1080 x 2400 pixels 90Hz refresh rate (no notch)
Chipset: Qualcomm Snapdragon 865
RAM: 8GB
Storage: 128GB UFS 3.0not expandable via microSD
Rear Camera: 64MP, 13MP ultrawide, 5MP depth
Front Camera: 20MP
Battery: 4720 mAh with 65W charge, 18W magnetic charge
Other: 3.5mm jack, NFC, no IP rating
Black Shark 3 vs Black Shark 3 Pro
The specification of the more affordable Black Shark 3 is a little generic with not much to make it stand out from other affordable flagships like the Realme X50 Pro and One Plus 8.
The Black Shark 3 Pro, on the other hand, stands out from the crown with clear benefits to gamers. This has the largest display of any phone announced this year at 7.1 inches which then runs at 1440 x 3120 pixels with the same 90Hz refresh rate as the standard model.
Furthermore, this then has physical shoulder buttons given you a much closer experience to a handheld console.
You also get a slightly larger battery life which should help keep that massive display running for a similar length of time as its smaller brother.
All of this comes at quite a high cost; the Black Shark 3 Pro will cost £260 more than the standard base model or £150 more than the equivalently specced 12GB/256GB model.
I am not sure these features are worth the extra, but if you are a keen Android gamer, the premium price may be worth it. Even with the premium price of the Pro model, it is still within the lower end of the spectrum for premium-priced flagships, you would just have to choose between a very gaming orientated phone like this, or a more all-round phone such as the OnePlus 8 Pro.
Design and Display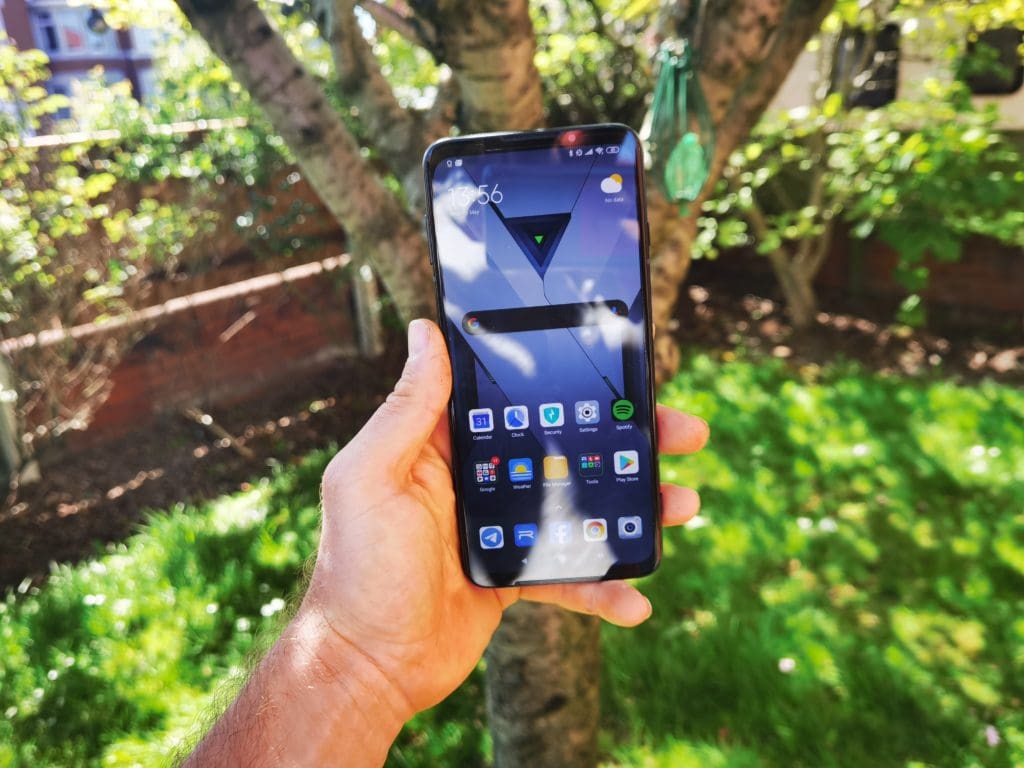 One thing gaming phone do differently than mainstream phones is the lack of a notch or punch-hole; this, therefore, allows you to experience the full display during gaming with nothing in the way.
This does make it physically larger than phones with a similar-sized display, for example, the Xiaomi Mi 10 5G with the same display dimensions is 6mm shorter, and 3mm narrower. The S20 Ultra with its larger display is also smaller by 2mm in height and 1mm in width and matches the 220g weight of this.
It is quite a chunky phone too being thicker than average, though I am not too concerned about that. Build quality feels good though, the back is not glass like other phones, so it feels a little more durable.
The takes a different aesthetic than many mainstream phones, the camera arrangement is triangular with almost no bump, thanks to the thickness of the phone.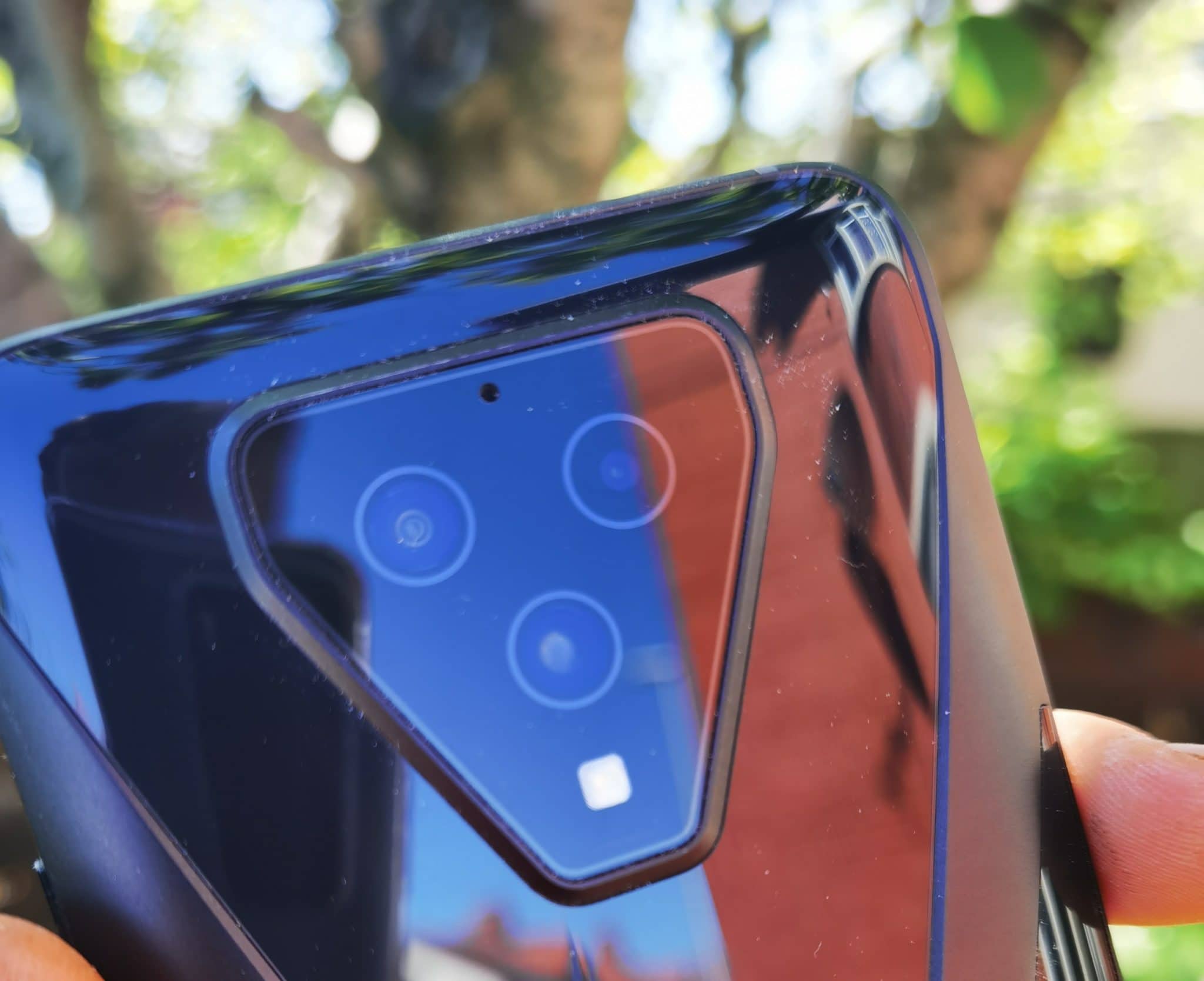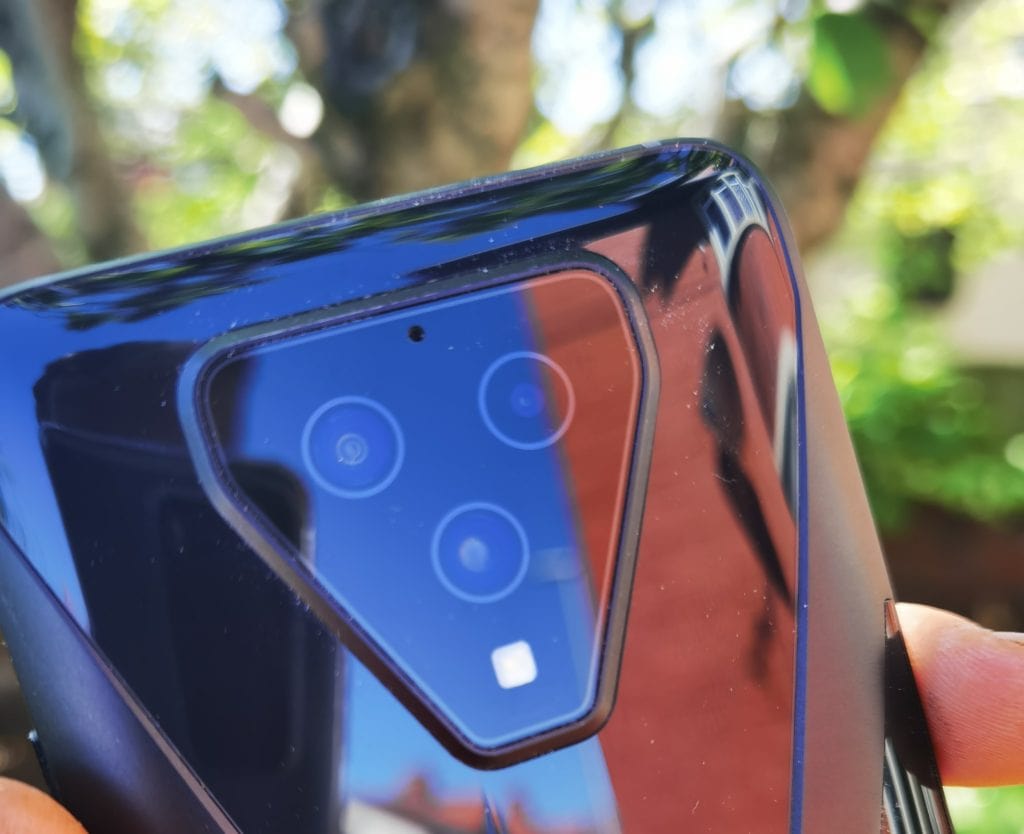 Similar to the last phone you get RGB lighting on the rear of the phone this is more than just gamer aesthetics; the LED will be used of notifications too.
The USB-C port is just USB 2, so there is no video out, something that would have been nice on a gaming phone.
The display is excellent with good colour accuracy, and the 90hz refresh rate plus 270hz rate touch sensing gives you an ultra-smooth and responsive experience. While the display seems to go quite bright indoors, with the recent sunshine, I have found it not as good as other options, including my daily phone the Huawei P30 Pro.
Black Shark claims this has MEMC technology powered by the independent image chipset boosts 25Hz videos up to 90Hz, giving you the best view.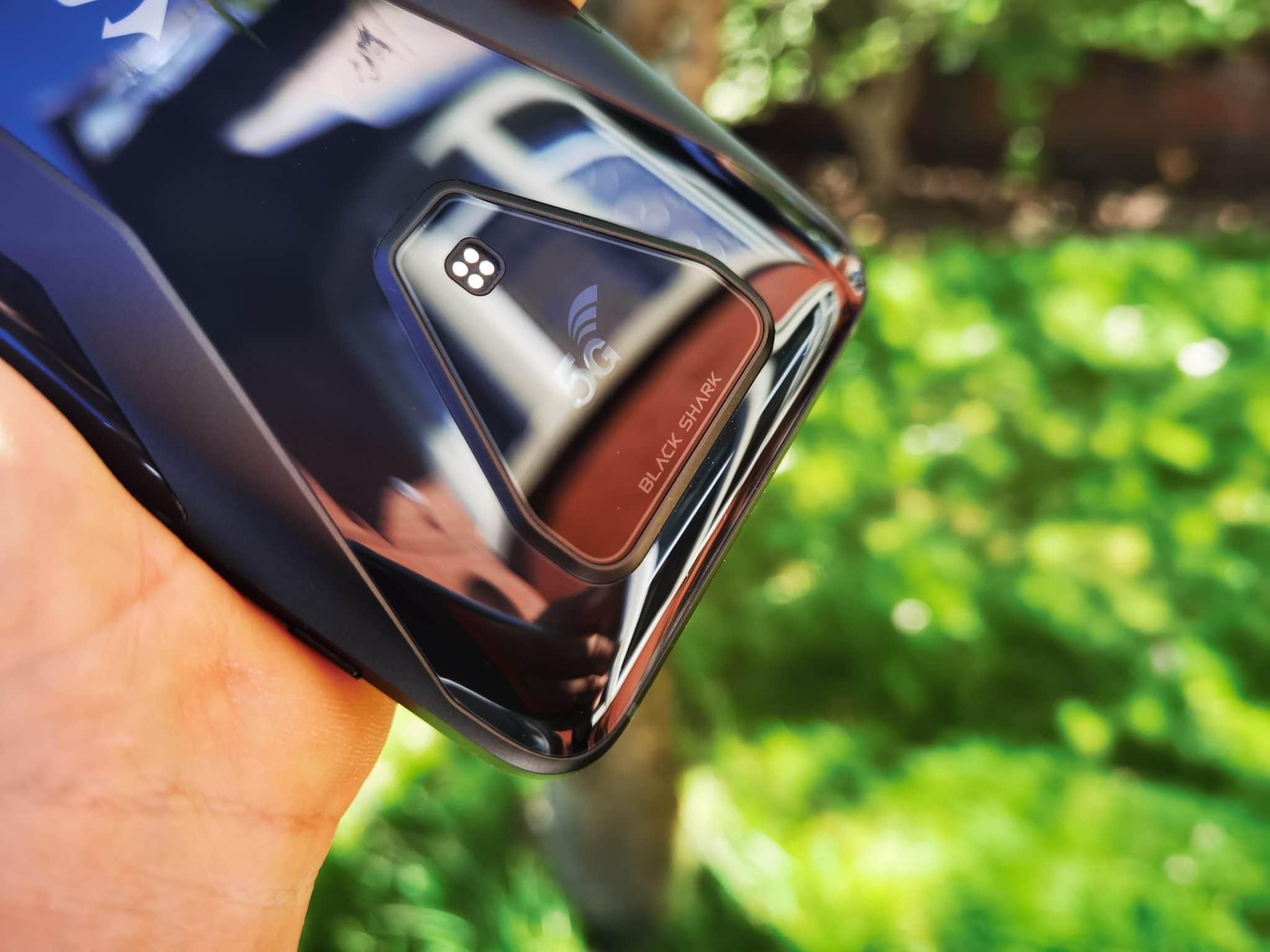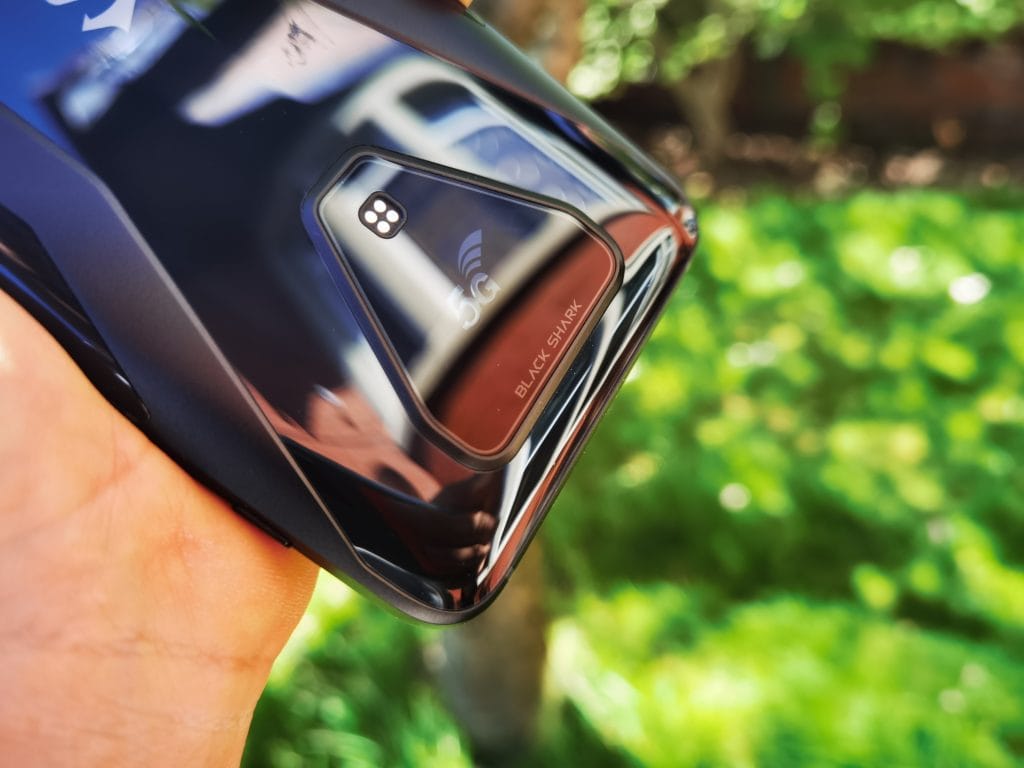 In-Display Fingerprint Scanner & Facial Recognition
Like all flagship Android phones, this has the fingerprint scanner under the display and also offers face unlock.
Fingerprint recognition appears to be accurate, and on par with most devices, I have tested recently. Unlock speed is quick but certainly not the fastest I have experienced.
Similarly, face unlocking works very well, as it does on most phones. The single front-facing camera means the unlock method is via 2D only which is less secure, but not something I personally worry about.
Camera
This is not targeting photography enthusiasts; while the Camera is not bad, it can't compete with other phones around this price. I would say the Realme X50 Pro is a superior camera phone to this, but its smaller display makes it less gaming-friendly.
This has the same 64MP lens you get on the Realme, but it lacks a telephoto lens, and it is not even a quad camera, missing the generic macro lens you find on affordable phones.
In general, it is good, in well-lit conditions, you will struggle to tell the difference between this and much more expensive phones. The depth sensor allows it to achieve a pleasant natural bokeh, and the wide-angle lens gives you a bit more versatility when shooting scenery.
Digital zoom is poor, though this is true for most phones. However, the lack of a 2x or 3x telephoto lens means even a moderate digital zoom suffers from pixilation.
Low light performance is better than expected, but far from class-leading. It outperformed the Realme X50 Pro which does not do very well on the current firmware.
Even though there is no dedicated macro lens it can shoot macro shots just as good as other phones with a dedicated lens. Which perhaps proves it is a pointless addition to bump up the lens count.
Photo Gallery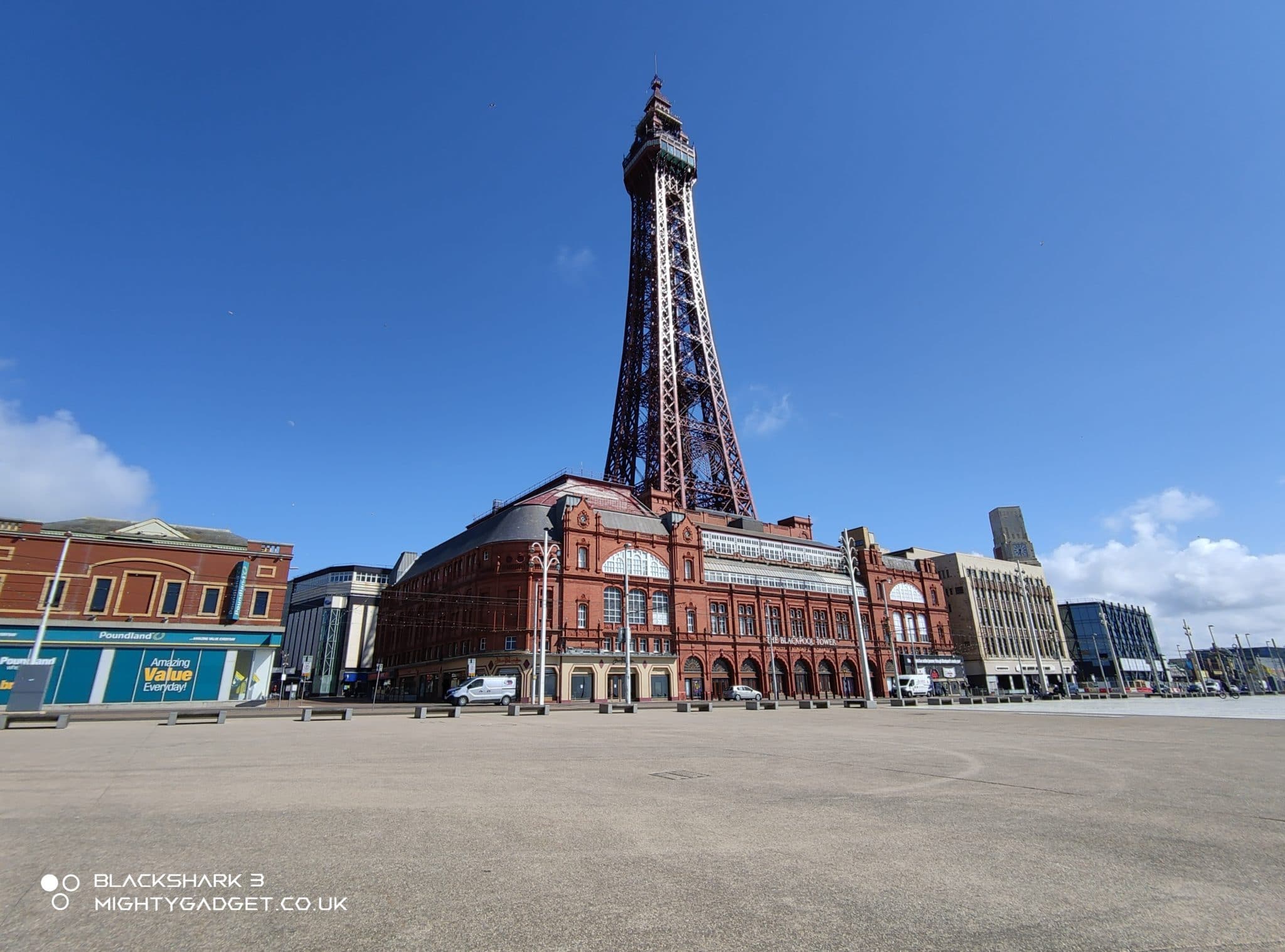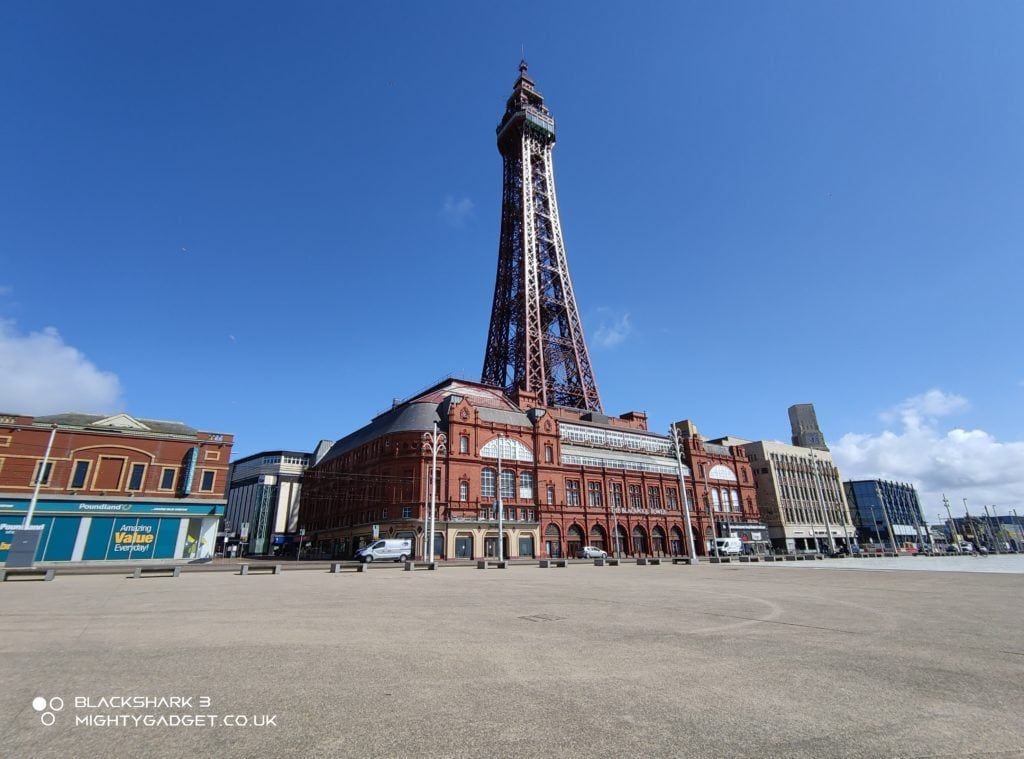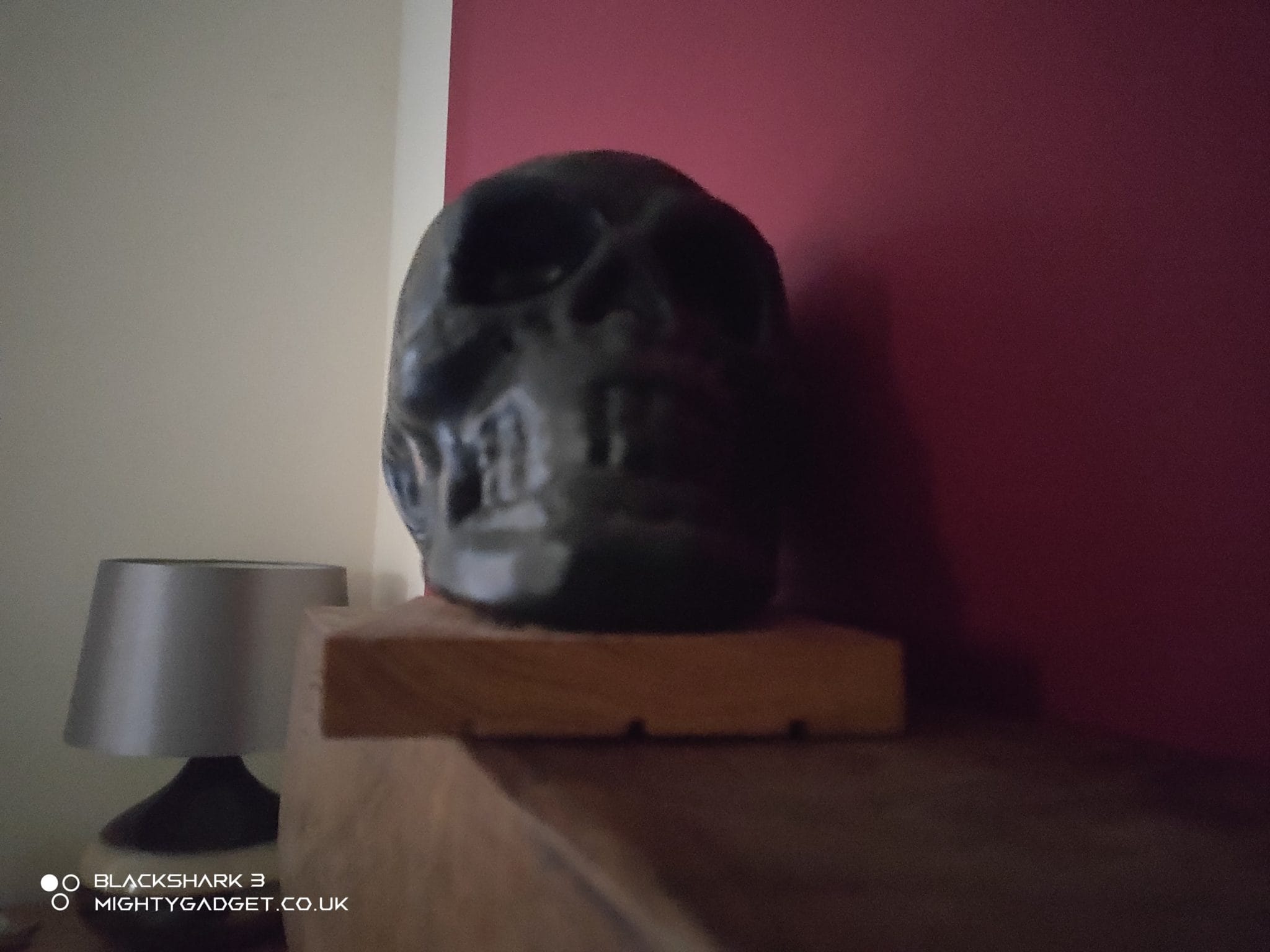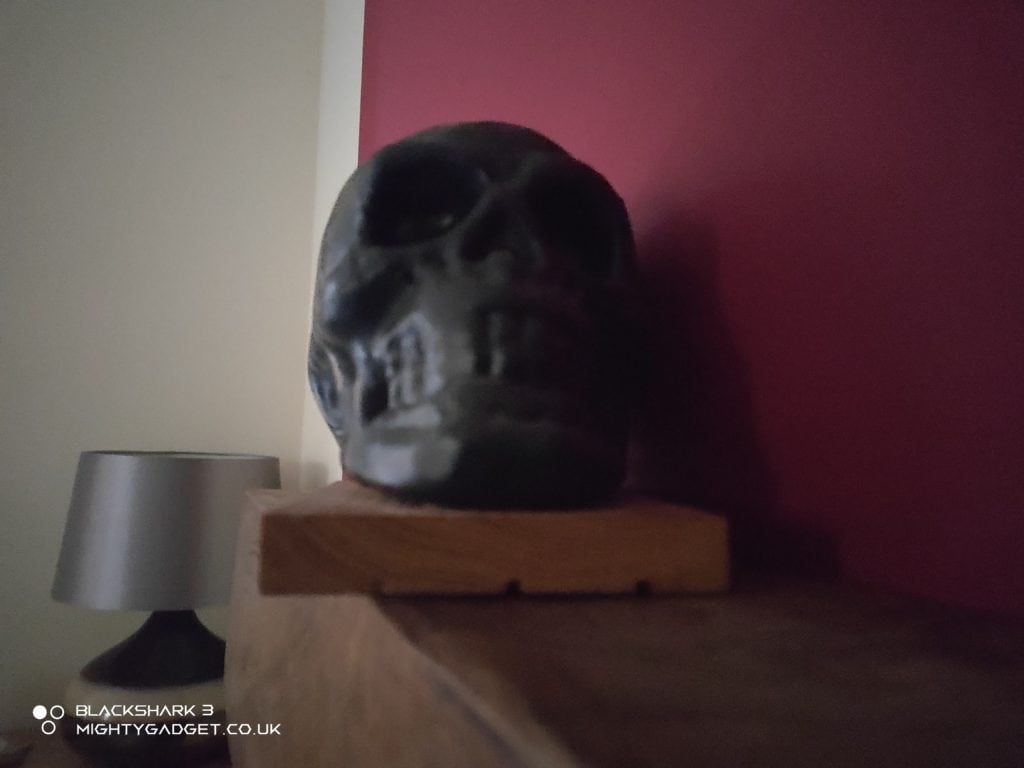 Video
Video can go up to 4K and 60FPS but it appears I either didn't test this or deleted it. At 1080p 30FPS the video footage is quite smooth during a brisk walk but there is a little jitteryess as I pan around.
Performance and Benchmarks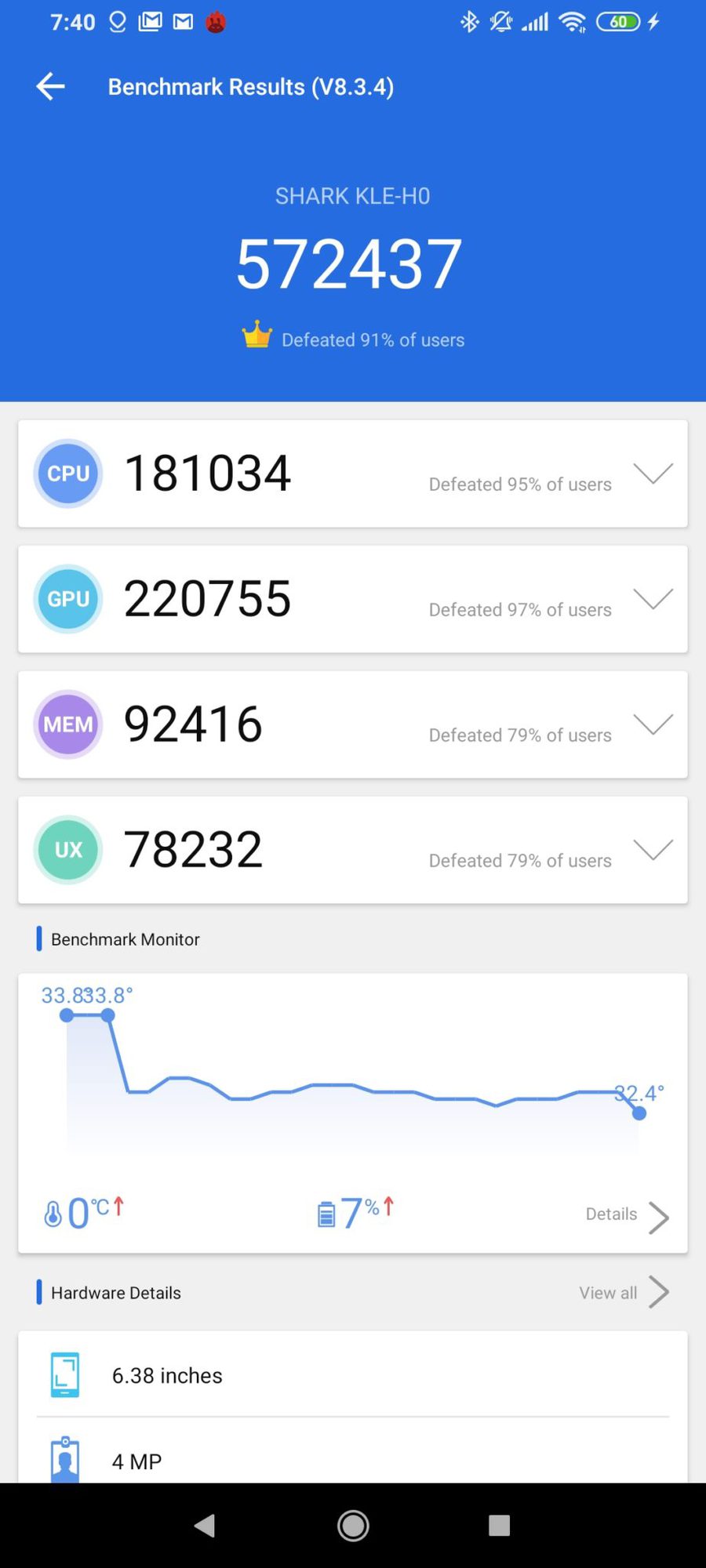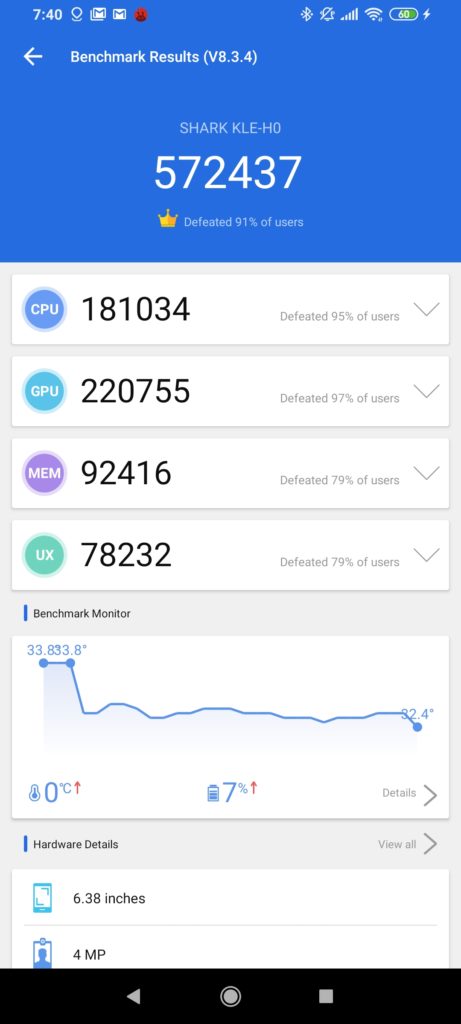 For day to day performance, any phone running a flagship chipset will be flawless, and this is the case here. The 90hz display means the UI runs to perfection, and the phone is generally a pleasure to use.
This is only the second Snapdragon 865 phone I have reviewed, but it actually benchmarks lower than the Realme X50 Pro in many tests. The difference in RAM could be the cause of this (8GB vs 12GB on the Realme). However, the reality seems to be that the smart mode of the Realme aggressively keeps the clocks high for benchmarks giving higher results than other phones.
PC Mark 2.0 is a very clear example of this, the Black Shark scores much lower, but looking at its CPU clock graph it only hits 2Ghz maybe 3 times, whereas the Realme locks the clock on 2Ghz.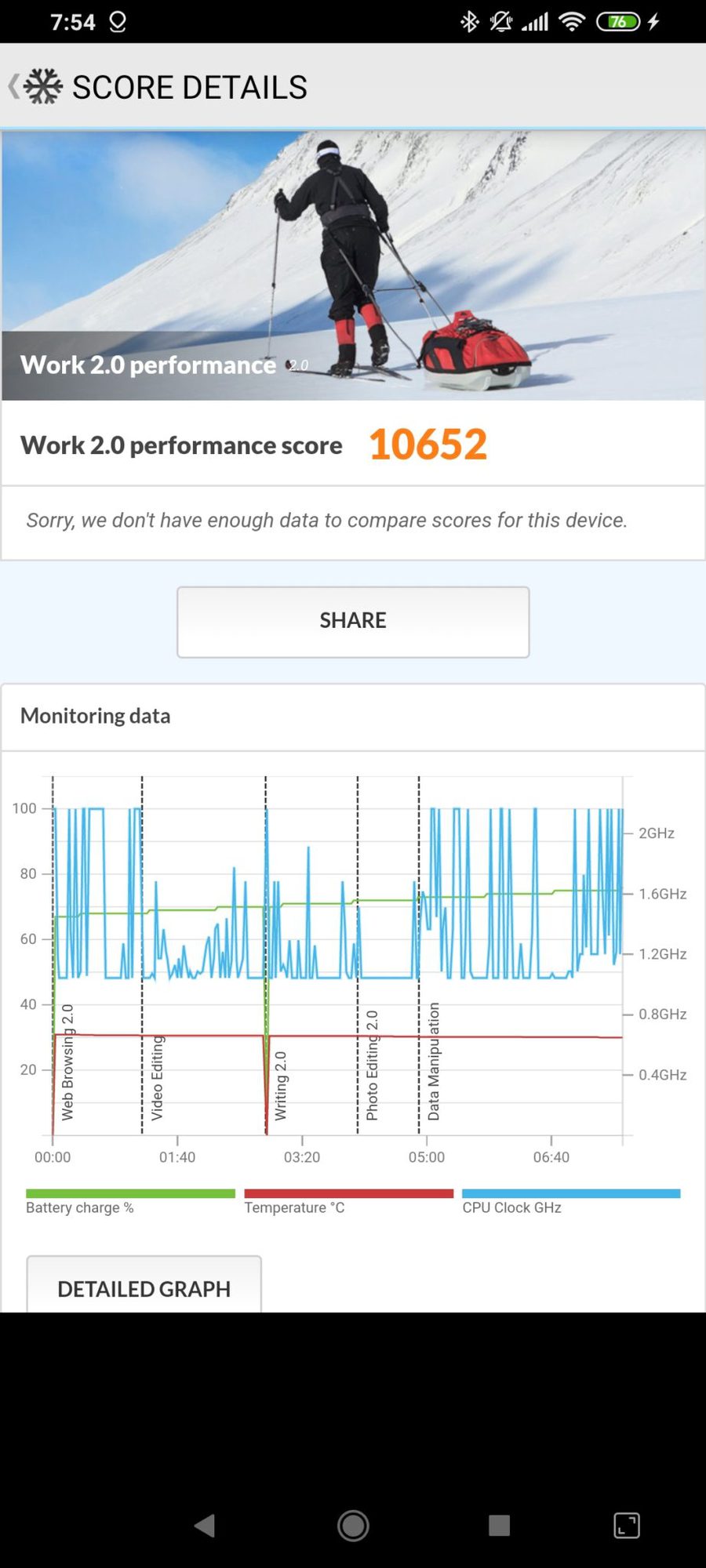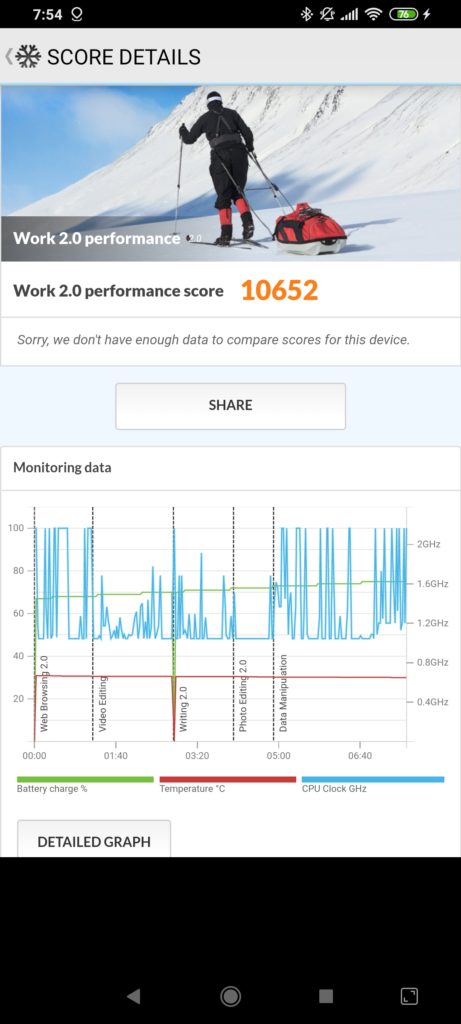 So while this does score lower, the real-world performance will be about the same. It is the same chipset after all.
When you are in the gaming studio, you can enable ludicrous mode, which is the same as performance mode in other devices, including the Realme.
Benchmarks improve just by enabling the game mode, so this indicates that the gaming orientated software features do actually help with gaming. There is very little difference between the scores I get when in normal gaming mode and ludicrous mode. None of the modes can quite top the 12GB equipped Realme in Antutu and other tests, but real-world performance is likely to be identical especially if you have the same specced phones.
Gaming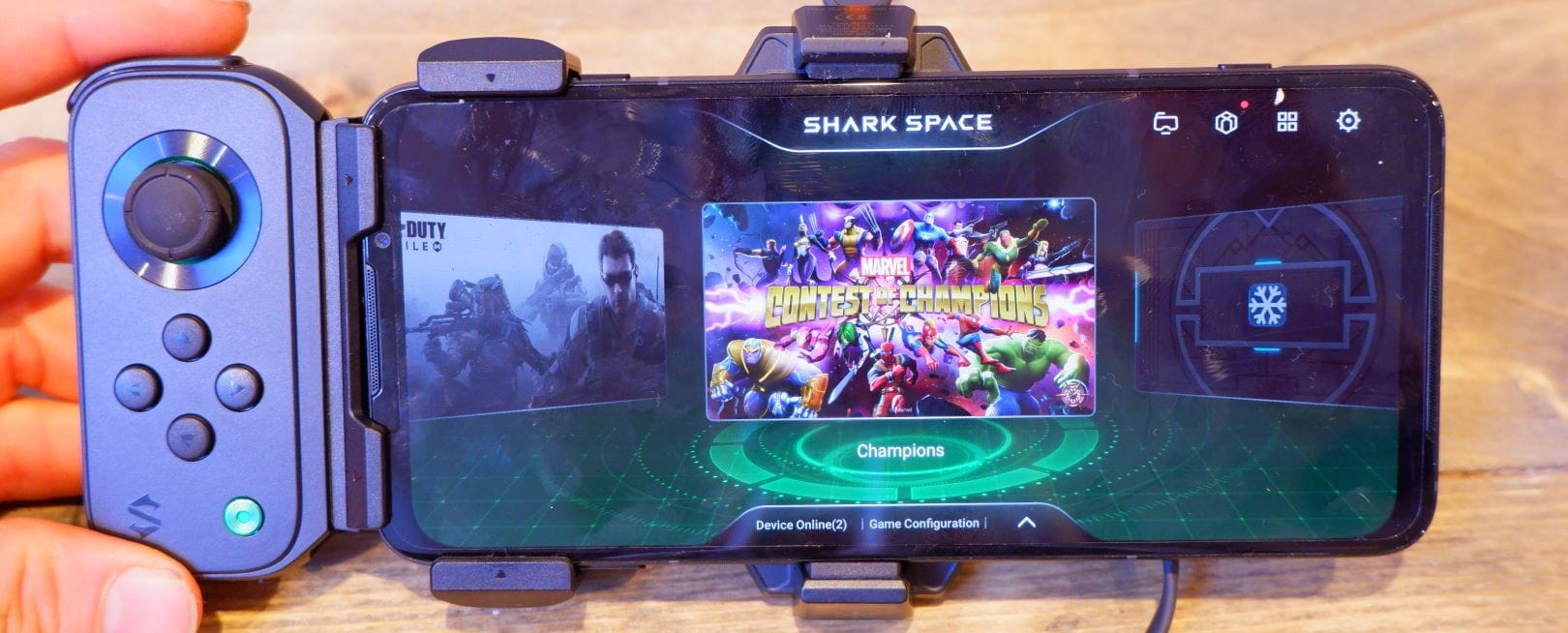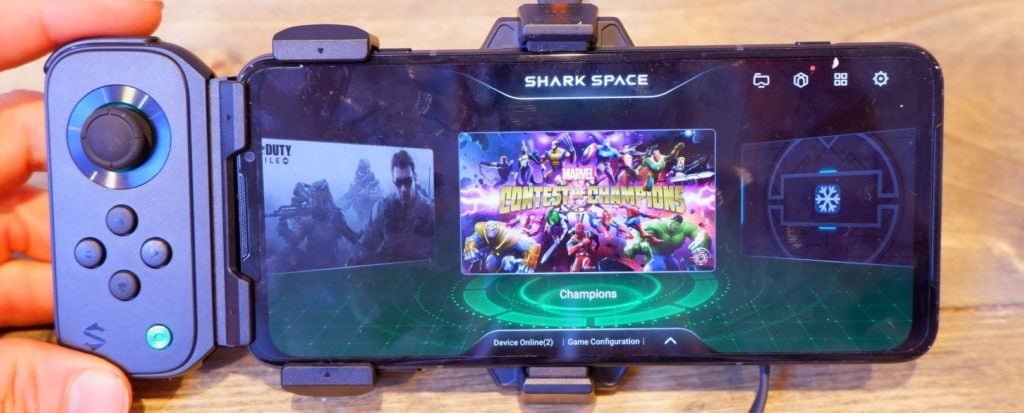 It could be argued that a gaming phone is pointless; there is only limited hardware choices, it is not like you can put a high-end GPU in a phone. So the gaming performance of this phone will be about the same as any other SD865 phone.
Black Shark, and other brands, do their best to squeeze out as much performance as possible, allowing you to go into a gaming mode which limits background activities and keeps things running smoothly. In the case of Black Shark, there is a physical switch giving you a quick shortcut into what they call Shark Space.
By default, when you enter a game through Shark Space, it will clear the memory and reject phone calls. You can then set up various other settings; for example, you can limit what is shown from notifications and also disable full-screen gestures and the navigation buttons.
When in a game you can swipe down from the top right diagonally inwards to open up a gaming control panel. With this, you can then adjust gaming orientated settings.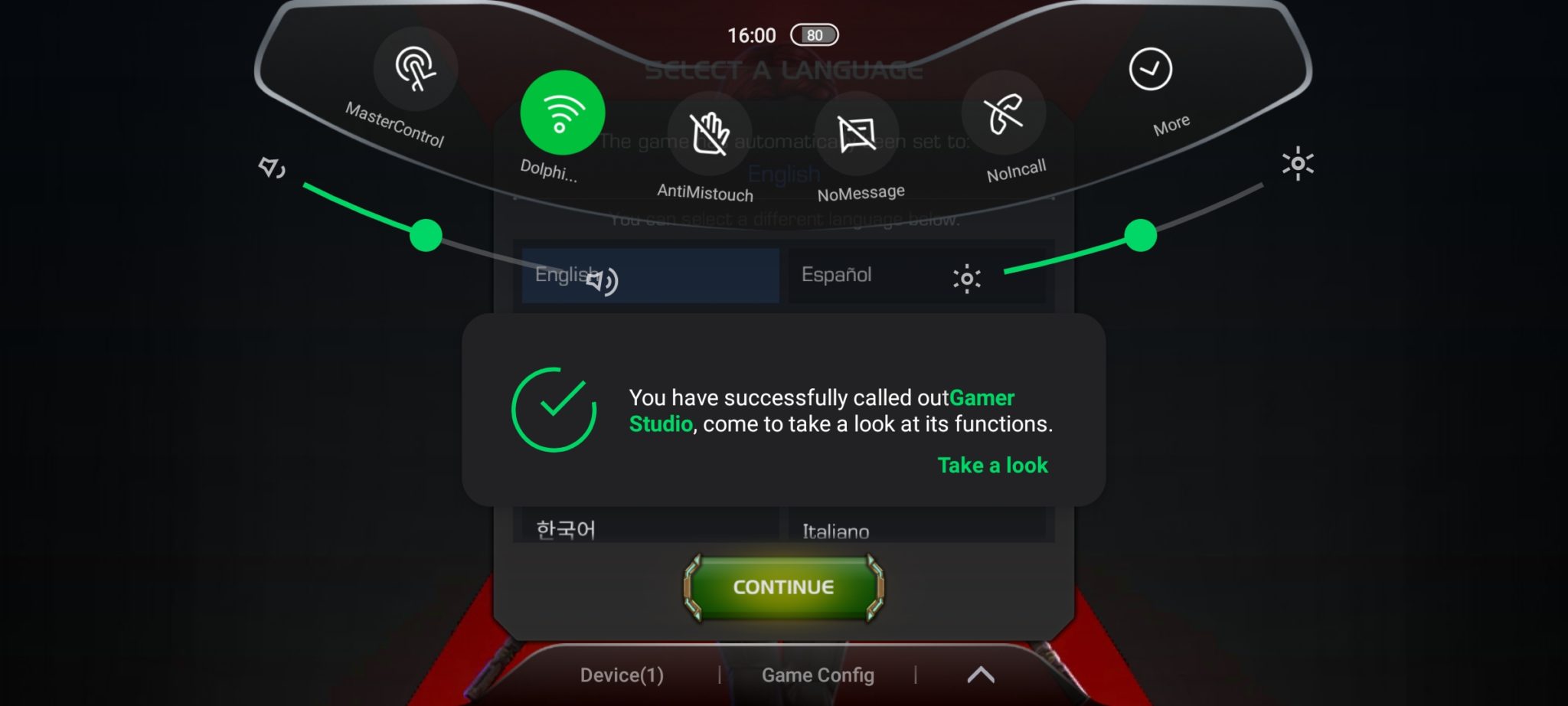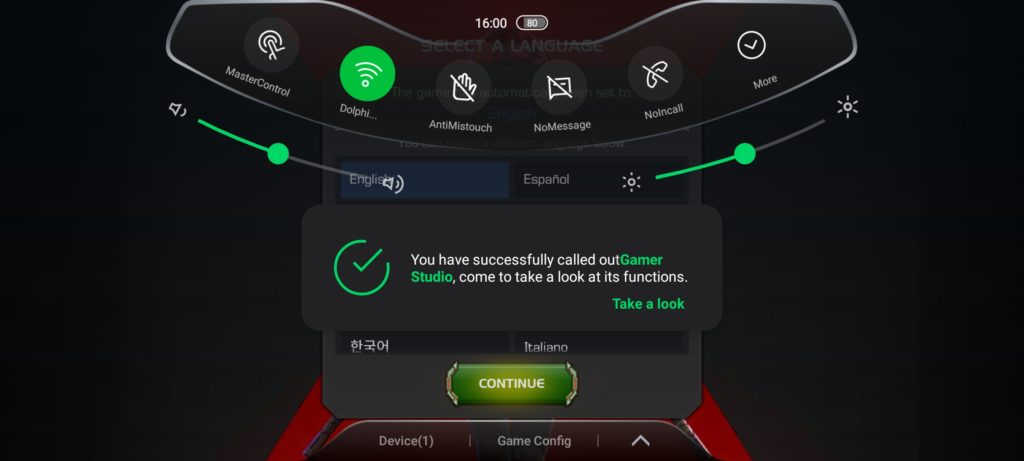 One useful feature, for the Pro model, is the Master-Touch allowing to map the shoulder buttons to specific controls in game.
The synthetic benchmarks indicated some improvement in scores when in Shark Space and I played several games including COD and Asphalt for several hours and experienced no issues with performance.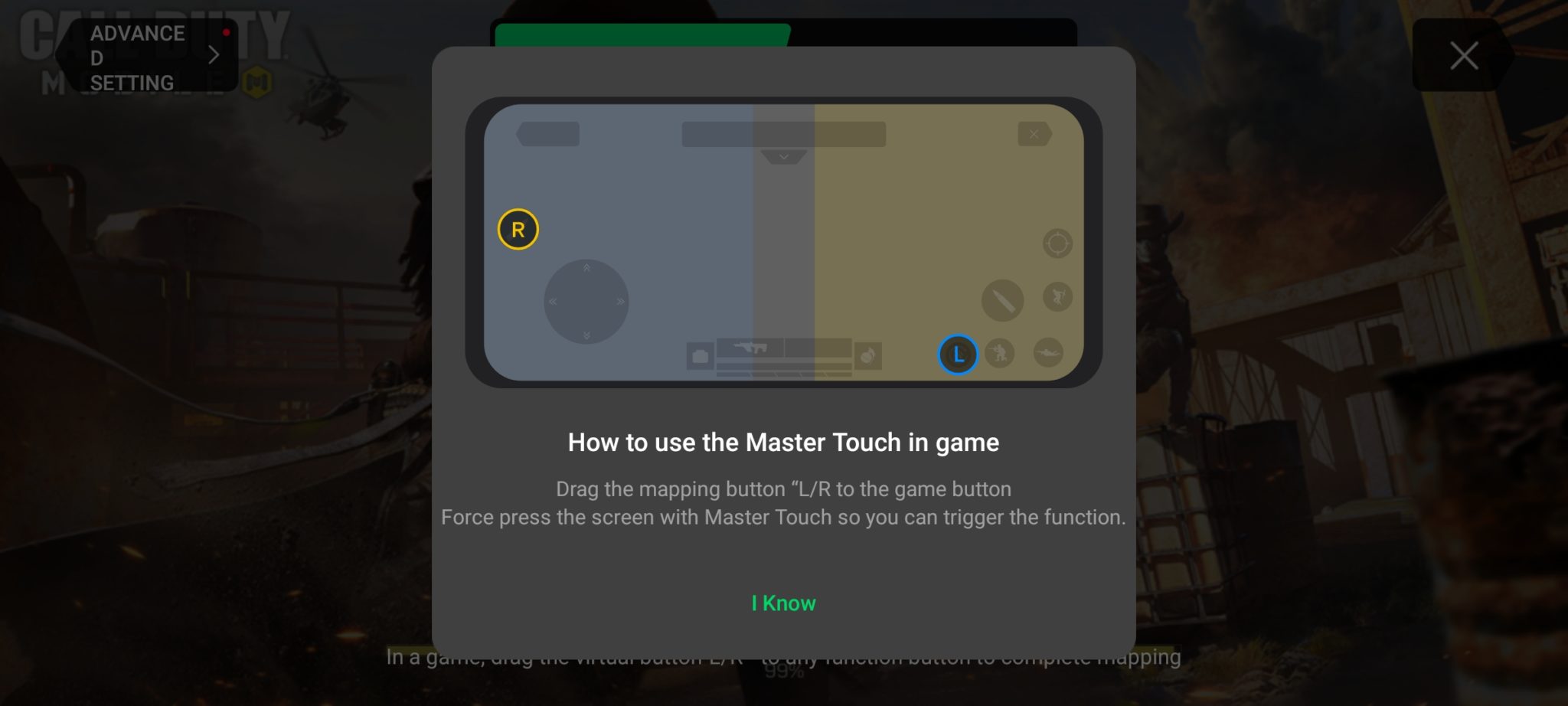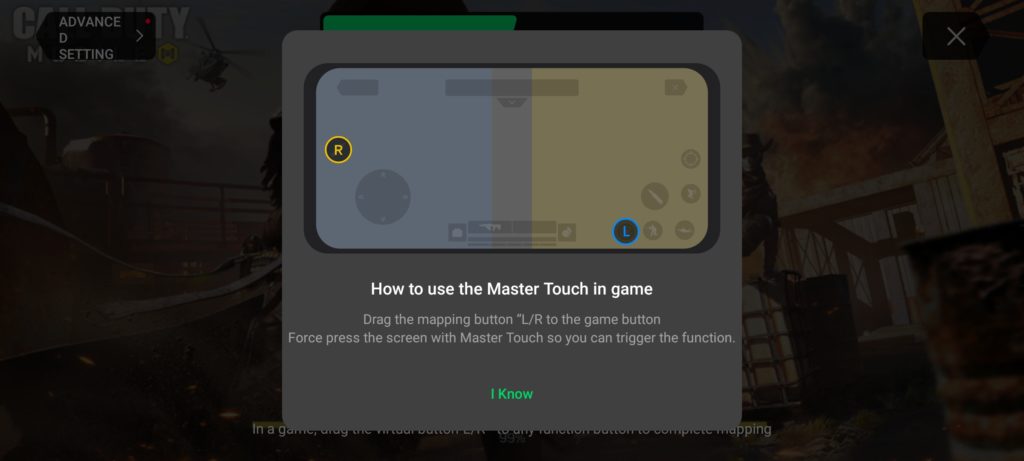 Battery
Running the synthetic PC Mark Work 2.0 battery test, this scores and astronomical results with 16H and 49 mins giving me a 14h 13-minute screen on time.
Real world performance is also exemplary, I was easily able to achieve a day worth of heavy use, including gaming. I would expect you can squeeze out a two full days not that I ever leave my phone off charge overnight.
If you do get caught short on battery, the 65W charger is the fastest option on the market matching a few other phones from OPPO and Realme. During my press briefing, Black Shark had some interesting information about the way phones charge and discharge.
Many phones now use two batteries, which is what allows them to achieve these higher speed charges. There are two methods of connection though, series or parallel. Parallel is what is used in the likes of the OPPO Reno Ace allowing them to get a 65W charge, but this sacrifices battery life. The iPhone 11 Pro Max uses parallel, which is slower to charge but allows them to achieve a longer battery life.
Black Shark claims to have achieved the best of both worlds but charging the battery in series but then switching to parallel for when the phone is in use. I can say if this is just marketing BS or not, but the charge speed is incredible, and the battery life is one of the best I have experienced.
Connectivity
Like all Snapdragon 865 phones, this is 5G, however in my home town there is no 5G at all, and the current stay at home situation means I have been unable to test this at all.
Wi-Fi 6
I was able to test the Wi-Fi 6 connectivity on the Netgear RAX120 with this connecting at 1200Mbps when in the same room then achieving Wi-Fi transfer speeds of 826Mbps, which is almost identical to the Realme X50 Pro which I tested at the same time.
Software
Black Shark use Joy UI, which is a modified version of Xiaomi MIUI. The official word form Black Shark is:
Joy UI Based on Android 10, the new operating system JOYUI 11 has massive improvements on both basic systematic and gaming-centric features, including a user-interface upgrade, software performance optimisation, and Black Shark's unique gaming features enhancement. The brand-new Shark Space provides the richest gaming features, including Shark Time, Ludicrous Mode, Gamer Studio, and more for maximum customisation.
In general, if you like or hate MIUI the same will apply here. I quite like it, it is quick and responsive, there are no significant bloatware apps that I can find. The settings menu does take some getting used to, I end up just using the search facility.
Accessories – Controller, Magnetic charger and FunCooler Pro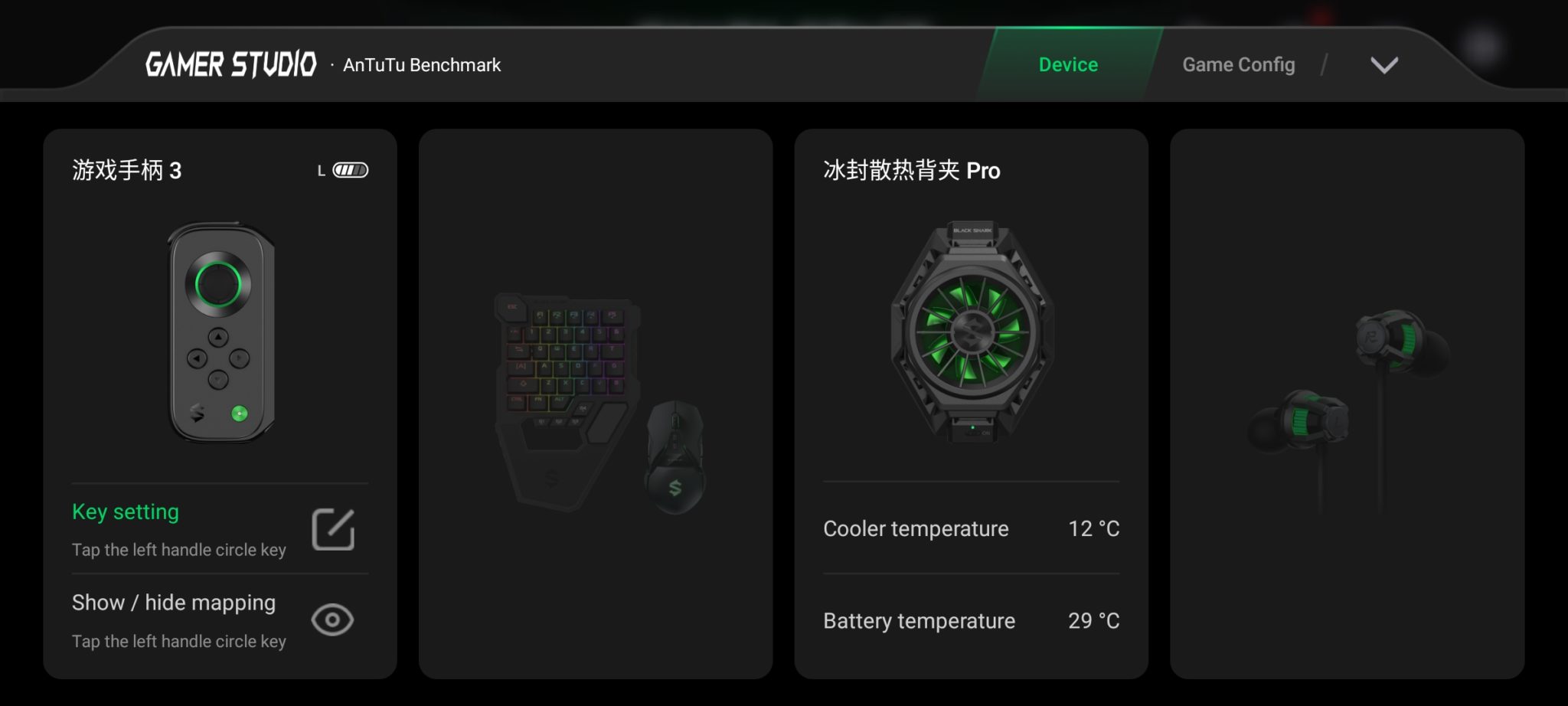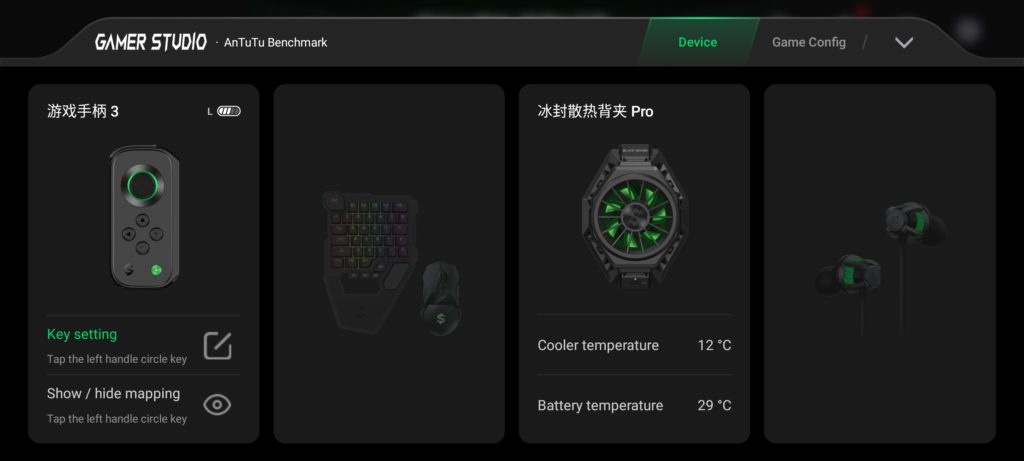 My review sample arrived with the new magnetic charger, the FunCooler Pro and the new gaming controller for one side of the phone
Left Side Game Controller – £52.90 RRP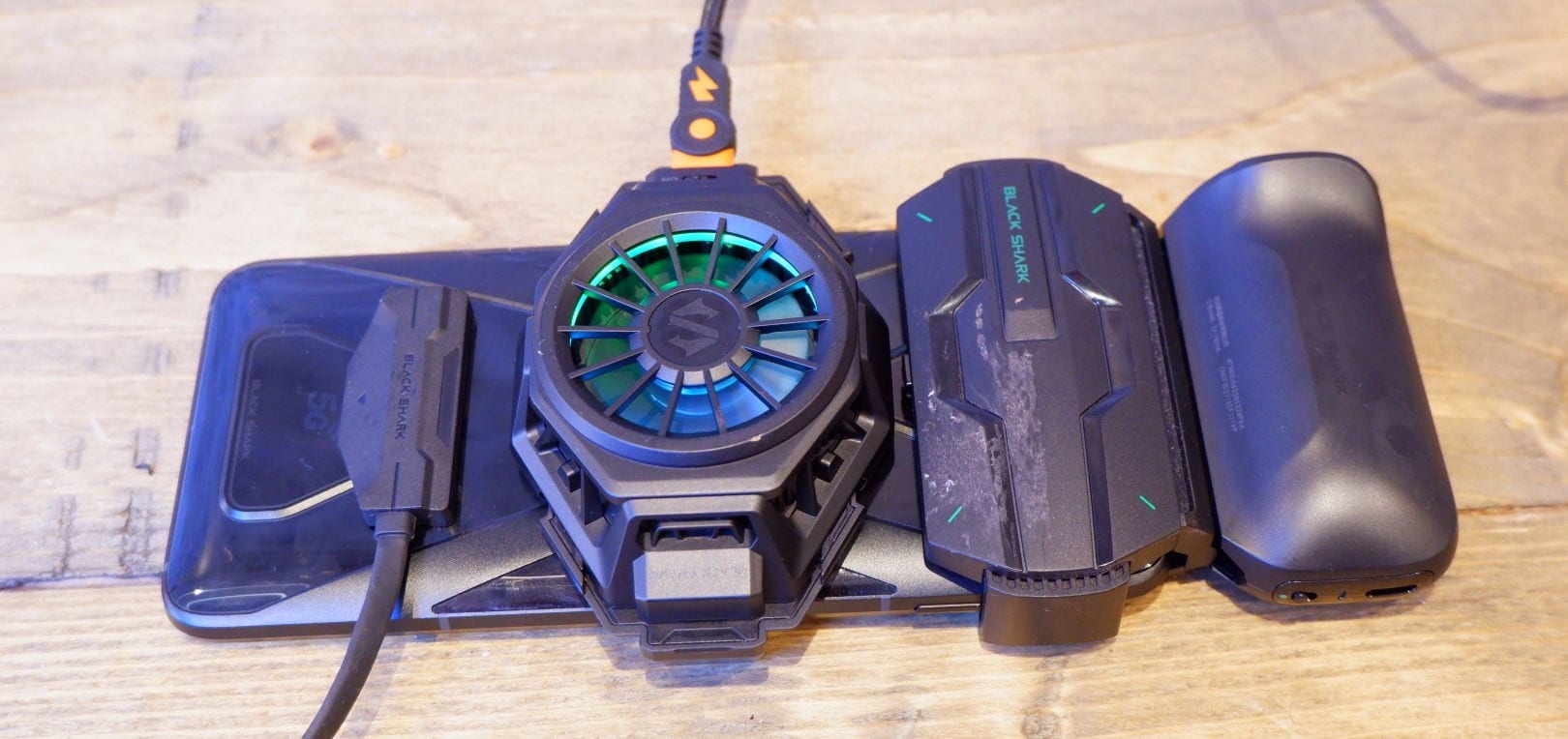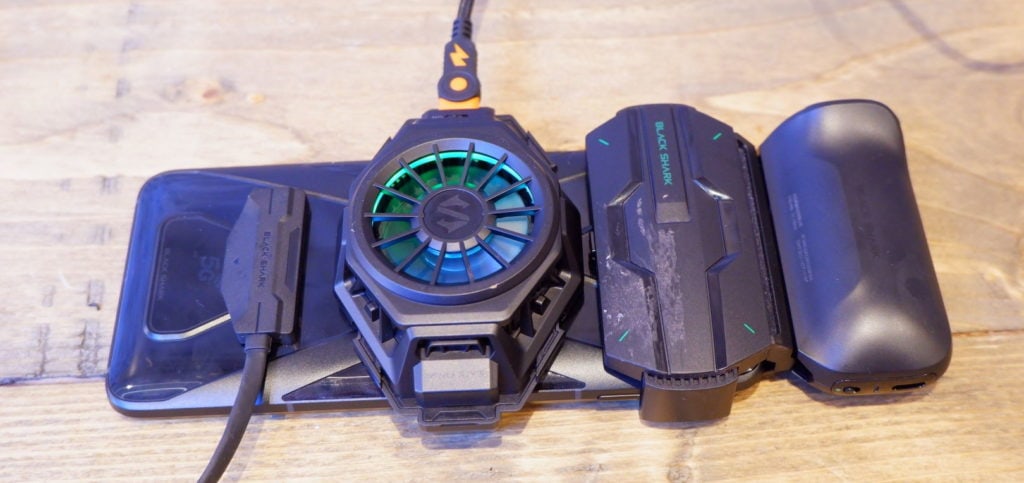 My sample came with one controller, which you then attached to the phone with a clamp-style device. When I received the Black Shark 2 that had a special case that then allowed a controller to be attached either side.
While this new approach works perfectly well, it feels less bespoke for the Black Shark 3. There is probably nothing stopping you using the controller on any other phone. It is possible/likely they will launch a phone case that is compatible with the controller.
The controller itself is excellent, giving you digital and analogue controls plus two shoulder buttons. It seems to work better than the previous controller, many games seem to have native support for the controller, whereas previously I had to map a lot of controls.
In particular, it is the analogue control that works well in a lot of games, with it working very well in COD for me, allowing me to leave my fingers of the display. However, the buttons were not much use in this game.
Magnetic Charger
The magnetic charger seems like a strange addition, and for general use, it is pointless. For gaming, there is some benefit to it, allowing you to run the FunCooler fan or use the gaming controllers while also charging your phone. The marketing material claims it is so the USB-C cable does not get in the way during gaming, which I guess is true.
Apart from that, I find it more awkward to use than USB-C as it can be ripped off quite easily which offering a much slower charge speed than USB-C
FunCooler Pro – £27.90 RRP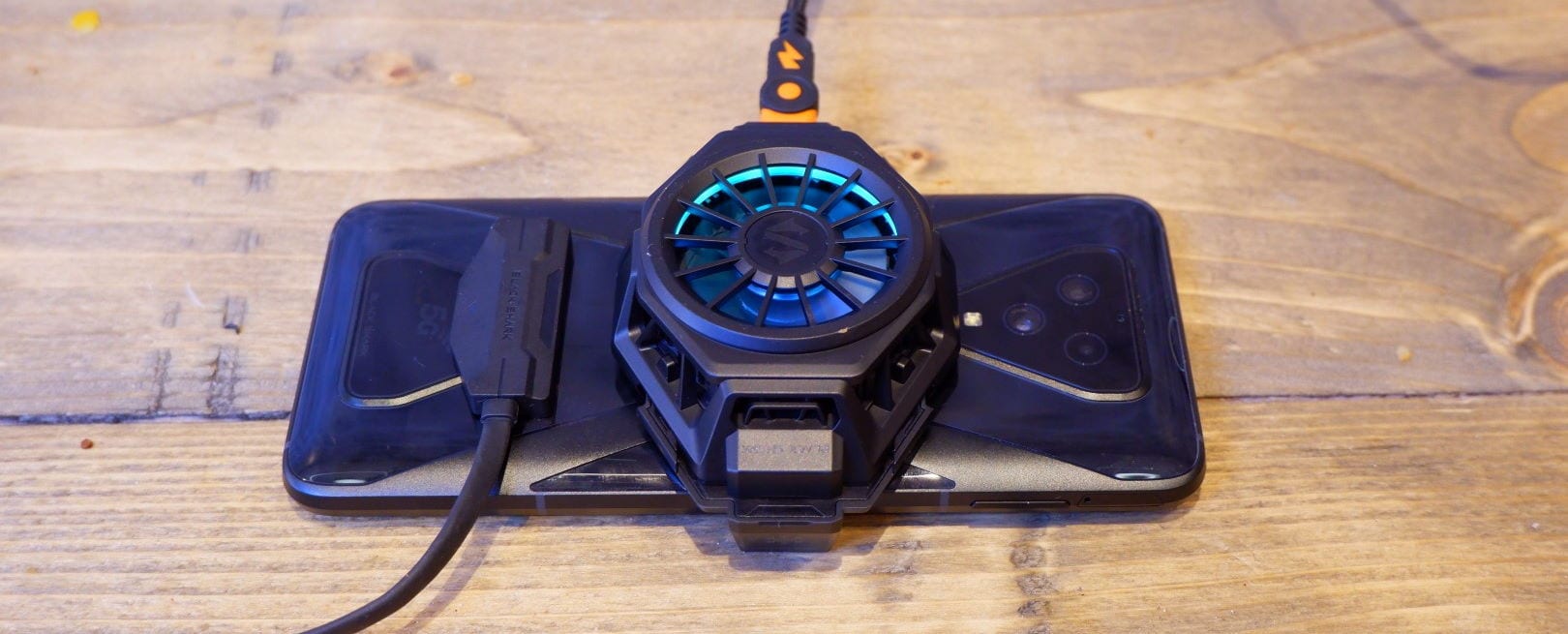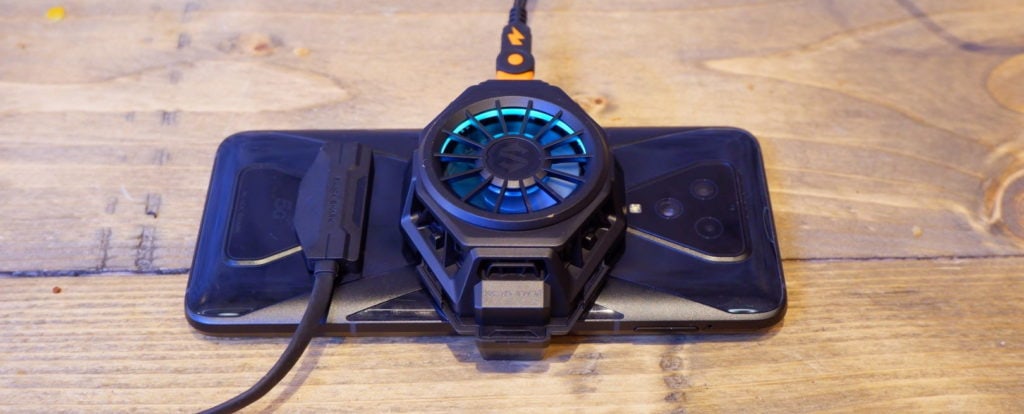 There is nothing that makes this unique to the Black Shark 3, you should be able to attach it to other phones.
The fan does feel quite powerful there is noticeable cooling around my hands while gaming, and switching it on while using the temperature monitor in Antutu, there is a drop in temperature.
Running Antutu while in ludicrous mode also shows the temperatures don't rise too sharply. It mainly seems to keep the battery temperature down, but by proxy, this allows the CPU to remain cooler.
The downside of the fan is that it is quite noisy, it is small so needs to run at a high RPM.
Pricing & Competition
If you want a gaming phone then the Qualcomm Snapdragon 865 is your best bet, other flagship chipsets are excellent, but don't quite offer the same performance.
There have not been a lot of SD865 phones launched yet, even less if you want official UK stock, and fewer still if you want them to be relatively affordable.
With an official UK price of £539 this is the cheapest flagship phone on the market so far for 2020 matching the RedMagic 5G pricing and undercutting the Realme X50 Pro by £30.
The current affordable options include:
Realme X50 Pro – Smaller display and a massive punch hole, better Camera, also more expensive
OnePlus 8 – Smaller display, battery and slower charging, more expensive
Red Magic 5G – Almost identical screen size but faster 144Hz refresh rate, almost identical camera spec, smaller battery, slower charging. Same price.
Xiaomi Mi 10 – Identical display though with a punch hole, better camera, almost the same battery, slower charging, more expensive.
However, while these maybe some of the fastest phones on the market for gaming, if you are on a budget I doubt you would notice much difference in real-world performance between an SD865 based phone and an SD855+ based phone such as the Black Shark 2 Pro or the incredibly affordable Realme X2 Pro.
Currently, the Black Shark 2 Pro is £469.00, so I would be inclined to pay the £60 extra for the newer phone, but I wouldn't be surprised if this price drops in coming weeks.
Conclusions
The Black Shark 3 is an excellent consideration for an affordable flagship; this is true if you want a specific gaming phone or just a general phone. It is almost unmatched in price and offers superb performance at almost everything it does.
It does fall behind a little on the camera department when comparing it to more expensive phones, but its gaming orientated features give it the advantage for any gamer over the Realme or OnePlus.
I have not used the Red Magic 5G, but it is going head to head with the Black Shark with a better display spec and build in shoulder buttons as standard. Lack of UK stock and limited marketing probably means Black Shark doesn't have to worry too much though.
With very little competition at this price, it is hard to criticise the Black Shark 3 about anything; it is a superb phone, ideal for gamers, and worth considering for anyone else.
The Black Shark 3 series will be available on Amazon from the 18th of May with the Black Shark 3 being £530
You will be able to buy it today direct from the Black Shark store or via Gearbest
Last update on 2022-05-25 / Affiliate links / Images from Amazon Product Advertising API