D-Link DSP-W118/B - Mini Wi-Fi Smart Plug Score
Summary
A useful smart plug that can fit 2 smart plugs side-by-side in a double socket and also has no overhand avoiding issues with sockets placed close to a floor or kitchen work surface.
The downside to this handy form factor is a 50% markup over the standard oval shape D-Link DSP-W115/B smart plug.
I have reviewed smart plug options from TP-link Kasa and Energenie MiHome in the past, and if you look on Amazon it has become quite a saturated market with many random Chinese brands flooding the listing, and even Amazon themselves with a smart plug. There are also various Z-Wave smart plugs and other options, but they are not exactly comparable.
I would say D-Link are TP-Link are the two most recognisable brands, and the Mini Wi-Fi Smart Plug (DSP-W118) is the latest option from D-Link.
[content-egg module=Amazon template=list]
As the name suggests, the stand out feature here is its size, being square-shaped and much smaller than the TP-Link options. While I am not too fussed about the aesthetics of my plugs, depending on where you located them, the overall shape can have a significant impact. For example in my house, in some of the rooms that are not re-wired we have sockets in the skirting board, and a design such as the Amazon smart plug, with a large section hanging down will struggle to fit into the socket. Other designs can be large enough that they will block the plug socket sitting next to it. So, in general, a smaller footprint is preferred, and the D-Link is almost identical in size to the previously reviewed  Energenie MiHome.
As far as features go, it does all the stuff you would expect. You can control your plug socket via the app, set up schedules based on time and date, then integrate it with Amazon Alexa, the Google Assistant and IFTTT.
What this does lack is energy monitoring, which is not an essential feature, but it can be helpful to have.
D-link has one stand out product that TP-Link lacks, and that is the DSP-W245 power strip, with four controllable sockets from one. Sadly this is still US only. Several cheap Chinese brands have smart power strips, and I am not sure why there has been a slow uptake with this design from known brands. Personally, I would be more inclined to buy a single power strip over having two of these side by side in a double socket.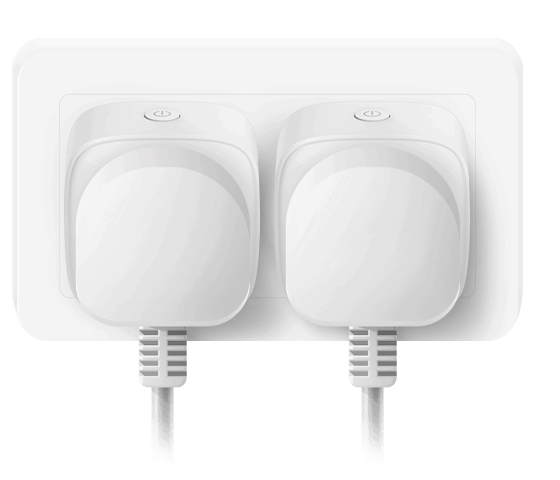 Setup
You will need to use the mydlink app and follow the setup procedure. Like many devices of this kind you need to scan the QR code, wait for it to connect to the device Wi-FI, pass it your Wi-Fi details and wait for them to pair.
I had some small issues; this is likely due to the aggressive way my Huawei P30 Pro tries to manage data connections. You will need to switch off mobile data, and in my case it failed to connect the first attempt, I think my phone tried to auto-connect back to a working Wi-Fi when the D-Link one did not work.
App, functions and performance.
I don't personally find the app to be as attractive or user-friendly as the TP-Link Kasa solution, but functionally they do the same.
On the home page, you can manually switch the plug on or off, but setting up a schedule was not immediately obvious. I would have expected to click on the device, then its settings, there is even an option for a countdown timer where I would have expected the schedule. You need to go into settings, then schedules, then set it up. If you have multiple devices, this may be a more logical solution as you can group devices into one program (I assume).
Both Alexa and Google Assistant work as you would expect, these systems are excellent as it allows you to group multiple devices from different brands together as one functional system.
Currently, there are not a lot of applets for IFTTT with mydlink, but the functionality is there. There is a "Turn your lights on when you arrive home" function which can link up with your plug, and there is also a useful "Turn on an interior light when the doorbell rings" function which integrates with Ring.
While I don't currently have any other D-Link smart products, you can also create automations where you can link devices and events together.
Overall
As far as smart plugs go, it works almost identically to any other on the market. If you have plug sockets that need something will a smaller footprint, and you want a known brand than this is probably your best bet, though the Energenie MiHome is a worthwhile option that is attractively priced.
If you already own D-Link smart home products, then I would certainly recommend sticking with D-Link, it is just better all-round keeping things under one system where possible.
Beyond that, I would opt for whatever is the cheapest, this is £29.99 while the larger D-Link DSP-W115/B is just £17.89. Its oval design with a downward section will inevitably cause some people issues leaving you no option but to go for the mini option, but if there are no space restrictions then there is no reason to pay £12 more.
With November being so close, and Black Friday at the end of that month, I would also personally recommend holding off any purchases such as this as you will inevitably get a fantastic deal on Amazon come Black Friday week.