At the start of the Covid-19 pandemic, I padded out my home gym, knowing that gyms would inevitably close. I already had a power rack and a Tacx Flux S smart trainer so I bought a running machine and was hoping to pick up a rowing machine.
If you use a rowing machine at the gym, it is highly likely to be the Concept2 either the Model D or Model E. These have an RRP of about £900 and rarely drop in price. Sadly, I got suckered into a suspiciously low price on Amazon, which turned out to be a fraudulent listing. By the time that was sorted out, the Concept2 was sold out everywhere. It is made in the US, and they have only just started making them, with a waitlist to pre-order the only current option.
I still don't have a rowing machine, as I want to have the same experience as the gym. However, there are plenty of excellent options, and there are different types of rowing machine to cater for different needs and price points.
Types of rowing machine resistance
Hydraulic Rowing Machine
Uses a hydraulic piston, tends to be cheap, and you the static motion of the piston means you can't perform a natural rowing motion. I would personally avoid these.
Air Resistance / Flywheel
This is what the Concept2 has. Flywheel exercise rowing machine receives its resistance from the pulling motion, which spins a flywheel with fan blades attached. The resistance is provided by the wind.
These tend to be the most common for gym use, offering high durability, a natural rowing motion, and resistance that can suit any fitness level.
Magnetic Resistance
These are perhaps the most common, especially on Amazon. They are cheaper than air resistance, and vastly superior to hydraulic. As the name suggests, the resistance comes from a magnetic brake system.
The main benefit of these is the much lower noise compared to air resistance. These are often combined with a belt-driven system which also offers less noise compared to a chain system.
The downside is that the motion is not as smooth or as realistic as air. I used to have a magnetic rower, and it sort of feels doughy compared to air. These also won't offer as much resistance as air for people with high levels of fitness.
Air/Magnetic Resistance
Quieter than an air-only rower but louder than magnetic-only rower. The fan will not spin as fast as air-only rower, which makes it slightly quieter.
Water Resistance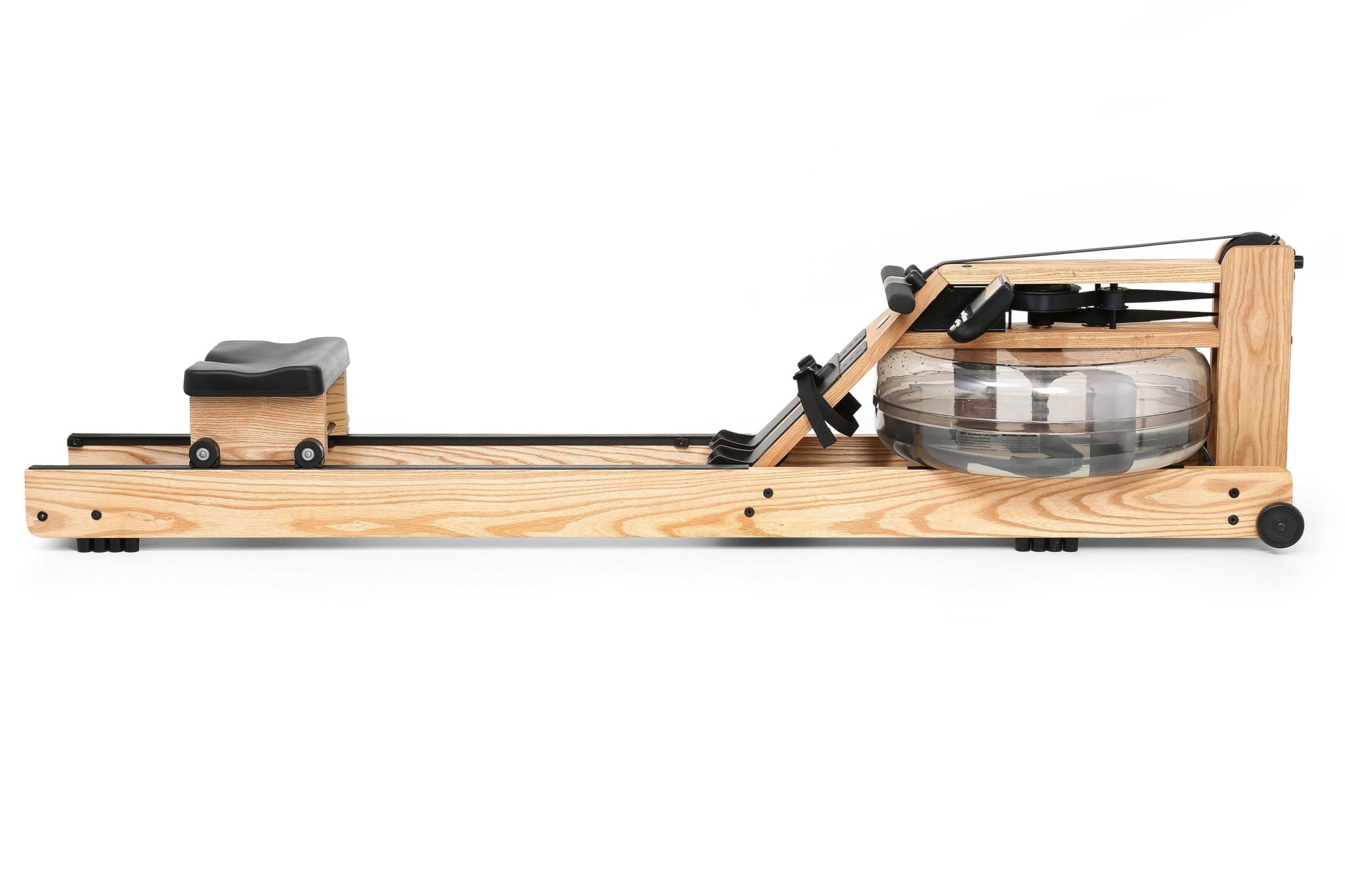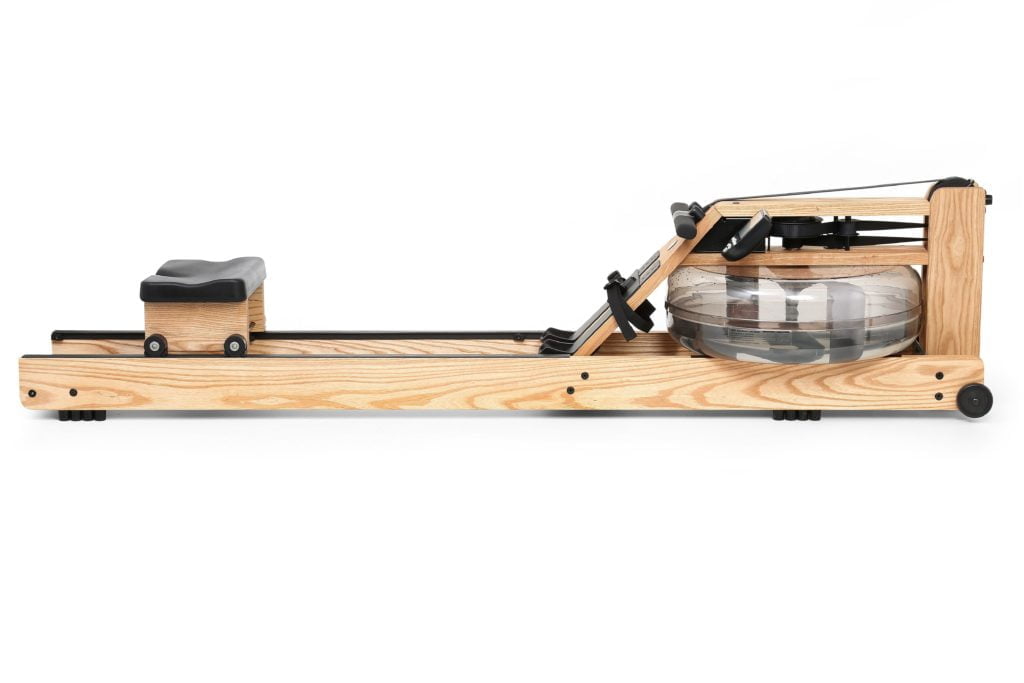 Water-resistance rowing machines use paddles suspended in a tank of water to create resistance. It is similar to how air resistance works, but with water. The benefit of this is a much more realistic rowing experience compared with lower noise compared to air.
Resistance is controlled by pulling harder/faster but also the level of water in the tank too.
They tend to be both large, expensive and you can't always fold them, but some flip-up vertically. The best known brand for water resistance is WaterRower. The Original WaterRower retails for about £1000 but has not been in stock since early lock down. There is a 12 week delivery for them at the moment.
The best rowing machines on Amazon
Reviews: 4.4/ 5 with 508
Available: July 3, 2020
Resistance: 10 levels of magnetic
Drive: Belt Driven
Foldable: Yes
JLL seem to do a lot of well-reviewed affordable gym equipment. This is a basic option, belt-driven with magnetic resistance so it should be one of the quieter options on the market.
Reviews: 4.4/ 5 with 809
Available: Usually dispatched within 2 to 3 days.
Resistance: 14-levels of magnetic
Drive: Nylon cord
Foldable: Yes
Specs of this are unclear, but it is extremely well-reviewed. This can be used for resistance-based exercises to giving some full-body work out options, though these exercises are possible with any rower. It has Bluetooth and can be connected to the My Cloud Fitness ap. This has only been on Amazon for a few months, so it is impressive/surprising that they have raked up 809 reviews.
Reviews: 4.2/ 5 with 75
Available: In Stock
Resistance: 10 levels with 4kg inner magnetic flywheel
Drive: Belt Driven
Foldable: Yes
Seems to offer a similar spec to the JLL, but this one is currently in stock. It is worth noting that this used to sell for £159, so they have hiked the price since the coronavirus epidemic.
Reviews: 4.3/ 5 with 113
Available: Usually dispatched within 3 to 4 days
Resistance: 10 levels of magnetic
Drive: Belt Driven
Foldable: Yes
Reviews: 4.4/ 5 with 29
Available: July 3, 2020
Resistance: 8 Levels of magnetic resistance combined with air resistance
Drive: Belt Driven
Foldable: Yes
Doesn't state if it uses a nylon belt or not, but I assume it does. This combines air and magnetic resistance so it will be louder but generally offers a superior rowing experience and better resistance.
Reviews: 5/ 5 with 2
Available: In stock
Resistance: Water
Drive: Probably belt
Foldable: It flips up into a vertical stance
Considerably more expensive but water rowers a more realistic rowing experience that is considerably quieter than air resistance. The resistance itself is set by the amount of water you put in the tank. The unusual raised seat should be good for people with joint issues.
Last update on 2022-05-17 / Affiliate links / Images from Amazon Product Advertising API