Oppo will continue to expand their Reno3 line up to be just a little bit more confusing on the 16th of March. This time it will be for the global version of the standard Reno3, unlike the Reno3 launched in China this will not have 5G and will have a very different chipset.
Currently, the specifications are just from leaks, but Oppo has posted on Facebook they will be launching the 16th of March. This includes a visual showing that the design will be the same as the Chinese variant.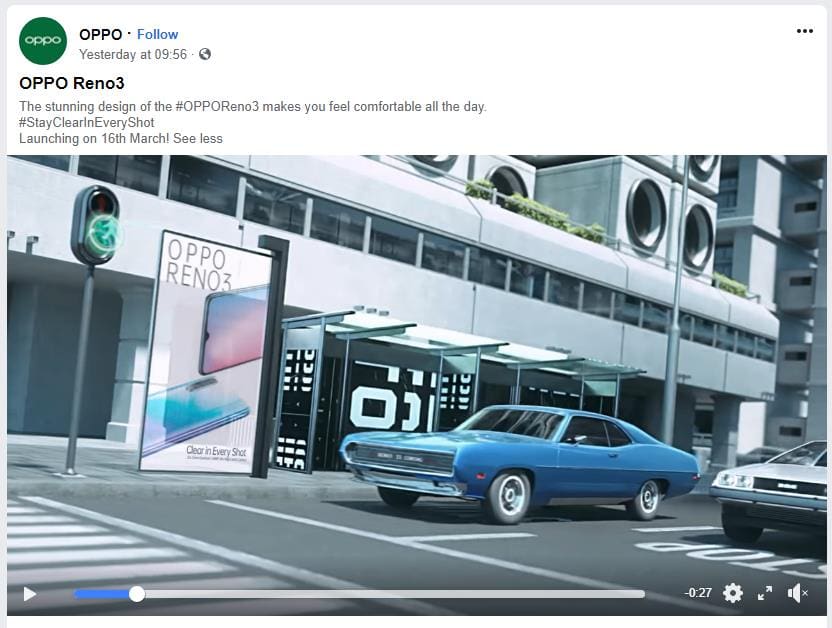 While the design stays the same, the Global model is a big downgrade and drop the chipset from the almost flagship MediaTek Dimensity 1000L down to the Helio P90. The camera system will also change, it is currently rumoured to have a 44MP camera on the front, which is an upgrade from the 32MP shooter on the Chinese variant. But the main camera is downgraded from 64MP to 48MP, which is joined by a 13MP telephoto, 8MP ultrawide and 2MP monochrome units.
The Reno3 Pro will pack a 4,025 mAh battery and arrive in three colours – Sky White, Midnight Black, and Aurora Blue.
Most recently the Oppo Reno3 Pro 4G/Global version launched in India, this has the latest Helio P95 chipset, but the specification is identical to the Helio P90 found on this phone, the only difference is a claimed 10% uplift in AI performance.
This will leave the current phones from OPPO in order of chipset performance as:
OPPO Find X2 Pro – Qualcomm Snapdragon 865
OPPO Find X2 – Qualcomm Snapdragon 865
Oppo Reno3 5G– MediaTek Dimensity 1000L (China only)
Oppo Reno3 Pro 5G – Qualcomm Snapdragon 765G (China only, same design as the Find X2)
Oppo Reno3 Youth – Qualcomm Snapdragon 765G (same design as the Reno3)
Oppo Reno3 Pro – MediaTek Helio P95
Oppo Reno3 Global – MediaTek Helio P90