With AMD and Intel launching their latest HEDT processors has AMD continued to embarrass Intel, or is the new (semi) affordable 10980XE the best HEDT processor?
Pricing & Options
With the latest processors, Intel has options going from a 10-core 10900X with a price of £609.98 up to the Core i9 10980XE Extreme with 18 Cores, 36 Threads for £1,099.99.
On the other hand, AMD has just two HEDT processors with the Threadripper 3960X which has 24 cores and 48 thread priced at £1,349.99 or the 32-core 3970X for £1,899.98.
So this is a bit of a shift in pricing, Intels last generation HEDT were very expensive which allowed AMD to gain some traction over Intel. This time around the pricing is closer together, AMD is more expensive but you get more cores, PCIe support etc.
It is also worth noting if you are building an AMD rig you will need a TRX40 motherboard and these start out at £409.99 on Scan for the ASUS Prime TRX40-Pro.
Intel on the other hand still uses the X299 socket and these start off at just £144.98 for the Gigabyte X299 AORUS Gaming, with £400 getting you something mid-range like the ASRock Intel X299 Taichi CLX.
So Intel technically has the advantage in terms of pricing – something that could not be said in the past.
Data Source and test Set up
This data is sourced from Anandtech & Bit-Tech – both sites have reviewed both CPUs recently so their data should be quite accurate for comparisons.
The full reviews can be found here:
For the Anandtech on the AMD system, they have a MSI GTX 1080 Gaming 8G with Corsair Dominator Platinum RGB 8×8 GB DDR4-3200 and a Crucial MX500 2TB. The motherboard is the Asus ROG Zenith II Extreme.
On the Intel system, they have a MSI GTX 1080 Gaming 8G (Gaming Tests) and Sapphire RX 460 2GB (CPU Tests), Corsair Vengeance RGB 4×8 GB DDR4-2933, Crucial MX500 2TB.
For Bit-Tech, for AMD they also use the Asus ROG Zenith II Extreme, which is combined with 16GB (2 x 8GB) of Corsair 3,466MHz Vengeance Pro RGB DDR4 on both CPUs. They then use an EK Water Blocks EK-MLC Phoenix 240mm CPU cooler and Nvidia's GeForce RTX 2070 Super Founders Edition.
The Intel system is essentially the same but with an MSI MEG X299 Creation motherboard.
Content Creation & CPU Performance
Adobe Premiere Pro
The various content creation benchmarks are arguably the most important, it is unlikely you will be buying one of these CPUs purely for gaming.
At stock, the 3960X comfortably outperforms the Intel CPU is around 8% faster.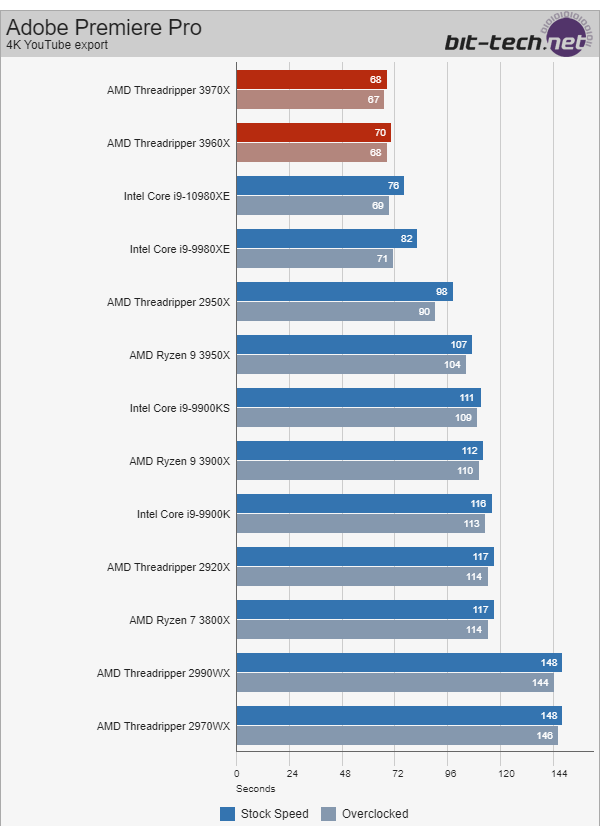 HandBrake Video Transcoding
Similar results with HandBrake encoding. In the Bit-tech results, we see the AMD have a 17.5% gain over Intel. Even with an overclock the Intel still falls short of the AMD CPU by 9.6%.
For Anandtech, it looks a little closer with the AMD 3960X achieving 10 frames per second more than Intel which is just a 3.9% advantage.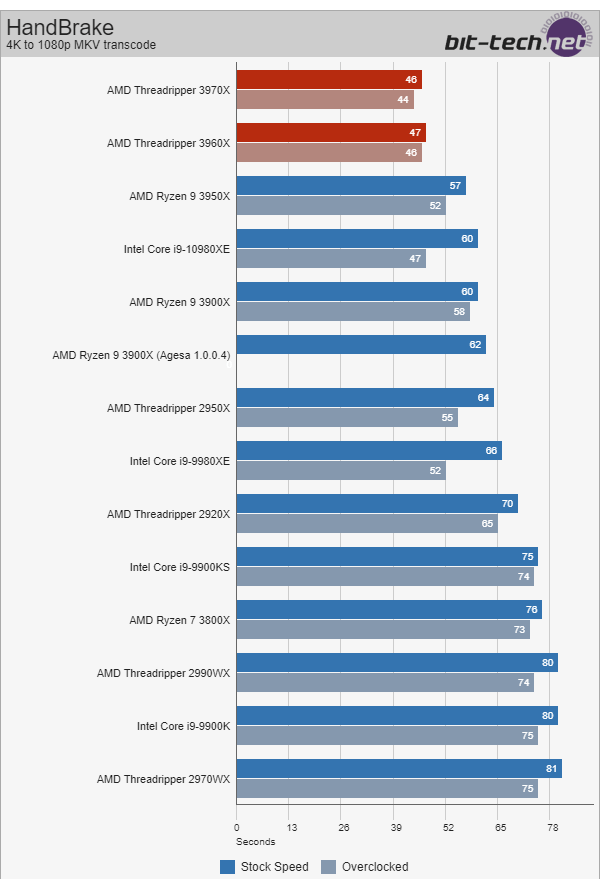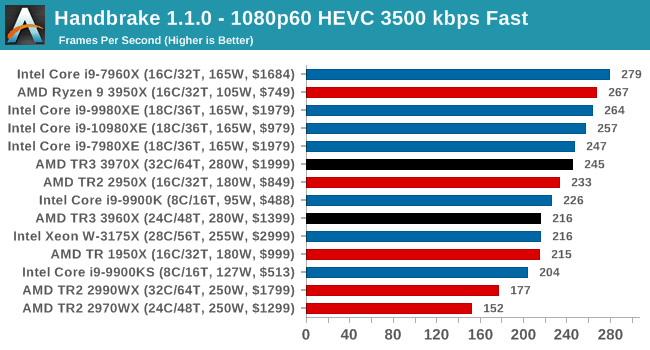 PCMark 10 Photo Editing
Another disappointing result for Intel, being humiliated by the AMD CPU with a massive 39% difference in the score. Looking at this graph, PC mark heavily favours AMD.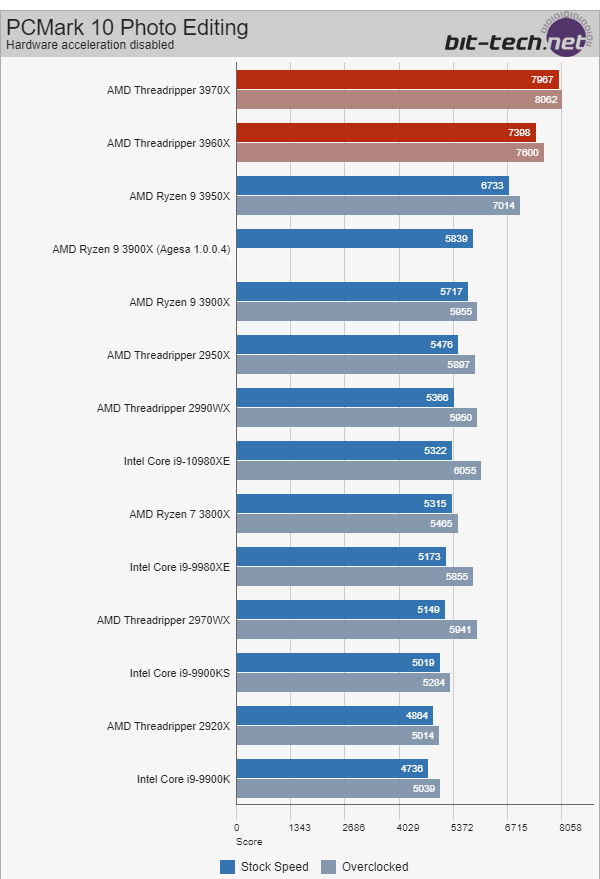 Cinebench
Again, poor performance from Intel with AMD taking the lead by 13% in single-core performance, that lead then jumps up to 57% for the multi-core performance thanks to the extra cores AMD has access to.
Blender
Continuing the trend, at stock speed, the AMD CPU is 34% faster, the Intel overclocks well, but even with a significant boost from increased frequencies, Intel falls behind by 13% vs a stock AMD.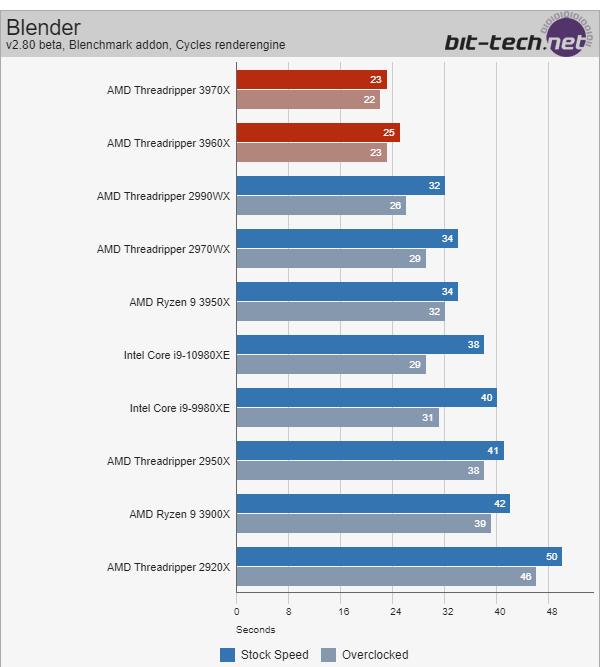 Gaming Performance
Final Fantasy XV
Things look a little more promising for Intel with the gaming benchmarks. In all the Final Fantasy XV tests, the Intel 10980XE has a small advantage. On the 8K standard test that is about 4% and the 720P test, it is a 2% difference.
Shadow of War
Again, Intel has a small advantage here, level pegging in some of the tests but a 3.4% advantage in the 1080P Ultra test.
Strange Brigade (DX12, Vulkan)
Mixed results in this one. With 4K Ultra Intel has a small advantage with 50.7 vs 49.4 which is a 2.6% increase but if you drop down to 720P the test favours AMD.
F1 2018
In F1 2018 we see Intel get their best result against AMD with the 4K ultra test showing a 9.8% improvement in frames per second.
DOTA 2
Moving over to Bit-Tech the trend is familiar with Intel being better than AMD for gaming. This test is a little peculiar though, at stock the Intel does not perform too well scoring 39% behind the AMD but it then jumps ahead and outperforms AMD by 17.7% both at stock and overclocked.

Far Cry 5
Again, Intel is not so great at stock but with an overclock they can get a 25% improvement over AMD.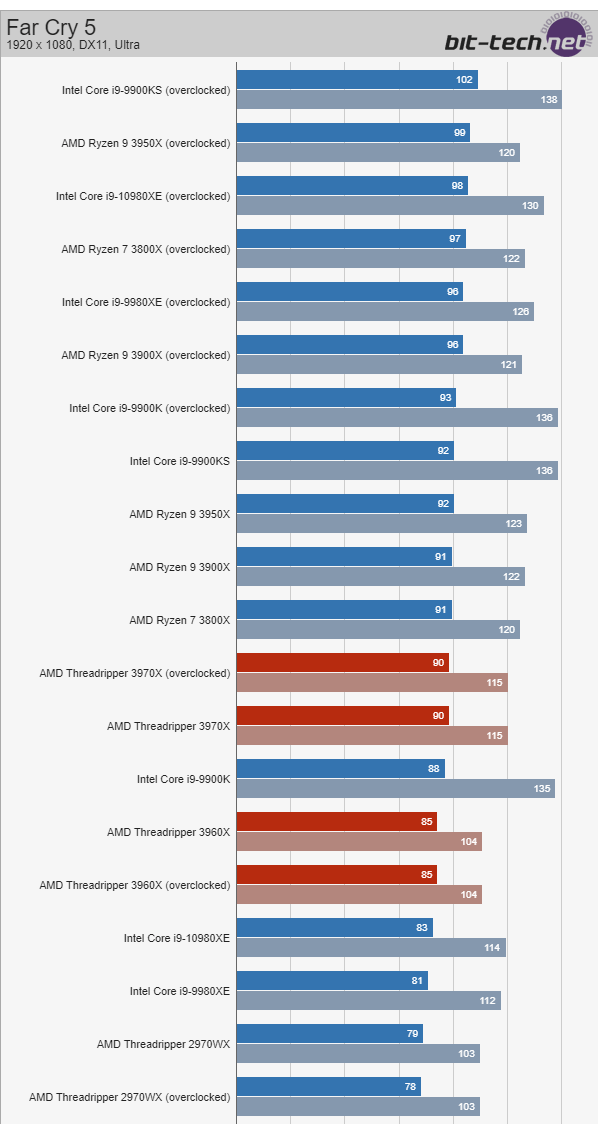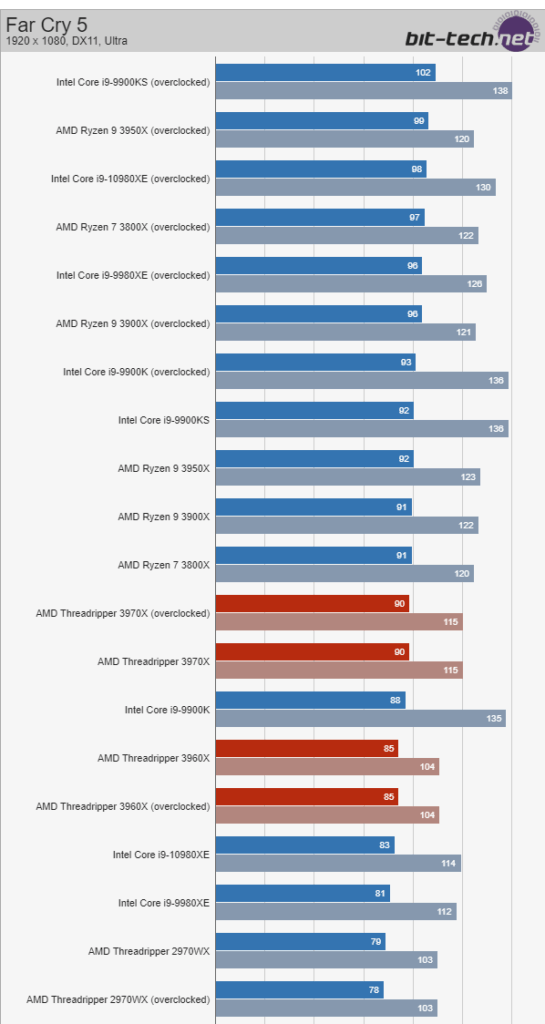 3DMark Time Spy CPU
In 3DMark AMD is back on top with a score of 13074 vs 12473 which is a 4.8% difference.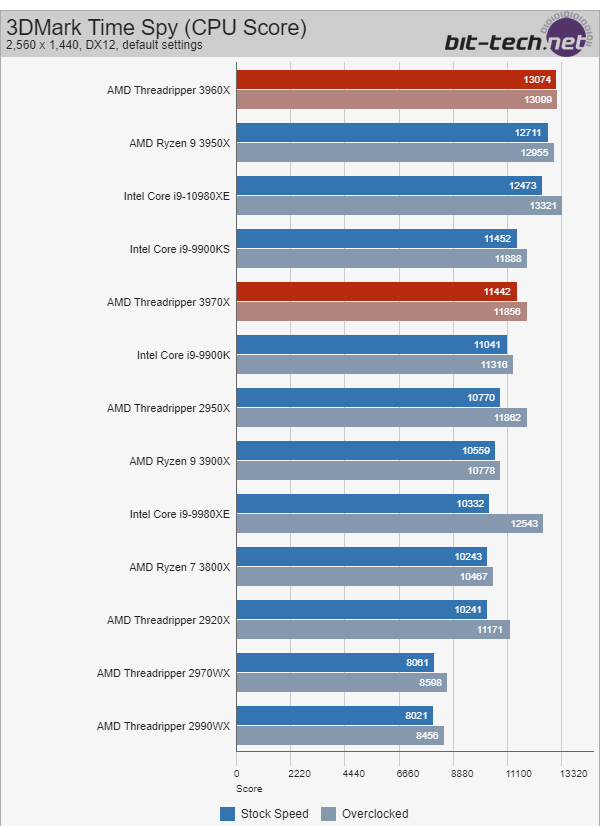 Overclocking
As you can probably tell from the results, the AMD Ryzen Threadripper 3960X is bordering on useless when it comes to overclocking. Clearly, the 280W TDP is hard to tame. Bit-Tech managed to achieve 4.35GHz which is 150MHz down from the single-core boost but 250MHz higher than the all-core boost.
The Intel, on the other hand, does show some superb overclocking results, Bit-Tech managed to squeeze out 4.7GHz across all 18 cores but this was excessively hot, they then brought it down to a stable 4.5GHz. While this is promising, in general, the overclocks still left Intel underperforming against AMD.
Power Consumption
The AMD CPU has a TDP of 280W while Intel has a more modest 165W TDP. A good indication of why one overclocks better than the other.
At idle running at stock speeds, Bit-Tech observed a power draw of 132W, under load this then hit 440W for the AMD. This increased to 172W and 526W with an overclock.
As you might expect, Intel was well below this at 128W and 376W. However, with the potential for an aggressive overclock these numbers jump up to 166/595W
Overall
I think it is quite clear than the new AMD Ryzen Threadripper 3960X comfortably outperforms the Intel Core i9-10980XE.
However, it is not quite as clear cut as that. You can pick up the i9-10980XE plus a motherboard for less than the AMD by itself (£1250.46)
For the Threadripper 3960X, if you paired that up with the Prime TRX40-Pro, that will set you back £1771.48 which is a 41% price difference.
Overall though, if you want the best, AMD is probably the way to go. For content creators, making money off what they do on a PC, it is quite possible that the performance gains will reduce your productions times and justify the price difference.
AMD Ryzen Threadripper 3960X vs Intel Core i9-10980XE
AMD Ryzen Threadripper 3960X
Last update on 2022-07-24 / Affiliate links / Images from Amazon Product Advertising API