AMD look like they will continue to dominate with their Ryzen AM4 platform in 2019. New details of the  X570 chipset have been leaked showing some interesting features.
The new information comes from several slides that have been leaked from a presentation made by Gigabyte. These slides mentioned that Matisse, the codename for the upcoming Ryzen family, will be getting a new chipset known as the X570. The entire Ryzen family of processors is forward compatibility with the new chipset while the new processors will be backwards compatible with the older chipsets but if you're to get the best feature support from the new Ryzen CPUs, it is better to get a new X570 motherboard.
A brief overview of what we can expect from the up and coming CPUs compared to the current ones includes is shown below:
AMD CPU Roadmap (2018-2020):
Ryzen Family
Ryzen 1000 Series
Ryzen 2000 Series
Ryzen 3000 Series
Ryzen 4000 Series
Architecture
Zen (1)
Zen (1) / Zen+
Zen (2)
Zen (3)
Process Node
14nm
14nm / 12nm
7nm
7nm+
High End Server (SP3)
EPYC 'Naples'
EPYC 'Naples'
EPYC 'Rome'
EPYC 'Milan'
Max Server Cores / Threads
32/64
32/64
64/128
TBD
High End Desktop (TR4)
Ryzen Threadripper 1000 Series
Ryzen Threadripper 2000 Series
Ryzen Threadripper 3000 Series (Castle Peak)
Ryzen Threadripper 4000 Series
Max HEDT Cores / Threads
16/32
32/64
32/64?
TBD
Mainstream Desktop (AM4)
Ryzen 1000 Series (Summit Ridge)
Ryzen 2000 Series (Pinnacle Ridge)
Ryzen 3000 Series (Matisse)
Ryzen 4000 Series (Vermeer)
Max Mainstream Cores / Threads
8/16
8/16
8/16?
12/24?
16/32?
TBD
Budget APU (AM4)
N/A
Ryzen 2000 Series (Raven Ridge)
Ryzen 3000 Series (Picasso) Zen+?
Ryzen 4000 Series (Renior)
Year
2017
2018
2019
2020
The highlight of the new X570 is support for PCIe Gen4. The slide calls Matisse as an all PCIe Gen4 solution which means this would most probably be the first consumer platform to feature support for the new PCIe standard.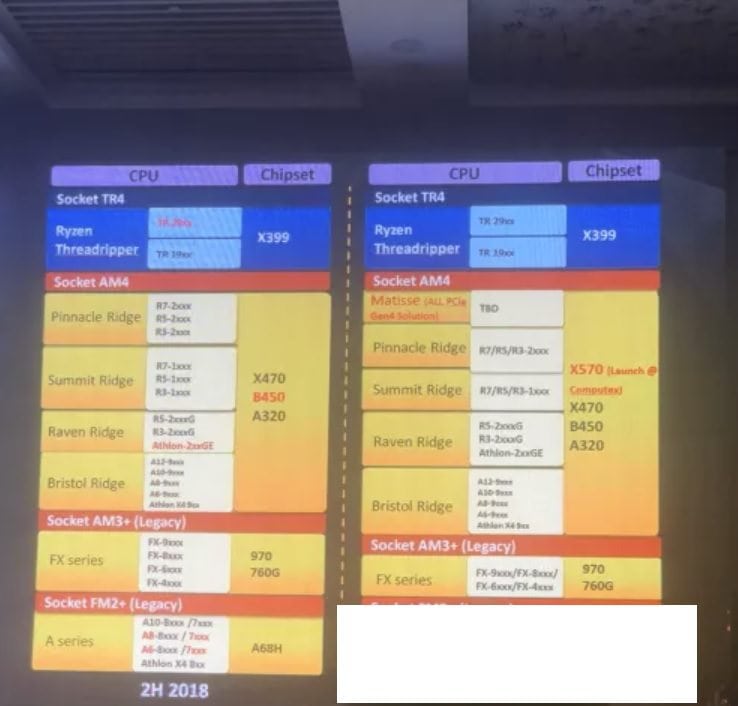 PCIe Gen4 will double the bandwidth available compared to the previous generation providing a 16 GT/s bit rate while maintaining backwards and forward compatibility in both software support and used mechanical interface. PCI Express 4.0 specs will also bring OCuLink-2, an alternative to Thunderbolt connector. OCuLink version 2 will have up to 16 GT/s (8 GB/s total for ×4 lanes), while the maximum bandwidth of a Thunderbolt 3 connector is 5 GB/s. Additionally, active and idle power optimizations are to be investigated.
It is expected that AMD and their partners will announce and show off the X570 chipset motherboards at Computex 2018 which will be on  May 28 – June 1, 2019.
AMD Zen 2
The Ryzen 2000 launched this year was just a refresh of the original Zen architecture launched in 2017 which only offered a relatively small bump in processing power with only a 3% increase in the  IPC (Instructions Per Clock Cycle).
The new Zen 2 architecture has recently been teased as having 13% IPC improvements from Zen+ but the new leak indicates that this could be as high as 15%.
Zen 2 is also aiming to fix and improve upon the memory controller by reducing the memory delay and allowing better support for higher frequency, lower latency DDR4 memory.
The clock speeds should also get a huge jump, thanks to both, the TSMC 7nm node and revamped architecture design and one can also expect refined boost frequencies, allowing for higher XFR and Precision Boost limits.