I reviewed the Airthings Wave Plus a couple of years ago; it was one of my first experiences of indoor air quality monitoring and I was impressed with what it offered.
Last year I became more interested in Indoor Air Quality as part of my long quest to be as healthy as fit as possible. I have always had a few issues with breathing as well as hayfever, and addressing the quality of the air in my home has made quite a bit of difference.
For me, the biggest contributor to my breathing issues seems to be particulate matter, which, as the name suggests, is all the physical particles that float around in the air. This can be dust, pollen, bacteria, and basically anything other than gas.
One major contributor to particulate matter, especially in my house, is cooking. Frying things is the biggest contributor. Since monitoring air quality via my Dyson, I have made a conscious effort to reduce this issue, and it does help a lot.
Air Things View Plus
Now, Airthings have launched their latest IAQ monitor making it one of the most thorough solutions on the market.
The new Air Things View Plus retains the radon detection from the Wave Plus, a unique feature other competing brands don't offer. It then introduces PM2.5 monitoring, which is equal to the best level of monitoring on any other consumer IAQ monitor on the market.
Price and Availability
Airthings View Plus is now available for pre-order beginning today on Airthings.com with a special, 10% off pre-launch discount before the end of March. The product will start shipping to customers this June for £259 / $299 USD [incl VAT].
Similar price to IQAir Air Visual Air Quality Monitor but with added Radon detection
While that does sound like a lot of money, this is around the same price as the IQAir Air Visual Air Quality Monitor which is the go-to IAQ monitor. IQAir doesn't monitor things like Radon, so the Airthings looks to be the best option on the market when it is launched.
Full Press Release
Airthings, makers of the best-selling indoor air quality and radon solutions for homeowners, businesses and professionals, has launched View Plus smart air monitor, featuring the brand's most advanced air quality technology to date.
Battery-operated and Wi-Fi-enabled, View Plus includes sensors for particulate matter (PM), radon, carbon dioxide (CO2) and much more, along with a customisable display for easy visualisation. View Plus brings a new level of peace of mind, allowing users to rest assured that their homes are healthy.

According to the World Health Organization, 9 out of 10 people breathe unsafe air on a regular basis. The effects of allergens, pollution, wildfire smoke, radon and airborne viruses impact the health of people all over the world, yet these invisible enemies often lurk freely in our everyday environments without the ability to detect them. View Plus is here to change that and offer a level of control over the air that has never been possible before. By monitoring for PM, radon, CO2, humidity, airborne chemicals (VOC), temperature, air pressure, and even outdoor air quality, View Plus displays a comprehensive spectrum of insights and provides a glance into air quality in a way that is easy for anyone to understand.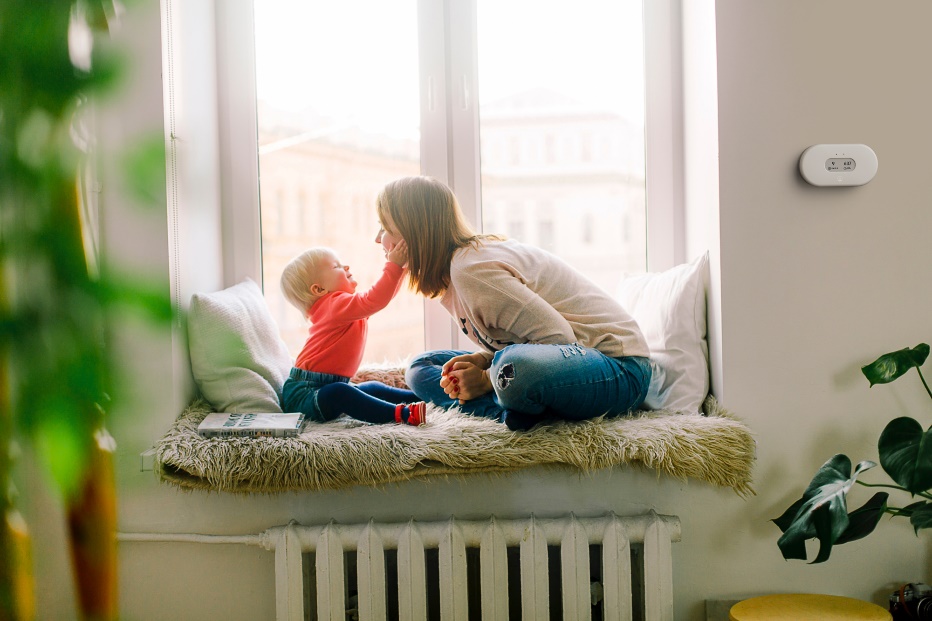 Invisible to the naked eye
PM detection is a new addition to Airthings' range of product capabilities and will provide a level of insight into air quality at home. The term "particulate matter" describes microscopic particles in the air, which can include anything from dust and pollen to pollutants emitted from car exhaust, industrial activity, wood-burning stoves, smoke from wildfires, cooking, cigarette smoke, and pets, and more. While invisible to the naked eye, the impact of PM on our health can be colossal – it can irritate lungs, agitate pre-existing conditions such as asthma, and can even contribute to serious illnesses, such as heart attacks and coronary artery disease. The only way to combat PM in the air is to gain awareness of its presence and take informed action; which is where View Plus can help. The product features a built-in particle sensor that can detect PM2.5 and PM1, and provide users with continuous access to data, as well as notifications to alert about changes in the air.
"Since the beginning of the pandemic, we've seen the levels of awareness about air quality increase dramatically," said Oyvind Birkenes, CEO of Airthings. "We decided to develop View Plus to help people everywhere understand that they have more control over their air quality than they might think. Our mission at Airthings has always been to educate people and foster constructive conversation about how air quality can impact their health and daily lives. With View Plus, we can empower people to learn about the air quality in their homes in a way that is constructive and easy to understand."
Customisable to everyone's needs
With a sleek and minimalistic design interface that will fit seamlessly in any home, View Plus adapts to the surroundings, showing the most relevant data based on the location. It also allows for customisation options for users who want to prioritise the air quality data that matters most to them – whether it be PM, radon, CO2, humidity, or something else. Gaining an understanding of the air with View Plus is as easy as waving a hand in front of the device for a colour-coded air quality check. Users can log into the Airthings Dashboard for in-depth insights into the air or open the Airthings app for a quick and easy view of the air quality levels.
View Plus is wireless and WiFi-enabled, offering access to data anytime, and anywhere, with a battery life of more than two years. It can also be easily integrated into a smart home system using IFTTT, Google Assistant and Amazon Alexa. In addition, View Plus has a built-in Hub functionality, so users can expand their system and bring other Airthings devices online. View Plus can be placed in any home, making for a convenient way to transform indoor air quality from an invisible threat to a visible, understandable, and controllable aspect of life.
Airthings View Plus is now available for pre-order beginning today on Airthings.com with a special, 10% off pre-launch discount before the end of March. The product will start shipping to customers this June for £259 / $299 USD [incl VAT]. To find more information on the View Plus and why long-term air quality monitoring is important visit the Airthings website at Airthings.com.