The 1MORE Triple Driver BT In-Ear Headphones have been one of my favourite earphones over the past couple of years, they sound superb, the fit is perfect and they are comfortable to wear for long periods of time.
1MORE will not be the third company (that I am aware of) that will offer active noise cancelling true wireless earphones. The Huawei Freebuds 3 and the Airpods Pro are the most recent launch but it was the Sony WF-1000XM3 ANC that set the standard.
1MORE confidently think they are better than the Sony offering, they claim that their implementation has -10dB better noise-cancelling over the Sony WF-1000XM3.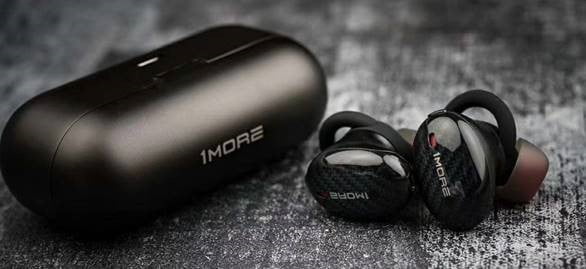 The 1MORE ANC Dual Driver True Wireless features:
Hybrid Noise Cancellation (one feed-forward & one feed-back) plus Pass-through via Touch Control

There are two ANC mics on each earbud; one in front of the speaker (to correct any remaining stray frequencies), and another behind it on the outer casing (to pick up the surrounding noise to begin with). Like the 1MORE Dual Driver BT ANC headphone, we have 2 different modes of ANC that the user can choose between to get their preferred level of noise cancelling depending on their environment. You can double tap the earbud casing (thanks to touch controls) to cycle through the levels of ANC and also to enable the Pass-through feature, a mode that many people liked from our Dual Driver BT ANC to allow more awareness of your surroundings.
Dual Drivers

We use a single but punchy 10mm titanium Dynamic Driver (Sony uses a 6mm driver, FYI) and one Balanced Armature. While this goes up to 20,000 Hz (and therefore not Hi-res certified), our drivers are still tuned by our Grammy-winning sound engineer, Luca Bignardi, for a clear & dynamic sound.
5W Wireless Charging & 2C Quick Charge via USB-C

A total of 24-hours of battery life is possible with these buds thanks in part to the case, along with a short 15-minute quick charge via the USB-C port that allows a decent 3-hours of music playback. For the first time on any of our Bluetooth headphones, this features wireless charging via 5W Qi allowing you to charge the case quickly. Each earbud can last up to 7-hours (based on 50% volume w/o ANC – with ANC is 6-hours).
Infra-Red Sensors

This headphone will be the first of our products to include IR sensors on both earbuds for auto play & pause when you take one or both of the earbuds out of your ear for convenience.
CSR Chipset with Bluetooth 5.0 & aptX

These buds feature Qualcomm TrueWireless Stereo Plus that most of the flagship Android smartphones can take advantage of (Snapdragon 845 & above). What this basically means is the elimination of the whole "Master & Slave" concept (something we already tried to do-away with on the 1MORE Stylish True Wireless). TrueWireless Stereo+ is Qualcomm's way of feeding a signal straight to both earbuds simultaneously direct from the smartphone without a need to have one earbud being the 'Master' & the other the receiving 'Slave'. This also greatly improves the latency. However, please note that this will be for Android Smartphones only. For Apple devices, we'll still have the same self-developed intuitive Master/Slave concept we used with our Stylish True Wireless whereby each earbud can be the Master or Slave depending on battery life. Aside from that, we offer near "lossless" Bluetooth 5.0 playback via aptX for Android and AAC for iOS devices.
Dual Microphones with ENC Technology

Each earbud features not 1 but 2 mics for unparalleled voice calling and communication. Better still, one of those mics on each of the buds features ENC to help filter out any & all background noise.
Voice Assistants

Both Siri & Google compatible, you can activate them by clicking the side button 3-times found on each earbud to carry out your tasks such as playing your music playlist, or to call someone.
The earphones will officially launch on the 6th of January but at the moment they have bot revealed the pricing.