Xiaomi 11T Review Rating
Summary
The Xiaomi 11T is an excellent upper-midrange phone that has flagship quality performance and camera capabilities without the cost. However, there are a growing number of superb phones that offer a similar experience and the £549 RRP is a touch high for my liking. Well worth the current £499, though.
Pros
256GB storage as standard (In the UK)
Good day to day performance thanks to Dimensity 1200 SoC
A flagship-level primary camera
Outstanding battery 
Cons
A bit too expensive at £549
Launched earlier this month, the Xiaomi 11T series is positioned as an affordable refresh of their flagship Xiaomi MI 11 series.
The new Pro model features the flagship SD888 and is the first phone to launch in the UK with an incredible 120W fast charge.
The Xiaomi 11T I have reviewed today is the second phone in the UK to launch with the excellent Dimensity 1200 chipset. This joins a growing list of superb upper-midrange phones that offer flagship-level photography at an affordable price point, but does it offer enough to stand out from the crowd?
Specification
Display: 6.57 inches OLED 120Hz 2340 x 1080P
Chipset: MediaTek Dimensity 1200 Ultra
RAM: 8GB
Storage: 256GB
Rear Camera:

108 MP, f/1.8, 26mm (wide), 1/1.52″, 0.7µm, PDAF, EIS

8 MP, f/2.2, 120˚ (ultrawide), 1/4″, 1.12µm

5 MP, f/2.4, 50mm (telephoto macro), 1/5.0″, 1.12µm, AF

Front Camera:

32 MP, f/2.2, 22mm (wide), 1/3.14″

Battery: 4300 mAh with 66W fast charging
Display and Design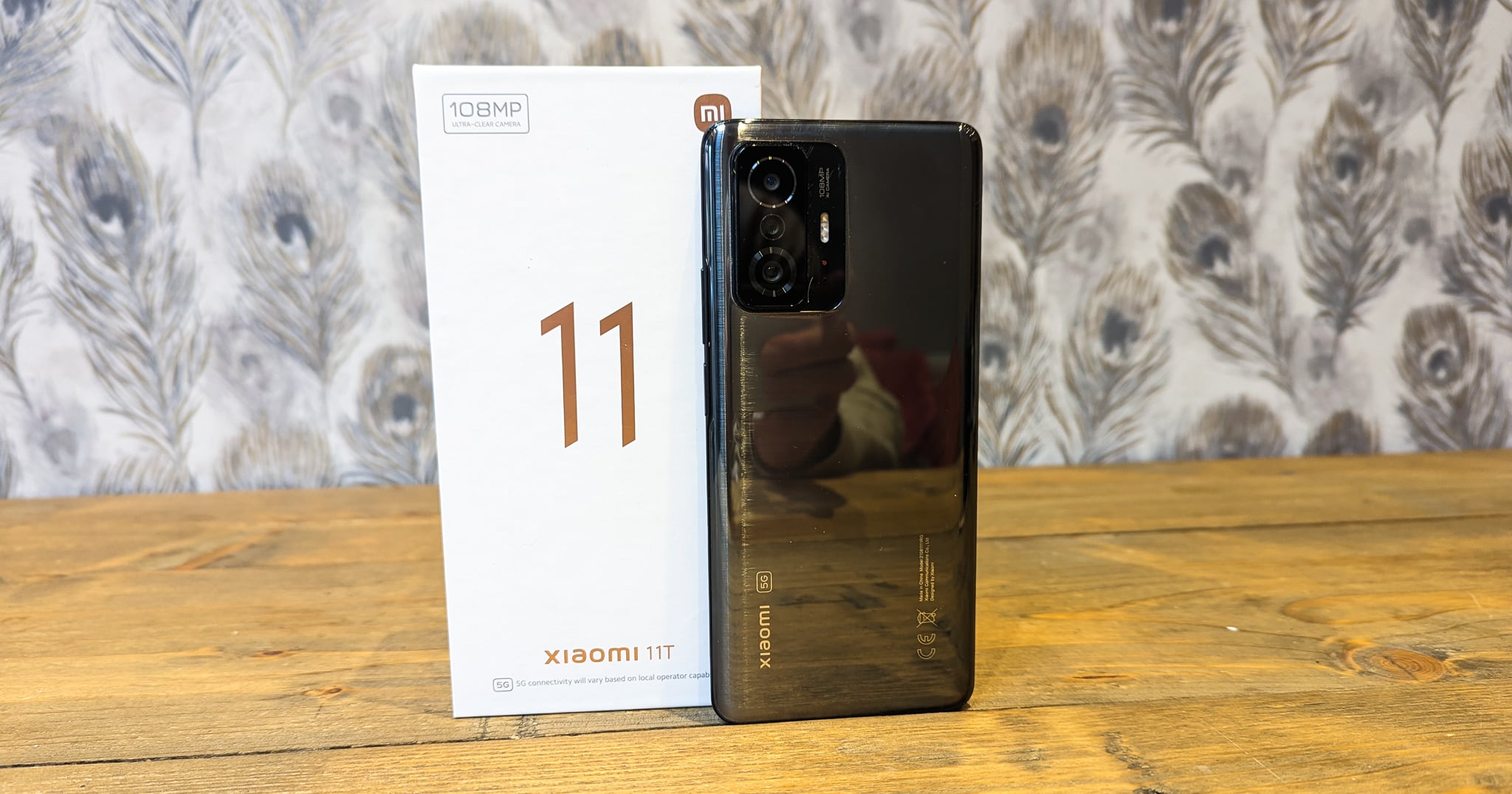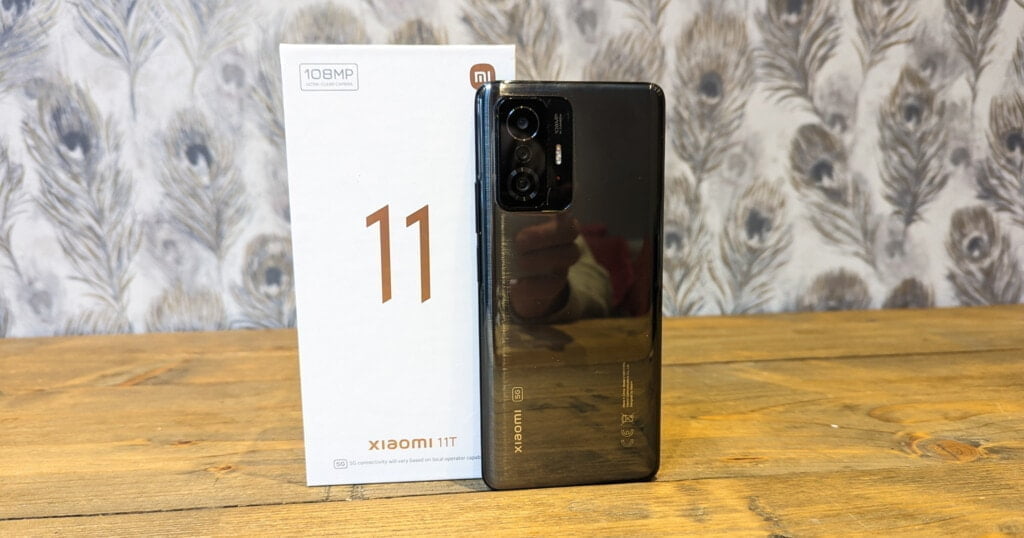 The Xiaomi 11T offers a less premium design and build quality compared to the flagship Xiaomi Mi 11. You lose the glass back in favour of plastic, then the display is both flat and a lower resolution. Therefore, the overall aesthetic is less impressive, but I doubt most people would care.
The display is 6.67 inches making this a bit smaller than the Mi 11, but in general, it is on the larger size for phones, being larger than the Honor 50, OnePlus Nord 2 and Pixel 6.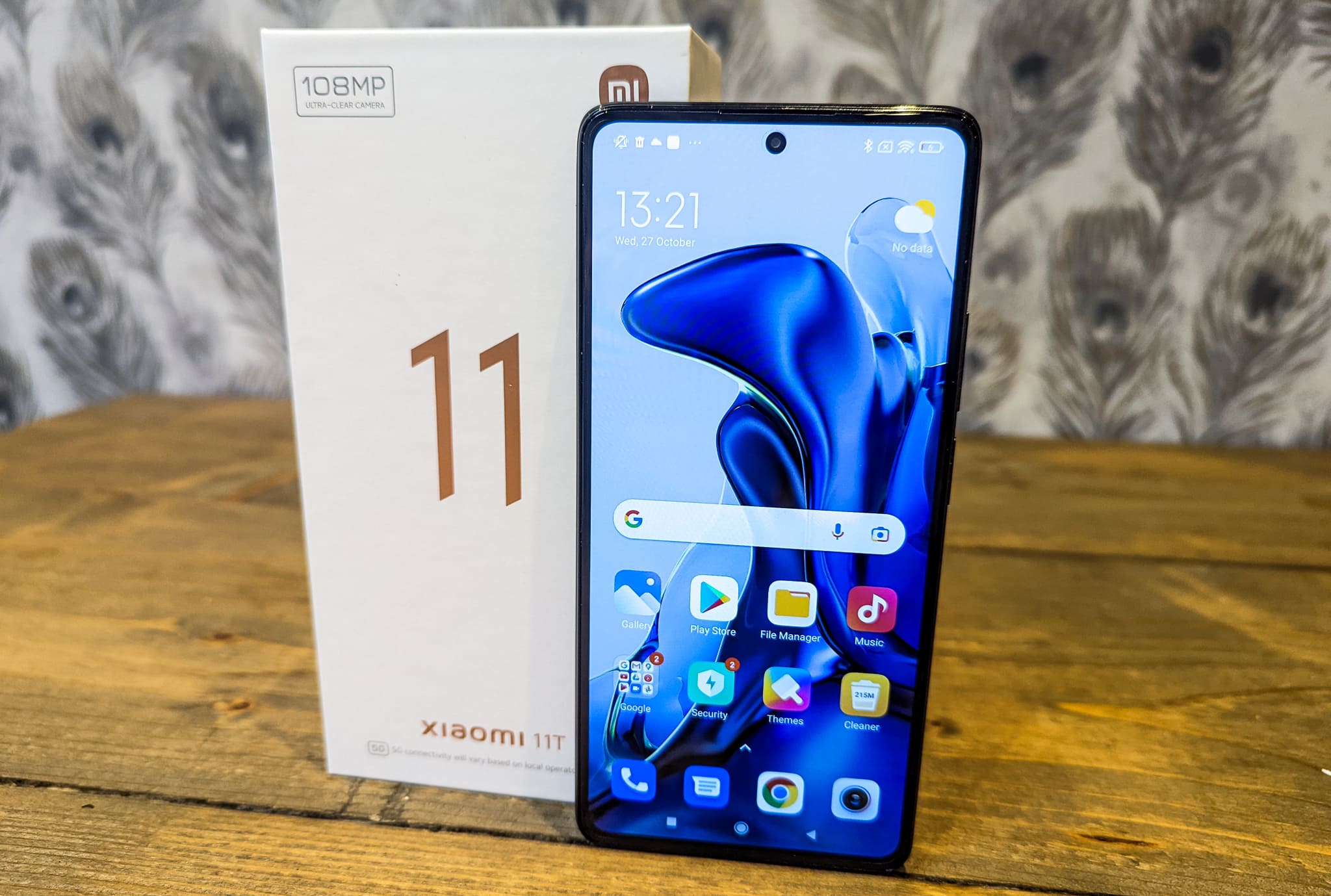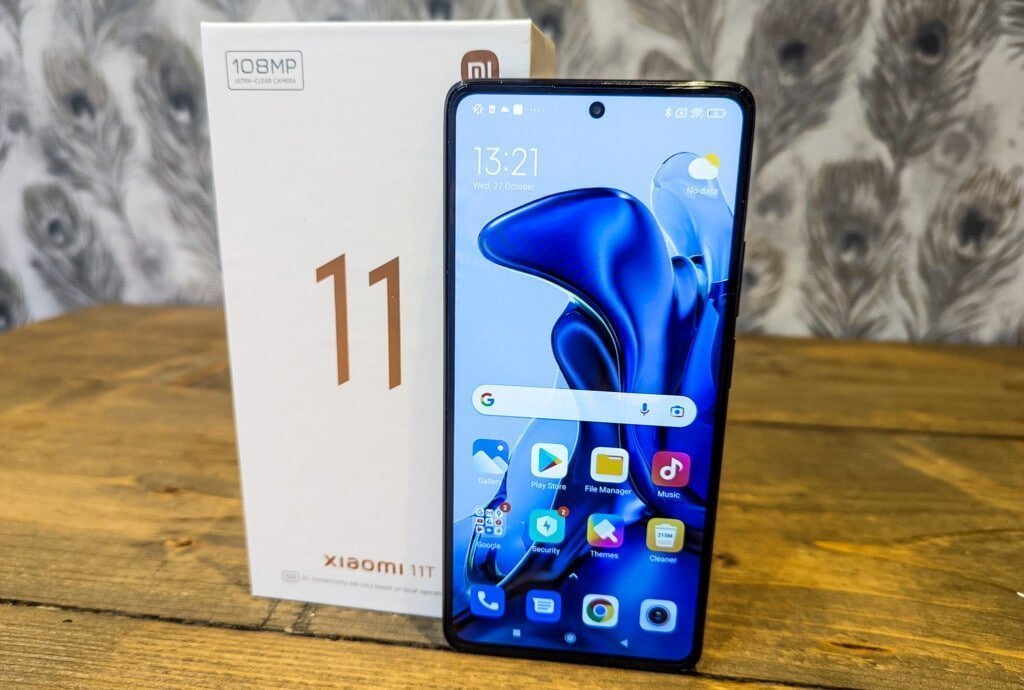 I personally prefer something a bit bigger, so I am happy with it.
As usual for most mid-range or higher phones, there is no microSD slot or 3.5mm headphone jack.
This has an IP rating of IP53, providing dust and splash protection. It is about as basic as you get but few phone at this price offers a formal IP rating.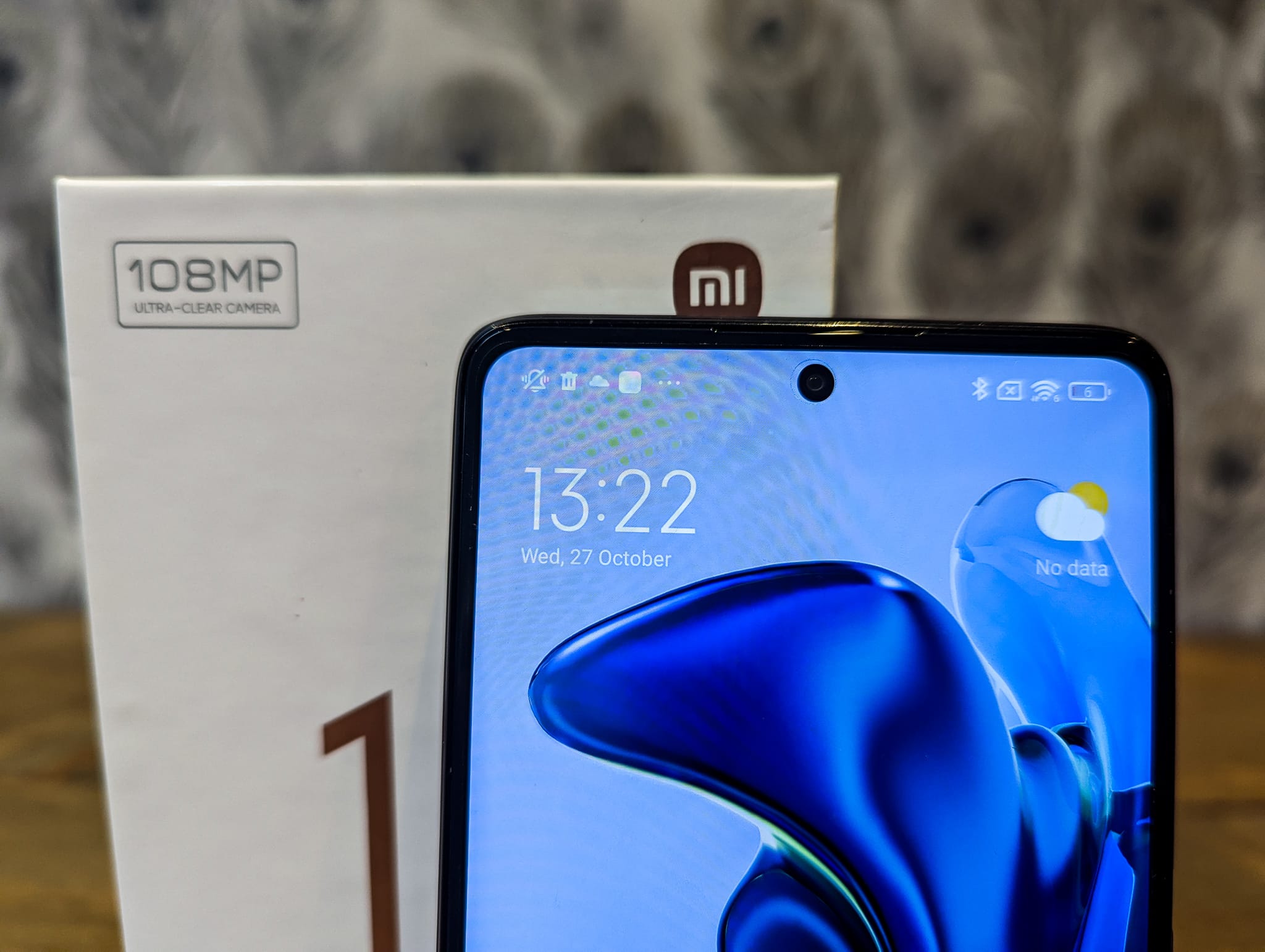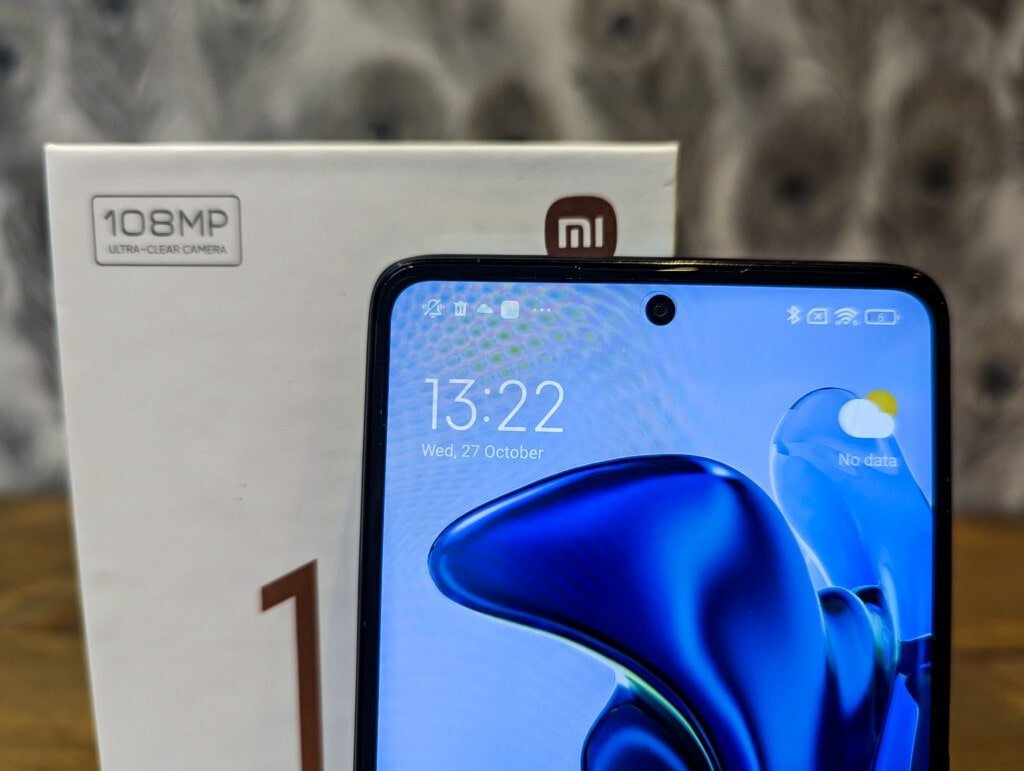 Fingerprint sensor
One strange design decision is to ditch the in-display fingerprint sensor and move it to the side on the power button. The side placement is arguably superior for accuracy, and for many scenarios, it offers a quicker and more natural way to unlock the phone. I have no strong feelings either way, but some people may feel otherwise.
Camera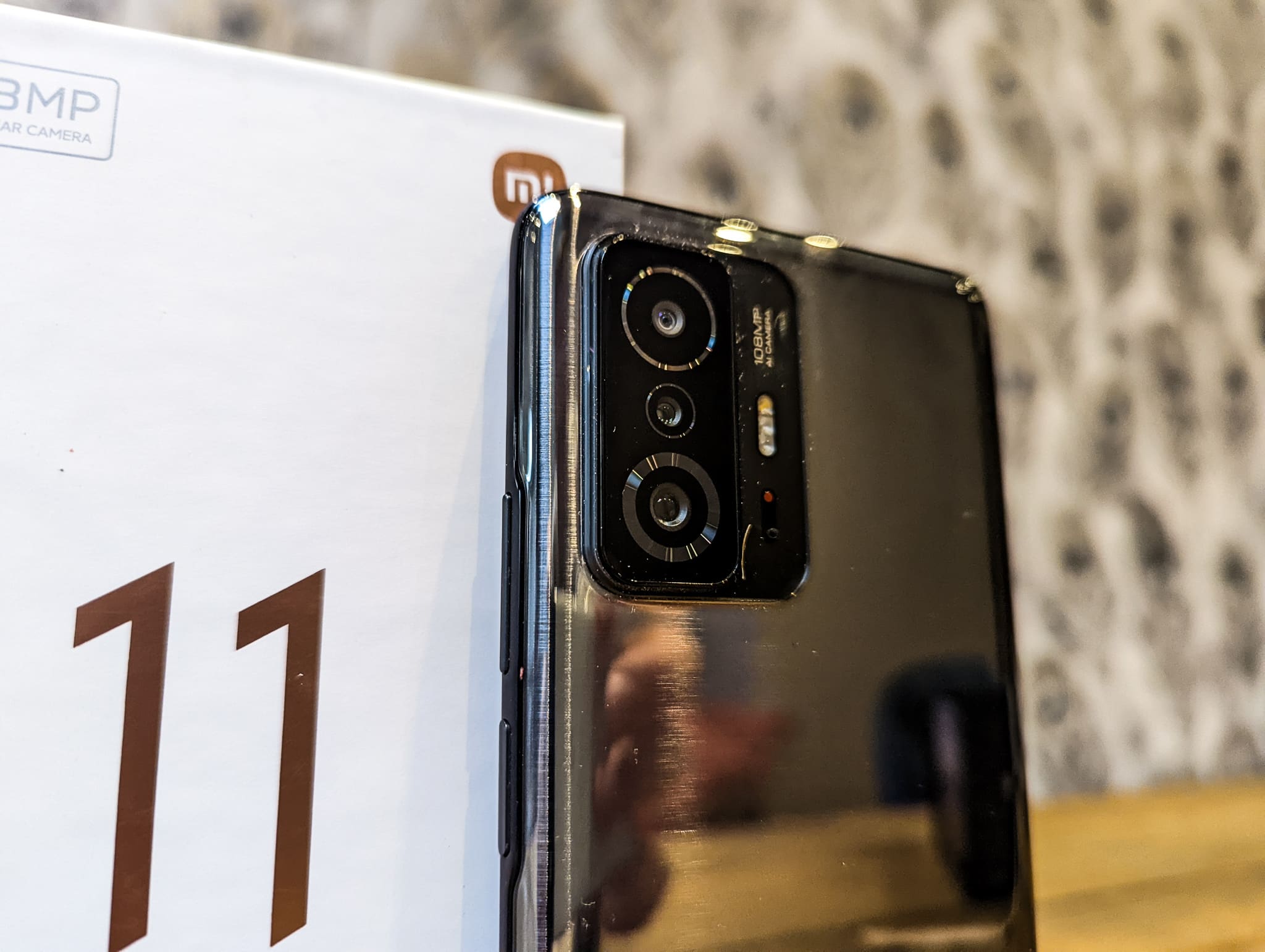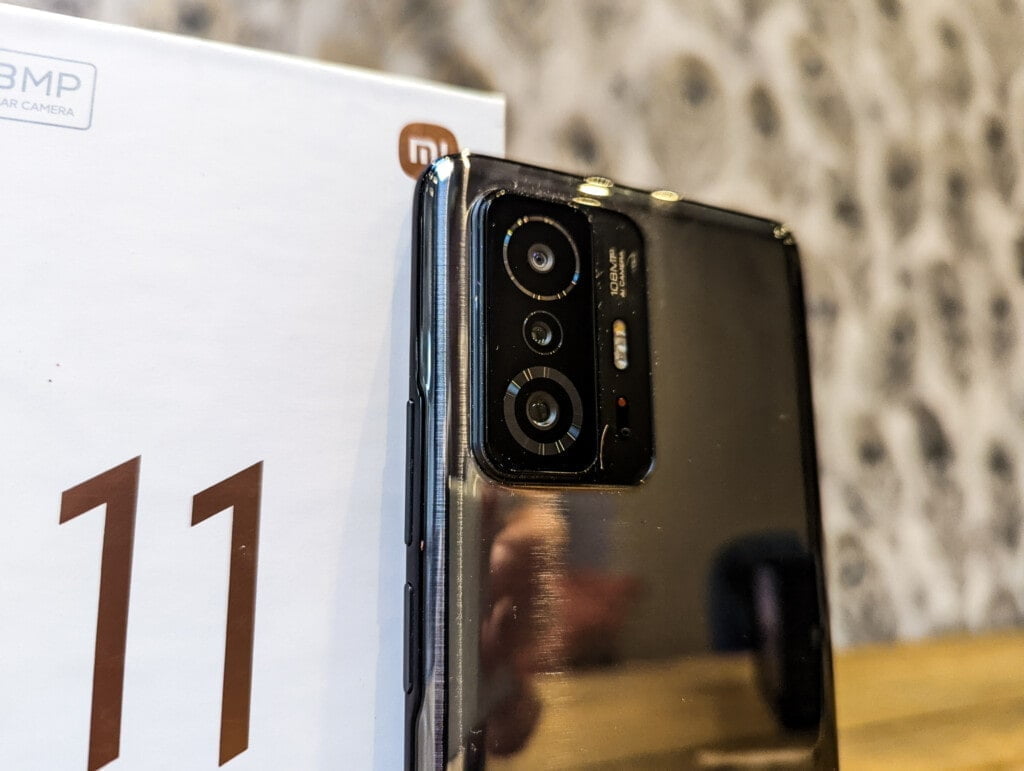 Phones at this price point have really upped their camera game this year. There are multiple options offering an almost flagship level sensor for the primary camera but retaining the generic mid-range secondary cameras.
The Xiaomi 11T is one of these, using the 108MP Samsung ISOCELL HM2 1/1.52″ for its primary sensor but then a generic 8MP ultra-wide.
They do have a 5MP telephoto macro lens, so the tertiary camera is at least partially useful, unlike many other phones that have useless 3rd and 4th camera sensors.
Therefore, the primary camera is where all the good stuff happens, and I have been very happy with it. It was interesting to compare it to the Honor 50, which I recently reviewed. On paper, they are the same camera, but I found the overall daytime performance of this camera superior to the Honor 50. You might argue that the colours of this camera are less natural and more over-exaggerated than the Honor 50, but I think most people would prefer this. I found the shots more consistent, had better detail, and the vibrant colours were more visually impressive.
Low light photography was a bit hit or miss, and I would say the Honor 50 had the slight edge here.
It is worth noting that the primary sensor on this phone lacks optical image stabilisation, instead, using gyro-based electronic image stabilisation (EIS). In comparison, the OnePlus Nord 2 does have OIS. I can't say I noticed any issues with this, in fact, all my shots appear to offer superb consistency.
Performance and Benchmarks
The Xiaomi 11T uses the MediaTek Dimensity 1200 Ultra, which is marginally different to the MediaTek Dimensity 1200 AI used on the OnePlus Nord 2. These are the first two phones to use the 5G Open Resource Architecture customisation MediaTek have introduced.
I doubt anyone would notice that much difference in the overall performance, and the benchmarks show that there isn't a great deal of difference either.
Oddly, I was unable to install the files needed to run the 3DMark Wildlife benchmarks. It seems like Xiaomi has blocked the downloading of the files, with me getting an error of unable to connect the UL servers.
The official benchmarks show it scoring 4179 with a stability score of 93%. This is almost the same high score for the OnePlus Nord 2, but the OnePlus had afar worse stability score of 70.5% stability. The benchmarks I ran showed it running perfectly until 15 minutes, then suffered a significant drop off going down to 2932. It was, however, much more stable than most Snapdragon 888 phones.
The overall day to day performance is superb. Unless you are a serious gamer or have some specific needs for lots of processing power, I find that the Dimensity 1200 offers the same sort of real-life performance as the more powerful SD888.
Battery & Charging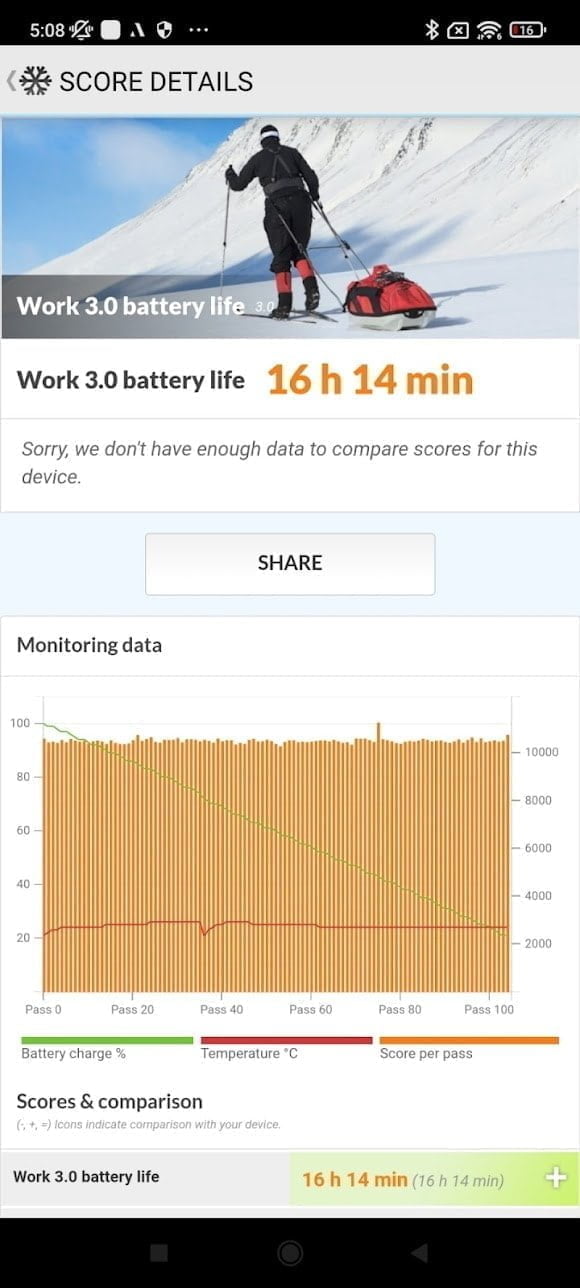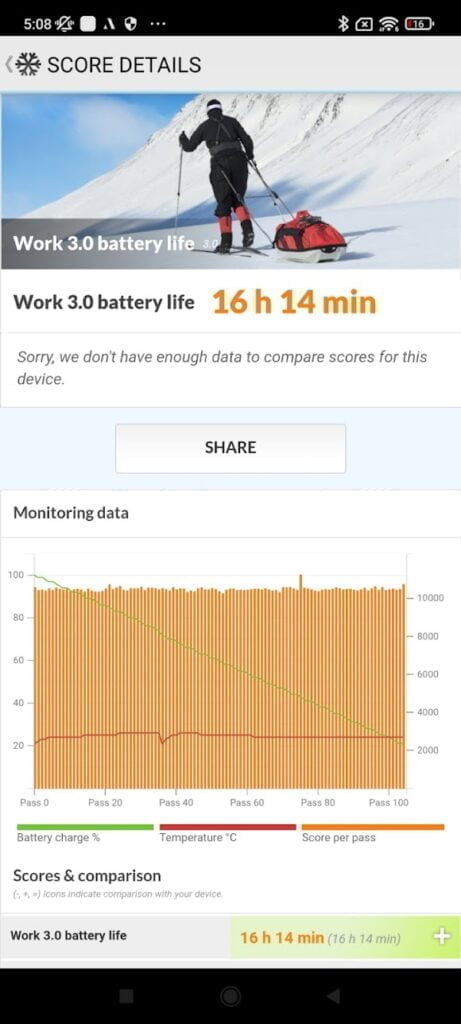 This has an impressively large 5000mAh battery that can then be charged at 67W, which claims to offer 0-100% charging in 36mins. The Pro model has 120W charging, and this can do 72% in 10 min, or 100% in 17 minutes.
This then scores an incredible 16 hours 14 minutes on the PC Mark battery test, that's five hours longer than the Honor 50 I just reviewed and over 2 hours longer than the OnePlus Nord 2. This, therefore, makes it one of the best performing phones I have used this year.
Software
This uses the latest MIUI 12.5 which is built on Android 11 as you would expect from any recent phone.
I don't have any specific problems with MIUI 12.5, and the overly UI is pleasant to use, responsive and with no notable glitches.
The main disappointment is the amount of additional software installed on the phone. Xiaomi has quite a lot of its own built-in apps, which I don't mind too much. However, there are a large number of games and apps installed that I don't want at all. These are all uninstallable, but they shouldn't be there in the first place.
Price and Availability
The Xiaomi 11T is launching with just one model using a larger than standard spec of 8GB Ram with 256GB storage. You will need to decide if the extra storage is worth the slightly higher price point.
The RRP is £549.99, but it looks like Xiaomi regularly have sales on, and as I write this, it is £499
There are some superb choices above and below this, with most of them having 128GB storage.
OnePlus Nord 2 for £399 with 8GB/128GB or £469 with 12GB/256GB – Not quite as good but similar overall performance/specification at a lower price
Honor 50 for £449 with 6GB/128GB or £529 with 8GB/256GB – Lower price and very similar specification, but the Dimensity 1200 is better than the SD778G, and I prefer the camera performance on the Xiaomi.
Pixel 6 for £599 – On paper this looks less impressive but it will almost certainly be regarded as one of the best phones of the year.
Xiaomi 11T Pro for £599 – Faster SD888 chipset (but much faster battery drain) with an insane 120W charging
Xiaomi Mi 11 for £599 – SD888, superior display, better ultrawide, 50W wireless charging
Overall
The Xiaomi 11T is an outstanding phone. I am a big fan of the MediaTek Dimensity 1200 chipset, it offers heaps of performance but at a lower price point and superior battery than the Qualcomm Snapdragon 888. The primary camera is also superb, I found it to be superior to the similarly specced Honor 50, being able to produce excellent shots more consistently with more detail and a more aesthetically pleasing vibrant colour palate.
The main issue this has is that Xiaomi has only launched the 8GB+256GB model in the UK. As nice as the 256GB storage is, it raises the price quite a bit. The Xiaomi 11T Pro, Mi 11, and the Pixel 6 are both just £50 to £100 more depending on sales, they only have 128GB storage.
Similarly, the OnePlus Nord 2 is £399 for the base model or £469 for 12GB/256GB. It is not quite as good as the Xiaomi 11T but I think it offers better value for money.
The current sale price of the Xiaomi 11T is £499, and at this price, I think it is an easy recommendation. Moving up to £550 I think most people would either prefer the Pixel 6/Xiaomi 11T Pro, or prefer to save £100+ and get the OnePlus. With Black Friday around the corner, it is possible the price could drop further.